He went around the world to learn how to build a theatre, and now, this developer's passion project is growing artistic culture at Menara KEN TTDI.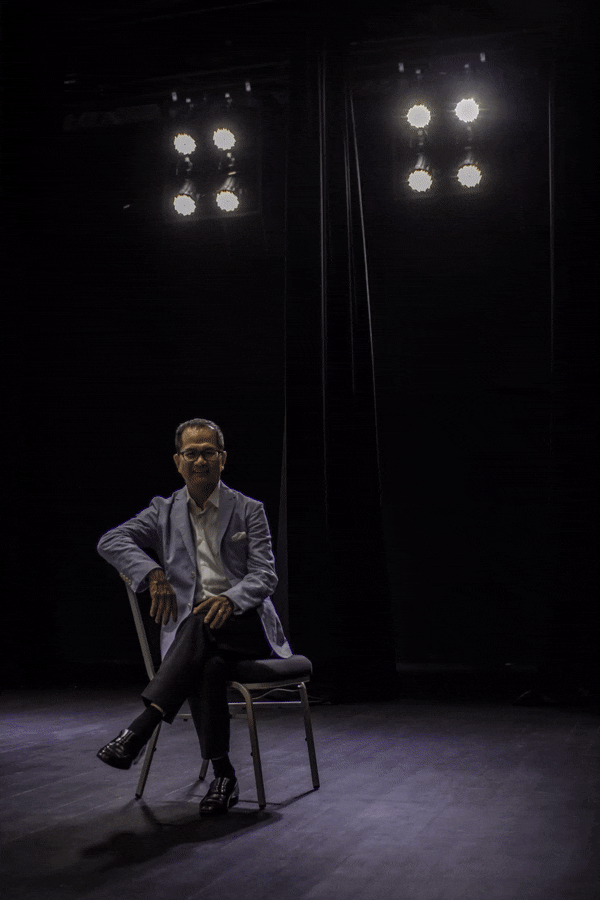 Datuk Kenny Tan is selective of the performances he attends, but he could immediately tell you where to position yourself in a theater. Mid-row is good for comedy – some say these are the best seats in the house – but if you want to see the facial expressions of actors, sit in the front row.
In his performing arts space, The Platform, you wouldn't know night from day. LED lights lend a suitably theatrical vibe to the auditorium, consisting of 523 seats on the stalls and gallery. It is the final piece in the Menara KEN TTDI vision, and it is one personally undertaken by the chairman of KEN Holdings.
So far, it has hosted the PJ Philharmonic Orchestra and Melbourne Comedy Festival.
"It may not look like much from outside, but I wanted to share what can be done," he says in typical humble fashion. The Platform's prime position at the ground floor of Menara KEN is a deliberate move of visibility and importance – when the office crowd goes home by night, culture vultures come out to play, milling about the vast lobby before show time.
At the heart of community
Tan has always been a student of life, and creating The Platform was no different. He visited the Royal Albert Hall, Sydney Opera House, and many other theatres in China and Hong Kong to see what others were doing, and how they did it.
Culture, Tan opines, is what differentiates a developing country from a developed one. The Platform is a contribution in that vein – creating opportunities for a more vibrant local arts scene.
"We have a lot of talent in Malaysia but there aren't enough platforms to retain this talent," he half-laments. It may be an atypical cause for a developer's passion, but Tan is willing to be a guinea-pig – especially if it makes other corporations take notice, and jump on board.
"Art is one thing that can make people change their own character. If people don't know much about art, it's because they don't have a place where they can be exposed to it," he says.
His own affinity in the arts is partial to the visual, as seen in The Gallery upstairs. This 20,000 sq ft gallery houses over 200 pieces Tan has collected in his lifetime – a public gallery for his private collection. Accompanying it is a conservation centre, where damaged art may be restored by professionals.
Making art sustainable
As the developer of Malaysia's first green building, KEN Bangsar, and the triple-platinum rated Menara KEN, Tan views every facet through the lens of sustainability. "As a businessman I can only provide this platform for people, with the hope more people know how to make use of the space and train more talent," he shares.

Consider how the seating arrangement minimises sideline issues, so each seat affords unbridled view of the stage – easier for organisers to sell. Or the fact that LED lighting is less warm than traditional theatre lights, which means less air conditioning is needed to make it comfortable. Let's not miss out how a properly-equipped space – even if it did cost Tan more as a developer – translates to less transportation for performers, and a reduced carbon footprint in the long run.
"Sustainability isn't just for your company, but for everyone in the community," Tan explains. "I'm happy to help producers cut down their costs, because then they are able to sustain. We have everything – just bring your talent."
In the quest to revolutionise functionality in green engineering, Datuk Kenny Tan isn't chasing regular development metrics. He knows full well that the salient returns of The Platform are not confined to dollars and cents, but the enriching of society. It is all the difference between developing a building, and developing a culture.
Photography: Gan Yew Chin
Shot on location at The Platform, Menara KEN TTDI