If TikTok was the social media app of 2020, Clubhouse is set to take over for 2021. In the weeks and months since celebrities such as Oprah Winfrey, Drake, Virgil Abloh and more recently, Elon Musk, joined the club, the number of users on the app have skyrocketed from just 600,000 last December to over 2 million in January. An anonymous source claims that Clubhouse has crossed 10 million registered users as of February 13.
Mind you, the drop-in audio app is still in beta mode and it has only been less than a year since its launch. These numbers serve to show that it's now the fastest growing social media app in the world, and this is before Android users (which make up 70% of the global smartphone market) can even get in on the action.
For the uninitiated, you can read more about our "Intro to Clubhouse" here but in a nutshell, it's basically a drop-in audio-only app for users to speak or listen to conversations in virtual rooms that are controlled by moderators. You can find all sorts of rooms based on your interests and people you follow, and you can join a room or "leave quietly" with just a simple tap, making "room surfing" really effortless – and addictive.
Having joined the platform three weeks ago, I found myself quickly becoming a regular Clubhouse patron. I would spend several hours of my evening (at times until the wee hours of the morning) listening to a variety of topics, spanning from the serious kind (i.e investment, marketing and mental health) to absolute nonsense purely for entertainment's sake (a competition on the most absurd elevator pitches being one highlight).
But during my second week of hanging around Clubhouse, I began noticing some serious red flags. Sure, no platform is perfect and every other social media app out there has its own set of issues to deal with. However, with Clubhouse discourse happening real-time, this opens a can of worms some users may not see coming or have proof of after the fact. I'll get to this later, but first, let me preface it with the pros of the platform for fair play.
The good: Networking, learning and growing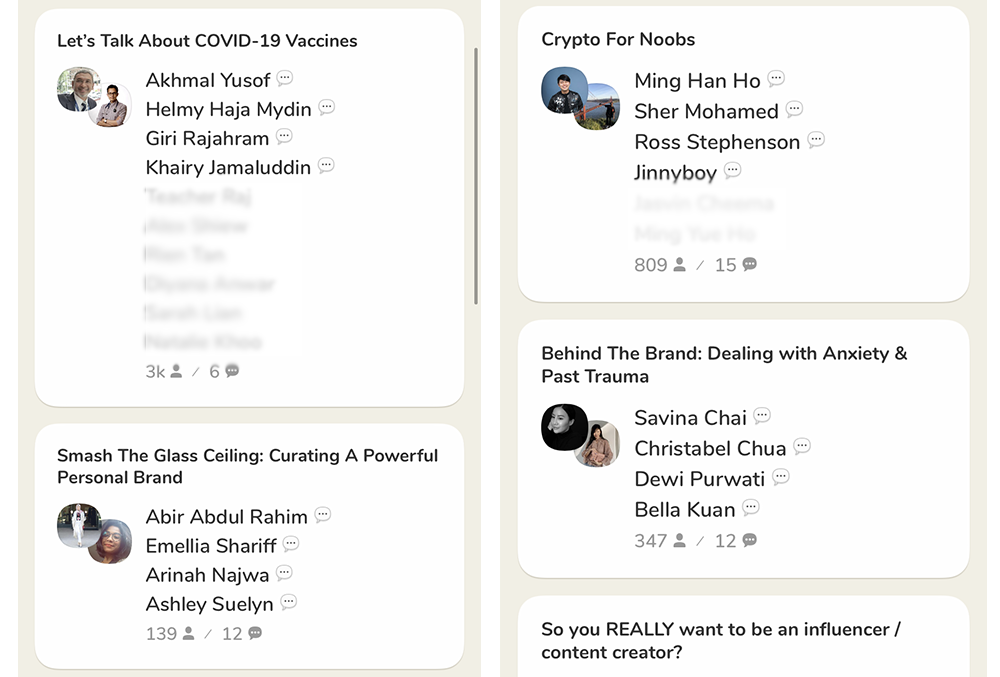 Unlike other social apps like Facebook, Instagram and Twitter that feed short attention spans and offer largely surface-level ideas and relationships, Clubhouse provides the space for deeper dialogues that are arguably more engaging and interactive. With early adopters being investors, celebrities and high-calibre personalities of diverse purviews, it set the precedence for insightful exchanges that the average Joe would otherwise only have access to via paid seminars, workshops and talks. It commodifies conversations.
Personalities that you follow on Instagram or Twitter from a distance suddenly seem closer when you enter a room and hear them speak live, possibly having the floor to pose a question directly to them, should the moderator allow it. On the other hand, you may also find yourself following a handful of people you've never met or heard of prior after a particularly memorable and thought-provoking Clubhouse session. Simply put, networking takes on a different level here.
On that same note, it allows you to be a fly on the wall on topics and conversations you stumble upon randomly, which you probably won't think to search up on your own accord. Call it accidental learning, if you will. Coming from a writer who's constantly interviewing people and researching subjects for a living, it's like discovering a talking encyclopedia that asks the questions and provides the answers for you. Convenient? Yes. Dangerous? Sadly, yes to that too. Cue the cons of Clubhouse.
The bad: Conversation vs control 
Here's the truth: not everyone you meet on Clubhouse is as credible as they paint themselves to be. There are many eloquent, knowledgeable and generous speakers with years of experience and certificates to back their opinions (which you may or may not have asked for); but the issue lies in discerning the fake-it-till-you-make-its (of which there are also plenty) from the real deals. Unless you've mastered the art of calling out nonsense, take everything you hear with a pinch of salt.
For moderators and speakers, the opposite is true. One may end up allowing "raised hands" on to the floor who aren't exactly out to offer constructive thoughts or helpful questions. Plus, being given a platform to speak is a responsibility not everyone is primed to take on, even if they have thousands of followers on a different platform, given that those posts can be edited or deleted before any damage is done. Words, when spoken off-hand, however, cannot be unheard.
A room that started out discussing sugar babies, for instance, can very easily turn into a gossip girl situation where rumours and speculations are shared instead of facts – neglecting the reality that there could be 500 strangers in the room listening in. And we all know by now how detrimental misinformation can be, especially on a social platform.
Then again, censoring speech is another issue altogether that has led to allegations of bias and bigotry on Clubhouse.
The ugly: Bigotry, misogyny and toxicity
Politics and power play are both the enabler and the bane of the app. Without moderation, anything can be said, which isn't ideal; but some have abused the power of a moderator to silence opinions that don't match their own – or people who don't share the same gender, race, religion or beliefs as they do. Users have been calling out the platform for alleged sexism and racism since its early days. Black women, in particular, have the worse end of the stick, falling victim to sexist remarks, racism and misogyny.
One user, Allyson Byrd, took to Instagram in January to share her story of being devalued, criticised and humiliated by a male user before an audience of 3,000 people. Her virtual assault is not unlike that of New York Times journalist Taylor Lorenz, who was harassed for playing "the woman card" while defending a sexist remark made against her.
View this post on Instagram
Though I have (fortunately) not witnessed or experienced any form of discrimination while using the app, I have, on one occasion, come across a room with "TOXIC" in its title, next to a string of skull and hazard emojis. Clickbait or not, my senses told me to scroll pass it lest I be sucked into a black hole. Now if I could find such a room in under three weeks of using the app, I can't imagine what active users who have spent months on the platform have witnessed.
---
At the end of the day, would I recommend someone to get on Clubhouse? Yes, if you're keen to learn, find a new source of entertainment or network. With that said, practice caution, do your due diligence on who or what you listen to, watch your mental health and when in doubt, leave the room, take a break or quit.