With Lunar New Year merely weeks away, we can already feel the flurry of excitement in the air as preparations for the festive season are well underway. Splashes of red covering homes and shoppings malls are accompanied by lively Chinese tunes heralding the celebrations to come, while the anticipation of seeing relatives, friends and loved ones are coupled with the eager planning of reunion meals.
We know settling on the right venue for your upcoming gatherings can be overwhelming, what with the startling amount of options available, so we've rounded up a list of our top Chinese New Year dining picks to choose from. Keep scrolling for our list of locations and their appetising CNY offerings, so you can usher in the new year with a feast fit for a tiger.
Mandarin Oriental, Kuala Lumpur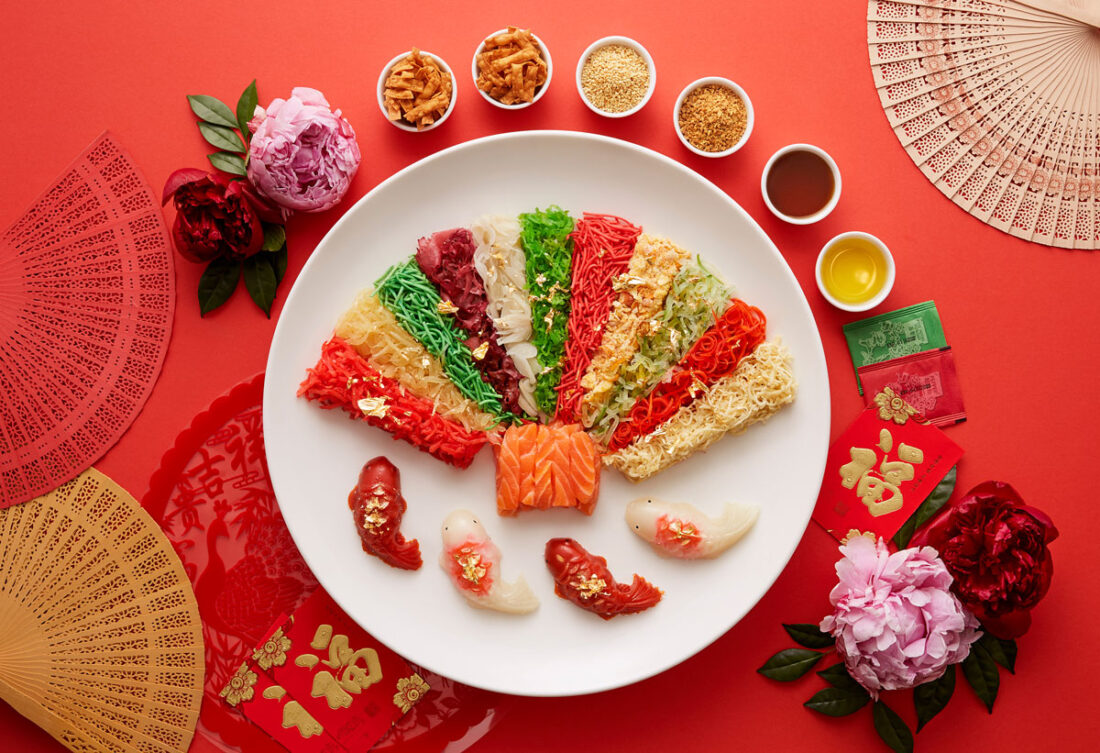 It's a month-long celebration at Mandarin Oriental, Kuala Lumpur as the new year is welcomed in with a line-up that features appearances by the 'god of wealth', a guzheng performance, and a lion dance. From 15 January to 15 February, Lai Po Heen offers a selection of six yee sang varieties, including an MO Auspicious Fan Yee Sang consisting of salmon, sea urchin, black truffles, salmon roe and gold leaf, presented in the Mandarin Oriental's signature fan-shape.
Diners can also choose from four exquisite reunion menus at Lai Po Heen, named Fortune, Wealth, Prosperity and Abundance, filled with decadent delicacies like Braised five head South African abalone with sea cucumber and crispy prawns coated with lemon dressing, garnished with tropical fruit salsa and tobiko. The reunion menus are available for lunch and dinner at RM888, RM518, RM398 and RM288 per person respectively.
Two exquisite dim sum set menus are also offered at Lai Po Heen, as well as a Chinese New Year themed buffet at Mosaic and an Oriental Afternoon Tea at Lounge on the Park.  
For reservations, contact +60 (3) 2330 8798 or e-mail mokul-fb@mohg.com
The Majestic Hotel Kuala Lumpur
Lunar New Year celebrations will kick off in a grand fashion at the The Majestic Hotel Kuala Lumpur, starting with an all-you-can-eat feast at Contango that showcases inspired recreations of authentic, nostalgic flavours loved for generations. The buffet at Contango is available from 15 January to 15 February, and is priced at RM118 ++ per person for lunch and RM148++ per person for dinner.
Over at Colonial Cafe, diners will get to celebrate the new beginnings of the New Year with the Colonial Sampler, a reunion meal full of Colonial classics to share among family and loved ones. Toss to good luck, health, and prosperity, and then savour tantalising Colonial Cafe classics like the prawn cocktail, Hainanese chicken chop, and baked honey-glazed cod. The Colonial Sampler set is available from 15 January to 15 February, for Lunch and Dinner at RM180++ per person.
For reservations, WhatsApp +60 14 647 1060.
The St. Regis Kuala Lumpur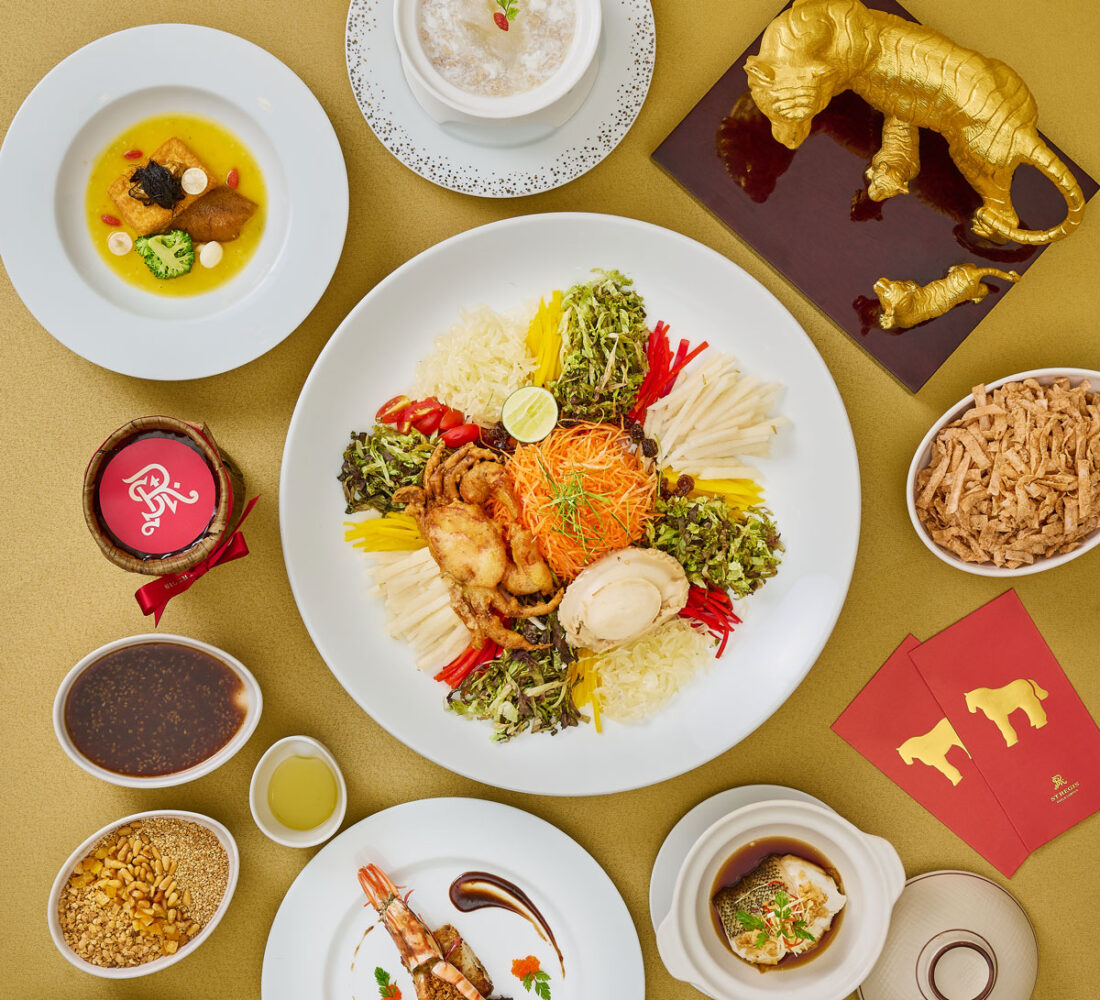 At The St. Regis Kuala Lumpur, this auspicious season is all about making lifelong memories that forge bonds between generations. Guests at The Brasserie will have the chance to partake in The St. Regis Kuala Lumpur's Prosperity Yee Sang, a familial recipe straight from the owning family's ancestral kitchen. Vegetarian, Top Shell and Jelly Fish, Salmon and Jellyfish, and Abalone and Soft Shell Crab yee sang options are also offered to suit every gathering and group.
For a lavish reunion meal, The Astor Rooms and the Grand Ballroom offer signature set menus made of outstanding family recipes from Chef De Cuisine, Cheong Boon Fei, as well as the hotel's owning family. Featuring dishes like Braised Bird's Nest Soup with Chicken and Steamed Tiger Grouper with Spicy Preserved Vegetables, the Chinese New Year set menus are available for lunch and dinner from 5th January to 15th February, and prices range from RM368 to RM498 per person, depending on the yee sang option chosen.
A special Chinese New Year Afternoon Tea at The Drawing Room and a Chinese New Year Sunday Brunch at The Brasserie is also offered at The St. Regis Kuala Lumpur.
For dining reservations, call +6012 280 1303 or email dining.kualalumpur@stregis.com
The Ritz-Carlton, Kuala Lumpur
A Ritzy Lunar New Year celebration awaits at The Ritz-Carlton, Kuala Lumpur's Chinese restaurant, Li Yen. Set in an elegant, blossoming garden ambience, diners are treated to a Lunar New Year feast showcasing the culinary artistry of Executive Chinese Chef Alex Au and his capable team. The specially curated set menu highlights The Reunion Stars, a collection of exquisitely made star reunion dishes that centre on tradition, including the much-loved Hong Kong-Style Waxed Meat Clay Pot Rice with Chinese sausages specially flown in from Hong Kong.
The Steamed Goldfish Nian Gao is an auspicious treat for the eyes and stomach, consisting of luscious traditional glutinous cakes resembling goldfish in a pond, while the iconic Cantonese favourite, Poon Choi is meticulously crafted with abalone, fish maw, dried oysters. 
Available for lunch and dinner from now through to 15 February, the set menus are priced at RM148++ per person for lunch, and RM2,080++ per table of 10 for dinner. For more information or to make a reservation, WhatsApp +60 18 646 8033, WeChat @LiYenKL or email li.yen@ritzcarltonkl.com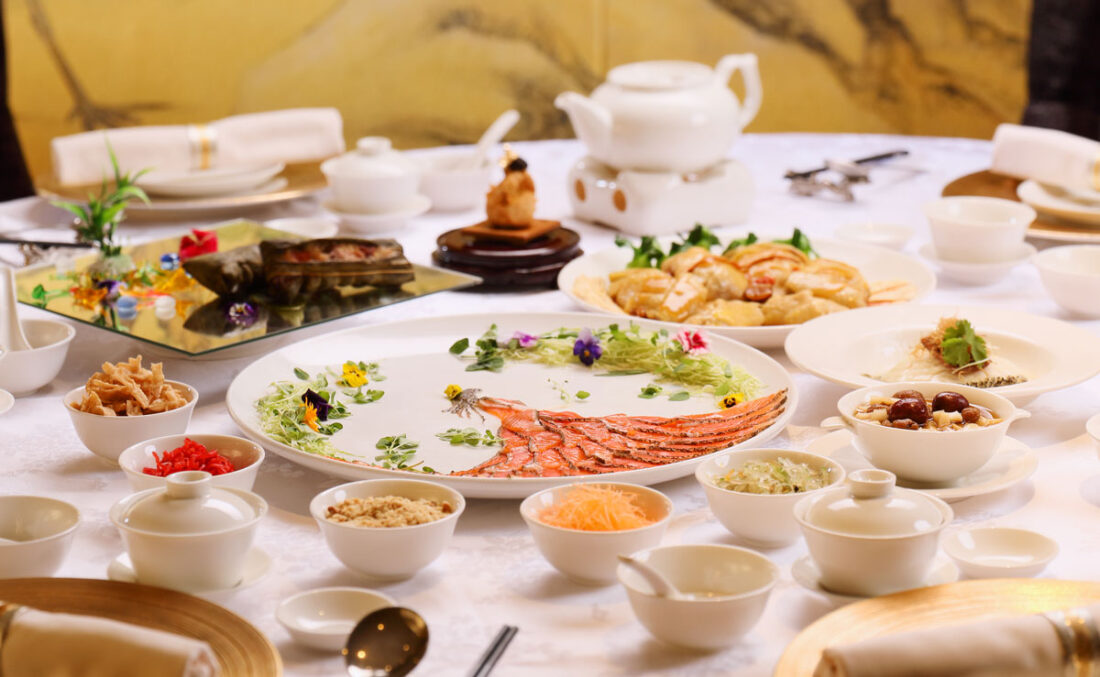 JW Marriott Kuala Lumpur is ushering in the Year of the Tiger at the award-winning Shanghai restaurant with a culinary symphony led by Shanghainese native Executive Chinese Chef Wong Wing Yeuk. Emphasising tradition and authenticity, a special The Art of Yee Sang invites prosperity for the new year with a selection of good luck ingredients topped with Chef Wong's homemade, secret-recipe sauce. Additionally, diners can also choose add-ons like lobster, geoduck, abalone, jellyfish, salmon, and fresh fruits for their yee sang. 
Three Chinese New Year set menus are offered at Shanghai this year, enhancing every reunion and gathering with specialities like Deep-Fried Mandarin Fish with Shanghainese Sweet and Sour Sauce and Braised Spanish Pig's Trotter with Sea Moss in Brown Sauce. The set menus start from RM238++ per person, and are available for lunch and dinner from now through to 15 February.
The Chinese New Year and Yee Sang specials at Shanghai are also offered through á la carte, home delivery and takeaway service. For more information or to make a reservation, WhatsApp +60 18 591 9537, WeChat @shanghaijwmkl, or email shanghairestaurant@jwmarriottkl.com
The Starhill Kuala Lumpur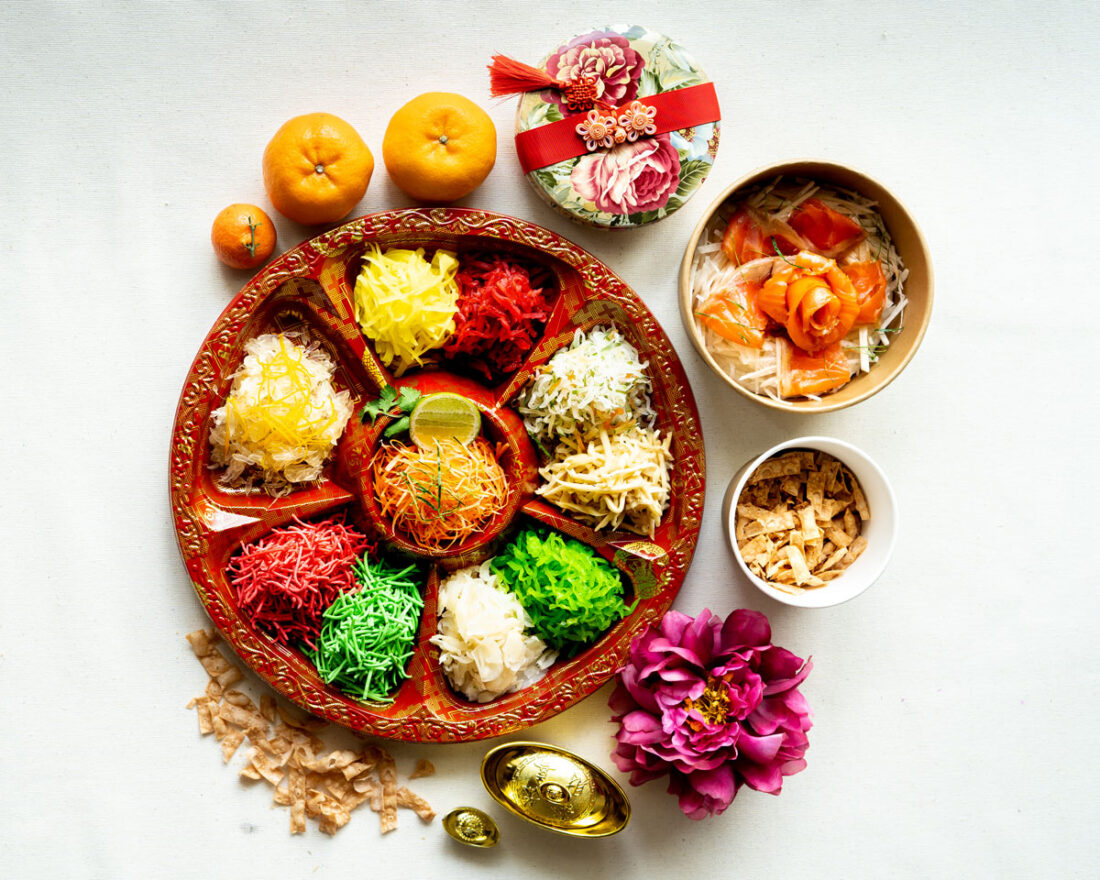 Welcome the Year of the Tiger with a festive get-together surrounded by stylish Chinoiserie-inspired interiors and well-crafted Chinese soul food at Luk Yu Tea House. Along with finely crafted Yee Sang Platters and delicious plates of dim sum, the restaurant offers an elegant Chinoiserie set menu featuring dishes like Braised Superior Soup with Sun Dried Scallops, Crab Meat and Enoki Mushrooms, and Steamed Pomfret with Sour Plums and Tomatoes, topped off with the delicate Crispy Chinese New Year Nian Gao.
Available from 7 January to 15 February, the Lunar New Year set menu is priced at RM888++ for five persons and RM1800++ for ten persons, while the Lunar New Year Dim Sum Platter is priced at RM128. 
For more information or to make reservation, WhatsApp +60 18 632 8060 or rmail: lukyu@thestarhilldining.com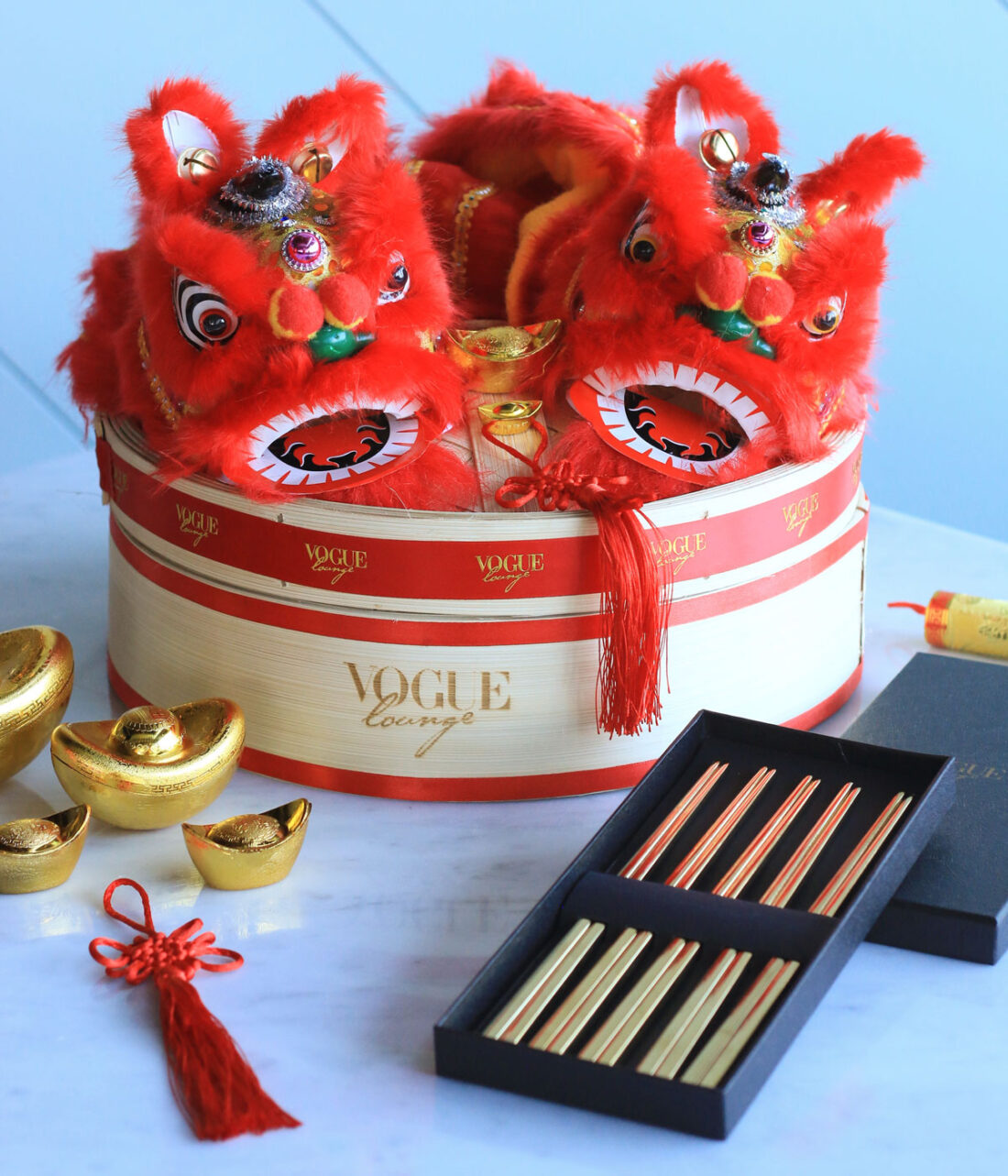 Share in well wishes of wealth, good luck and happiness at Vogue Lounge with a communal yee sang made with fresh ingredients and three different dressings. Diners can also opt to add a selection of premium seafood ingredients such as jelly koi fish, scallop, abalone and Hokkigai for an extra opulent toss. The Vogue Golden Yee Sang and Vogue Golden Yee Sang Premium are available for takeaway and delivery, and each order includes a box of golden Vogue Lounge chopsticks, as well as a pair of prosperity lion heads on the bamboo steamer.
For a luxurious, festive dining experience, an 8-course selection named the Imperially Vogue CNY Menu brings together French, Japanese, and Chinese influences, with dishes like the Majestic Ikura Spring Roll, Fortune French Duck Breast, and Supreme Maine Lobster. Available from 14th January, the CNY menu is priced at RM588++ for two persons.
For more information or to make a reservation, call +6016 846 6552 or email reservations@voguelounge.my
This Lunar New Year, The Westin Kuala Lumpur seeks to offer a festive selection of fresh yee sang and Longevity Set Menus that will satisfy every seasonal craving. Two types of fresh yee sang are on offer, namely the Norwegian Fresh Salmon Yee Sang with Jellyfish and the Baby Abalone Yee Sang with Jellyfish, with the option of adding on special ingredients like Taiwanese Top Shell Abalone and Sliced Two Head Abalone.
For a memorably indulgent festive meal, dive into the Longevity Set Menu featuring palate-pleasing dishes like the Double Boiled Spring Chicken Broth with Dry Scallop, Ginseng and Aweito Flower, the Steamed Deep Sea Garoupa Fish with 'Hong Kong' Style Sauce, and the Imperial Hong Kong Fried Mini Abalone Rice.
Priced at RM1688 nett for 10 persons, the Longevity Set Menu also comes with one complimentary bottle of house red or white wine, and a free flow of Chinese tea. The menu is available from 13 January to 15 February, and is also offered through takeaway and delivery.
For more information or to make a reservation, call +603 2773 8495, WhatsApp +6012 305 1715, or email westindining@westin.com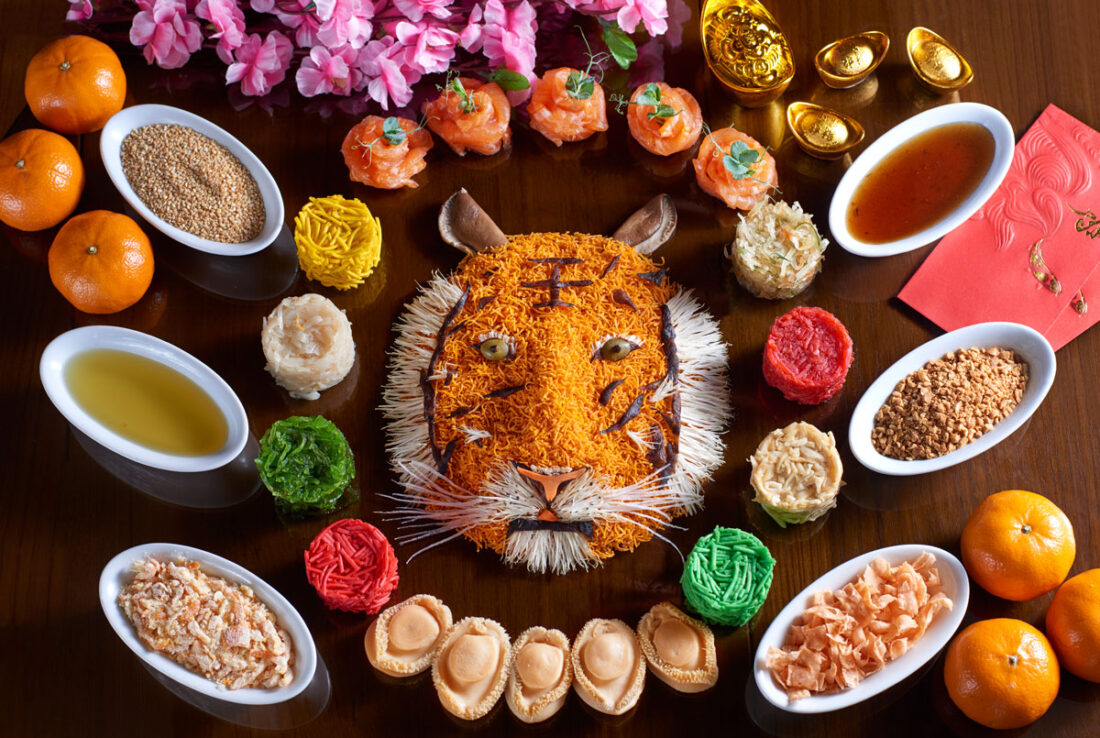 At Le Méridien Kuala Lumpur, Chinese New Year favourites take centre stage at Latest Recipe, in an extensive buffet featuring dishes like Pei Pa Style Roasted Duck, Roasted Spring Chicken with Plum Sauce and Penang Chili Crab with Egg Drop, alongside a mouth-watering spread of fresh seafood, carvings, dim sum, and Japanese fare. 
Diners will also be able to kick off their reunion meals with a roaring yee sang that comes with the option to add on lobster, sliced clam abalone, salmon, or jellyfish, priced at RM 200 onwards.
Available from 21 January until 15 February, the buffer dinner is priced at RM188 nett for adults and RM94 nett for children on Mondays to Thursdays, and RM208 nett for adults and RM104 nett for children on Fridays to Sundays. For those joining the festivities on Chinese New Year's Eve, the buffet dinner will be priced at RM238 nett for adults and RM119 nett for children.
For more information or to make a reservation, call +603 2263 7888 or email dining.reservation@lemeridien.com
Four Points by Sheraton Kuala Lumpur, Chinatown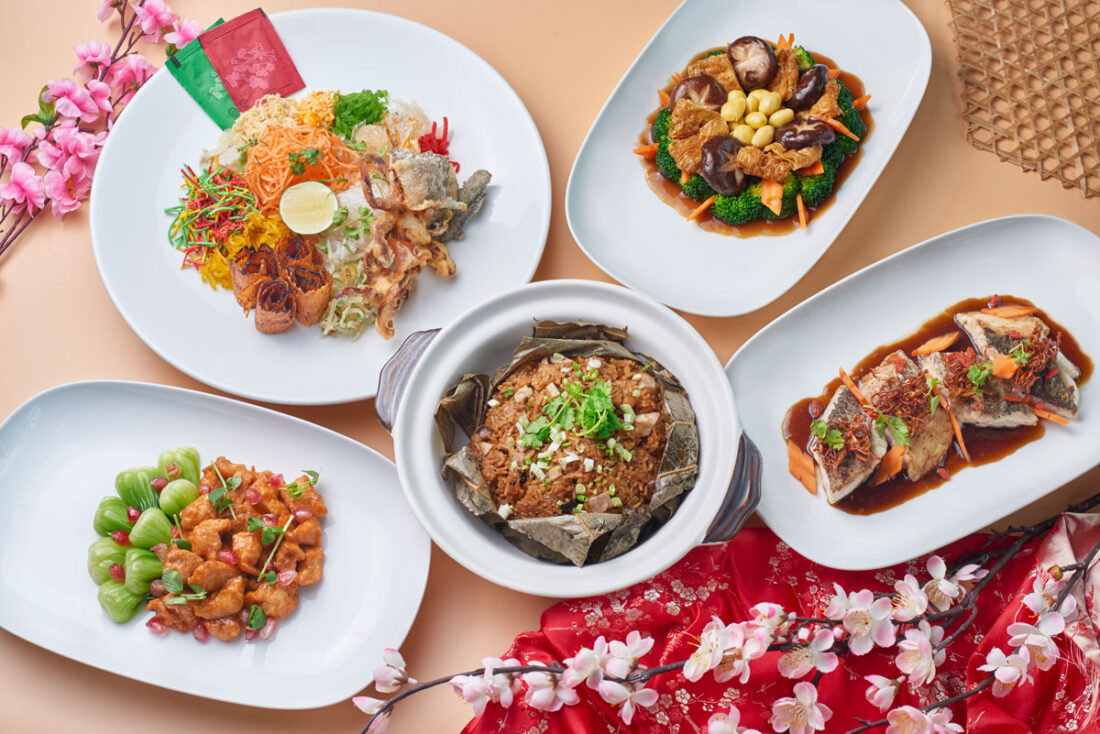 Chef De Cuisine Lim Jun Pin and his culinary team at Quan's Kitchen in Four Points by Sheraton Kuala Lumpur, Chinatown are in their element this season as they whip up a Lunar New Year menu that creatively emphasises street fare and local favourites. As a tribute to the hotel's local street vendor neighbours in Jalan Petaling, the Prosperity Golden Yee Sang features Dried BBQ Cuttlefish, Chili Soft Shell Crab, Crispy Fish Skin and Golden Pineapple Sauce, while the Premium Prosperity Golden Yee Sang offers an extravagant option with intricately designed Peony Platter by Maya Singh of Cult Cowboy.
To go with a joyous reunion celebration, the eight-course Spring Happiness Set Menu includes sumptuous dishes such as Double Boiled Wild Mushroom Soup, Baked Ocean Seabass with Cordyceps in Honey Soy Glaze and Braised Broccoli with Taukan and Gingko Nut in Abalone Sauce. The set menu is available from 10 January to 10 February, and priced at RM688+ per set for 4 persons and RM188+ per additional person.
For more information or to make a reservation, call +603 2035 7333, WhatsApp +6012 507 3327 or email dining@fourpoints.com
Sheraton Petaling Jaya Hotel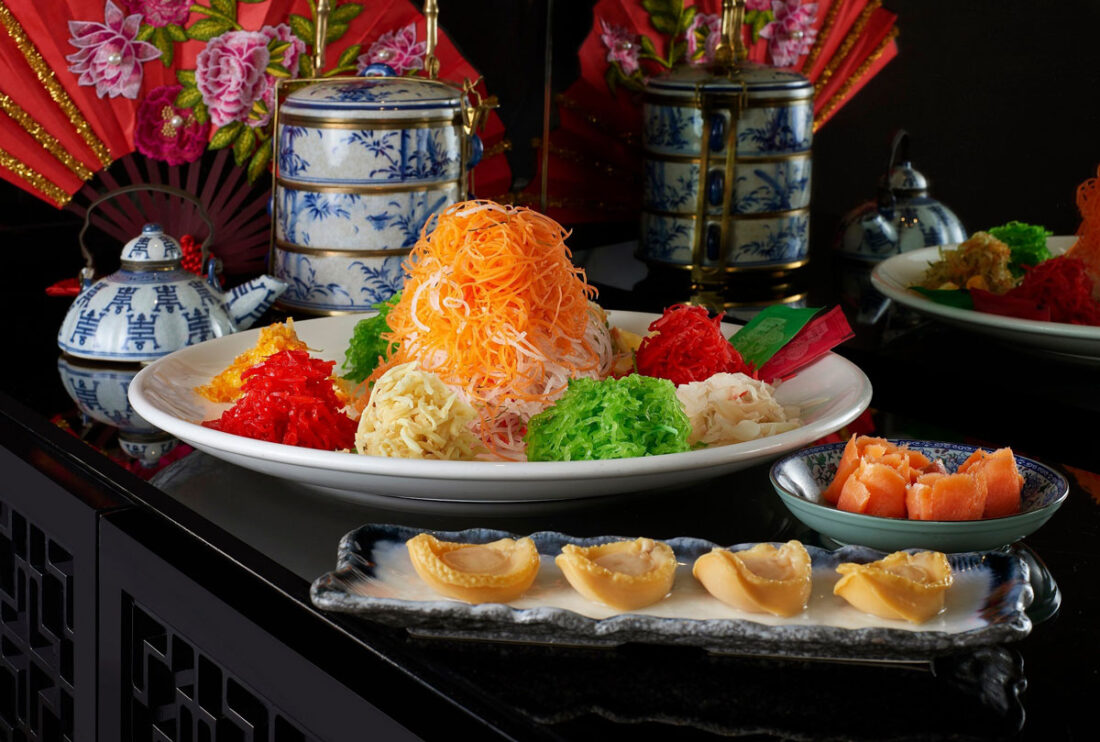 This Chinese New Year, Sheraton Petaling Jaya Hotel is whisking us away on a flavour-filled journey to Shanghai with its collaboration with China's first craft gin, Peddler's Gin. Bringing a nostalgic yet unique taste, Yue dials up the celebrations with its Sensational Shanghai Set Menu paired with refreshing cocktails like the Peddler's Gin Sichuan Negroni and the Peddler's Gin & Tonic. The eight course menu also features authentic Shanghai dishes such as Braised Shanghai Baked Tofu with Peanut, and Marinated Fish and Wok Fried Baby River Shrimp with Sweet Soya Sauce. Available from now to 20th February at RM268 nett per person, exclusive of the cocktails.
Japanese restaurant Miyabi offers a twist on the reunion meal with a six-course set menu featuring a Yee Sang made with Japanese ingredient toppings, as well as dishes made à la minute like King Prawn and Avocado Kakiage Tempura, and Seafood Teppanyaki, priced from RM988 for two persons to RM1888 nett for four persons. 
Chinese New Year themed buffets at Feast, afternoon teas at Link @Sheraton Cafe, and takeaway festive feasts are also available at Sheraton Petaling Jaya Hotel. For more information, call +603 7622 8888, WhatsApp 017 228 6098 or email dining.spj@sheraton.com. Visit sheratonpjstore.com to make takeaway and delivery orders.
Aloft Kuala Lumpur Sentral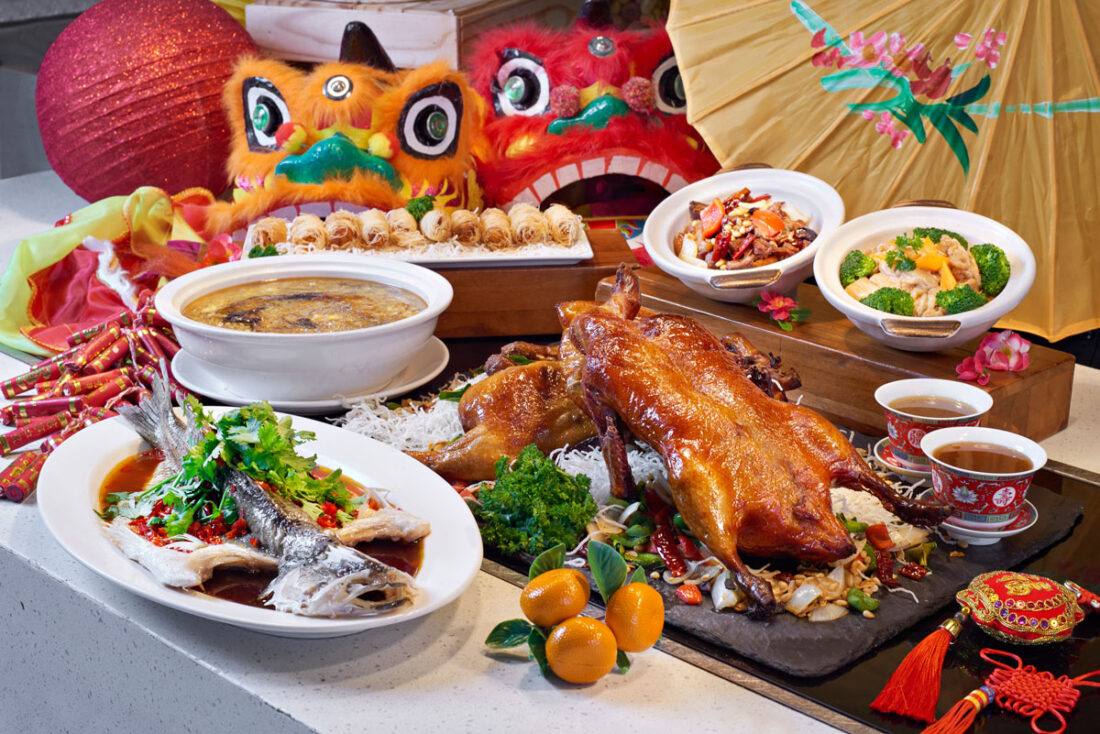 Savour every bit of the Lunar New Year season with appetising eats at Nook's Chinese New Year Buffet. Lovingly put together by Executive Chef Ng, Chef Arfizan and their talented team, the buffet features crowd favourites like Beijing Roast Duck, Wok-Fried Chilli Crab, Baked Oriental Seabass with Ginger and Superior Scallion Sauce, Shanghai-Style Chicken Roulade, not to mention a dedicated yee sang counter. Diners will enjoy tossing up a prosperous storm with the selection of communal yee sang sets, such as the Shimmering Crystalline Ice Plant Yee Sang, the Bountiful Salmon Yee Sang, and the Double Happiness Abalone & Salmon Yee Sang.
The Chinese New Year Buffet is open every Thursday to Saturday for the month of February, and priced at RM138 per person. On Chinese New Year's Eve (January 21), the buffet will be priced at RM168 per person.
For more information or to make a reservation, call +603 2723 1154 or email kulal.b&f@marriott.com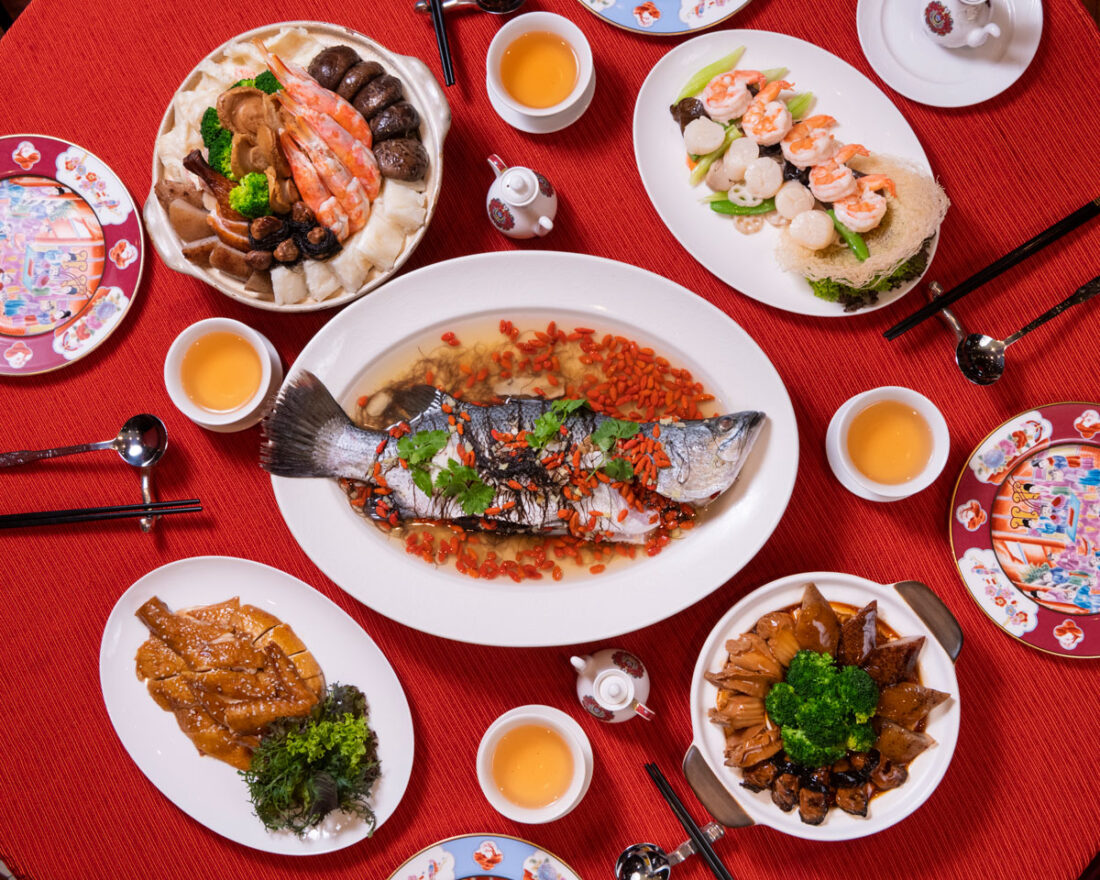 'Fortune Flavours The Bold' is the theme of the season this Chinese New Year at Hilton Kuala Lumpur, where the bravery and boldness of this year's tiger zodiac is reflected in masterfully-crafted dishes made with daring innovation and creativity. At Chynna, a wide selection of Yee Sang varieties are available, including one with crispy Japan A5 Miyazaki Wagyu Beef and even a plant-based version with 'Beyond Meat' in traditional sauce. 
A selection of reunion CNY set menus have been curated, aptly named Wealth, Prosperity, Auspicious, and Abundance, featuring festive favourites like Braised Lobster Meat Soup, 'Poon Choy' Treasure Pot, Guangxi-Style Poached Free-Range Chicken and Wok Seared Japanese Miyazaki Wagyu. The Wealth, Prosperity, Auspicious sets are priced starting at RM1,250 nett per table of 5, and the premium Abundance Set Menu is priced at RM888 nett per person.
For a more casual affair, Vasco's provides a variety of Chinese New Year themed buffet lunches and dinners, while takeaway Yee Sang and Poon Chooi are available to order online. The 'Fortune Flavours The Bold' CNY offerings are available now until 28 February. For reservations or more information, visit contact the hotel or visit eatdrinkhilton.com. Online purchases can be made at takeus-home.com
Pavilion Hotel Kuala Lumpur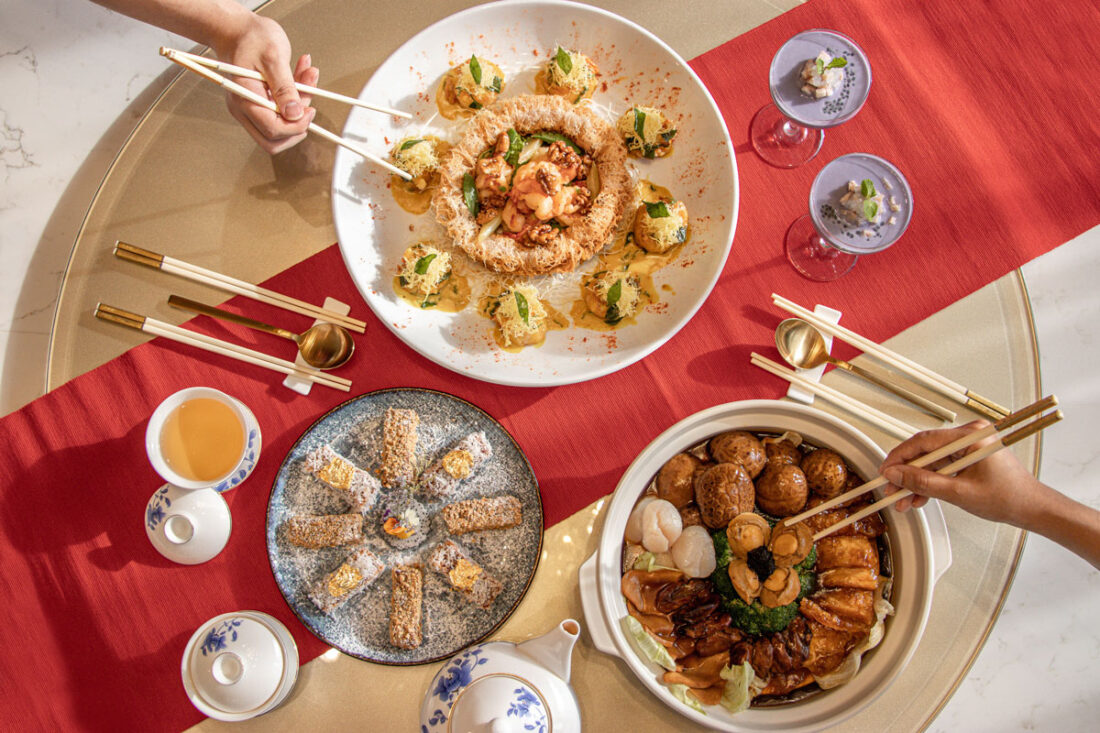 In the spirit of rising above a challenging year and embracing new beginnings, Pavilion Hotel Kuala Lumpur managed by Banyan Tree invites reunion diners big and small to join in festive celebration with an abundant and prosperous meal. At Jade Pavilion, the signature Cantonese Dining venue, Chinese New Year delicacies are on offer in the specially curated 9-course reunion Prosperity and Fortune Set Menus, available until 28 February at RM238+ per person and RM298+ per person respectively. 
A selection of signature Yee Sang is also available, with add-ons that range from 16 Head Abalone and Tropical Fruit to Hokkigai and Jellyfish Flower. Those who lean toward more local flavours will delight in The Courtyard's Malaysian Chinese New Year lunch buffet, available from now until 12 February from 12-2:30 pm. The buffet is priced at RM102+ per adult and RM59+ per child or senior citizen.
For more information or to make a reservation, call +603 2117 2888, WhatsApp +6017 206 8805 or visit banyantree.com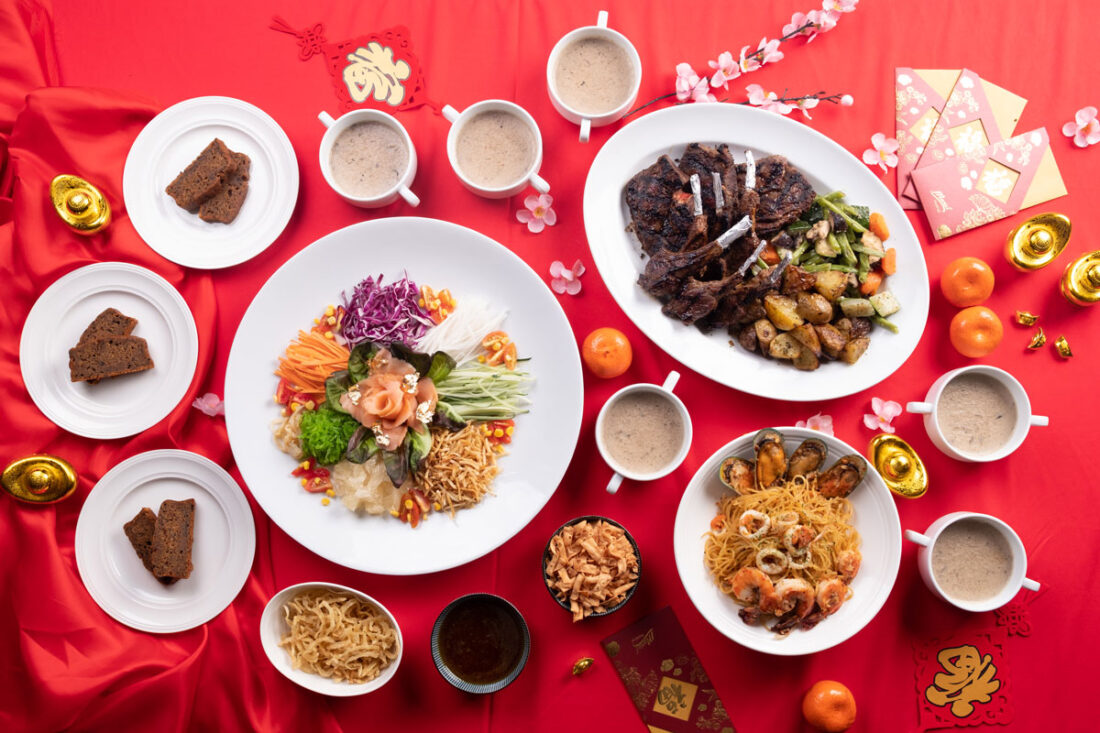 Maria's SteakCafe welcomes the Year of the Tiger in grand gastronomical fashion, showcasing its signature style of East-meets-West fusion with two reunion set menus. The Prosperity Set upholds Maria's SteakCafe's tradition of bringing people together, kicking off with a traditional Yee Sang with the option of add-ons like traditional smoked salmon and pulled beef. Then, diners can sink their teeth into mains like the New Zealand Lamb Cutlets, Grain fed Rib Eye and Spaghetti Seafood Aglio Olio. 
Additionally, sides like spicy mussels, Caesar salads, mushroom soup and prune loaves round out the meal for a truly satisfying reunion. For smaller groups, the Abundance Set facilitates the ideal intimate get-together, serving up all the dishes from the Prosperity Set in smaller portions. 
The Prosperity Set is priced starting at RM1088++, while the Abundance Set is priced at RM738++. The sets are available for dine-in, takeaway and delivery now until 15th February. For reservations or more information, visit Maria's SteakCafe on Instagram, Facebook, or the official website at marias.com.my.
Feature Photo: Le Méridien Kuala Lumpur