From restaurants offering old but gold recipes to those serving inventive adaptations of traditional dishes, take your pick from our roundup of places to 'lou sang' this CNY.
It feels like we just had a hearty Christmas feast yesterday, and yet here we are, thinking about where to lou sang this coming Chinese New Year. Ah, what a blessing it is to be Malaysian.
As we shop for new clothes and brush up on our knowledge of fengshui, we have also scouted around for the best places to toss the customary yee sang and usher in health, wealth and good fortune for the coming year.
Take your pick from our roundup of restaurants to 'lou sang' with your nearest and dearest this Year of the Metal Rat.
Shang Palace, Shangri-La Kuala Lumpur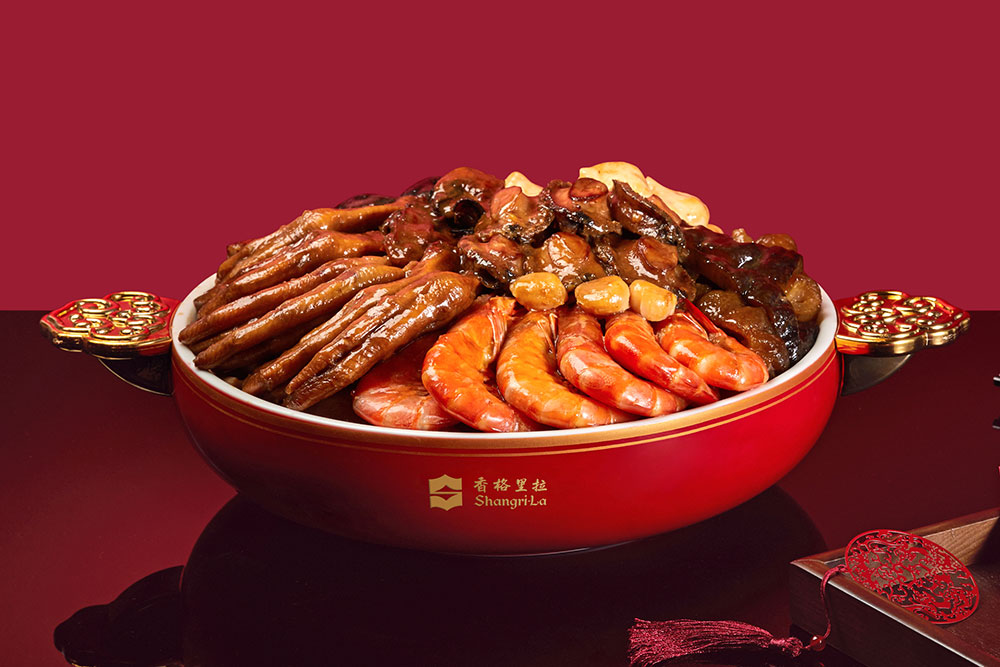 Guests will be spoilt for choice at Shang Palace with its comprehensive 'Golden Rat Seeks The Ingot Collection'. Comprising of a Premium Abalone Poon Choi pot, a selection of yee sang platters as well as four set menus, the distinguished Chinese restaurant welcomes you to usher in the new year with premium ingredients for health, wealth and abundance. Among the list of dishes include Braised sea treasure soup with fresh scallop, Braised 6-head abalone with sea cucumber and broccoli in oyster sauce and Shanghai marinated duck with superior soya and crispy chicken roll with salted egg.
Available from 2nd January to 8th February 2020, the set menus are priced from RM238 per person, whilst the Poon Choi pot is priced at RM1,988 for 10 persons. For reservations and enquiries, please call 03-20743900 or email RestaurantReservations.slkl@shangri-la.com.
Tao Chinese Cuisine, Intercontinental Kuala Lumpur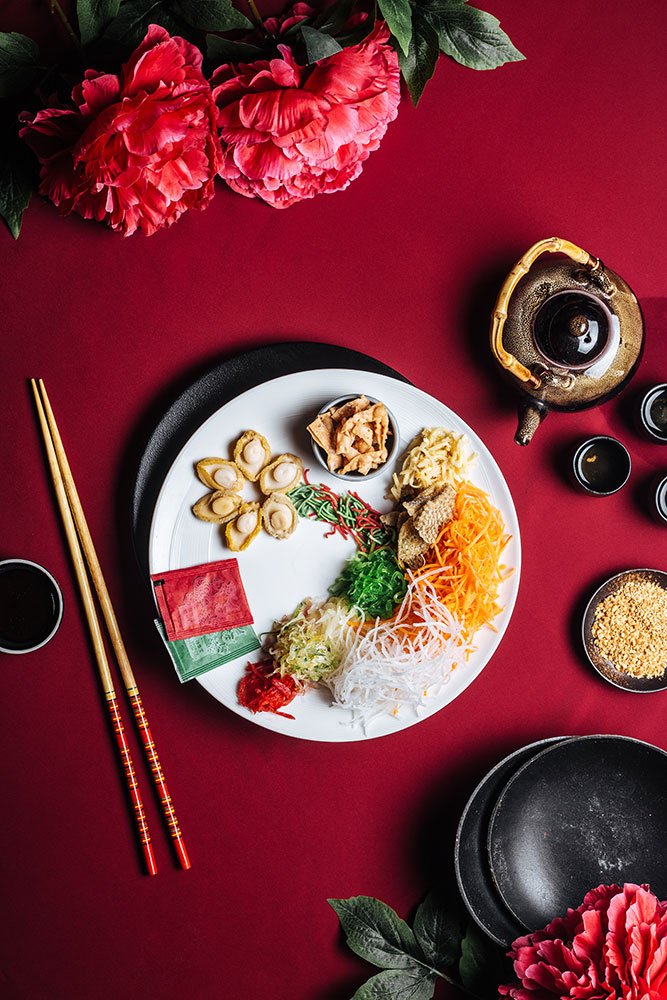 A different kind of lou sang awaits at Tao Chinese Cuisine, featuring Soft Shell Crab Yee Sang with Hakka Lei Cha Sauce. Made with mint, basil, long jing tea, pu'er tea and sesame, the sauce adds a nutritious twist to the traditional yee sang to usher in a year of good health and abundance. Other notable mentions from the 9-course set menus offered include Double-Boiled Ginseng Soup, Tao's Hong Kong style Roasted Duck and Steamed White Sultan Fish. Chef Wong and his team have also crafted a la carte and dim sum menus with items such as Baked Baby Abalone Puff with Foie Gras and Unagi Pan-Fried Glutinous Rice Roll.
The set menus (priced from RM1,988) and yee sang platters are available from 30th December 2019. The Chinese New Year Ala Carte Menu is available from 24th January 2020, while the Dim Sum menu is available from 25th January 2020. All menus will be served until 8th February 2020. For reservations and enquiries, please contact 03-2782 6128 or email foodandbeverage@intercontinental-kl.com.
Lai Po Heen, Mandarin Oriental KL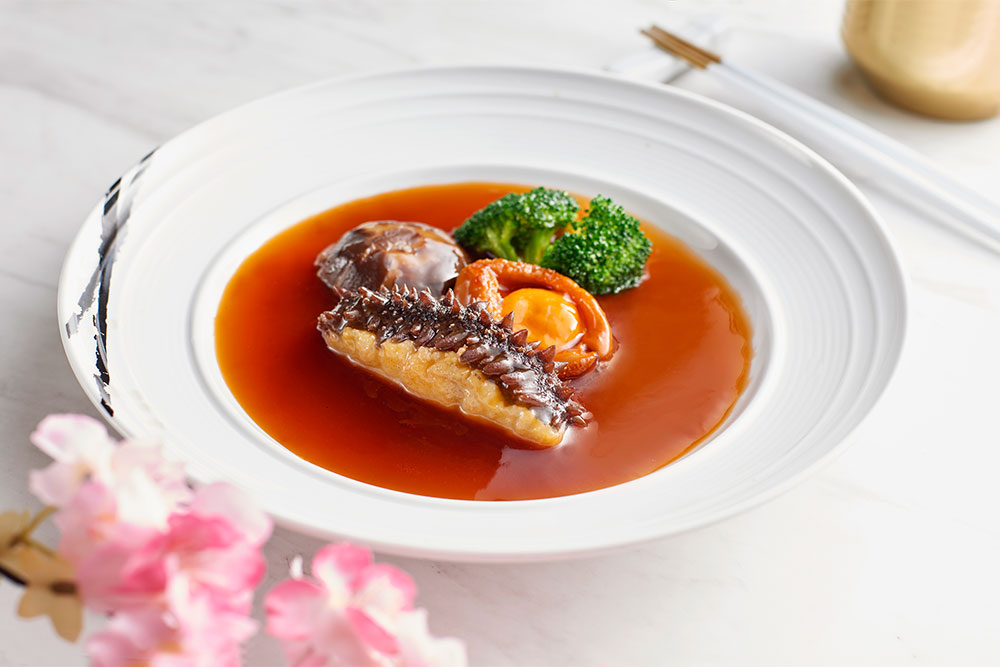 At Lai Po Heen, your reunion meals may include a side of entertainment, including a visit from the "God of Wealth", who will be giving out red packets on 24th (dinner) and 25th January; or a guzheng (Chinese zither) performance, happening between 24th to 26th January from 7 to 10pm. Even if you have other plans on those days, Executive Chinese Chef Michael Wong and his team have put together three set menus, two dim sum set menus and an array of yee sang platters to 'lou hei' throughout the season. Highlights include Wok fried Ming prawns with Szechuan chili sauce, Oven-baked honey cod fish fillet on a bed of milky clouds and Scallop fried rice served with pumpkin purée.
Available from 1st January to 29th February 2020, the set menus are priced from RM288 and the yee sang platters are priced from RM98 respectively. For reservations and enquiries, please call +603-23308798 or e-mail mokul-fb@mohg.com.
Yen, W Kuala Lumpur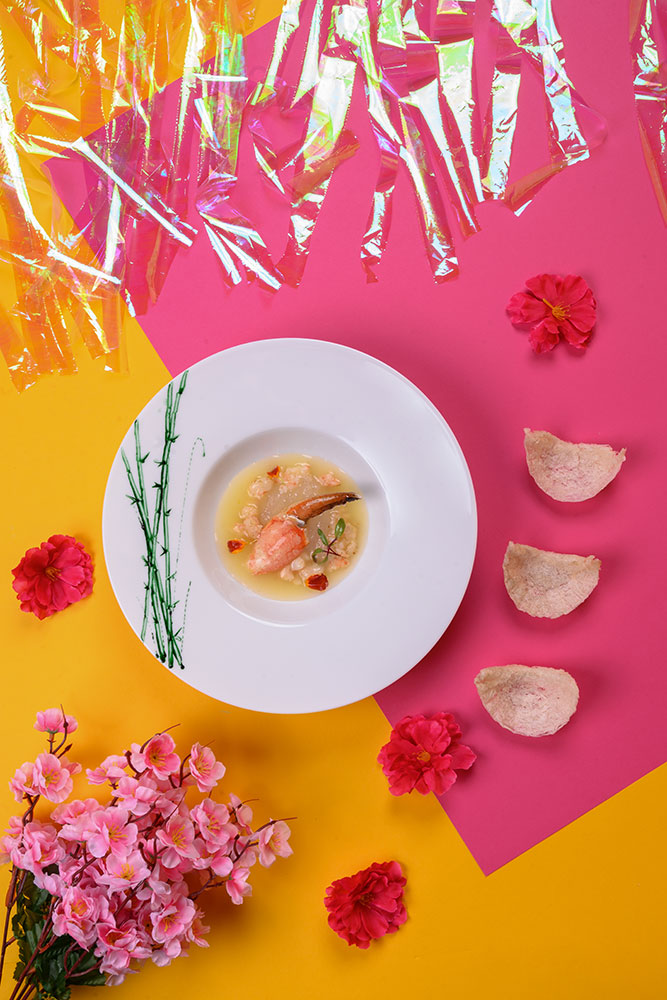 For a classic meets contemporary Cantonese meal this festive season, take your auspicious pick from YEN's four Lunar New Year set menus, ala-carte specialties and four varieties of yee sang platters. Expect exquisite dishes like Double Boiled Matsutake Soup, Morel Mushroom, Fish Maw; and Braised Imperial Bird's Nest, Whole Crab Claw, Minced Prawn, for teasers. Plus, the traditional yee sang has been reimagined with gourmet Salted Egg Fish Skin Crunchy Crisps from Singapore-founded The Golden Duck, which you can also purchase separately.
Available for lunch and dinner from 1st January to 8th February 2020, the set menus are priced from RM188+ per person, whilst the yee sang platters are priced from RM118+ for half portions and RM228+ for full portions. There will also be two seatings for reunion dinner on the 24th of January – the first taking place from 5.30pm to 8pm and the second from 8.30pm to 10.30pm. For reservations and enquiries, please call +603-2786 8888 or email us at bf.wkualalumpur@whotels.com.
The St Regis Kuala Lumpur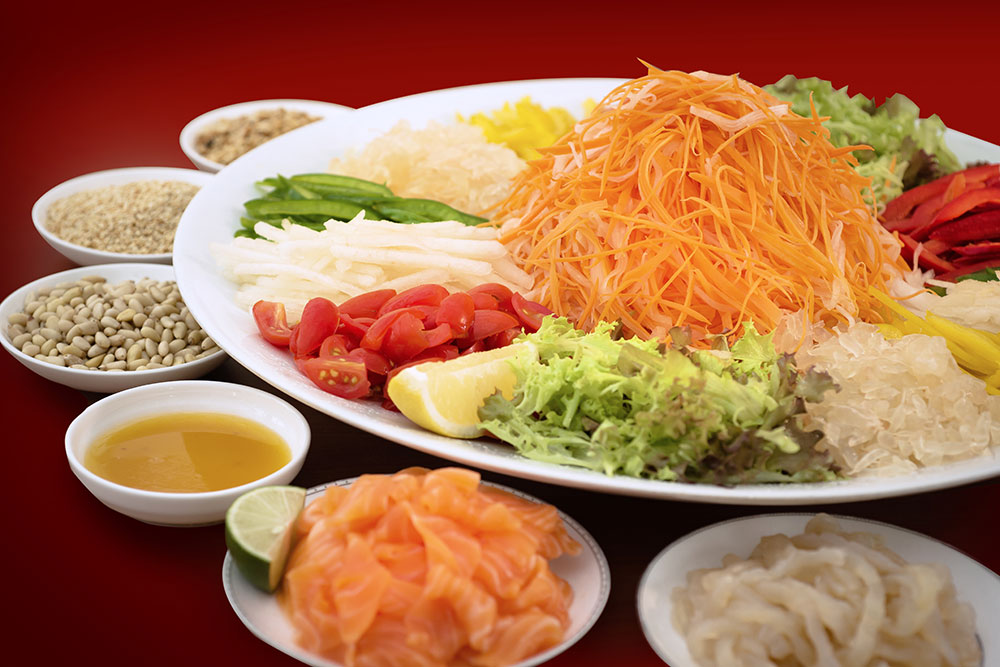 While The St Regis KL may not have a Chinese restaurant, the hotel welcomes one and all to dine at its private dining rooms and Grand Ballroom. As per previous years, guests can look forward to Puan Sri Sharon Chua's unique yee sang recipe made with finely chopped and sliced fresh fruits and vegetables accompanied with assorted nuts, seeds and sauce, and topped with a choice of either salmon, jellyfish, abalone or a vegetarian-friendly option. Additionally, signature set menus curated by Chef De Cuisine Cheong Boon Fei and inspired by the owning family's treasured ancestral recipes such as handmade "Jiao Zhi" dumplings and pan-seared radish cake are available.
The yee sang is priced from RM196+ onwards and the set menus are priced from RM368+ per person. Both are available from 6th January to 7th February 2020. For reservations and enquiries, please call +603 2727 6696 or email dining.kualalumpur@stregis.com.
Yue, Sheraton Petaling Jaya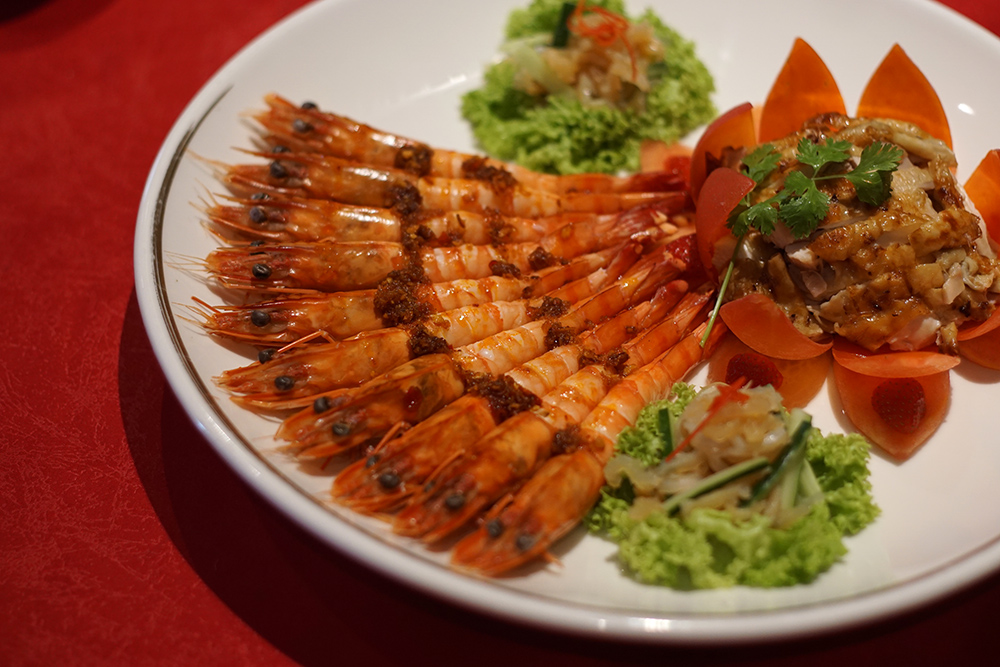 Over in PJ, Yue is ushering the Lunar New Year festivities with three 9-course set menus featuring the restaurant's signature Traditional Norwegian Salmon Yee Sang. Other noteworthy dishes to expect on the menu include Steamed Live Tiger Garoupa, Roasted Chicken with Golden Garlic Mongolian style and Fried Prawns with Black Truffles. Yue will also host two sessions for reunion dinner, running from 5.30pm to 7.30pm and 8.30pm to 10.30pm respectively.
Available from 8th January to 16th February, the three set menus are priced at RM2,388, RM2,788 and RM3,299 per table of 10. For reservations and enquiries, please call 03-76228888, email sheraton.petalingjaya@sheraton.com or log on to sheratonpetalingjaya.com.
Grand Imperial Group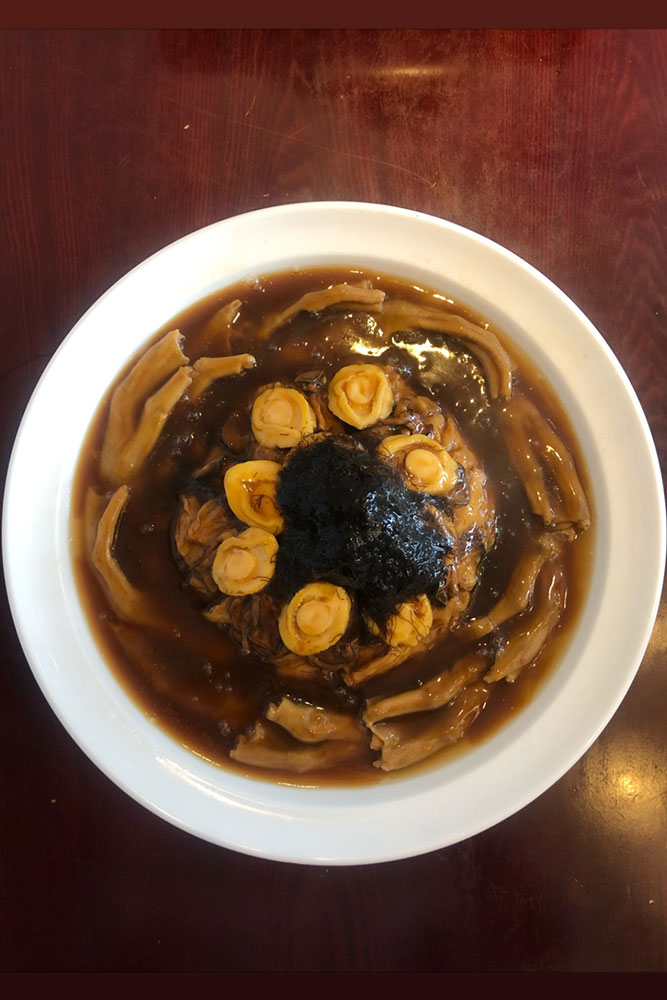 With six restaurants located all around the Klang Valley – the latest being in Pavilion KL, finding a suitable location to host your reunion gatherings at Grand Imperial is now simpler than ever. What's more, there are ten set menus to choose from (non-halal dishes included), so you're bound to find one that fits everyone's palate. Among the signature dishes to consider are the Roasted Whole Suckling Pig, Roasted Crispy London Duck accompanied with Fried Truffle Mushroom, Prawn Medallion Coated with Salted Egg Yolk and Chilled Whole Abalone with Chef's Special Sauce, to name a few.
For reservations and enquiries, please call +603 7960 5223, email info@grandimperial.com.my or log on to grandimperial.com.my.
Nobu Kuala Lumpur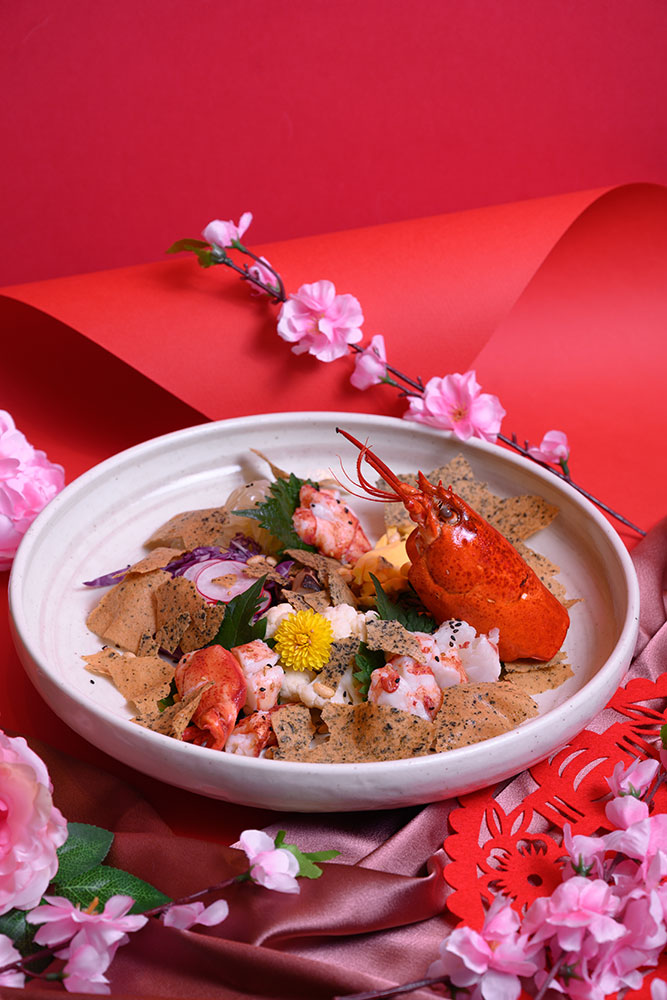 Bored of tossing similar yee sang platters God-knows-how-many-times a year? Try Nobu's Japanese-Peruvian Nobu Style Prosperity Sashimi Platter instead, featuring tuna, yellowtail and salmon sashimi and an unusual mix of cauliflower, asparagus, shitake mushrooms, red cabbage, pomelo, jackfruit, pink radish, sesame seeds, and a homemade sour plum sauce. Or you can choose the Lobster Platter that comes with a whole lobster in lieu of sashimi. If you prefer the wholesome, slow-cooked "Poon Choi", then the New Year Hot Pot "Nabemono" Nobu Style may tick the right box. It features a kombu and chicken stock-based soup consisting of seasonal mushrooms, tofu, leeks, cabbage, and two selections of protein including wagyu short ribs, chicken, freshwater prawns and scallops.
Available from 11th January 2020 to 2nd February 2020, the Sashimi and Lobster Platters are priced at RM188++ and RM288++ respectively, whereas the Hot Pot set is priced at RM288++. For reservations and enquiries, please call 03-21645084 or WhatsApp +60193895085.
Li Yen, The Ritz-Carlton Kuala Lumpur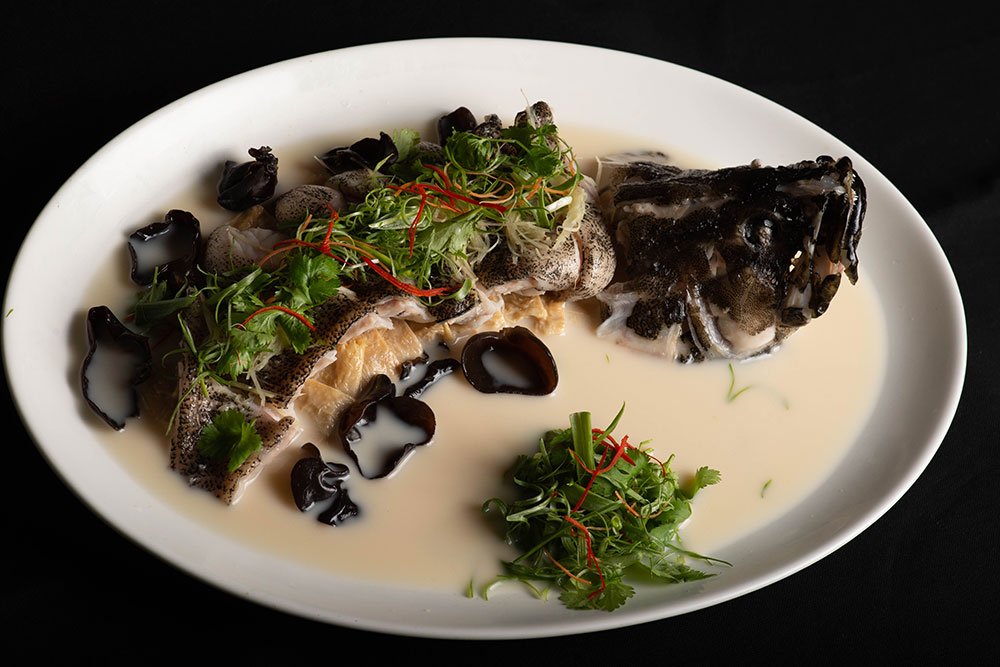 This Year of the Rat, Executive Chinese Chef Alex Au and his team have curated six special set menus featuring 'The Reunion Stars' – inspired by traditional dishes usually enjoyed during reunion dinner on the eve of the Lunar New Year. A few standout dishes featured across the lunch and dinner menus include the Hong Kong Style Waxed Meat Clay Pot Rice, Steamed Tiger Grouper with Bamboo and Fungus in Fish Sauce and Braised Ten-Head Abalone with Mushroom and Melon. There's also a newly added Chiu Chow Yee Sang for a customary toss to good fortune, as well as a seasonal selection of dim sum.
Available from now to 8th February 2020, the lunch set menus are priced from RM148 nett per person (minimum 4 persons) while the dinner set menus are priced from RM1,988 per table of 10. The seasonal dim sum, a la carte and yee sang menus are available from 24th January to 8th February 2020. For reservations and enquiries, please WhatsApp +60186468033, WeChat @liyenrckl, email li.yen@ritzcarltonkl.com or make a reservation at online OpenTable.
Shanghai, JW Marriott Kuala Lumpur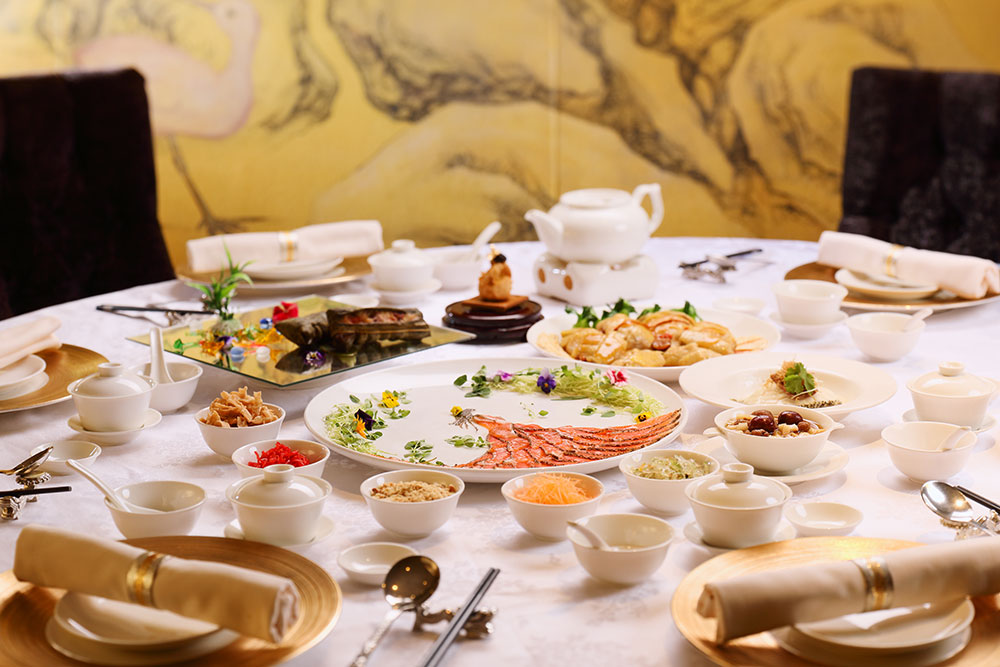 To welcome an auspicious year with Shanghainese cuisine, look no further than JW Marriott's award-winning Shanghai restaurant. A highlight to expect is Executive Chinese Chef Wong Wing Yeuk's 'The Art of Yee Sang' platter that's served with a secret sauce and your choice of topping, including lobster, geoduck, abalone, jellyfish, salmon, fresh fruits or vegetarian ham. To complement the platter, there are three set menus with delicacies such as Double-Boiled Soup with Fish Maw, Dried Scallops, Cordycep Flowers and Chicken; Deep Fried Mandarin Fish with Shanghainese Sweet and Sour Sauce; and Steamed Spanish Pork Ribs with Rice Powder and Spices Wrapped in Lotus Leaves. In addition, there's an a la carte menu with equally delectable dishes to choose from.
The Art of Yee Sang and Shanghainese Lunar New Year menus are available from now to 8th February 2020. For reservations and enquiries, please WhatsApp +60185919537, WeChat @shanghaijwmkl, email shanghairestaurant@jwmarriott.com or make a reservation online at OpenTable.
The Chow Kit Kitchen
Those looking for a taste of modern Malaysian fare this CNY can hop over to the newly opened The Chow Kit, where The Chow Kit Kitchen is offering specially curated lunch, dinner and yee sang menus for the season. Expect inventive creations such as Foie Gras & Duck Breast Loh Bak, Fish Maw Siew Mai, Five Spiced Duck Breast and Soy Noisette Butter Fried Sole, promising a novel experience from your usual festive get-togethers with close ones.
The Chinese New Year set menu is priced at RM68++ per person for lunch and RM88++ per person for dinner. Groups can also enjoy the set menus from RM388++ per table of four onwards. All set menus and yee sang platters are available from 17th January to 8th February. For reservations and enquiries, please call +603 2778 6666.
Wan Chun Ting, Sofitel KL Damansara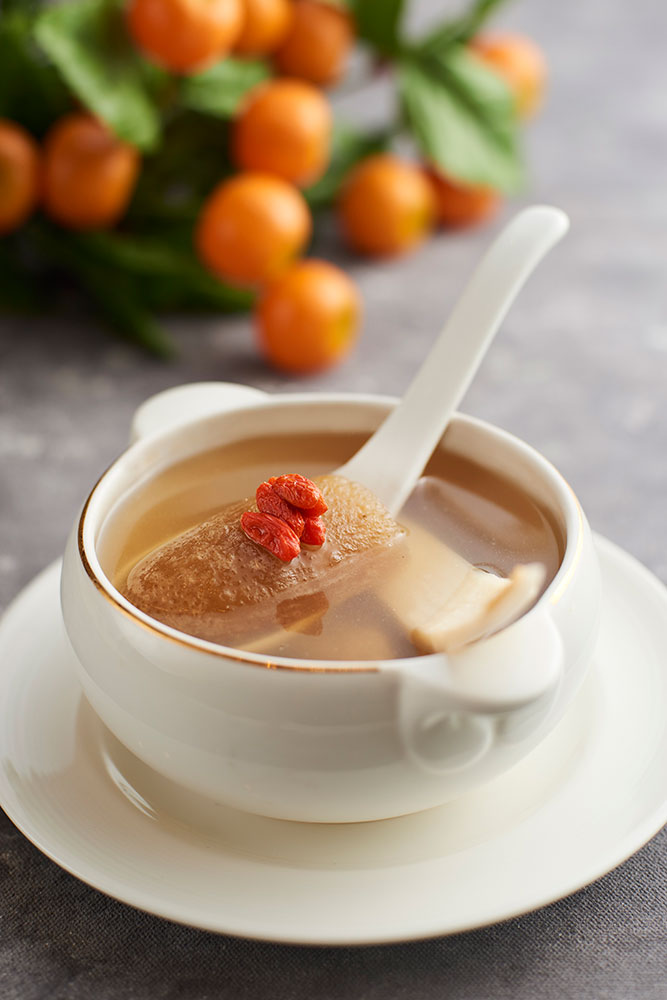 Folks in the Damansara Heights area can conveniently ring in the fortune and prosperity at Sofitel KL Damansara's Wan Chun Ting, where you can choose from three 9-course set menus. Each set has a distinctive selection of symbolic dishes, from Double Boiled Chicken Soup with Chinese Yam to Wok-fried Fresh Tiger Prawn with Dried Egg and Deep-fried Chinese New Year Cake with Yam, to name a few highlights. All sets come with a yee sang platter, which can be purchased separately from a selection of seven varieties. There's also a dim sum lunch menu and a la carte menus for lunch and dinner, should you prefer.
Available from 26th December to 8th December, the set menus are priced from RM2,388 per table of ten (inclusive of a bottle of wine), whilst the yee sang platters are priced from RM88 nett per half portion and RM176 nett per full portion. For enquiries and reservations, please email HA123-FB3@SOFITEL.COM or call 03-27206688.
Photos courtesy of respective establishments