The traditional wiener schnitzel of Austria is his favourite food and he much prefers the excitement of the Asian dining scene over Europe's.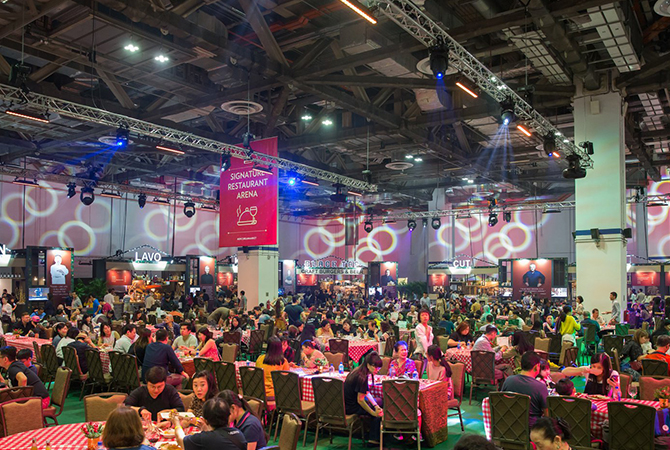 Marina Bay Sands' 6th Epicurean Market, its biggest food extravaganza, launched and wrapped with great fanfare over the weekend of 13-16 December 2019.
The 3-day food festival turned the Sands Expo and Convention Centre into a one-stop food and wine haven for the most discerning gourmand, bringing together over 50 booths, offering over 60 signature bites from award-winning restaurants, endless tipples from renowned mixologists, 12 culinary and spirits masterclasses, a stellar line-up of vendors who will debut their festive produce and rare spirits. The festivities came complete with a dedicated kids corner called Santa's North Pole, where retro arcade game machines were up for play and a real life Santa was around for pictures.
On the food front, two new additions to the lineup were highly anticipated: KOMA and Black Tap, a modern contemporary Japanese restaurant and a fun all-American diner respectively.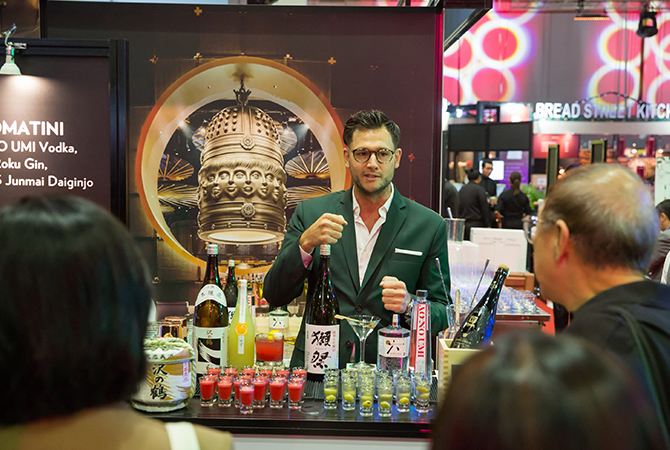 Beyond the food and the drink, one of the most prized experiences is perhaps the specialty masterclasses held by celebrity chefs in which attendees got first-hand look into secret recipes, personal cooking inspirations and the, of course, the incomparable experience of seeing one's favourite chef in live action.
Chef Tetsuya Wakuda presented an insightful Waku Ghin at Home masterclass where he shared with attendees the fascinating art of Ikejime, an artful skill in preparing fish to preserve its superior quality and flavours, while using a humane technique.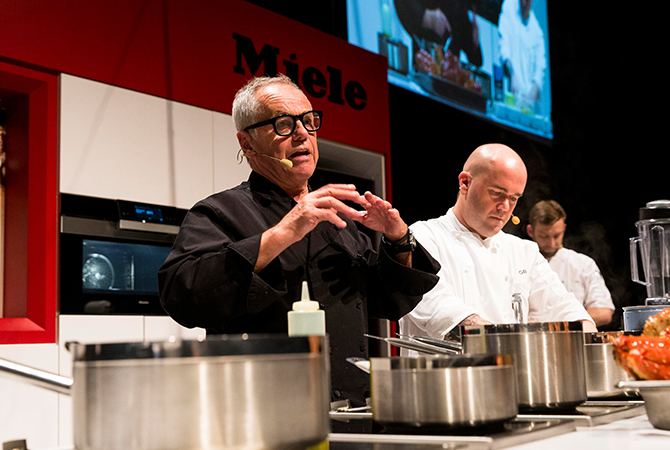 For the first time celebrity chef Wolfgang Puck of CUT and Spago also made the roster, presenting a culinary class with his Singapore executive chef Greg Bess on how to prepare the perfect risotto at home.
Following the masterclass, we stole 10 minutes of his time to have a chat on what inspires his cooking and what can young chefs do to be that little bit closer to their dream of cooking on an international level.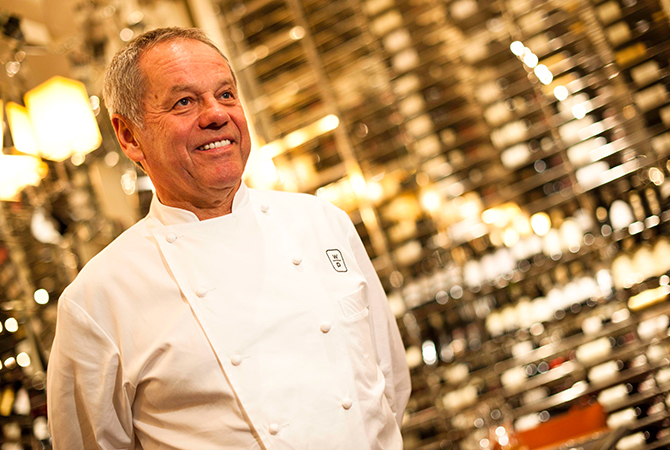 What have you learnt from cooking in Asia?
It's so interesting – there are a lot that we learn from each other. The culture of eating is so important. If Trump and Xi Jinping can sit down and have a good dinner, they could make a good deal probably afterwards.
We learnt from Asia about family style dining, more so to share. There is variety of portions here – there's small and large, and for me, about spices. Where I grew up in Austria, we didn't have a lot of spices, except during Christmas when we had cinnamon and ginger powder. To me, dining in Asia like in Japan and Hong Kong where I used to go 35 years ago, was always very exciting, more so than Europe.
I haven't been to Indonesia or Malaysia yet, but I am sure they have many interesting restaurants with local flavours, I am sure they have a lot of young chefs who do interesting things. Unfortunately, I travel only for work. And then I go to the next one. Every year I say that my new year wish is to travel for work but take two days to enjoy, but I never do it.
Why should countries be proud of their local food?
I think it's very important. I have Chinoise that had Asian influences, Spago with Italian and French influences, but I never had a restaurant with Austrian influences. So all of a sudden, I realise there's nothing wrong with Austrian food, as long as I do it well. I remember when I opened Spago, I put wiener schnietzel on the menu, which used to be my favourite. We only got it only on Sunday and not that often, and because we grew up really poor. But it was special to me and even to this day, my kids love it today. I put it on the menu and it became a big success. Everyone just wanted it. I got so tired and took it off the menu. People complained and I had to put it back on.
It doesn't matter where you are, people like foods that matter to you because you will be preparing it with sentiment. It doesn't have to be fancy, so long as it is made with heart.
Do you cook from the heart or do you stick to the rules of techniques you've learnt?
I cook what I like to eat. If I do something new, it's always while im doing something and I come up with a new inspiration on the spot. Like when I learnt about Peking duck, I didn't want to do it just the traditional way. I respect what they do and I wish I can do it as good as them but I didn't invent the style so I try and do things with a spin of my own. For example, instead of hoisin sauce, we make a fresh plum sauce. I like to mix techniques that I learnt with my own style of doing things for something that I can call my own.
You've won many stars, awards and recognitions in your prolific career. What do they mean to you?
I don't look back. The first time I got the James Beard Foundation Award,  I went to celebrate at my friend's restaurant in New York. I wanted to hang the award on his restaurant, this American restaurant in New York. I still don't know where it is today – that was over 30 years ago. I don't look back a lot.
I won the first Emmy in the Food Network in 2002. When I got divorced, everything was sent to me by my ex-wife in a box under books and other things and it was completely flattened. But I do wish I had saved some of things things, like pictures. It would be nice to be able to  look back at my time doing all these things like in Maxime's in Paris, but I let everything go. I collected menus from all over the world and now I don't know where they went. Maybe 5% of the time I might look back, but the rest of the time I focus on the today and tomorrow. A little bit of history Is important, but it's better to look forward and learn and do new things.
What is your cooking philosophy?
My best philosophy is, we buy the best ingredients and we try to not screw them up. We want to enhance them without making it too complicated. A lot of chefs these days focus on the plating and putting in the dots with the sauce and make the perfect points and everything. I tell them, we are in the cooking business. So the food has to be delicious, it has to taste good and that's all that matter. It's like for women. You don't need too much makeup. Put on a little, it's great; but when you overdo it, you lose the personality. It's the same with food.
What advice do you have for young chefs hoping to make it in the culinary scene?
Today, because  we get everything so fast, patience is an important part. It's important for young chefs to learn and study before you want to be a chef. Today, every young person want to own their own restaurant, they want to be on television, they want to do all that before learning the right techniques on how to do things. I never regretted my time learning the real techniques. It's your good foundation. Without it, I would never be able to do what I do.
I think it's also important to pick the right restaurant to work at. It's at the good upscale restuarants that you learn the right techniques. In the cheap restaurants, they might just throw things around, they don't know about the best ingredients. Upscale restaurants won't cut corners and you'll be exposed to the best of the best.
(Photos: Marina Bay Sands)