Fans of the cuisine, you know where to check out the next time you're craving some classic French fare.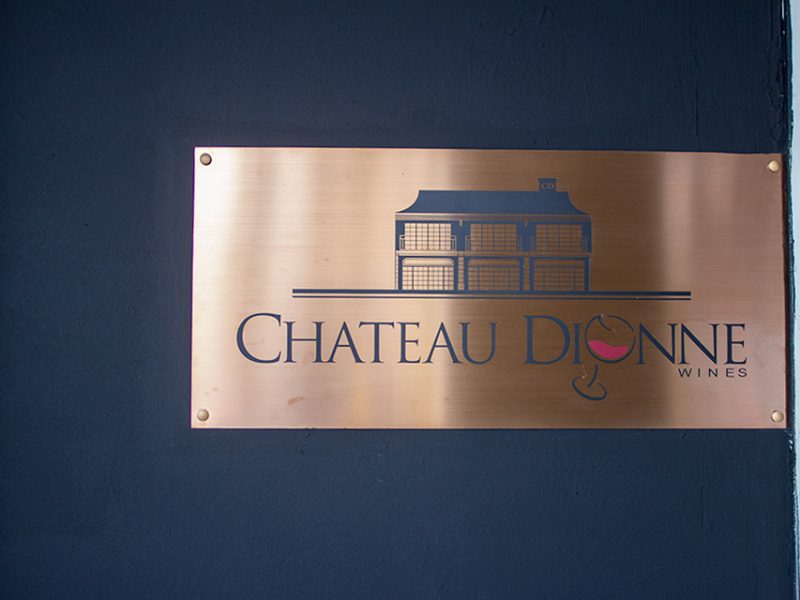 Opening any restaurant in 2020 sounds like a big risk, let alone a high-end one focusing on French gastronomy. With the number of French fine and casual dining venues that have already attracted loyal patrons in the Klang Valley, there'd be some high expectations to live up to.
Yet, Chateau Dionne has proudly joined the ranks since September, inviting affluent residents in the Bukit Damansara neighbourhood and beyond to experience its modern classic French fare. The restaurant was originally established in the upscale Xuhui District of Shanghai, set amidst a mix of luxury malls, indie boutiques, trendy restaurants, art galleries and a cultural preservation zone with sycamore tree lined streets known as "the French concession".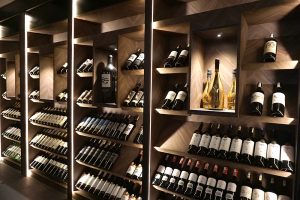 After six successful years in the Paris of the Orient, David Lim – seasoned wine entrepreneur behind Denise the Wine Shop, the largest wine specialty concept store chain in Malaysia – decided to launch a second outlet back home. Meanwhile, executive Chef Andy Choy had always dreamed of opening his own restaurant in his hometown of Penang, having honed his culinary skills under the tutelage of chef luminaires Guy Savoy and Gordon Ramsay and gained experience in the kitchens of Michelin-starred restaurants.
Together, they brought Chateau Dionne Kuala Lumpur (CDKL) to life in an intimate double-storey space in Plaza Damansara. Curious to find out if it lives up to its Shanghai sister's fame, we recently dropped by for a taste of its lunch menu. Read on for our thoughts.
Intimate interiors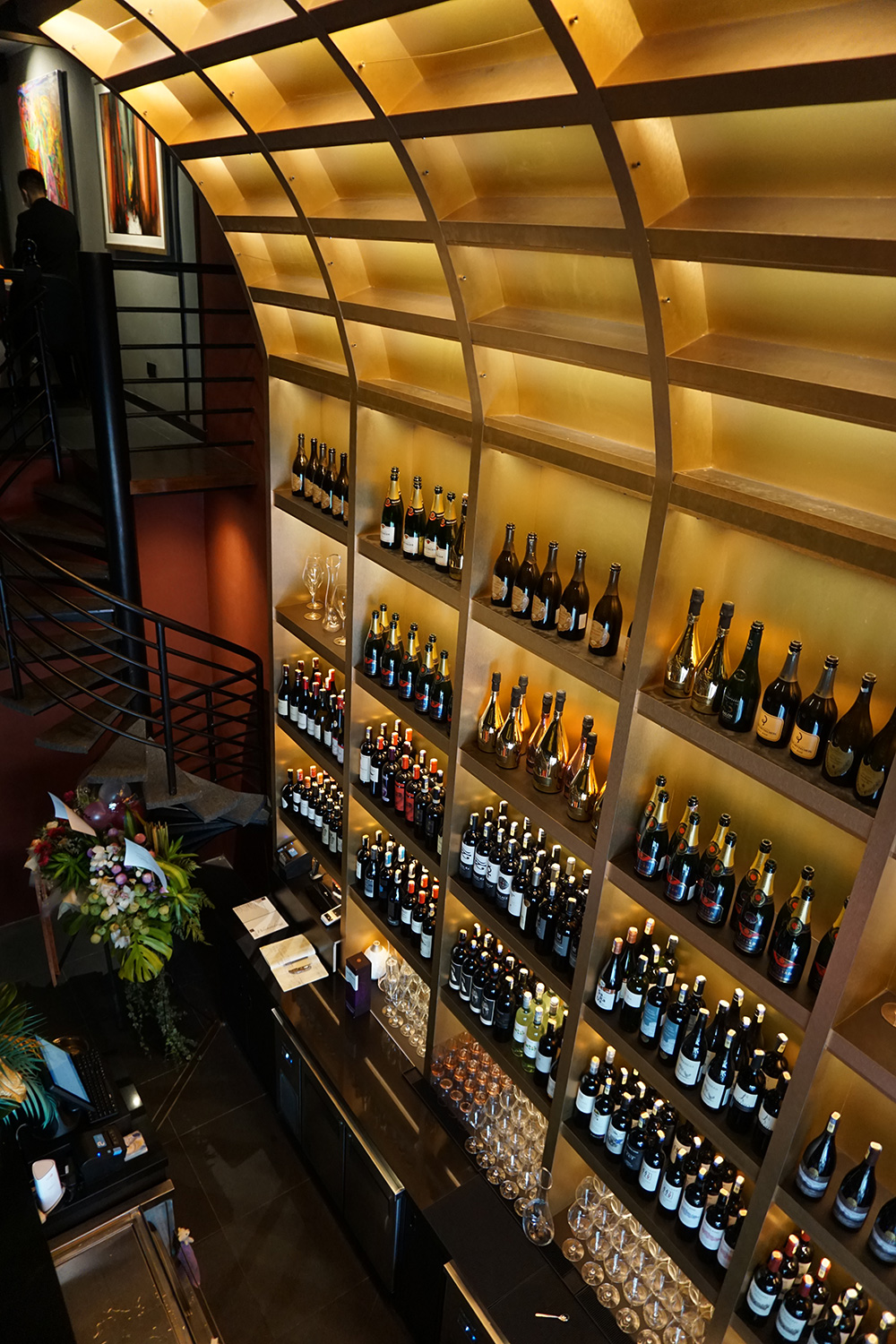 Before we dive into our meal, Chef Andy kindly leads us on a brief tour around the space. At this point, we've already walked pass the aperitif-digestif bar counter where an imposing shelf stocked up with wines makes a striking impression. With David's wine expertise, it's not surprising that you'll find an extensive selection here – although Chef Andy tells us there'll also be a curated arsenal of whiskies and spirits added to the menu later on.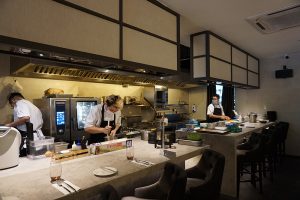 Reflecting its contemporary approach to French cuisine, there's a modern open-kitchen seating area where gourmands can enjoy a "chef's table" experience. For more privacy, there are mood-lit grey-washed booths that can seat couples or families.
The mood is evidently more vibrant and snazzy upstairs, spruced up by colourful artworks and furniture. Even more wines occupy floor-to-ceiling shelves in between the murals and a "wall of fame" that showcases famous celebrities who have visited Chateau Dionne Shanghai. Completing the space are two private rooms that are available for special functions, business meetings and events, as well as a walk-in cellar and lockers which are reserved as part of a special VIP package.
Starters – Saumon, Foie gras & Champignon et artichauts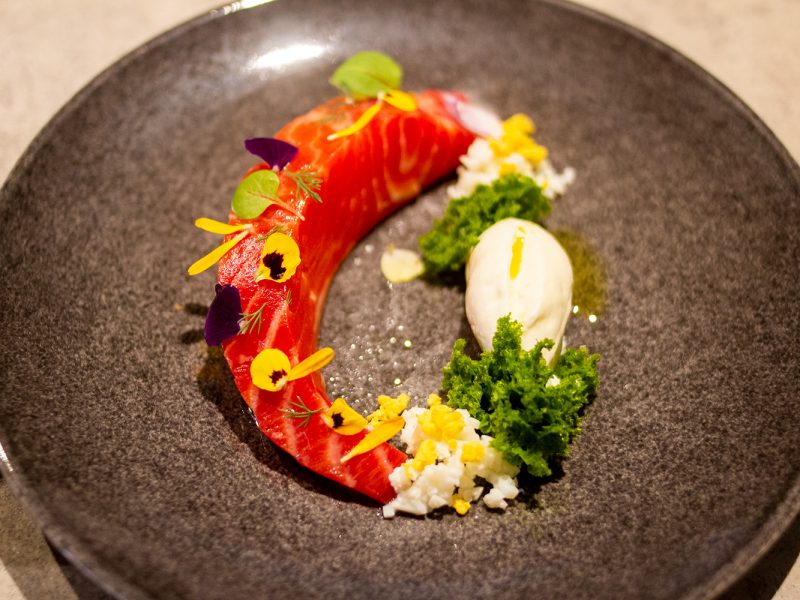 Given our party of two, we opted to share each course for greater variety and a better idea of the restaurant's offerings.
Easily the prettiest dish of our meal arrived early on in the form of a Norwegian smoked beetroot salmon with a mix of dill sponge, sour cream and edible flowers for ornaments. While the beetroot served to give the fish its bright, appetising colour, applewood chips brought out distinctive, smoky aromas that really enhanced the intensity of flavours in the semi-raw cut. The accompaniments weren't just for show; pleasantly balancing the taste and texture of the salmon with a light creaminess and sour undertones.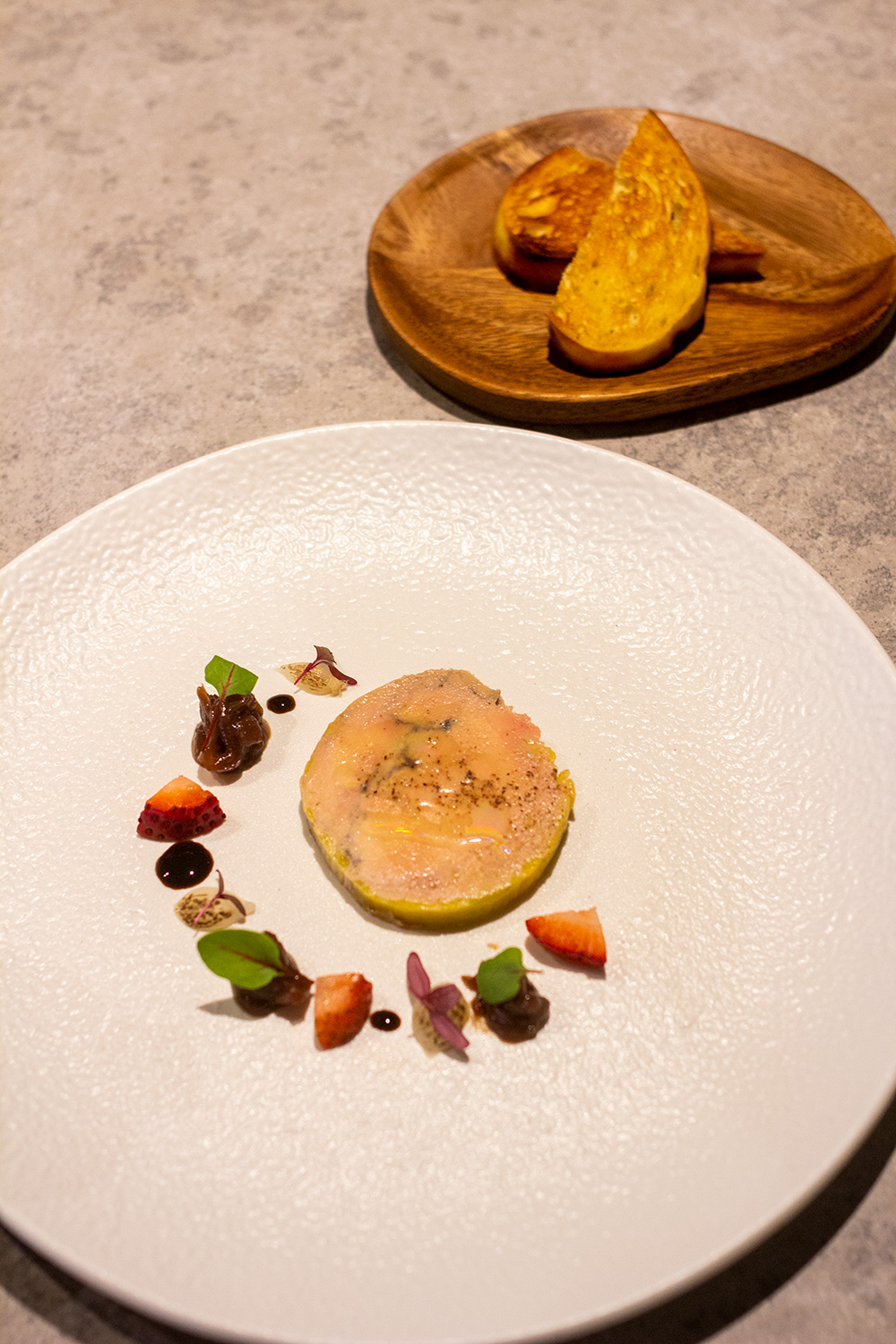 The foie gras au torchon hinted at the traditional French techniques that Chef Andy has spent years mastering, here reinterpreted with four spices that result in "veins" similar to that in blue cheese. Sinfully rich and fatty on its own, the duck liver was perfectly complemented by a traditional mique bread that was surprisingly soft and slightly sweet. The strawberry bits, pickled shallot and balsamic vinegar also helped to cut through the fats with sweet and sour notes, but the fig chutney – in our opinion – was the cherry on top.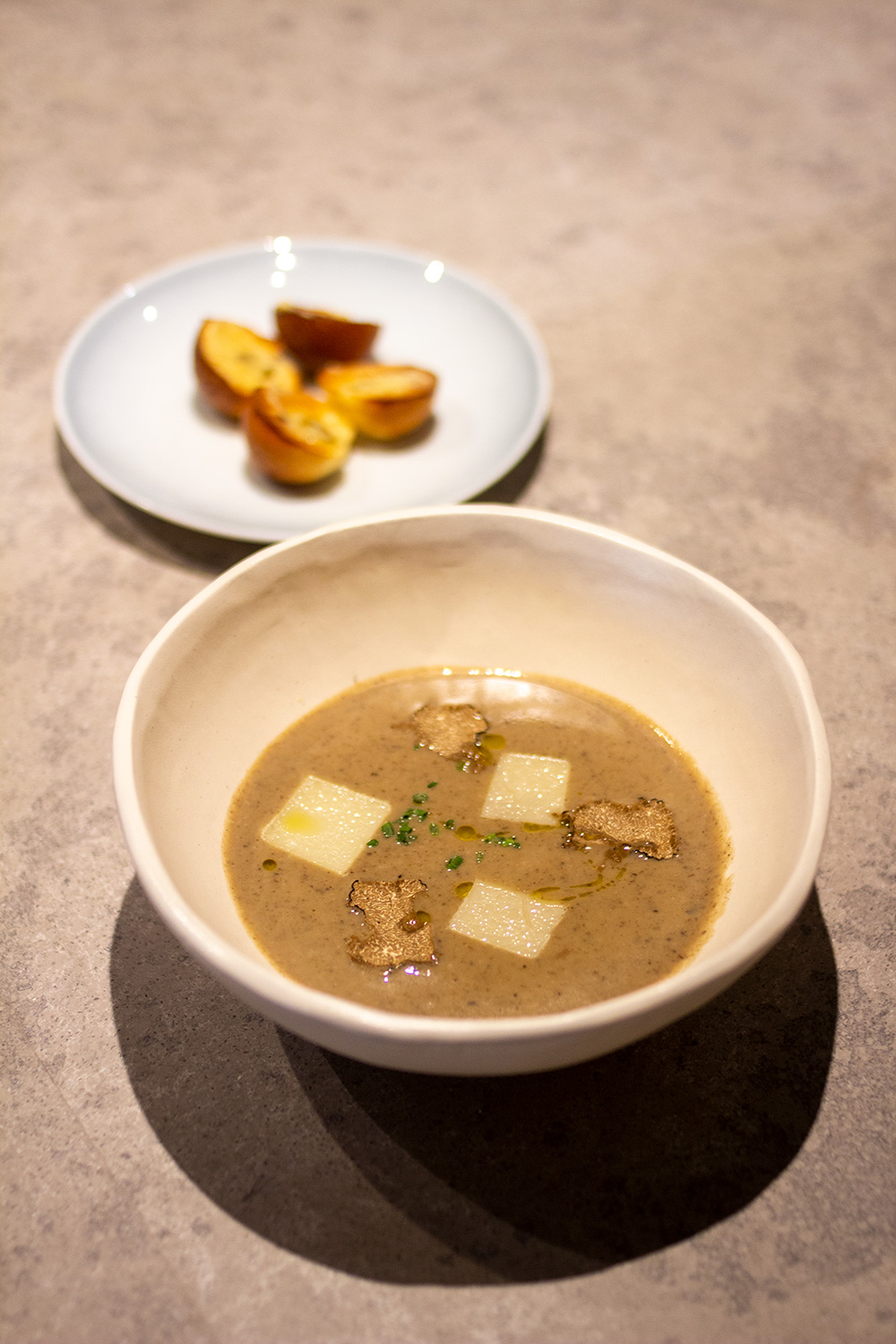 Carrying on our trail of flavour-packed dishes was a warm bowl of soup made with Paris mushrooms, truffle and parmesan cheese. Served with bite-sized truffled brioche instead of croutons, each spoonful was as comforting as the next. We only wished the bowl was bottomless.
Mains: Canard & Poisson du jour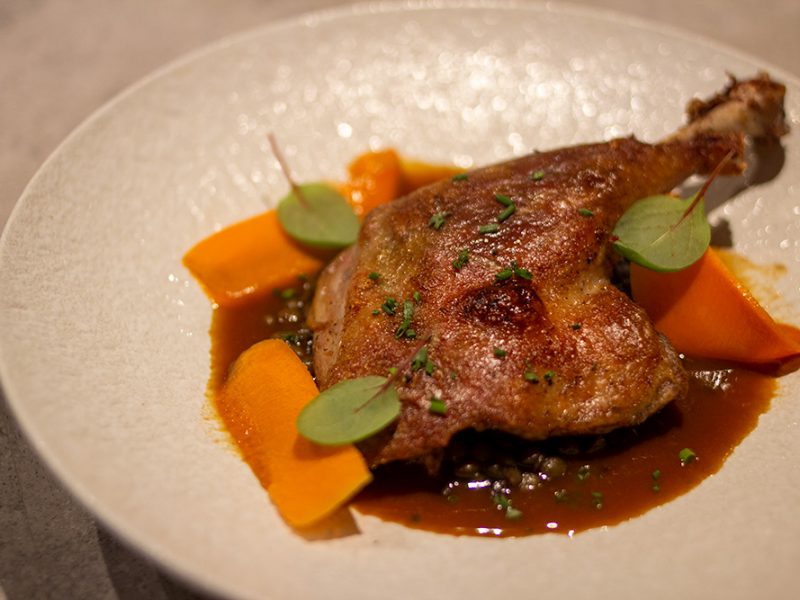 Chef Andy's recommended main of a confit duck leg ensued, presenting us with yet another revisited classic French dish. Cured in duck fat and served on a bed of duck jus, carrot and lentils, the meat was remarkably tender on the inside with a delicate, crispy skin. The lentil du puy gave the dish some nuttiness and contrasting, mushy texture. While delicious, it felt a bit safe compared to the rest – a hint of citrus or a tangy equivalent might have worked to offer more balance, but perhaps that's just our preference.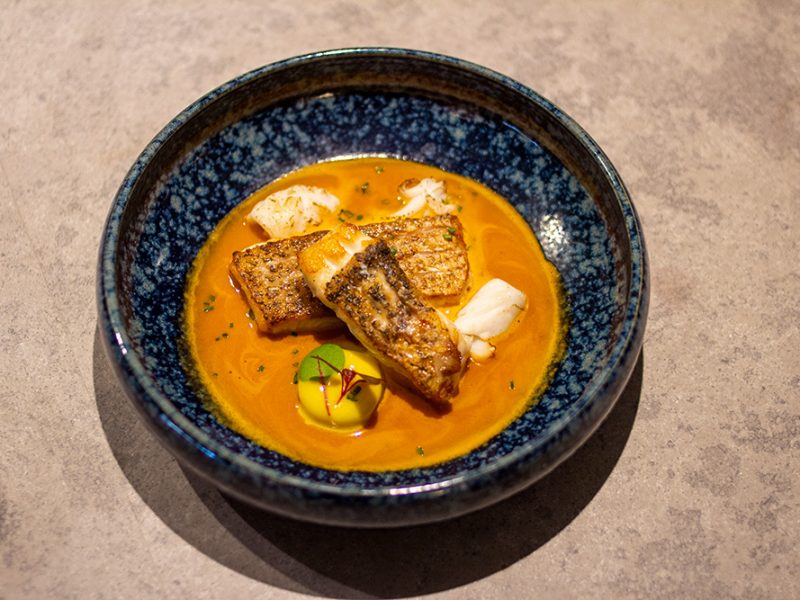 The seafood option had punchier flavours, thanks to the hearty (but not overpowering) bouillabaisse and saffron aioli. Our catch of the day was a red snapper, which was well-seasoned and cooked to a desirable flakiness. The accompanying squid also offered our preferred semi-chewy texture, checking all the right boxes to make this dish a delightful hit.
Dessert: Agrumes & soufflé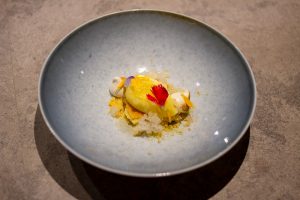 A deconstructed lemon tart of sorts was up next. Consisting of a meringue, yuzu jelly, citrus granita and lemon curd atop a sablé (a French round shortbread cookie), it came as a welcome, refreshing twist after the strong flavours preceding it. The meringue had a nice crisp shell and airy core without being too chewy, and we appreciated the overall play on textures. However, it did taste a tad bit too sour for our liking.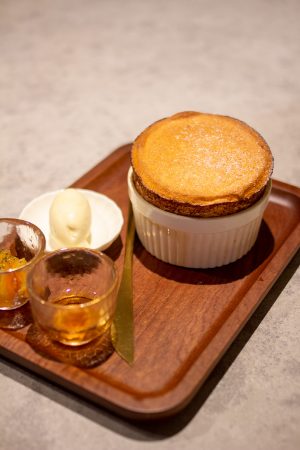 It's not hard to guess our finale dish: soufflé (you can't really call yourself a classic French restaurant without this on the menu, can you?). Chef Andy's take doesn't differ much from the traditional Grand Marnier soufflé recipe that's served with oranges, unless you count the vanilla ice cream and orange zest. The thing with soufflés is that it's tricky to get the consistency right, and that's discounting personal preference. Unfortunately, this one was slightly more sodden at the centre than we'd hoped.
On the whole, Chateau Dione Kuala Lumpur proved itself to be a strong new entry in the local French dining scene. Fans of the cuisine, you know where to check out the next time you're craving some classic French fare.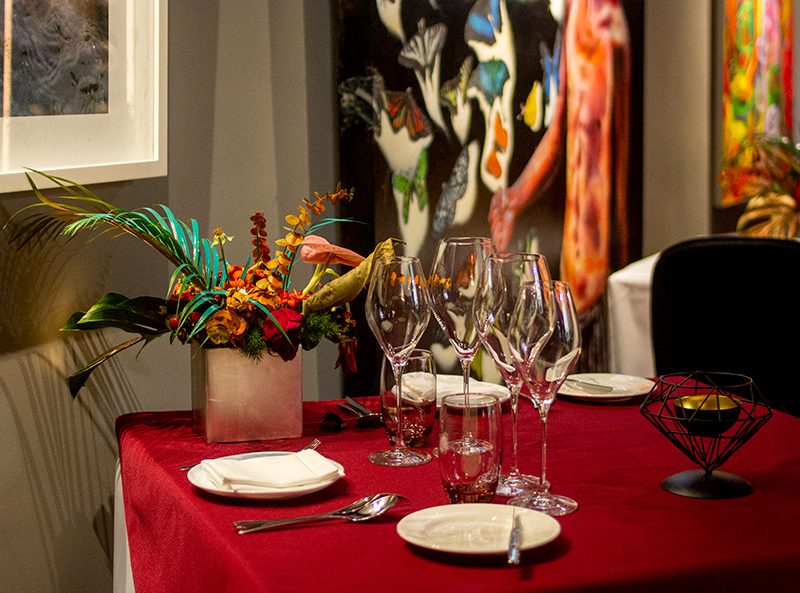 For reservations and enquiries, please contact +603 2011 2333 or log on to the Chateau Dionne's official website here. Follow them on Facebook and Instagram for more information and updates.
Location: 24 (Ground and Mezzanine), Jalan Medan Setia 2, Bukit Damansara, 50490 Kuala Lumpur, Malaysia
Opening hours: Monday (6pm to 10pm), Tuesday to Saturday (12pm to 3pm; 6pm to 10pm), Sunday (12pm to 4pm; 6pm to 10pm).
Photography: Anson Siau