Here's a look inside to see why.
Camping in the city probably sounds like an absurd idea, but Castra by Colony is not your average camping experience. Neither is it like any other city staycation.
Launched in January 2020 as a first-of-its-kind bespoke glamping destination, Castra by Colony – conceptualised by the same couple behind Colony Co-working Space – wants to satisfy your wanderlust and redefine the outdoor experience without having to leave KL.
"We are always on a mission to find new definitive ways to elevate experiences, we have started from inspiring workspaces, to uplifting events, now we want to redefine how businesses and groups organize their retreats," says Timothy Tiah, co-founder of Colony. "Hence, introducing the glamping concept that provides a bridge to the outdoors that gives you the assurance of modern facilities and promised comfort is what we envision Castra to be."
Nestled on the private terrace rooftop of Star Boulevard KLCC, the 4,510 sq ft bespoke camping site cum event space features a spacious garden lounge and barbeque deck, in addition to two Mediterranean-inspired luxe tents.
Here's a look inside to see why it's a 'glamping in the city' experience you never knew you wanted.
Camping in comfort
If you're familiar with glamping, then you'll know that luxury and comfort is what sets it apart from conventional camping. But Castra by Colony goes a step further with a bohemian chic theme that makes the space not just relaxing for the mind and body, but also aesthetically pleasing to the eyes.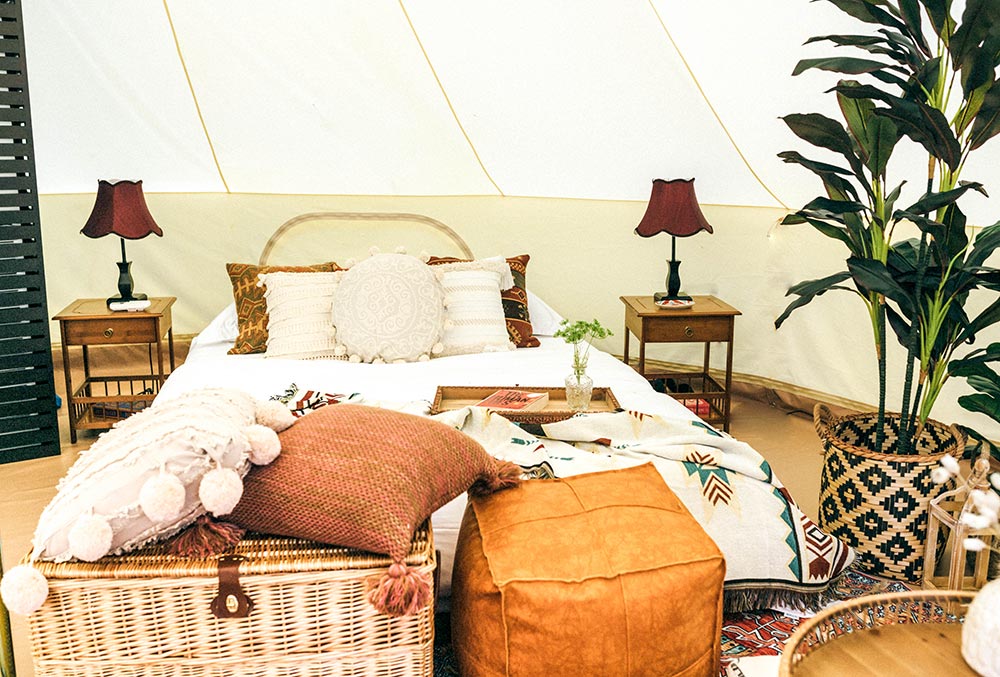 We're not going to lie, it can get very sunny and hot at the garden area (as we experienced on the afternoon of our visit), but trust the premium beds and linens, plush cushions and poufs and air-conditioning indoors to keep you cool and comfortable.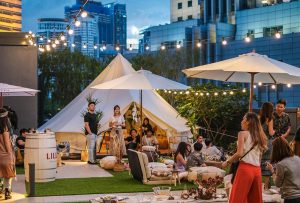 Rustic wooden tiles, tribal motifs and lush greenery spruce up the luxurious tents, ensuring every inch of this space is Insta-worthy. After dusk, you'll want to spend time outdoors at the garden patio where fairy lights and a gentle evening breeze will put you in a whole other (good) mood.
Escape to reconnect
Designed for those with a need for escapism, Castra by Colony allows guests to reconnect with nature and good company with its glamourous yet laid-back setting that is not short on amenities.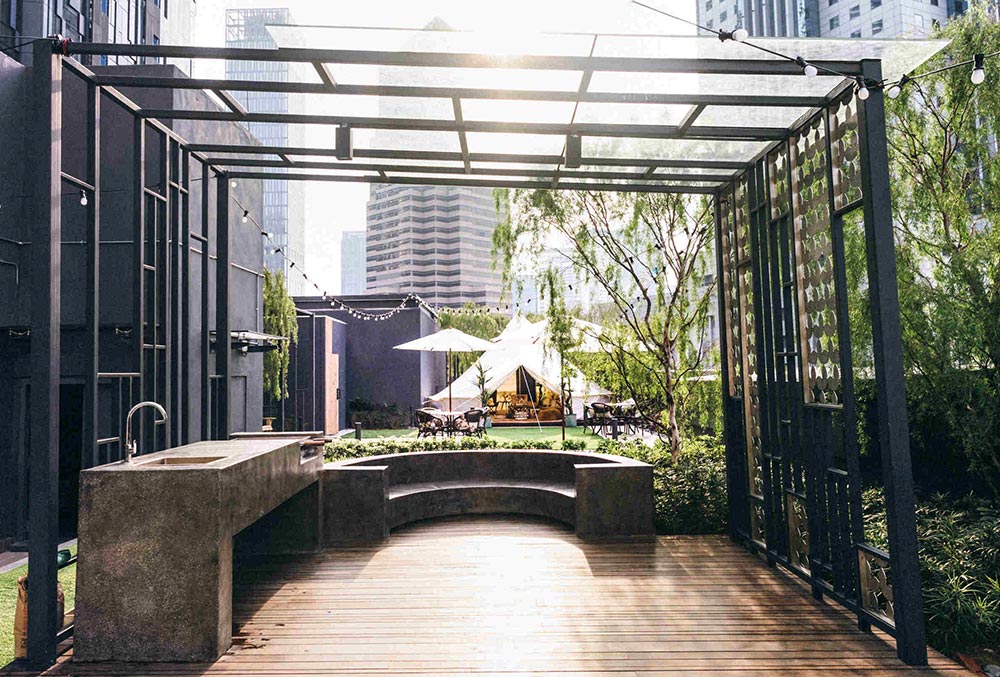 There's a large barbeque deck with complimentary use of grilling tools, a fully stocked minibar and Bose Outdoor Speakers for when you want to throw a weekend party with friends. Or, if you simply want to enjoy a good read in the company of plants and trees, there's a shaded hammock for you to cosy up in.
In case you can't live without modern conveniences, there's also a high-definition TV with screen mirroring capability as well as en-suite power sockets and unlimited high speed Wi-Fi at your full disposal. Completing the experience is an on-site shower (with hot running water, no less), premium bathroom amenities and organic toiletries.
Whether you're planning to try the glamping experience or to host a special event, Castra by Colony is the latest and trendiest spot to add to your list for consideration.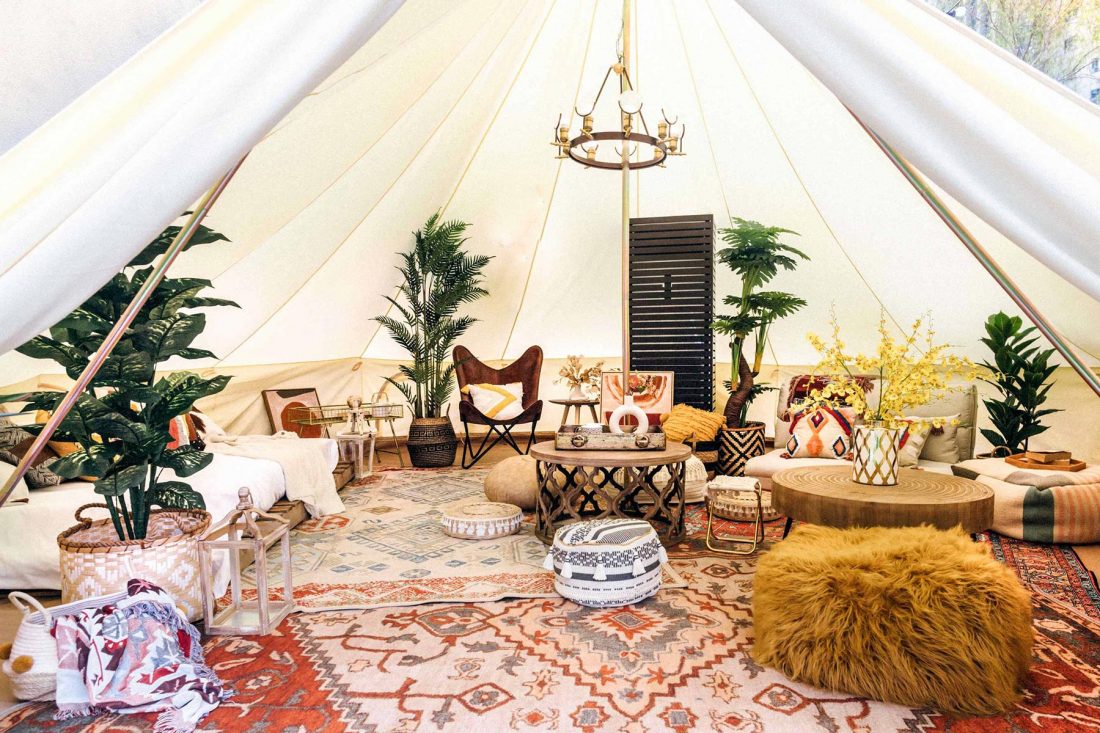 The glamping experience (up to 10 guests only) is priced at RM2,500 per night. The event space rental is priced from RM6,000 for half a day (4 hours) and RM10,000 for a full day (8 hours).
For more information or to make an enquiry, log on to the official website at colony.work.
Location: Castra by Colony, Star Boulevard KLCC, Jalan Yap Kwan Seng
Photos: Castra by Colony