Bulgari looks back to the biggest and most colourful era – the 80s – for its latest sublime collection, complete with a touch of the biggest artist of the day, Andy Warhol.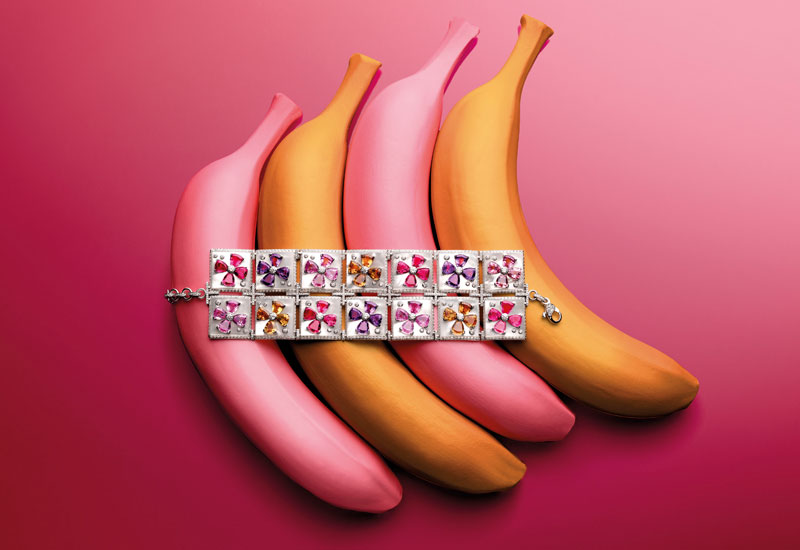 Bulgari is one jewellery house who has never shied away from vivid colours and dramatic designs. This year, it is owning that identity with its new Wild Pop high jewellery collection that brings its trademark vivid colours and even wilder designs together in one unapologetic capsule.
Dramatic colours. Grand dimensions. Passion over traditions. Experimentation is the spirit of the pieces, personifying Bulgari's total embrace of the unexpected. Another name that held those passions? Andy Warhol, another pioneer of the extravagant movement in the 80s and an artist with whom Bulgari has had a long special bond.
Bulgari looks to artist and the era of the grandiose for a cutting-edge collection that illuminates the multi-faceted sensibilities of today – and tomorrow.
Bulgari and the 80s
If there is one word to describe the 80s, it is big. Big shoulder pads, big print dresses, big bubble skirts and sculptural gowns. The names that owned the TVs and radios were equally so – Madonna, Michael Jackson, Prince, David Bowie.
A logo big enough to match all that? Bulgari. It premiered its Tubogas collection of jewellery and watches which quickly became a bestseller for its in-your-face logo. In fact, it became the first examples of logo jewellery, garnering itself fans like Grace Jones who flashed hers at every late-night party she went to.
Bulgari and Andy Warhol
It was also during the 80s that Nicola Bulgari fell in love with New York City and decided to make it his primary residence, where he would meet Andy Warhol.
The King of Pop Art himself happens to be an admirer, and is the owner of a multiple Monete jewels and a Tubogas watch. His love for the jewellery brand extends to more than just collecting. He loved its design codes as well as art direction, calling its flagship boutique in Rome "the most important museum of contemporary art".
He asked to be styled in Bulgari for an interviews, and would have had pieces brought personally to his Factory – his celebrated studio space – where he handpicked which to wear for stories.
Pop art and culture combine with colourful history to make Wild Pop a sublime collection. Discover more at the official website here.