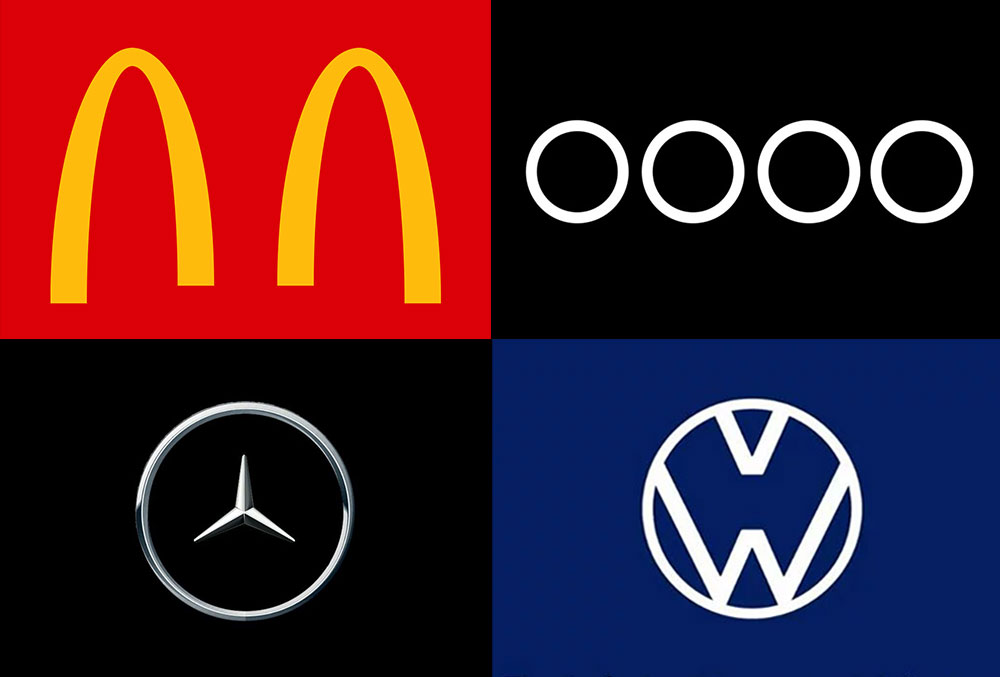 In light of the coronavirus pandemic, the citizens of the world are called to understand and practice unaccustomed jargons such as "self-quarantine" and "social distancing". Understandably, these behaviours aren't that easily weaved into our day-to-day lifestyle and more unfortunately, there have many been cases of indifference or outright defiance.
That's why some brands have stepped up to promote social distancing, specifically, by altering the most iconic element of their existence – their logos. Some consider this a pure marketing gimmick, while others commend the brilliance of it in sending a vital message.
Whichever party you lean towards, take a gander below to see how brands like Audi, Nike and Mercedes-Benz are spreading the word on social distancing.
Audi
Keep your distance – stay together. Only together we make the difference. #AudiTogether pic.twitter.com/othOsjRRYA

— Audi (@AudiOfficial) March 26, 2020
Audi took to Twitter to share a short video on keeping your distance. The post shows its logo of four fused rings stretching out so that it disconnects from each other into four separate rings. Fun fact: the rings symbolise four companies – namely Audi, DKW, Horch and Wanderer – which merged in 1932 to form Audi AG.
"Stay at home, keep your distance, be healthy, support each other – we are in this together," the German automaker says in the video.
Mercedes-Benz
View this post on Instagram
Yesterday, Mercedes-Benz unveiled a logo designed by one of its employees, Marcel Hobrath, on its official Instagram account. The logo features a diminished version of Daimler's iconic three-pronged star, implying a 'social distance' from the outer circle.
"Thanks to everybody for maintaining social distancing guidelines during these times. By acting together and #StayAtHome, we can successfully combat the virus," the brand says in the caption.
Coca-Cola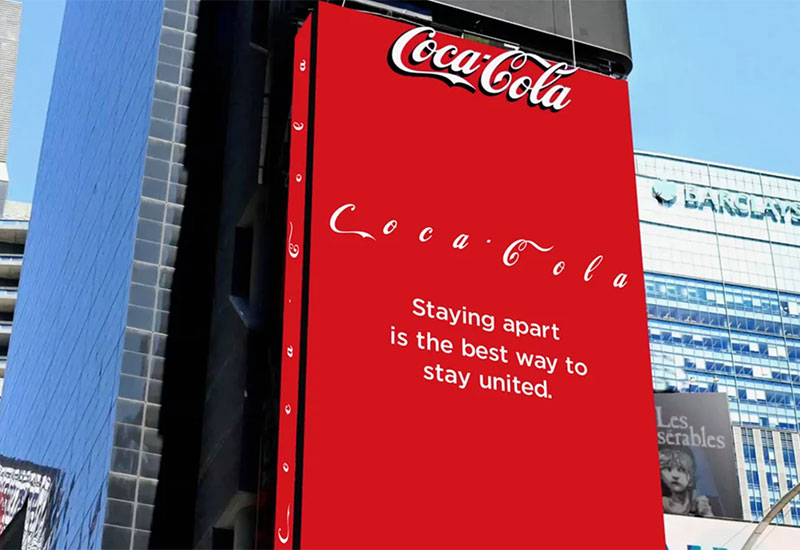 Breaking away from its typical ads that celebrate relationships and intimacy, Coca-Cola is running an ad on its Times Square billboard in New York which shows the letters of its logo spaced out from each other. A slogan reading "Staying apart is the best way to stay united" accompanies the ad logo.
Before netizens can call out the brand for having opportunistic intentions, Coke through its Coca-Cola Foundation has pledged to donate US$13.5 million to five non-profit organizations in the United States and Canada that are involved in the humanitarian response to the pandemic.
McDonald's (Brazil)

One of the most controversial logo changes comes from McDonald's Brazil, which shows a separation of the brand's famed Golden Arches on Facebook. Designed by ad agency DPZ&T, the caption for the ad reads (as per Google Translate): "Separated for a moment so that we are always together."
However, it sparked backlash from consumers who demanded that the company take real action by revising unethical employee policies. McDonald's has yet to comment, but is currently providing food delivery and drive-thru in the country.
Nike

While an earlier logo redesign by Slovenia-based creative director Jure Tovrljan that was circulating on the internet saw Nike's signature catchphrase modified to "Just Don't Do It", the company chose to stick with its identity and launched a different social media campaign instead.
Though no new logos are presented here, the campaign will star a roster of athletes – including LeBron James and Tiger Woods so far – who practice social distancing by "playing inside". This follows cancellations and postponements of major sports events around the globe, such as the Olympics and the NBA season.
Volkswagen
We are #Volkswagen. Thanks for keeping your social distance! #FlattenTheCurve pic.twitter.com/JeY27epjhl

— Volkswagen News (@volkswagen) March 23, 2020
Joining Audi and Mercedes in the list of automakers promoting social distancing is Volkswagen via a video post on Twitter. In the video, the marque's iconic V and W letters are separated, following a series of statements urging a united effort to #FlattenTheCurve: "We now face another crisis. We are Volkswagen and in order to overcome it, we need to keep our distance."