Has it really only been four years since Blackpink made their show-stopping debut? While the allure of Euro-centric celebrities and Hollywood stars has waned in the marketing world, Asian global ambassadors have been rapidly on the rise – and none do it better than K-pop sensation Blackpink.
Armed with their commendable talent, multifaceted personalities, bombastic music videos, and digitally savvy skills, the four-member group has taken the world by storm in every way. From topping the Billboard charts and releasing the biggest music video premiere on YouTube, to being spotted in the frow of major fashion shows and becoming the global faces of some of the world's most renowned brands.
Below, we relive some of Blackpink's most memorable collaborations and endorsements, reminding us how they are truly today's icons of style and pop culture.
Chanel appoints Jennie as House Ambassador
View this post on Instagram
In June 2018, Jennie became the first of the band to partner with a fashion house, having been made one of Chanel's House Ambassadors. Having grown up around luxury fashion goods, she is no stranger to the French Maison, and has even been dubbed as the "Human Chanel" – making her a natural fit.
Celine taps Lisa as its first global ambassador
View this post on Instagram
After her first encounter with Hedi Slimane at the Celine menswear show in June 2019, Lisa went on to further build a budding relationship with the photographer and the brand. Then in September of 2020, Lisa was appointed as Celine's first global ambassador – with Slimane himself photographing the K-pop idol in his signature black and white style.
Rosé is named global ambassador for Saint Laurent and Tiffany & Co.
Following Blackpink's collaboration with Lady Gaga on 'Sour Candy' and the music video for their single 'How You Like That', Auckland-born Rosé was made the face of Parisian fashion house Saint Laurent. She starred in a black and white campaign video shot by David Sims, dressed in the brand's black one-shoulder scalloped dress.
Earlier this year, she was also tapped by jewellery Tiffany & Co. to become its global ambassador, and made her debut by fronting the Tiffany HardWear digital campaign.
Jisoo is made global ambassador of Dior
View this post on Instagram
Having worked with Dior Beauty before, it wasn't long until Jisoo was made the global ambassador of Dior for both fashion and beauty in March of this year. She also served as an inspiration for the brand's AW21 collection, and according to Dior, Jisoo represents the "liberated femininity channeled and portrayed by Maria Grazia Chiuri, which reflects an ethos that stems from truly understanding oneself."
Lisa becomes the face of beauty and glamour with M.A.C and Bulgari
M.A.C Cosmetics made history back in October 2020 when it made Lisa its global brand ambassador, marking the first female K-pop idol to be appointed with the title. She joined another fellow K-pop star, EXO'S Lay Zhang, who also became the brand's face earlier in July.
Fast forward to this year, Lisa was also made the brand ambassador for iconic luxury brand Bulgari. She participated in the Maison's Serpenti and B.zero1 campaigns, and was one of the muses of Bulgari's Magnifica 2021 campaign – alongside Zendaya, Lily Aldridge, and Vittoria Ceretti.
Samsung's relationship with Blackpink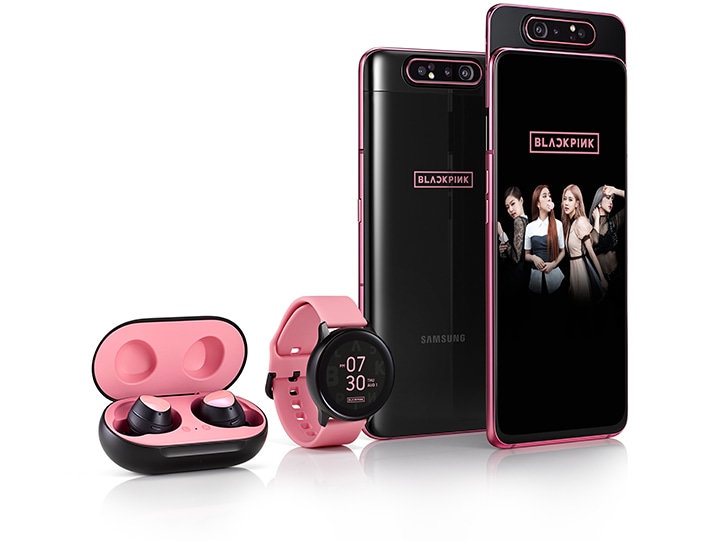 Back in July 2019, Samsung announced the launch of the Blackpink Special Edition set, comprised of a Blackpink-themed Galaxy A80, Galaxy Watch Active, and Galaxy Buds. The smartphone itself features exclusive content such as a Blackpink booting animation that launches upon switching on the phone, themes, icons, character stickers, as well as a personalised home screen photo carousel.
When the group was more involved with Samsung's endorsements as the tech giant's ambassadors, the girls were also seen sporting Samsung products in their music videos. In 'Let's Kill This Love', Jisoo wears Galaxy earbuds, while Rosé dons on a Galaxy Watch Active. The Galaxy S10+ makes an appearance with Jennie and Lisa, with the latter waving it about while rapping.
In February 2020, Samsung unveiled a vivid, eye-catching colour called Jennie Red for its Galaxy S20 and Galaxy S20+ phones, as well as the Galaxy Buds+ for South Korean network provider KT. Another YouTube ad in August from KT also features Jennie and the Galaxy Note20 in Mystic Red, and has since garnered over 14 million views on the platform.
Pepsi joins hands with Blackpink
Early this year, beverage giant Pepsi announced that it has named Blackpink as its brand ambassador for the Asia-Pacific region. The group starred in the brand's Pepsi Black campaign, in hopes to encourage its audience to always be bold and push the boundaries of possibility when it comes to pursuing one's passions.