Blackbyrd, set in Naza's new Platinum Sky Park, offers an eagle-eye view of the city's skyline as you wine and dine.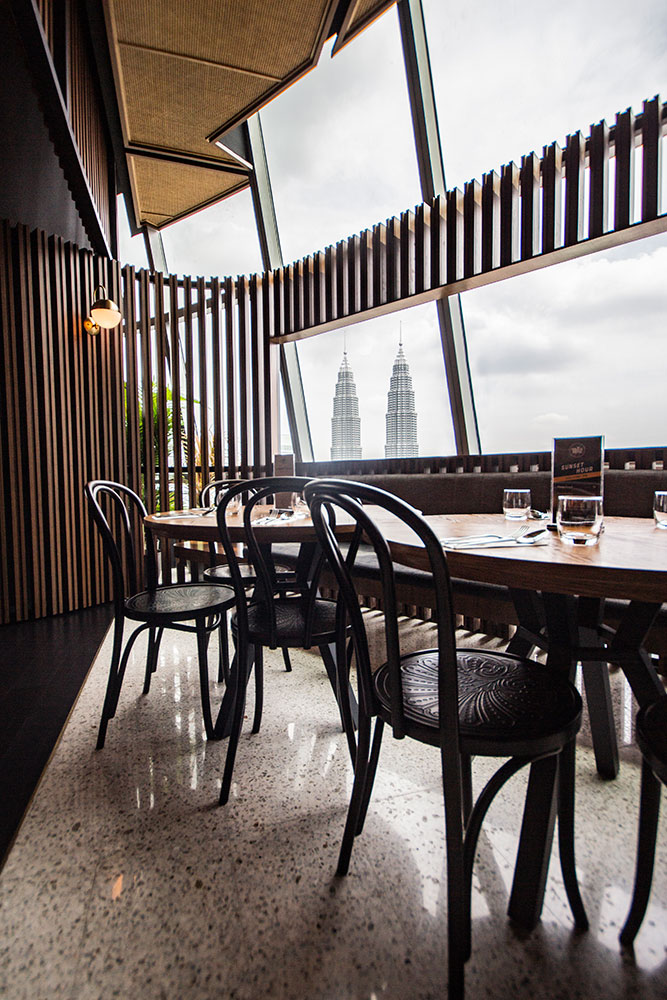 In a city where there is no end to rooftop bars and restaurants, Blackbyrd Dine & Lounge is the latest in the list of places to go to enjoy the Kuala Lumpur skyline. There is a 360-degree view of the iconic city skyline from Petronas Twin Towers to the Royal Selangor Golf Club to take in as you wine and dine here.
Located at the 50thfloor of helical-shaped Naza Tower at Platinum Park, Blackbyrd and night hub Dragonfly mark the first foray for Jakarta-based culinary and entertainment giant, Ismaya Group, to enter the Malaysian scene.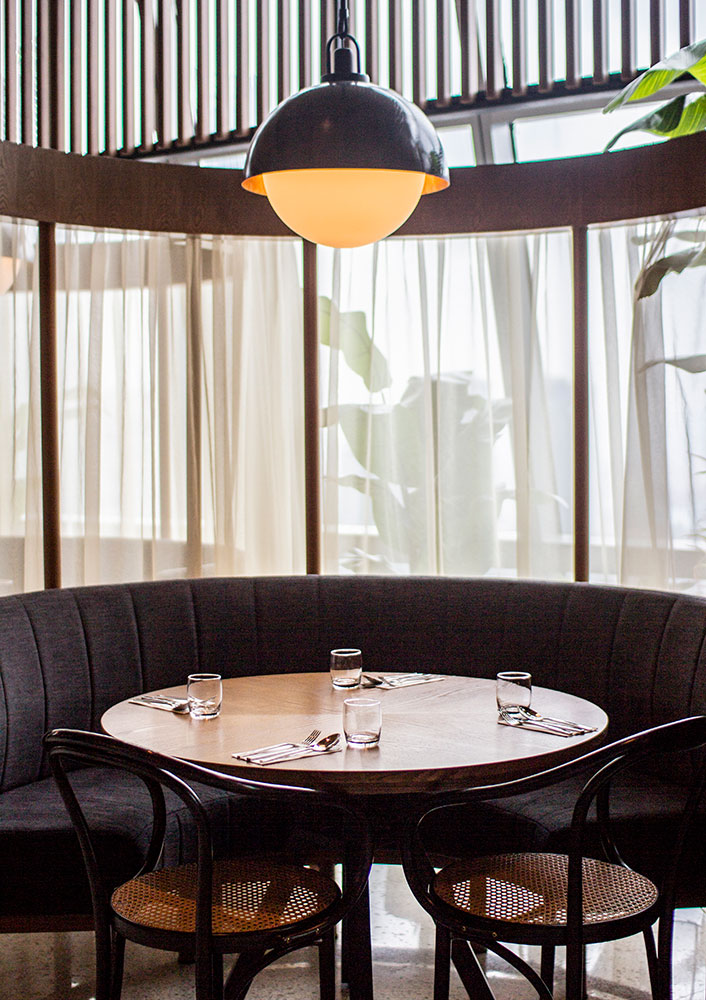 Drawing its name from the eagle-eye view that it offers, the restaurant is set up to be warm, bright and tropical. Look closer, and you will notice the attention to detail in its dark wooden furnishing, warm lighting and rattan panelling crafted into wall panels and chair seats.
Everything here was conceptualised, built and fitted to create the warm Asian atmosphere that is so familiar and relaxing.
Comfort food from all over the globe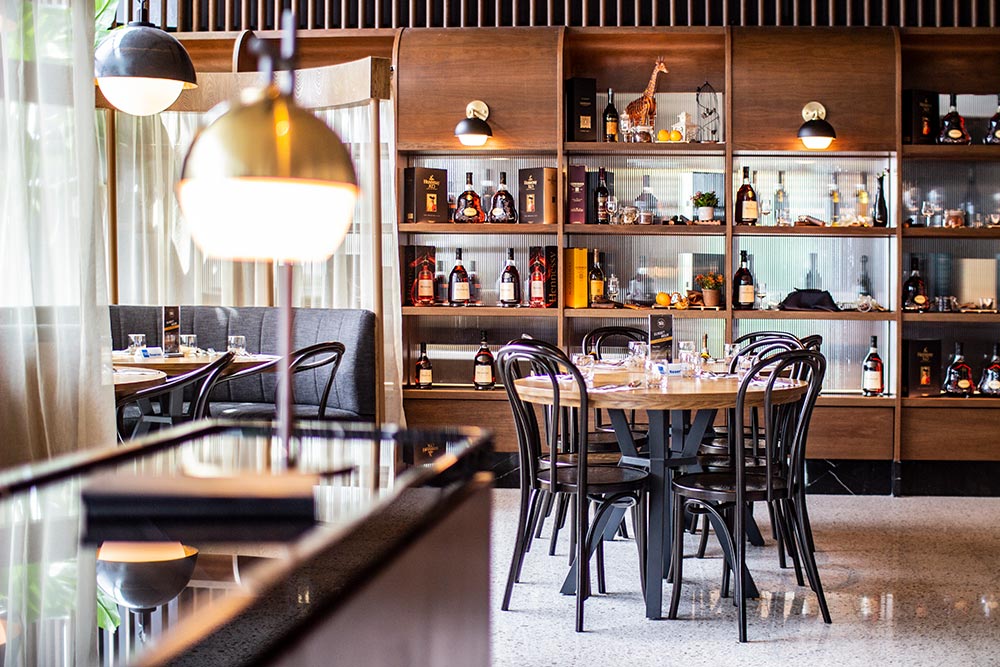 "Our food is comfort food at its best," says managing director Jeremy Lim, who is also a partner of Ismaya Group. "We tried and tested the dishes over and over again until we were satisfied with the outcome and the taste. What I love about this is, we are always free to experiment and try out new things."
While the view may be sky high, we were delighted to note that the prices were not. There is a strong thread of influence from Indonesia in their food, but it comes with a unique global twist.
Why do we say global twist? Nowhere else you will find quesadilla, Korean style BBQ ribs, salmon sashimi and Nashville chicken burger from one menu. Everything you see on the menu has been tweaked many times to appeal to the local taste buds while keeping its exotic flavours.
Savour familiar flavours, in a unique twist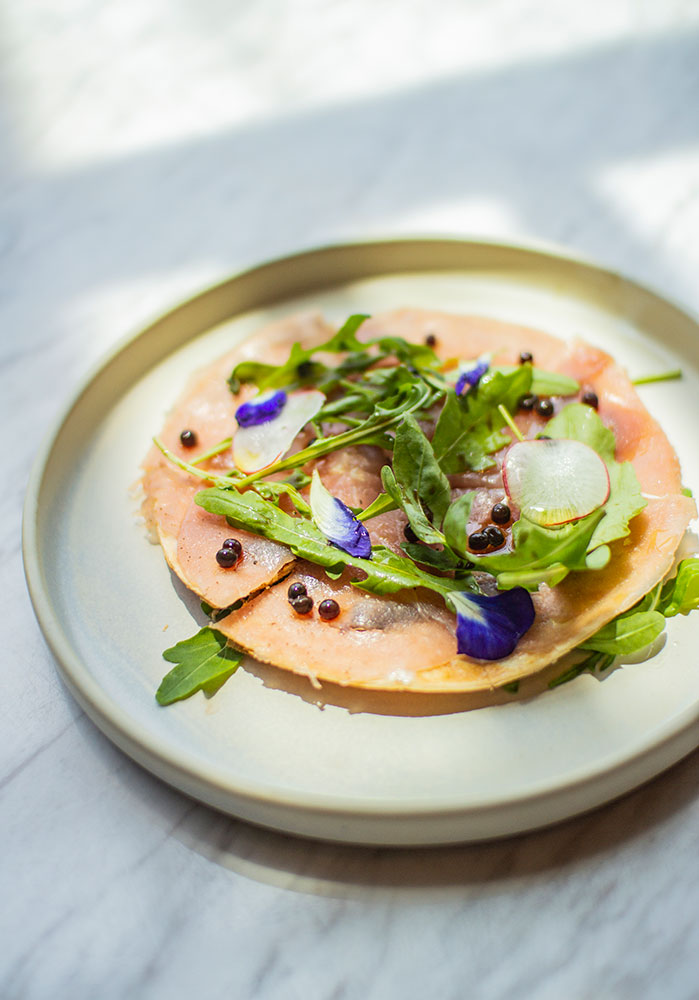 Our gastronomical journey at Blackbyrd started with the Tuna Feuillette. While the name of the dish may be a mouthful, the rendition of it is anything but that. 'Feuillette' usually would mean puff pastry, but here it was replaced with a thin, crisp tortilla crust. The paper thin tuna slices that sat atop the crust had microgreen leaves to lend it a fresh green flavour. The dark pearls over the dish were little balsamic vinegar beads that gave sharp, intense burst with each bite.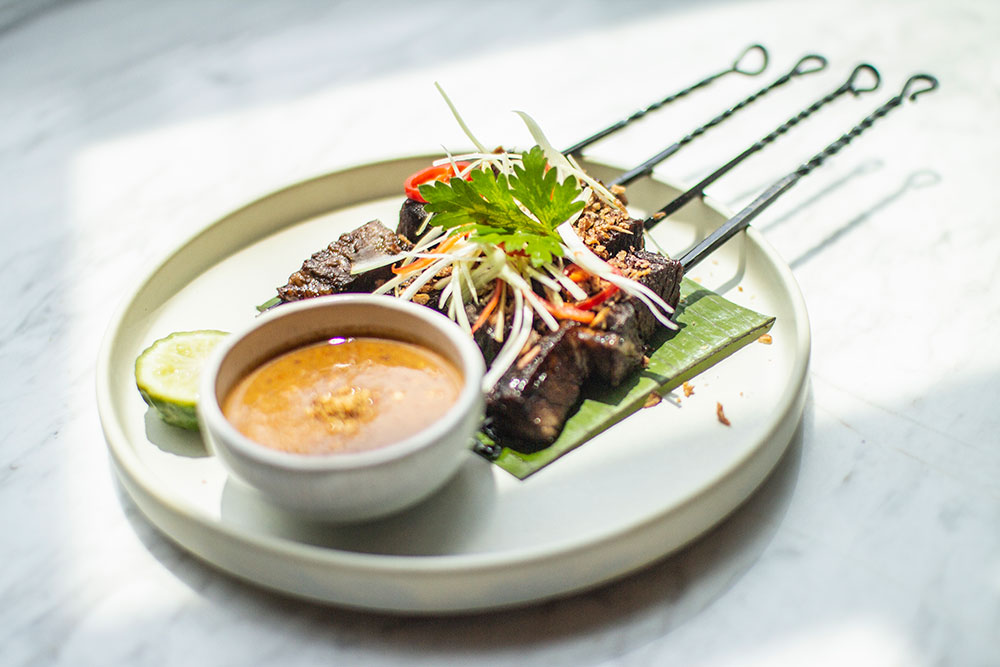 If you think you know satay, think again. Blackbyrd's Wagyu Beef Satay may come in only four skewers, but it is a robust dish. Small eaters who can't resist a good, well-marbled portion of beef can have this for a satiating meal on its own. The beef cubes are done to mouth-melting tenderness and fall off the skewer with a slight tug. Coat the meat with the peanut sauce and remember the lime slice for that zing. As the spicy, nutty flavours mix in your mouth with the gamey meat, it is hard not to let out a sigh of contentment.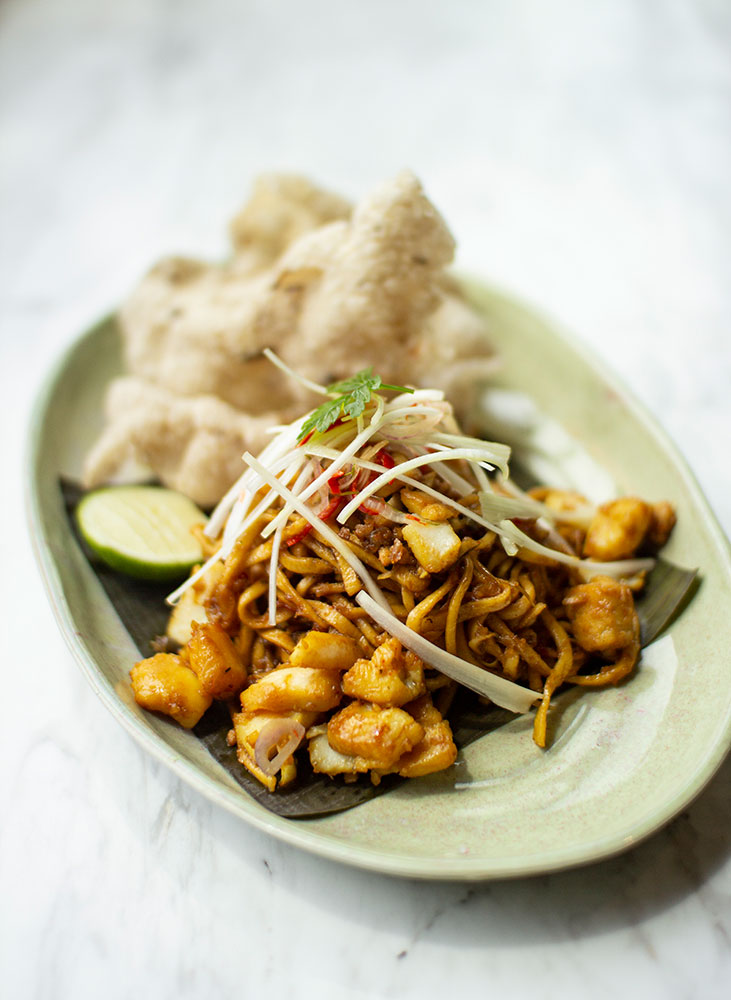 This dish is almost the perfect representation of the restaurant's Malaysian and Indonesian ties. The plate does not represent either one of the countries, but it is an amalgam of both. The noodles are handmade by the chef after no commercial noodle could fit the bill of expectations. The resulting noodle strands are chewy and held well without getting too soggy or starchy. First taste and the strong lemongrass flavour threatens to overwhelm but the fiery bite from the sambal kicks in and you will not be able to stop digging in. That being said, this is a dish best for sharing as it does get a tad cloying.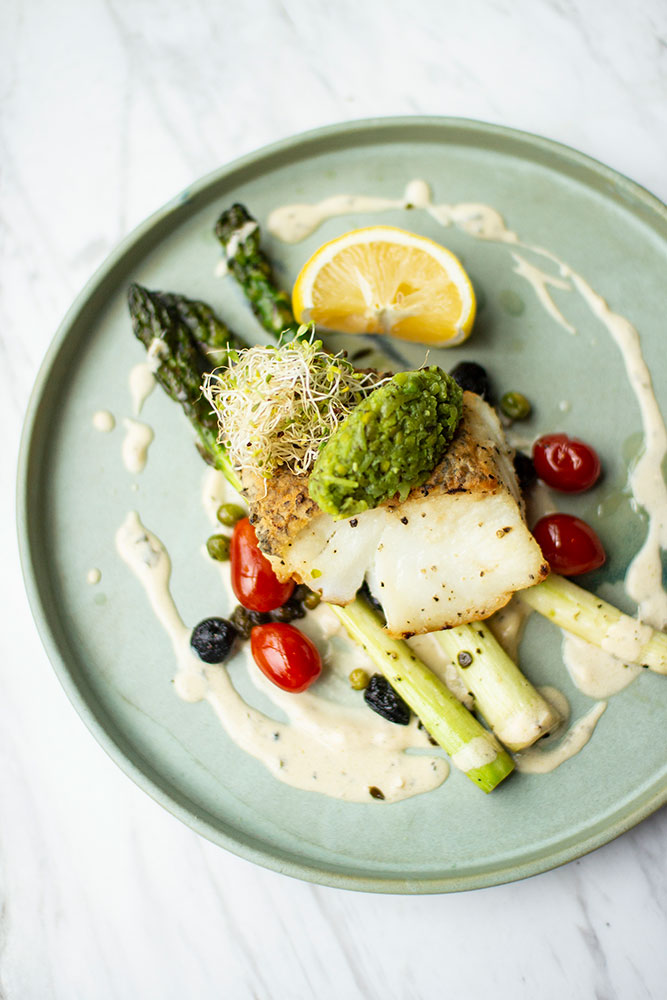 If we had to pick a favourite, this would be it. The simple take of fresh, flaky seabass with smooth lemon butter sauce drizzled over made for a comforting but a healthy fare. The mild, delicate flavour of the seabass was accentuated by the tender spears of asparagus, tomatoes and salty capers.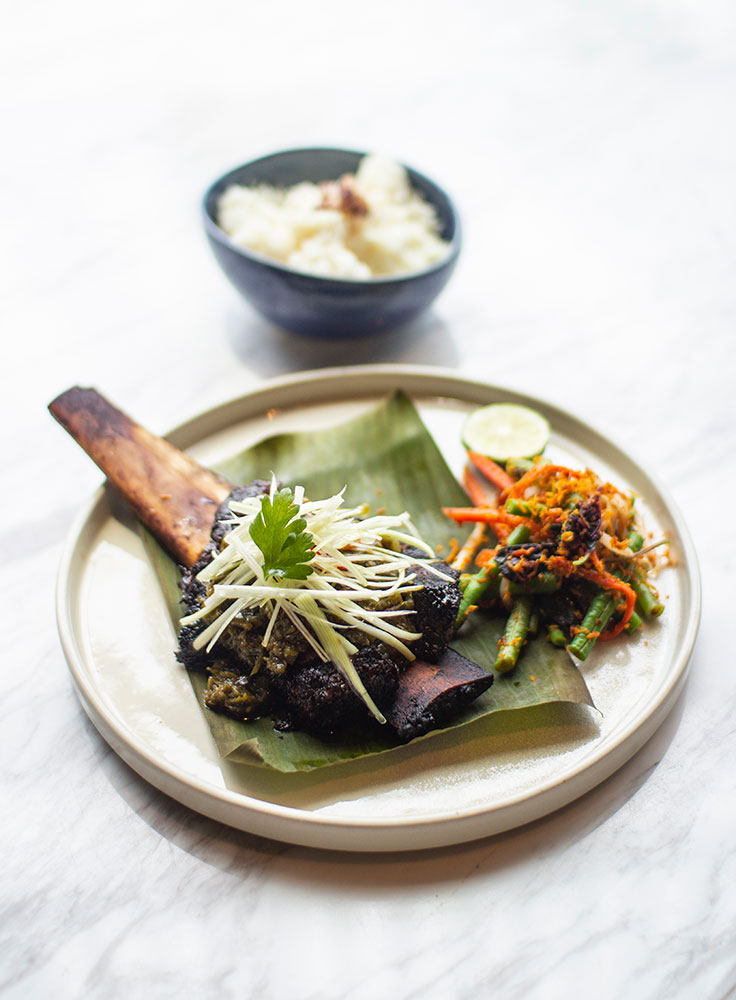 The carnivore within us did a merry little dance as this dish was brought out. Black Angus short ribs were cooked low and slow until they reached fall-off-the-bone deliciousness. Paired with the fiery punch of the green chilli paste along with the coconut milk laced rice, it was a decadent dinner. Now, you start realising that Blackbyrd plates up flavours that you are familiar with, only with a twist to make it exotic and fun.
Experimental desserts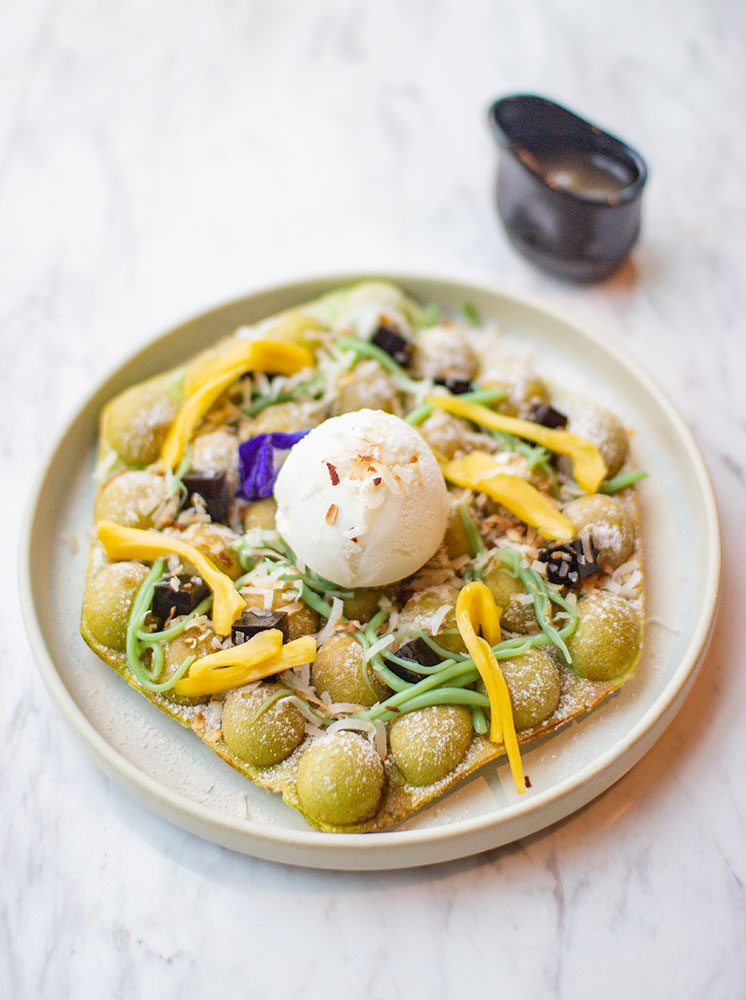 Blackbyrd's experimental streak shines through with its dessert. We loved the modern plating of es cendol waffle where the pandan waffle was like a sponge to soak up the sweetness from the gula melaka syrup and coconut ice-cream. The silky strands of cendol and jackfruit kept the flavours true. But, the distinctly different take of the classic dessert makes us question if this could be a rendition of it.
Blackbyrd is for those who want a good hearty meal with reasonable pricing in an upscale restaurant. It is also for those who are fun and like to experience familiar flavours differently.
If we have piqued your interest, head over their Facebook page or alternatively contact +6012-6898576 for reservation enquiries.
Location: Platinum Park, Level 50, Naza Tower, 10, Persiaran KLCC, 50450 Kuala Lumpur
Photos: Gan Yew Chin