Martin Cate provides context to the resurging appeal of colourful Tiki culture in American bars, and shares how it can be enjoyed the world over.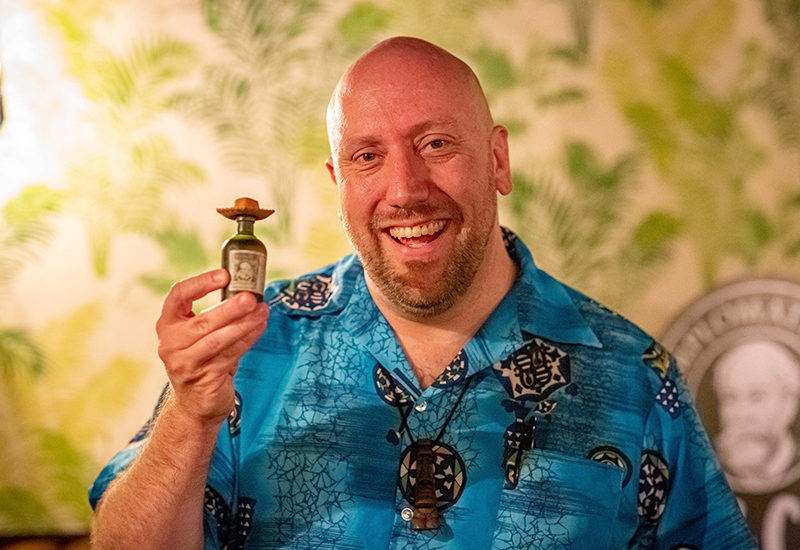 We won't pretend to be experts of the incredibly layered Tiki subculture. In fact, all you're about to read comes from an evening Masterclass with Martin Cate of Smuggler's Cove, San Francisco.
Martin is among the prominent voices in the resurgence of Tiki bars, cocktails, and culture in modern-day America. This is evidenced by the inclusion of his bar, Smuggler's Cove, in The World's 50 Best Bars six years in a row, as well as the publishing of his book (co-authored with wife Rebecca), titled Smuggler's Cove: Exotic Cocktails, Rum, And The Cult Of Tiki.
Sporting a miniature Tiki carving around his neck and a jovial demeanour to match, Martin arrived in the suitably tropical JungleBird to conduct a crash course on what he has learnt in 25 years. The rum-fuelled sharing was presented by Diplomático & Co and premium craft spirits specialists Wholly Spirits.
Tiki: Tropical escapism in America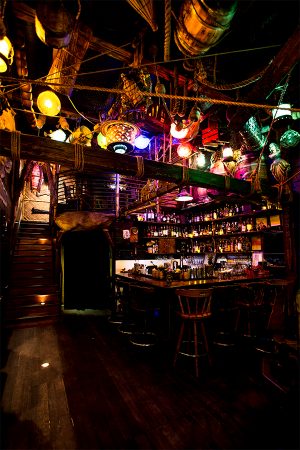 History shows that back in the 20th century, Americans were incredibly fascinated with the South Pacific. Fine-dining restaurants in New York and San Francisco began capturing this sense of tropical adventure with artificial palm trees and starry night skies.
Martin tells how this style evolved through the travels of one Ernest Raymond Beaumont-Gantt from Texas, better known as Donn Beach. He traversed Jamaica, Trinidad, Barbados, and Hawaii, exploring flavours and art while combing tropical beaches for inspiration. When he came back, Ernest took over a vacated tailor shop in Hollywood and hung up whatever he had collected, christening it Beachcomber Café.
"Of all the things from his travels, the one that really stuck with him was the Planter's Punch," says Martin. "Donn determined the Jamaican-style Planter's Punch to be the iconic cocktail because it follows a simple formula: 1 sour, 2 sweet, 3 strong, 4 weak, then later added 5 of spice to make it nice. This formula became the basis of how he built his drinks."
For a period, rows of Tiki bars would be packed to the hundreds every night. Over time, the appeal wore off – but in the past couple of decades, Martin has been one of the key Americans working to bring it back in a tasteful way. In the current dining culture of sterility and minimalism, Tiki presents a loud and proud alternative that speaks to escapism.
For a taste of the good life, here are 5 simple steps towards your best Tiki life.
1. Embrace context
You may find yourself overwhelmed in a Tiki bar. Paintings, carvings, flotsam and jetsam come together to create a unique visual experience that is somewhat synonymous with a mishmash of cultures. Martin puts this down to the unique story weaved in Tiki bars.
"A hotel bar may be able to make an amazing Zombie, but wouldn't you rather drink it somewhere with a thatched roof?" he posits. "The sound of running water and music come together to create this wonderful space where you're enjoying a beautifully-garnished, elaborately-layered, tropical drink. The setting matters, the context matters – because it's all part of the experience."
So if you're looking for an immersive Tiki experience, store away any thoughts or objects that may distract from your experience. Martin, for one, would never put up a TV showing sporting events in a Tiki bar.
2. Don't fear adventure
The Planter's Punch may be the basis of Tiki cocktails, but a look at its origins reveals that Tiki drinks were all about experimentation. Lime, sugar, and rum were combined with whatever juice was available topically, which created layers of flavours that people couldn't quite figure out.
"Donn threw all these in a glass and gave them amazing names: The Shark's Tooth, The Never Say Die, The Test Pilot," Martin laughs. "Everything said 'adventure, danger, excitement'." As the Tiki story is still firmly rooted in escapism, these elements of mystique put a fun twist to an otherwise average night of drinking or celebrating.
3. Get curious about culture, art & craft
When creating his bars, Martin engages creators who approach Tiki art from a thoughtful standpoint. This ensures that its value isn't cheapened – instead, their crafts serve as an extension to the meaningful design language from the 50's and 60's.
"Tiki is a specifically unusual concept; to create an artistic vision based on the arts and craftsmanship of Oceania and Polynesia, married to the drink culture of the Caribbean, in the middle of America. It's drawing from these traditions to create a new artistic movement that isn't connected to any one space or idea," Martin explains. "We hope it provides an education jumping-off point from which guests might learn something about the art and culture of these places."
4. Add colour to everyday experiences
Thanks to the resurgence of quality rums in today's market, Martin is confident that Tiki bars are closing in on the original representation of Tiki cocktails. At the same time, much of its modern presentation is rooted in excess: pineapple garnishes, mint springs, large flowers, and umbrellas in solid Tiki mugs.
Martin makes his point in half-jest: "This makes guests smile, as they think "This looks fun! I think I might enjoy myself and not be punished by a glob of bitter death!"
5. Enjoy tropical rum cocktails
In Martin's opinion, the top Tiki cocktails of all time are the Mai Tai, Zombie, and Planter's Punch.
"The Mai Tai is four table legs supporting an amazing rum; it's a vessel to explore different blends. On paper, the Zombie shouldn't work because of all the rum it contains, but it's perfect. As for the Planter's Punch, it's straightforward but still has complexity and depth that gave birth to many Tiki cocktails. It's a cool drink that adapts to its home," Martin elaborates.
With all that said, what really makes a good Tiki cocktail? "It should be this wonderful balance of sweet, tart, spicy, and boozy," Martin says. "It should take you on a journey that is interesting and complex but approachable; come along on the ride and really be satisfied."
Images: Wholly Spirits