A broken zipper and a bleeding thigh aren't going to keep Bella Hadid off the stage.
If you think Bella Hadid is always equal parts calm and composed and glossy and glamourous, you're right. What you're missing out on is the fact that she's also bubbly, chirpy and always ready for a quick selfie with fans, as was the case when she was in town for TAG Heuer as its latest global ambassador.
Despite coming fresh off a plane, she was glowing and ecstatic to meet fans who had formed a surmountable crowd outside the TAG Heuer The Gardens Mall store anticipating her arrival. Is she always like this? Yes. Even when she's jetlagged, even when she's bleeding.
"One of the most stressful moments in my career that I can recall is one time right before a fashion show," she regaled. "Just when they were about to push me onto the runway. The side of my dress broke so they had to zip it back up. At the same time, they were ripping my skin while zipping it up. The side of my dress was covered in blood because I was bleeding."
Did she crack under pressure then?
"I held my dress up while I walked, and I tried not to cry under pressure."
Therein lies one of the many reasons the leggy beauty was voted Model of the Year in 2016 at the tender age of 20 – and why TAG Heuer has its eyes set on her to join the ranks of other fearless disruptors like Cara Delevingne, Chris Hemsworth and Martin Garrix.
No matter the setback, no matter the pressure, they go on doing what they do best.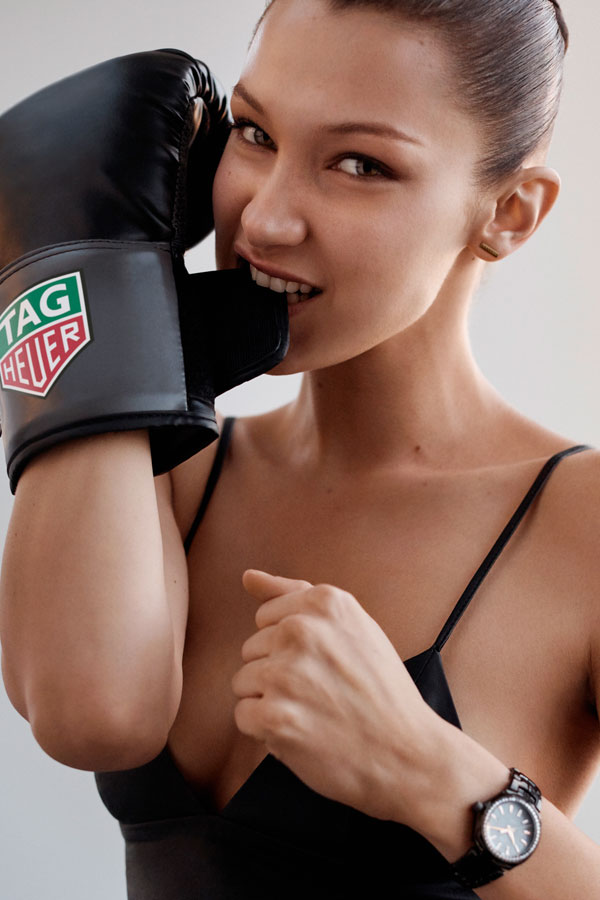 "Iconic, powerful and classic"
Bella is well familiar with the world of TAG Heuer long before the Swiss watchmaker approached her for the ambassadorship. Her father is an avid fan himself.
"My father has always been a big lover of watches. I would always go into his closet to find all these amazing watches and a lot of them are TAG," she opens up."When they approached me to be one of their ambassadors and to do a campaign; it was so much fun to shoot, at the same time it was a really cool experience."
Her new role with the brand, which she describes as "iconic, powerful and classic", makes it all very full circle for the model.
On top of being its new face, she has her very own watch created with TAG Heuer, a beautiful Link Lady made of black ceramic with diamonds.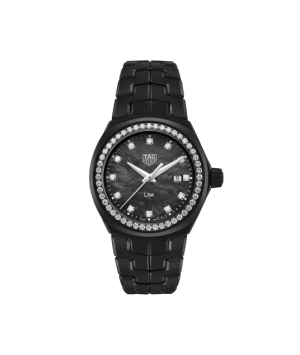 The limited edition watch is strong and bold as Bella, with a subtle 32mm black mother of pearl dial, and just as glamourous with diamonds on the bezel, as well as the index figures.
Rhodium plated hands stand out the time for easy reading and a black ceramic case makes things lightweight and dynamic, just like her busy globetrotting schedule.
The finishing touch is Bella's signature on the back of the case. It is limited to only 500 pieces worldwide and is water resistant to 100 meters.
Her favourite part of it?
"It goes with everything," she tells candidly. "I don't change watches very often; if I love something I'll stick to it, and Lady Link really is a piece that I can wear during the day and night."
Discover more of the TAG Heuer Bella Hadid Lady Link watch at the official website here.
(Photos: TAG Heuer)