Airport lounges are no longer places just to while away excess transit hours. Some have become a separate luxury experience.
A recent article by the Executive Traveller naming some of the best airport lounges across Asia revealed the heights of luxury enjoyed by the first class and business class travellers of the world. From interior design, to unparalleled amenities and fine dining options, what better time to be pampered than between gruelling hours of overseas travel.
Here is a look at some of Asia's most premium and well known luxury airline lounges, for your next jet-setting adventure.
The Pier First Class Lounge, Hong Kong
Cathay Pacific's airport lounge in Hong Kong's International Airport is probably most well-known for its stunning interior design, the brainchild of one London based designer Ilse Crawford. With green onyx walls, limestone floors and walnut and bronze elements running through it, this Asian-inspired luxury lounge promises an added level of decadence to one's travels. Equipped with 14 showers and foot massage facilities, passengers on long layovers will find no problems settling into one of the eight suites housing a daybed, reading light and mirror.
The Pantry provides a spread of sandwiches and salads, while those keen on fine dining can proceed to the restaurant offering international and Asian items such as wonton noodles, fresh fish dishes and classic hamburgers.
Who can get in: First class passengers of Cathay Pacific.  Other Oneworld member airlines flying out of Hong Kong and top-tier frequent flyers across the Oneworld alliance. W cathaypacific.com
Emirates First Class Lounge in Concourse A at Dubai International Airport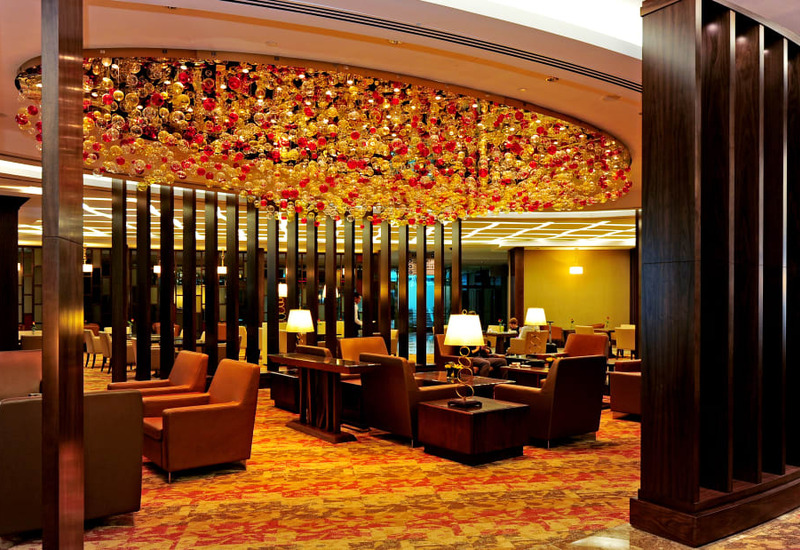 The lap of luxury would look a lot like Emirates' First Class Lounge in Dubai Airport. With rich gold and red hues, mini-fountains and cream marble walls and floors, a level of opulence that only Dubai can offer is found within this luxury lounge.
Those who love food will revel in the cuisine offered at the white tablecloth restaurant prepared by the airline's internationally trained culinary team. Menus are changed regularly and inspired by global flavours. Amenities in this lounge include day beds, a cigar lounge, a wine cellar, a bar stocked with spirits and cocktails, a Moet and Chandon Champagne lounge and a children's section.
Who can get in: First class passengers of Emirates. Passengers may bring one guest. Platinum Skywards members are also given access by achieving status by earning 150,000 tier miles, which are calculated based on fare, route and class; these members can bring in up to three guests. W dubaiairports.ae
Singapore Airlines' The Private Room at Changi Airport Singapore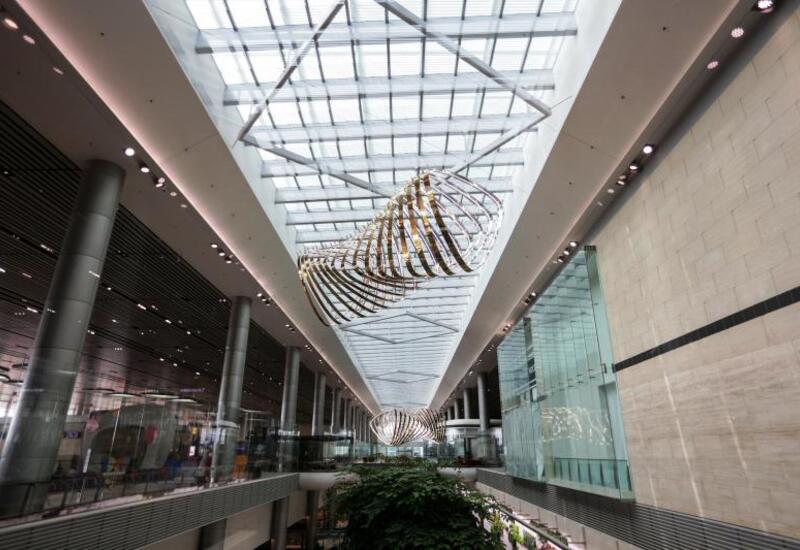 The Private Room is known more than anything for its exclusivity. Requests for photos are denied, hence the lack of photos of the lounge even on the internet. Nonetheless, the lounge is paneled in rich woods with marble accents and littered with original paintings and sculptures from up and coming Asian artists, the Private Room is a lounge made in exclusive heaven.
The lounge's seating areas are equipped with leather and fabric arm chairs and loungers, while enclosed rooms for families and work stations are provided with iMacs. Private shower facilities are available and a buffet line of multiple cuisines is ready for the taking, accompanied by impeccable table service. Breakfast menus include dim sum, eggs benedict, and fish congee while dinner and lunch may offer ramens, satays and sautéed lobster.
Who can get in: Exclusively for First and Suite class passengers of Singapore Airlines. W changiairport.com
Qatar Airways Al Safwa First Lounge, Doha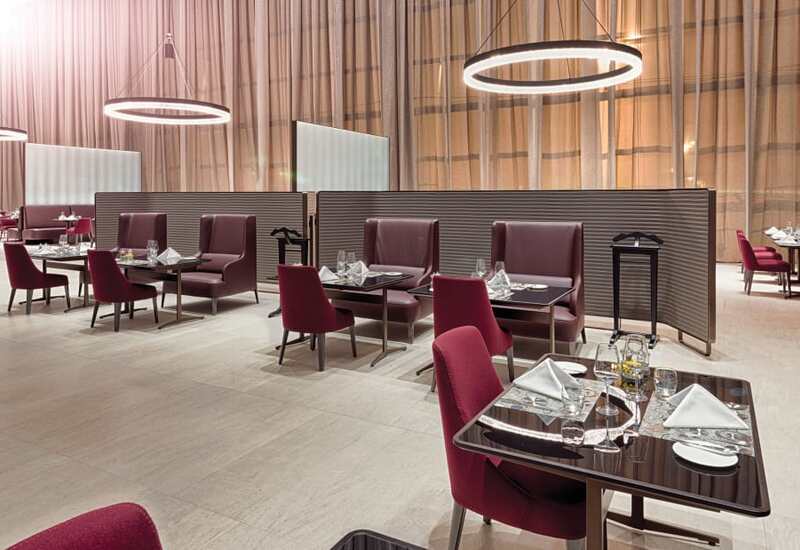 Qatar Airways's Al Safwa First Lounge is unique in that it pays great homage to the arts, doubling as a mini museum as well as featuring an alternating rotation of installations from Doha's Museum of Islamic Art.
Amenities of this lounge include a grand water fountain, a movie theatre, the spa, and a game room complete with a Playstation. There are private rooms with twin beds and television sets if passengers require some down time. The Lounge also boasts a 250-seat restaurant with an international menu and Middle Eastern dishes. Not forgetting, a long and comprehensive list of premium French wines are available for the wine connoisseurs.
Who can get in: First class passengers of Qatar Airways. W qatarairways.com
Qantas Lounge, Hong Kong
Qantas Lounge in Hong Kong International Airport stands out amongst business class lounges due to its offering of traditional Hong Kong cuisine for its guests. Passengers have an opportunity to enjoy a last authentic Hong Kong meal featuring dim sum, custard egg tarts, and of course the selections at the BBQ Pork Bar.
To top this all off, there is a cocktail bar at which you can wash down the delicious Cantonese style dishes and meander through the crowds onto your plane in a satisfied and happy reverie.
Who can get in: Business-class Qantas passengers and other Oneworld member airlines flying out of Hong Kong, and frequent flyers holding Oneworld Emerald and Oneworld Sapphire status. W qantas.com
(Photos: CNN Travel, respective airlines)