In the Apple event held on November 10, 2020, the tech behemoth has finally unveiled the new Apple M1 chip it has been teasing, along with a slew of new MacBooks and Mac mini that will arrive with the chip.
Cheekily headlined "One More Thing" – Apple has been very productive this autumn with the launch of the new iPhone 12, iOS 14 and Apple Watch Series 6 – this latest Apple event sees what could be the biggest Mac transformation in 15 years.
The new Apple silicon features a 5nm 8-core System-on-Chip (SoC) with 16 billion transistors and an integrated 8-core graphics processor (GPU). It has 4 cores that are high-performance, or what Apple claims to be the world's fastest CPU core. The remaining 4 are high-efficiency, using one-tenth of power while still delivering high performance. This allegedly translates into the "best CPU performance per watt".
In plain English, the chip delivers a significant boost in performance and battery life to the announced 13-inch MacBook Pro, 13-inch MacBook Air and Mac mini – similar to what we've seen in the 2020 iPads and iPhone 12.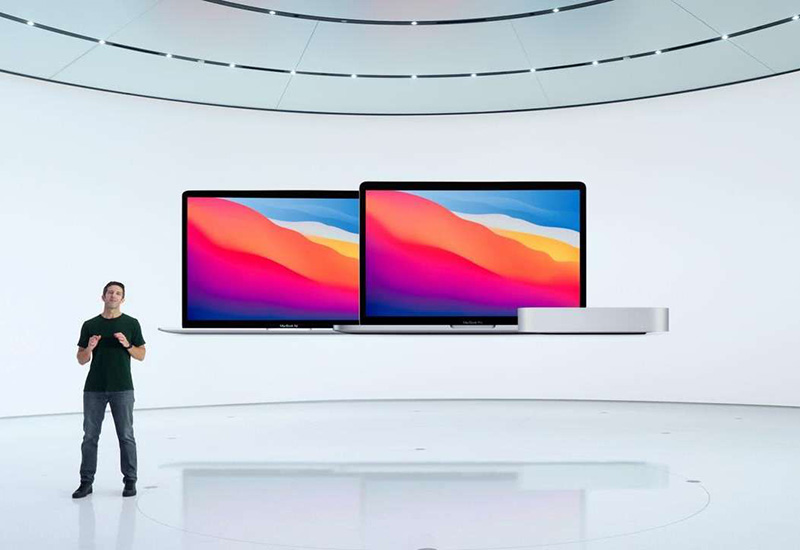 So, aside from these improvements, why is the M1 chip such a big deal for Apple fans? For starters, it's the first ever world-class custom silicon produced by the company.
This offers advantages in terms of cost, flexibility and power consumption. The former two could potentially translate into cheaper Macs or extra hardware upgrades, whilst the latter has already proven to prolong battery life. For instance, the new MacBook Air lasts up to 18 hours, whereas the MacBook Pro tops that at 20 hours, according to Apple's website.
It also signals the transition for Mac computers and laptops from Intel-based processors to its own, which allows developers to write and develop apps for the entire ecosystem. Paired with the new macOS Big Sur, we could potentially see developers making iOS and iPadOS apps available on Mac with little to no modifications.
That's not to say Apple will stop making Intel-based Macs, as the transition is expected to take two years. Even so, Apple Silicon Macs will still allow users to install apps outside of the Mac App Store just as with an Intel Mac.
Commenting on the transition in a press release last July, Apple CEO Tim Cook said: ""From the beginning, the Mac has always embraced big changes to stay at the forefront of personal computing. Today we're announcing our transition to Apple silicon, making this a historic day for the Mac."
"With its powerful features and industry-leading performance, Apple silicon will make the Mac stronger and more capable than ever. I've never been more excited about the future of the Mac," he elaborated.
Well, it looks like 2020 isn't such a bad year for some folks, after all.
The Apple M1 chip will arrive with the 13-inch MacBook Pro, 13-inch MacBook Air and Mac mini. Pricing starts from RM5,500, RM4,399 and RM2,999, respectively. Availability in Malaysia is yet to be announced. For more information, log on to the official website here.
Photos: Apple