If you're an enthusiast of Aēsop products and the fine, unique fragrances they're loved for, you're in for a real treat. As now you can perfume your home with the brand's first collection of aromatic candles in their Home Care range. Meet Ptolemy, Aganice, and Callippus.
Inspired by three luminaries of ancient astronomy, this trio of candles was formulated in collaboration with renowned perfumer Barnabé Fillion, who has previously worked with Aēsop in creating the latter's dreamy fragrances: Marrakech Intense, Hwyl, and Rōzu.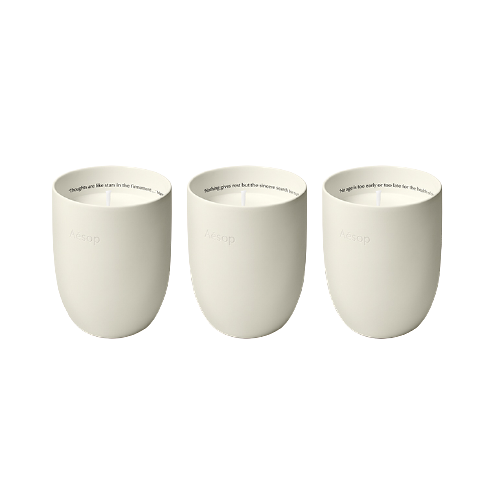 The candles use a careful blend to impart a sophisticated yet subtle fragrance, their essence taken from ancient astronomy and associated mythologies to help us navigate the currents of life, while transporting the senses to a space of serenity and harmony.
Read more: The Aesop Rōzu EDP honours the life of designer Charlotte Perriand.
Ptolemy is named after the Roman scholar who catalogued the stars, and is distinguished by the smoky, deep green notes of cypress, cedar, and vetiver. Aganice takes after the first female astronomer of Ancient Greece, and captures the bright floral notes of mimosa, as it mingles with the warmth and spice of cardamom and tobacco. The last one, Callippus, is a nod to the Greek astronomer and mathematician who was a close observer of planetary movements, and is characterised by resinous frankincense and earthy vetiver.
This new release from Aēsop serves as an alternative to the brand's signature Oil Burner Blends and aromatic Room Sprays – the latter also developed with Fillion. The trio is a perfect addition to a home seeking some cosy hygge, with each candle poured into simple alabaster ceramic vessels that features an individual quote on the inner lip.
Ptolemy, Aganice, and Callippus will officially launch on October 5, 2020, and will be available for purchase at Aēsop signature stores, with each 615g candle priced at RM450. Find out more by visiting their website.
Photos: Aēsop