Rami Malek may or may not have gotten the role because of his jawline.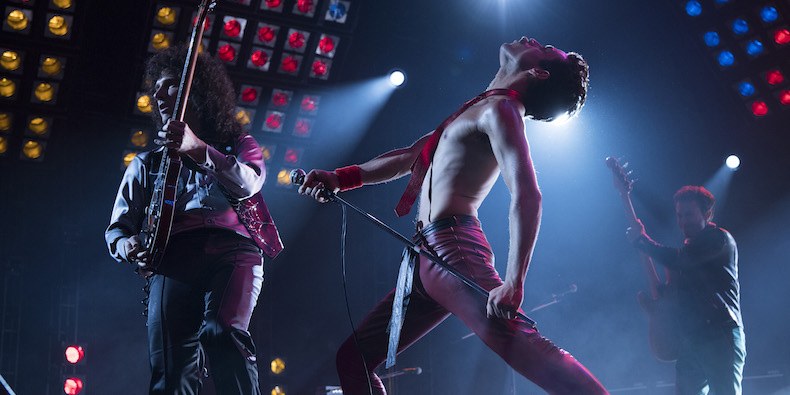 In his biography 'Freddie Mercury: His Life in His Own Words', Freddie Mercury once said "I have visions of actually having a film made of my life story, one day, which I would have a key part in. I might not play the lead myself. My dears, the things I've done in my lifetime…it'll be totally triple X-rated, I'll tell you!"
On November 2, that dream came true with the release of the biopic Bohemian Rhapsody starring Rami Malek and directed by Ben Singer. It wasn't particularly "triple X-rated", but it was certainly good enough to win it the Best Motion Picture for Drama at the 2019 Golden Globes.
Here are nine things you might not have known about the movie that we hope lives up to Mercury's vision.
Sacha Baron Cohen was supposed to play Mercury
The planning of the movie began all the way back in 2013, with Sacha Baron Cohen set to play the lead role. Unfortunately, he came into strife with Queen members who wanted Mercury to be portrayed in a reverential manner, when he wanted to stay as true to the character as possible. Cohen stepped down, giving way to Ben Whishaw as the lead and Dexter Fletcher as the director, but the movie never materialised.
Fast forward to 2016 and the movie finally went into production with Rami Malek as Mercury and Bryan Singer as director but even then more problems arose…
Production was very heated
As with any great production, creative differences were strife. Director Bryan Singer was fired from the production due to frequent tardiness and absences, but not before he and Malek got into a fight where electrical devices were reportedly thrown on set. Dexter Fletcher stepped in to take over after Singer's departure to complete the film, but Singer is still cited as the director. And you thought your office politics was bad.
Malek got the role because of his jawline
Or at least that's what Malek believes. He was still working on Mr Robot when he was first spotted by producers Graham King and Denis O'Sullivan and great acting talents aside, something else caught their eyes. "I think a lot of it had to do with the jawline," he said on Jimmy Kimmel Live! "He does have a very austere jawline!"
Malek was coached to get Mercury's body language down pat
For the performance parts, Malek was given the option of choreographers to help with his dance moves but he declined. Instead, he went with movement coach Polly Bennett who coached him with poetic directions like "Say you have a bubble streaming down your back and giraffe it, and serve me some spaghetti" for true reenactment of Mercury in the wild.
Malek and Lucy Boynton are actually dating in real life
Mercury's love interest Mary Austin, whom he had once called "the love of his life", is played by Lucy Boynton. Mercury and Austin were together for six years and were engaged before Mercury revealed he was bisexual and wanted to date men. Malek and Boynton are a couple in real life.
Malek sings all the songs on the film
Sort of. Every time you hear Mercury singing in the movie, Malek has a vocal hand in it. All songs are sung by a blend of Malek's, singer Marc Martel's and Mercury's voices.
Malek kept his fake movie teeth
Malek once revealed that it was quite tedious work to act and also kiss in the fake teeth he used to become Mercury. After all the pain and history, he wanted to honour them – by casting them in gold.
The costumes are real
Costume designer Julian Day revealed that a lot of the movie's garments were tweaked from the original clothes. Case in point: the "angry lizard" cropped white leather jacket Mercury wore was supposedly found in Jimi Hendrix's flat after he died. Some of Queen's actual costumes were also used because Brian May was very particular about how they were portrayed, going as far as to raid his own closet for authenticity.
Malek is now friends with Freddie Mercury's sister
A lot of people who knew Mercury intimately were involved in the movie, among them, his sister Kashmira Cooke, who was allegedly shocked by Malek's resemblance to her late brother. Naturally, Malek has also buddied up with other Queen members Brian May and Roger Taylor.