Hailed as the three best from Moët Hennessy Estates & Wines Division, the wines set the pace for dinner, with the night's menu crafted around it instead of the other way round.
Mother's Day is in less than a month and while that may sound like ample time, you'll want to get started on securing those restaurant reservations. Good places tend to sell out fast and you wouldn't want anything less than top-notch for the queen of your life.
If mumsie is a vino, there's a very special menu she'll appreciate at Enfin by James Won featuring not only a specially curated degustation menu of the finest ingredients and techniques now signature to the fine restaurant, but also highlighted by 3 superb wines.
Hailed as the three best from Moët Hennessy Estates & Wines Division, the wines set the pace for dinner, having the night's menu crafted around it instead of the other way round.
Here's what to expect:
Amuse bouche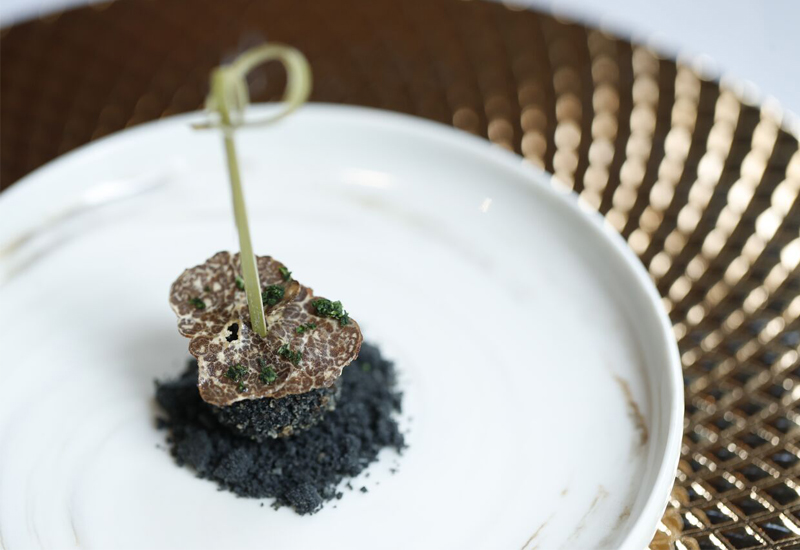 Truffle à la Enfin
Setting the bar high from the start is the amuse bouche that comes with nothing less than an entire slice of black truffle atop a compact ball of charcoal bamboo breadcrumbs. Bite into it and the fragrant earthiness of mushrooms floods the palate, crowned with the prized pungence of the truffle.
Les entrées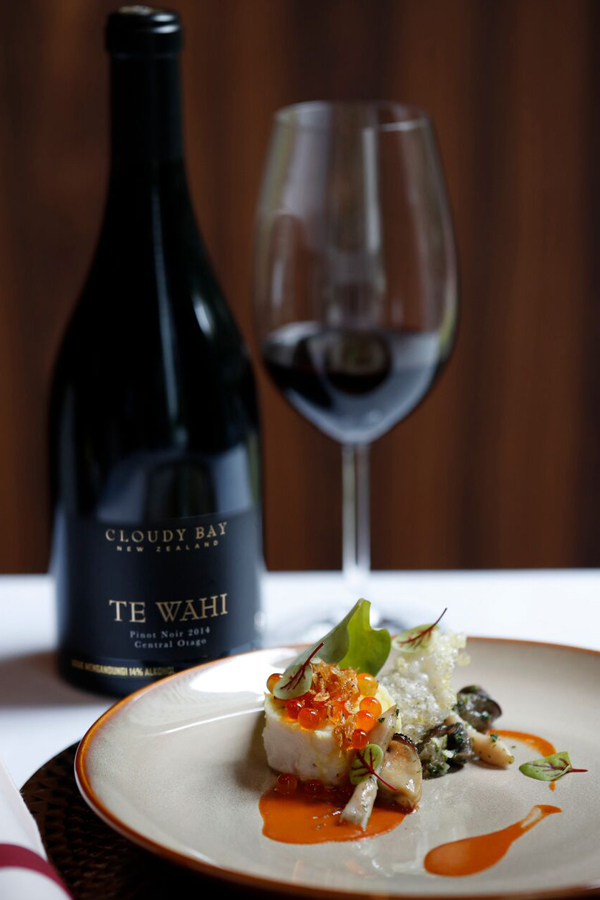 Calamares tagliatelle, escargot, molluscs, red pepper and red wine reduction
Paired with Cloudy Bay Te Wahi 2014, Pinot Noir, Central Otago, New Zealand
Proudly starting off with the latest addition from the Cloudy Bay Estate, the menu presents the Te Wahi 2014, a flavoursome pinot noir from New Zealand. Bold and intense following 14 months in new French oak barrels, the Te Wahi 2014 charms with bursts of red and black berries, black plum and rich Christmas cake spices. This velvety and youthful wine framed by a bright acidity is matched with seafood – a calamari tagliatelle packed into a solid cake to be exact, which immense sea sweetness is sharpened with a dash of yellow herb oil that lends it a tartness reminiscent of our local nyonya laksa. Salmon ikura holds the flavours together with an umami oiliness while savoury rice puffs on the side add a nice crunch to the overall dish.
Cleanser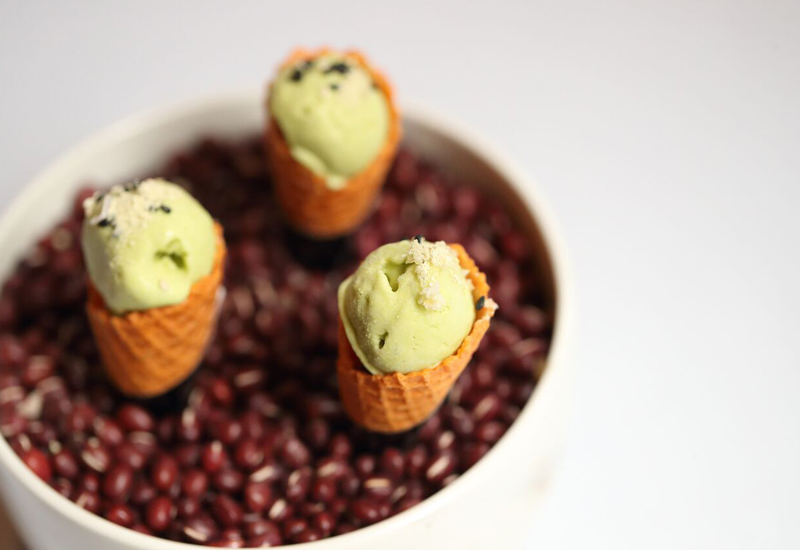 Petit pois & wasabi ice cream
Rest the palate with a miniature ice cream cone of refreshing wasabi, sweetened and enriched with full cream milk and frozen to reset the tastebuds.
Plate principaux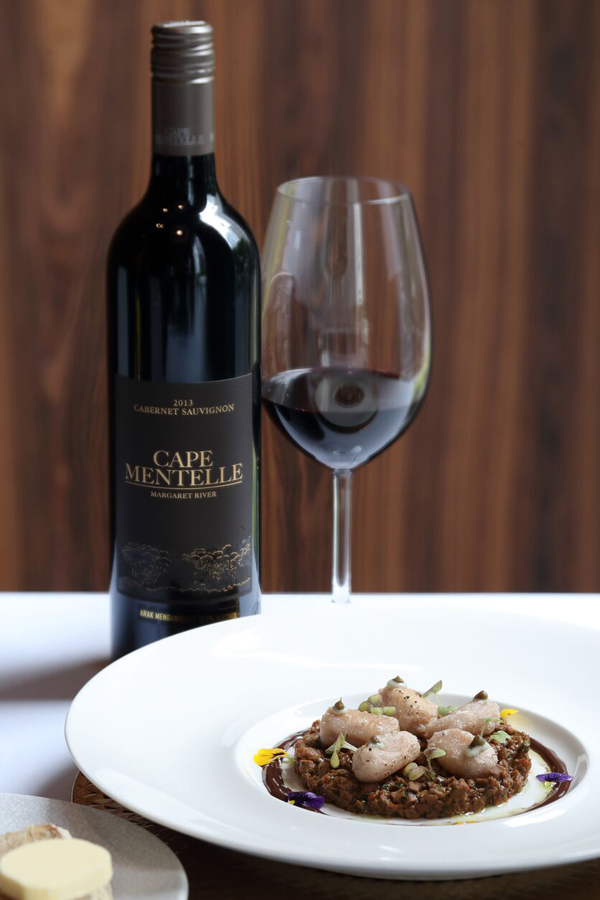 Yam pillows, Bentong ginger duck ragout, Roquefort créme, dark chocolate and wild chili
Paired with Cape Mentelle, Cabernet Sauvignon 2013, Margaret River, Australia
Jump right into more intense flavours with this duck ragout made with duck reared in the wilderness of Bentong – Chef James' hometown. Made to match the bright red attack of the Cape Mentelle cabernet sauvignon 2013 that explodes with red currants and fresh cassis, the game of the duck is lent a rich creaminess by dark chocolate while wild chili lifts flavours to keep things from becoming too cloying. The yam pillows lengthen the herbal, almost spicy body of the wine with its creaminess, without extinguishing any of the bold tannins.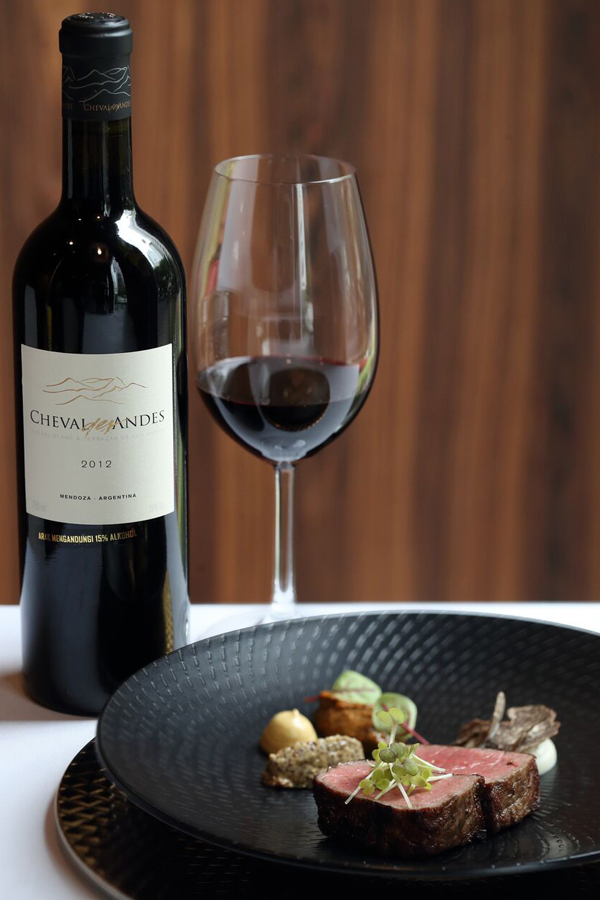 Australian beef striploin, pommes puree, black garlic, smoked chili, lemon & condiments
Paired with Cheval des Andes 2012, Malbec, Cabernet Sauvignon & Petit Verdot, Mendoza, Argentina
The beauty of this menu is that you get two mains. We chose this Australian beef striploin to pair with the complex Cheval des Andes 2012 Malbec, also known as the Grand Cru of South America for its elegant notes of spices that subtly trail off to notes of yellow fruit like apricot, peach and black fig. Almost mentholated at first sip, it blooms to unveil a very balanced character between acidity and a dense silkiness of tannins towards the end. This goes tremendously well with striploin, drawing out the slight smokiness of the perfect cut cooked to our perfect medium rare. For a touch of intensity, eat it with a slathering of pommes puree or the smoked chili and experience as the flavours take on a whole new depth.
Dessert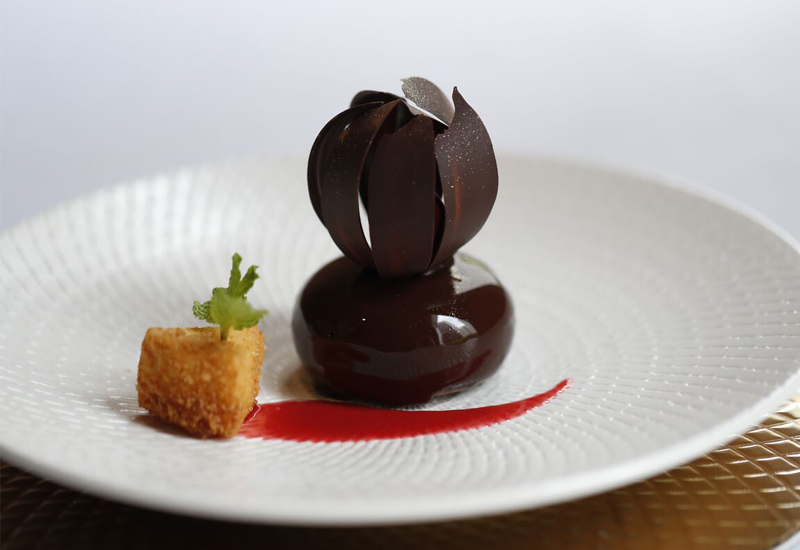 Chocolate and cheese
The menu ends on a fun note of sweet or salty with a wedge of deep-fried served alongside a ball of chocolate mousse. A nibble of the cheese eaten with a spoonful of the mousse prove a smooth, sweet and rich indulgence that perhaps just tops another sweet-salty crowd favourite – the salted caramel. This comes with a nice bite, crunch and chew all at a go; it's hard to get any better than that.
This menu is available all throughout the month of May for Mother's Day and is priced at RM288++ for food only. For wine pairing with wines from Estates & Wines, it is priced at RM506++. It also comes with a small hand bouquet of flowers for mummy dearest. For more enquiries or reservations, please call +6010 288 7920.