A decade since its previous iteration, we receive a Japanese import that ticks all the boxes of identity, design, comfort, and performance: the Lexus LS 500.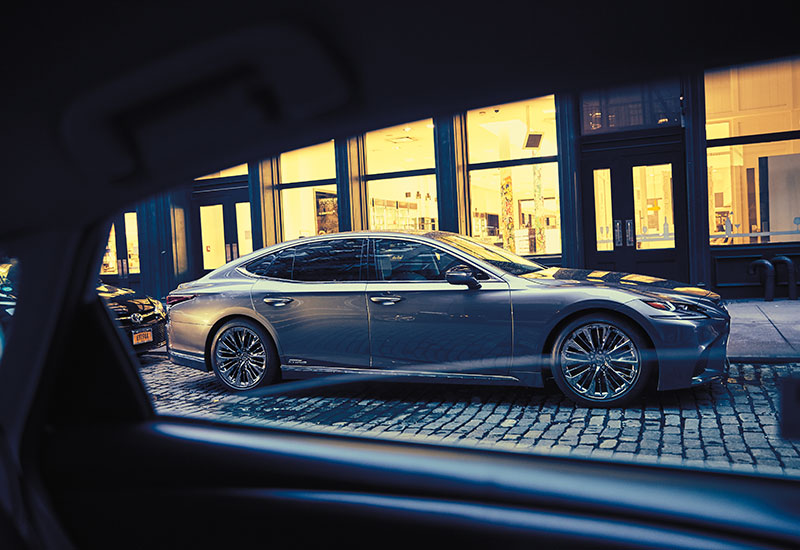 It's been 28 years since the very first LS came out to meet the world. Now, ten years since the fourth-gen model, we've received the latest Lexus LS 500 straight out of Tahara, Japan.
Malaysia will see three variants in the market: LS 500 Luxury, LS 500 Executive, LS 500h Executive with Lexus Hybrid Drive. Customers can choose from 11 exterior colours and six interior trims, including the gorgeous deep, red Sonic Agate (with matching interior) and mesmerising Manganese Luster.
In the words of Akio Takeyama, deputy chairman of Lexus Malaysia, "True vision doesn't just see the future, it changes it." Here are five things that make the Lexus LS 500 its marquee's boldest, brightest passenger offering so far.
It was designed from scratch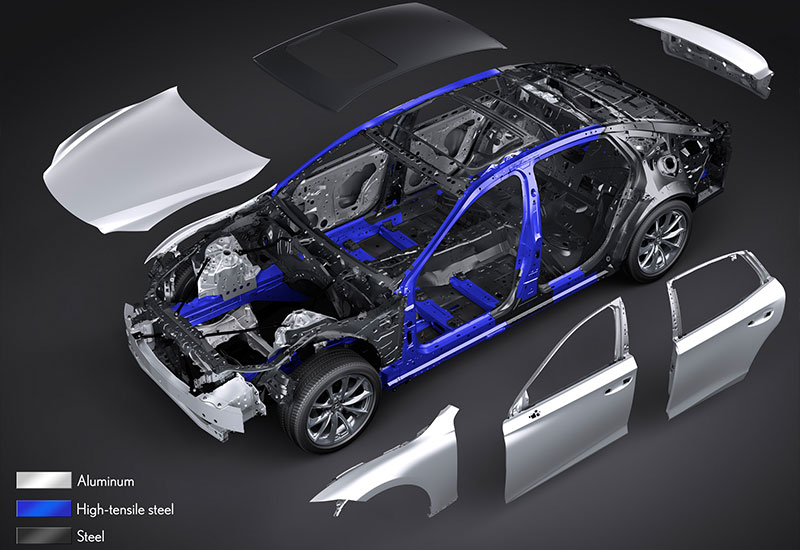 Lexus wanted to reimagine the ultimate flagship sedan, so it started with a blank slate. Lightweight materials and rigid joints build a structure that is 42% lighter at the front, and 1.5 times more rigid than steel at the rear despite being 50% lighter. Engineers achieved this using high-tensile steel for major body components, and aluminium framework for a lower centre of gravity. The combined result with Lexus' GA-L platform is a low, intuitive drive that delivers excellent response and comfort behind the wheel.
Japanese spirit drives comfort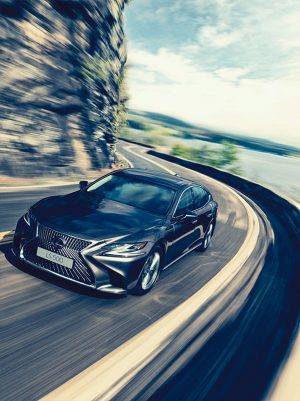 Speaking of comfort, Lexus is particularly proud of the delivery of omotenashi – the Japanese spirit of hospitality – in its new flagship. We see marks of this throughout safety and comfort fixtures of the Lexus LS 500.
Lexus Safety System+ vows to reduce traffic fatalities with the addition of Panoramic View Monitor and Blind Spot Monitor tech, which alerts drivers to collision risks by covering a wider view on the dashboard screen. Naturally, it's also a joy to ride in, with plush seats that warm and massage passengers. Lexus also applies its new Climate Concierge system, which detects the body temperatures of occupants with infrared sensors to optimally adjust heating and cooling.
Omotenashi isn't just about ramping up features, though. Every aspect of the interior is designed to evoke trust and belonging, down to the details that most automakers would consider secondary. This is why…
Takumi deliver signature craftsmanship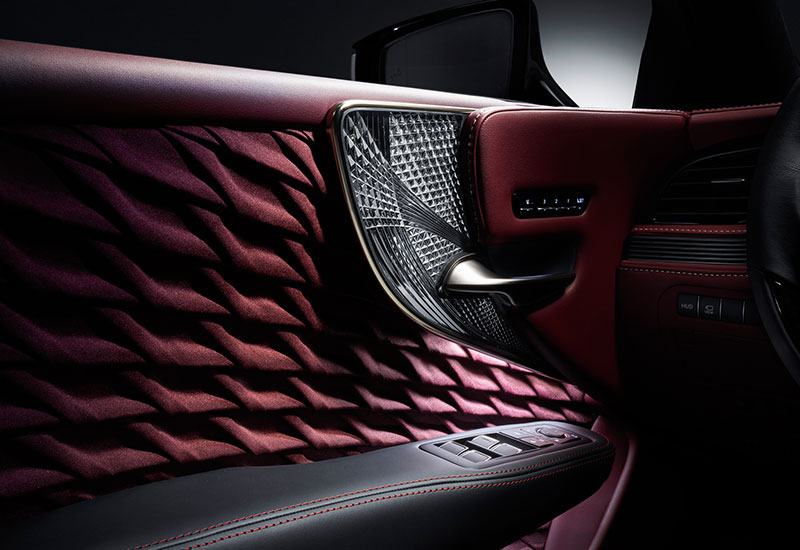 Chief engineer Toshio Asahi and chief designer Koichi Suga brought ancient artisan philosophy into modern automobile luxury, as evidenced by a host of elements with roots in Japanese craftsmanship. Ambient lighting inspired by Japanese lanterns and 'floating' armrests only scratch the surface.
Shimamoku-inspired wooden door panels lend a vibrant artistic dimension to the Lexus LS 500 interior. All the more impressive is the striking Kiriko glass ornamentation paired with carefully hand-folded pleats – a process so complex that only a limited number of LS500 and LS500h Executive models bear it. These reflect the hard work of Lexus' Takumi craftsmen, who bring a sense of artistic Japanese precision to the latest model.
Form of foremost elegance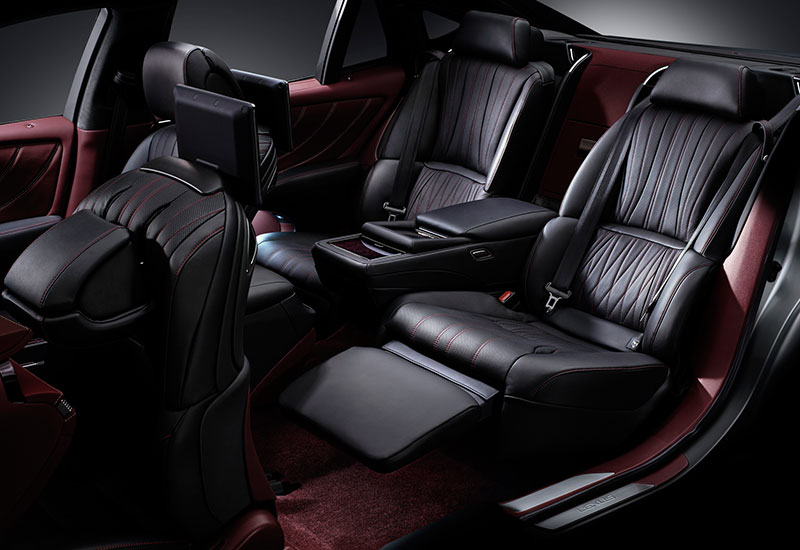 Sensual yet aggressive at first glance, the Lexus LS 500's bold exterior is centered by a fierce spindle-mesh grill. Slim, Bi-LED three-beam headlamps light up in sequence for a distinctive signal turn.
Furthering the sporty design undertone, the latest LS also appears lower, wider, and longer. This elegant machine comes with a neat host of features, too, like the easy-access air suspension system that raises the car and widens the seat bolsters to welcome the driver, each time it is unlocked. Inside the Executive variant, you'll find the spacious ottoman set-up perfect for corporate figures on the move.
Performance to match aesthetic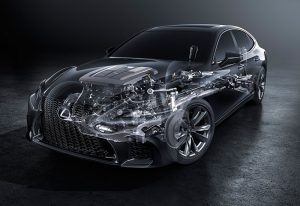 Lexus emphasises that the LS 500 focuses on details beyond horsepower and torque, but that doesn't mean it compromises performance. In fact, the stiff new GA-L platform enhances handling, ride smoothness, and cabin quietness for an altogether more pleasant ride.
Under the hood is a 3.5-litre V6 that offers V8-level power. That's 310 kW/ 415 hp with 600 Nm torque, paired to the same 10-speed auto transmission seen in the LC 500. Here is a torque converter that scores respectable shift times with th help of AI transmission logic.
Lexus LS 500 wouldn't be complete without the Mark Levinson audio systems, which this time, incorporates 23 speakers in 16 locations with 3D surround sound and music restoration tech.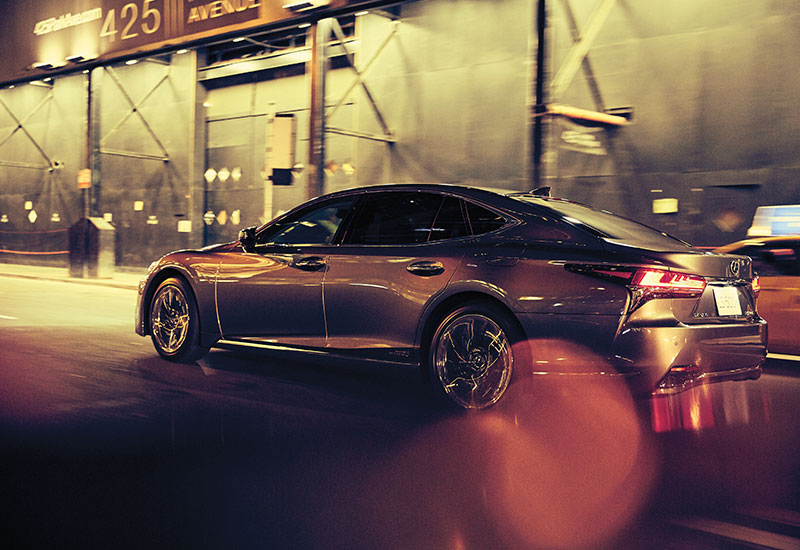 The fifth-generation Lexus LS 500 is priced from RM799, 000. For more information, head on over to the official site.
Images: Lexus Malaysia