Here's a lookback at IWC Schaffhausen's most iconic timepieces of all-time, including new "150 Years" models presented at SIHH 2018 earlier this year.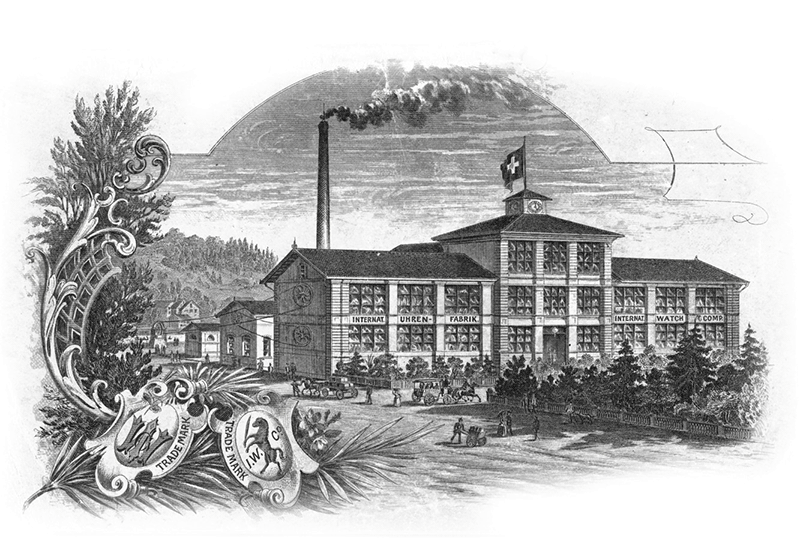 When Florentine Ariosto Jones founded the International Watch Company in Schaffhausen in 1868, his goal was to produce high quality pocket watch movements for the American market. Then only 27 years old, the Boston-bred engineer and watchmaker's business plan was met with much scepticism from the Swiss watchmakers.
Nevertheless, he successfully went on to inaugurate IWC's first headquarters on the banks of River Rhine, producing over 10,000 movements per year. He saw the finished watches exported to his home country and delivered to local retailers.
Today, IWC Schaffhausen stands proud as a leading watch manufacturer worldwide thanks to Jones and his successors. To commemorate its 150th anniversary, it unveiled an exclusive Jubilee collection inspired by its signature watches from its history.
Here's a lookback at IWC Schaffhausen 's most iconic timepieces of all-time, including new "150 Years" models presented at SIHH 2018 earlier this year.
1884 – Digital Pallweber Pocket Watch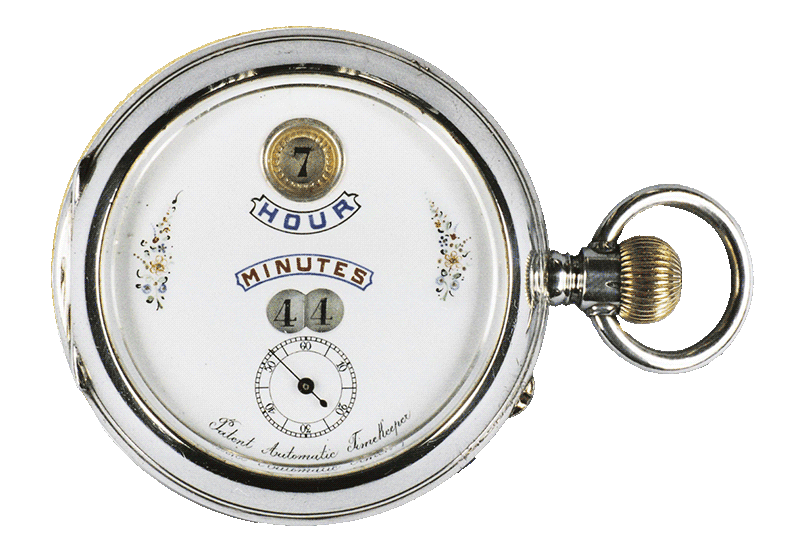 Following the return of Jones to the US, the Rauschenbachs family took over the helm of the company. During their era, the first pocket watch with a digital display for hours and minutes was born. The jumping-numeral system became known as the Pallweber display, named after its inventor, Josef Pallweber.
1936 – Special Pilot Watch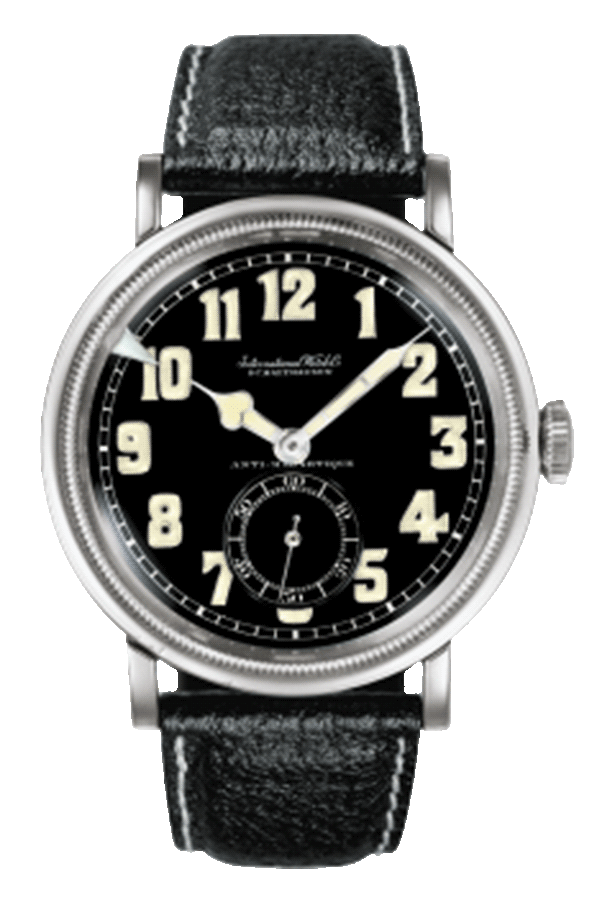 Decades later, IWC's first Special Pilot's Watch was introduced under Schaffhausen industrialist Ernst Jakob Homberger. Featuring an antimagnetic escapement and a rotating bezel with an arrowhead index, it is the forerunner in the brand's line of Pilot watches still maintained to this day.
1939 – First Portuguese Watch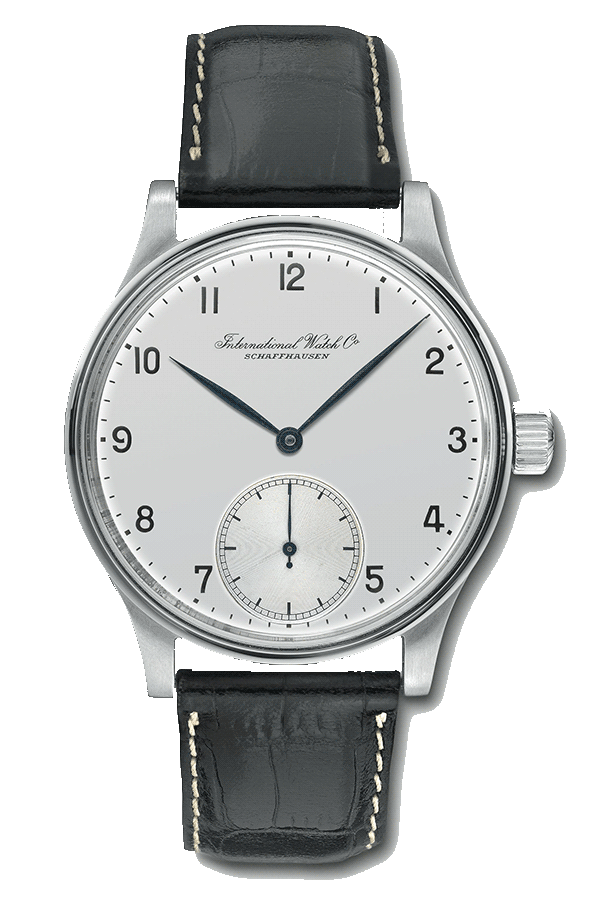 Homberger also saw to the birth of a second watch family that is arguably the most popular among IWC Schaffhausen collectors today – the Portugieser. To meet the order from two Portuguese importers, he produced a series of large wristwatches with high-precision pocket watch calibres. Interestingly, it didn't have a name or a reference number in the beginning, but was identified by its case number "Mod. 228"; and only came to be known as Portuguese Reference 325 much later on.
1967 – First Aquatimer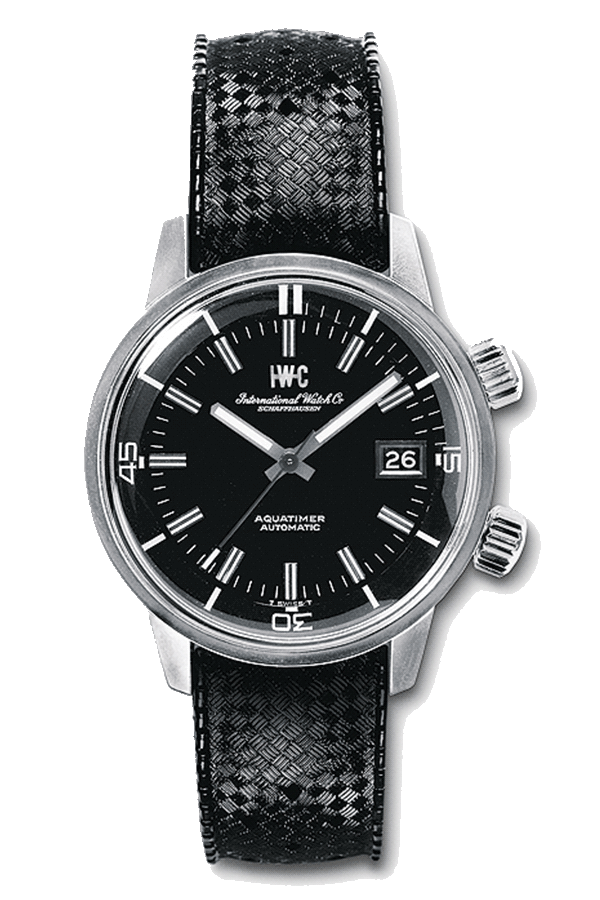 When Hans Ernst Homberger took after his father in 1955, he too launched several other watch families. The first Aquatimer marked a new series of diver's watches highlighted by sporty elegance. It was water-resistant to 200 metres and had an internal rotating bezel used to set dive times.
1969 – Beta 21 Da Vinci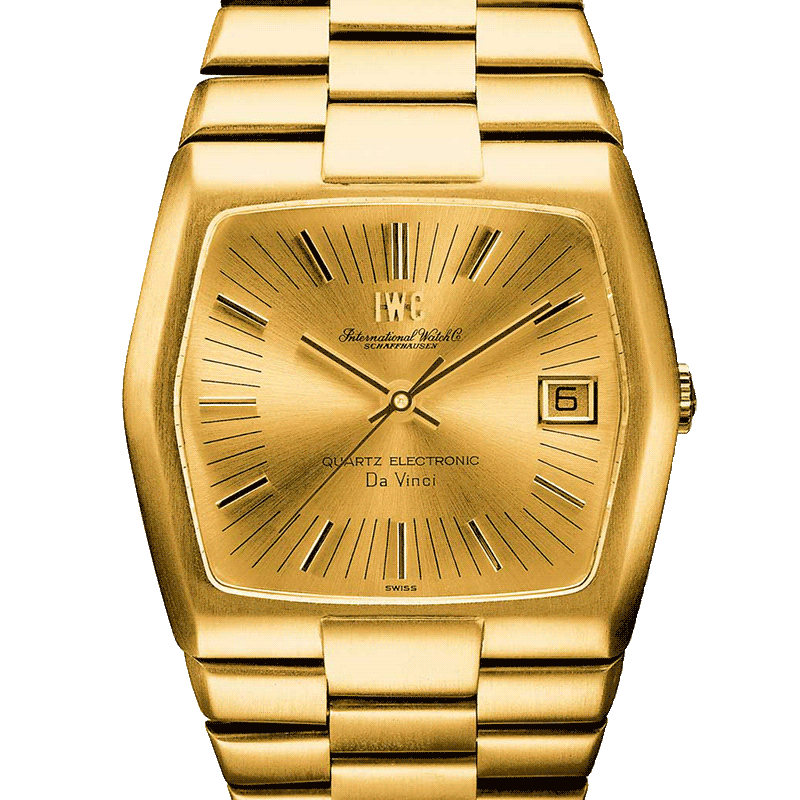 Two years after the introduction of the Aquatimer came the first Da Vinci model, housed in a hexagonal gold case. It is the first IWC watch to feature the Beta 21 Swiss quartz movement – a wristwatch calibre with quartz control – wherein the brand played a significant role in its development.
1984 – Portofino Hand-Wound with Moon Phase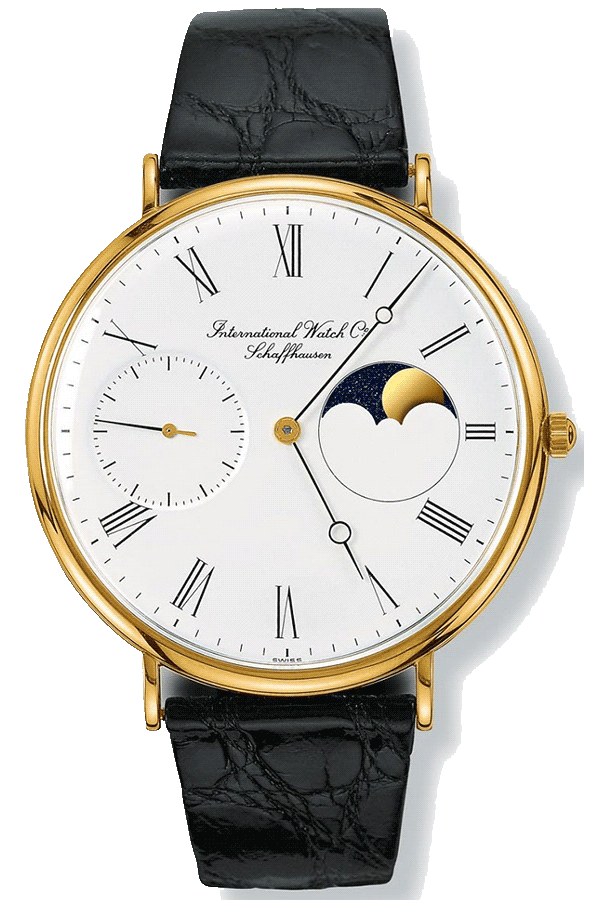 Fifteen years later, the first model in the Portofino collection made its debut. Inspired by the design of the Lépine pocket watch, it sported a 46mm case and featured a moon-phase display.
1990 – Grand Complication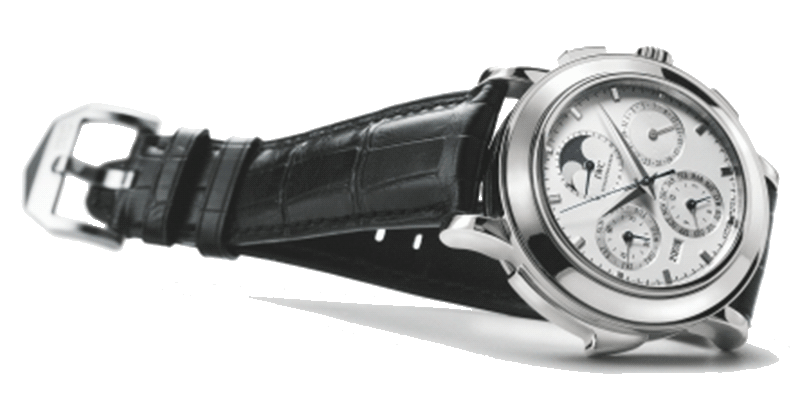 Due to the quartz crisis emerging in the mid-1970s, IWC Schaffhausen shifted its focus to high-quality mechanical movements. Under the new ownership of German instrument manufacturer VDO Adolf Schindling AG, it rose to the top of Haute Horlogerie with the Grande Complication. The result of seven years in the making, it was a revolutionary chronograph with a perpetual calendar, minute repeater and moon phase display.
1993 – Il Destrieso Scafusia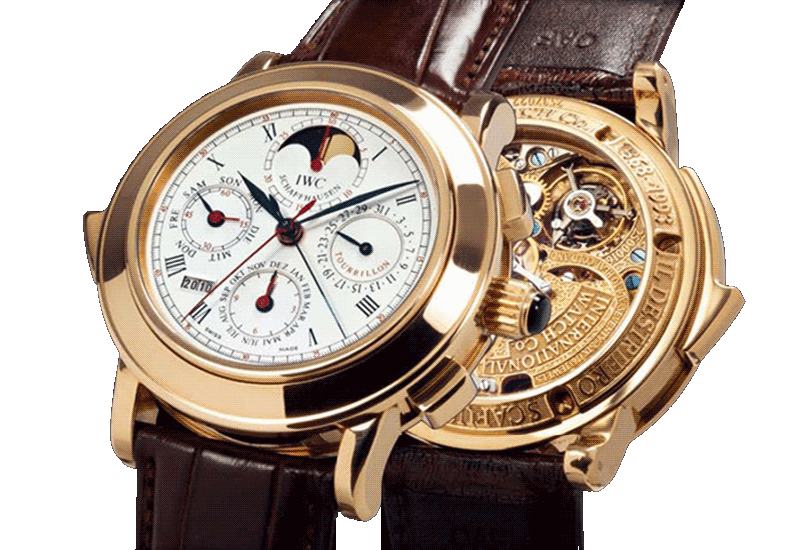 IWC Schaffhausen celebrated its 125th anniversary in 1993 with what was then the most complicated mechanical wristwatch in the world – Il Destrieso Scafusia, also known as "The Warhorse of Schaffhausen". Limited to 25 pieces, it featured several complications including a tourbillon, split seconds, minute repeater and perpetual calendar.
2002 – Big Pilot's Watch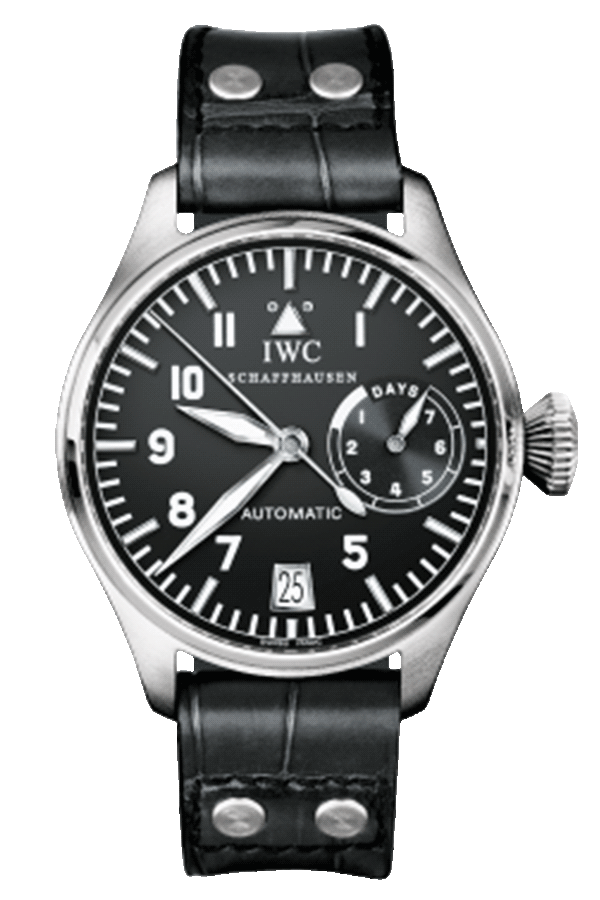 At the turn of the millennium, IWC Schaffhausen was bought over by Richemont. Along with the transition, it presented revamped versions of its six watch families – a tradition it maintains every year at SIHH. One major reedition that deserves a special mention is the Big Pilot Watch unveiled in 2002. Featuring a 7-day movement, automatic winding, power reserve display and date display at 46.2mm, its introduction has since revived demand for the model.
2011 – Portugieser Siderale Scafusia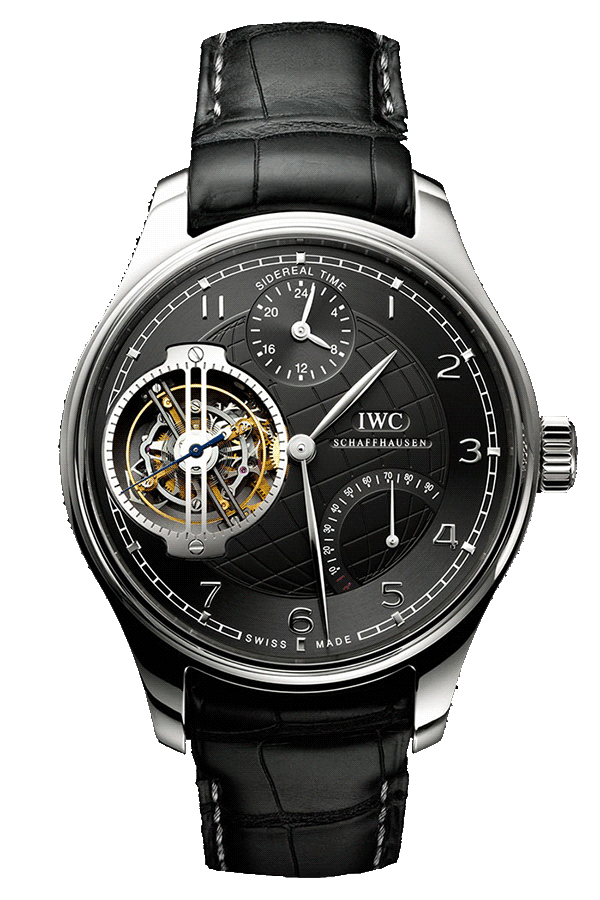 If the Grand Complication, which took seven years to create, was ground-breaking, you can bet the Portugieser Siderale Scafusia, which surpassed that time by three years, would be most exclusive and complicated watch ever made by IWC Schaffhausen. And it still is, boasting a patented constant-force tourbillon, numerous complications and bespoke calculated astronomical displays. Each piece is made to order, guaranteeing its exclusivity.
2018 – 150th Anniversary Jubilee Collection
A total of 27 limited-edition models were unveiled in conjunction with its 150th anniversary, including additions to the Portugieser, Portofino, Pilot's Watches and Da Vinci families, as well as the first-ever wristwatch edition of its Pallweber pocket watch. One common denominator of all models is either a white dial with blue hands or a blue dial with rhodium-plated hands, both coated with up to 12 layers of high-quality lacquer.
Check out some of our favourite timepieces from the jubilee collection below.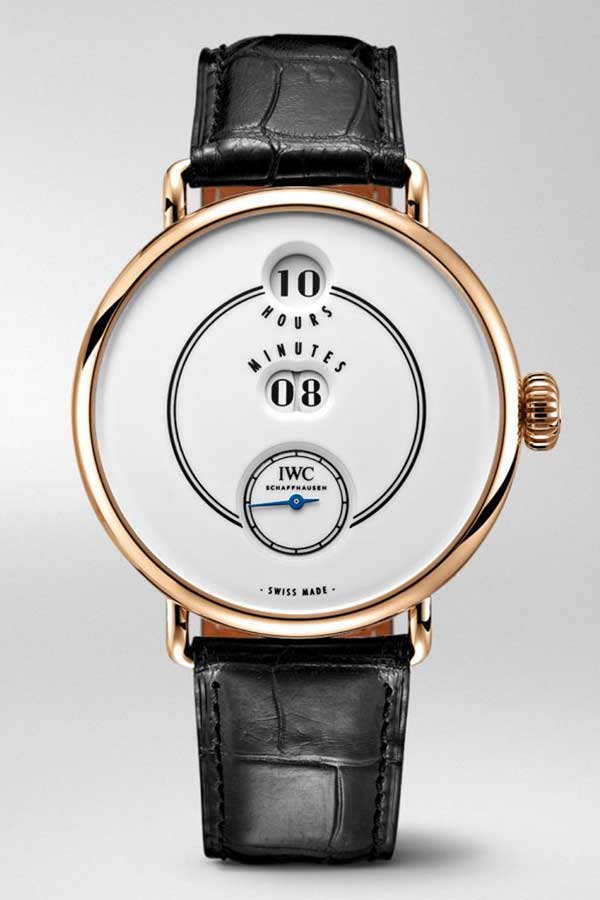 IWC Tribute to Pallweber Edition "150 Years"
IWC Tribute to Pallweber Edition "150 Years"
Like the iconic Pallweber pocket watches launched in 1884, this tribute wristwatch displays the hours and minutes using a jumping-numerals module. This model comes with 18k red gold case, a white dial with a lacquered finish and white display discs. Limited to 250 pieces.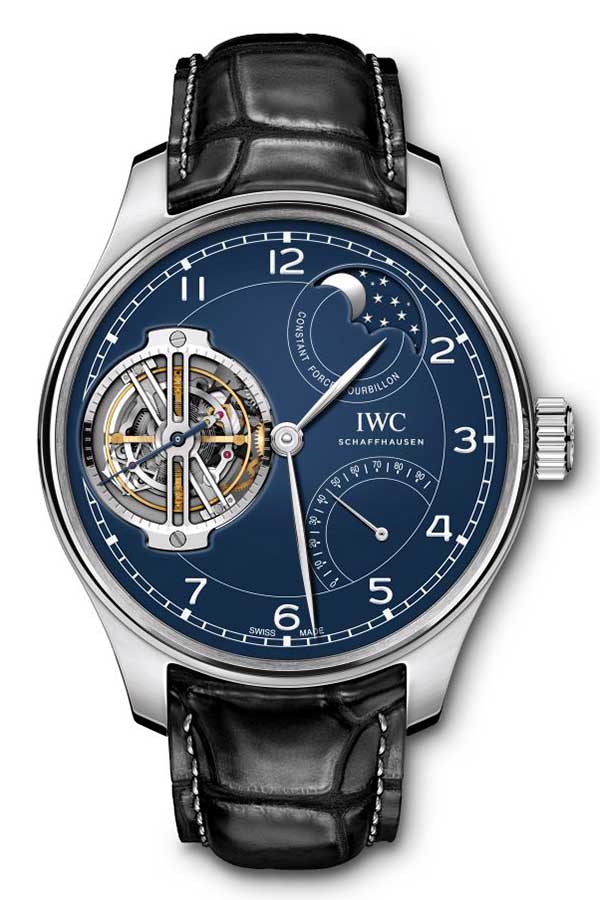 Portugieser Constant-Force Tourbillon Edition "150 Years"
Portugieser Constant-Force Tourbillon Edition "150 Years"
For the first time ever, the hand-wound 94805 calibre combines a constant-force tourbillon with a moon-phase display. The latter need only be adjusted once every 577.5 years. This model comes with a blue dial with a lacquered finish and rhodium plated hands, with only 25 pieces available.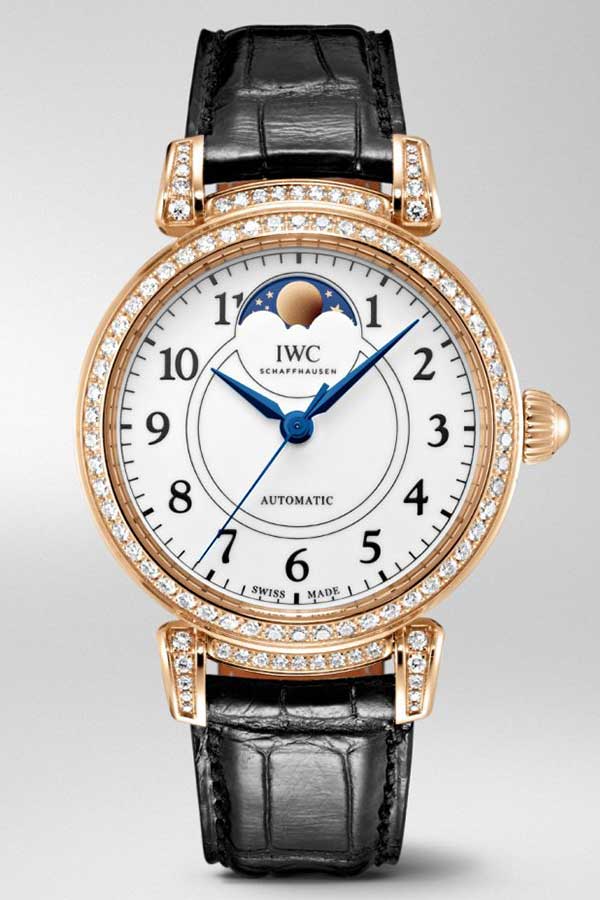 Da Vinci Automatic Moon Phase Edition "150 Years"
Da Vinci Automatic Moon Phase Edition "150 Years"
Bringing back the exquisite jewellery watches introduced back in the 1990s, this timepiece is fitted with 206 pure white diamonds amounting to 2.26 carats. It also features a moon-phase display at 12 o'clock. No more than 50 lucky owners stand to own one.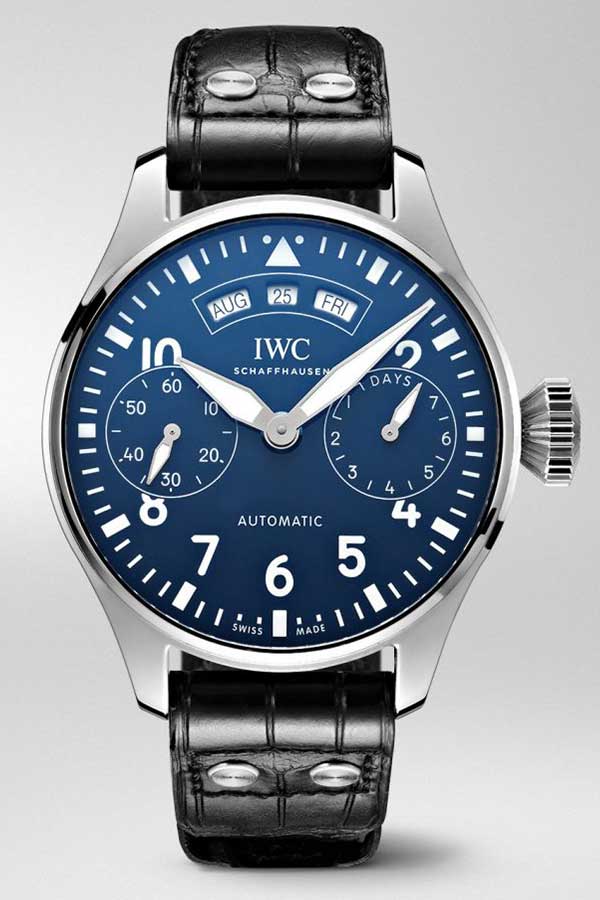 Portugieser Constant-Force Tourbillon Edition "150 Years"
Portugieser Constant-Force Tourbillon Edition "150 Years"
Highlighted as the only watch in the jubilee collection to feature an annual calendar, this Big Pilot model also pays tribute to the brand's founder via an American-format display for the month, date and day. It is limited to 100 pieces only.
(swipe left for more)
Images: Courtesy of IWC