Meet the first man to return to the moon in half a century.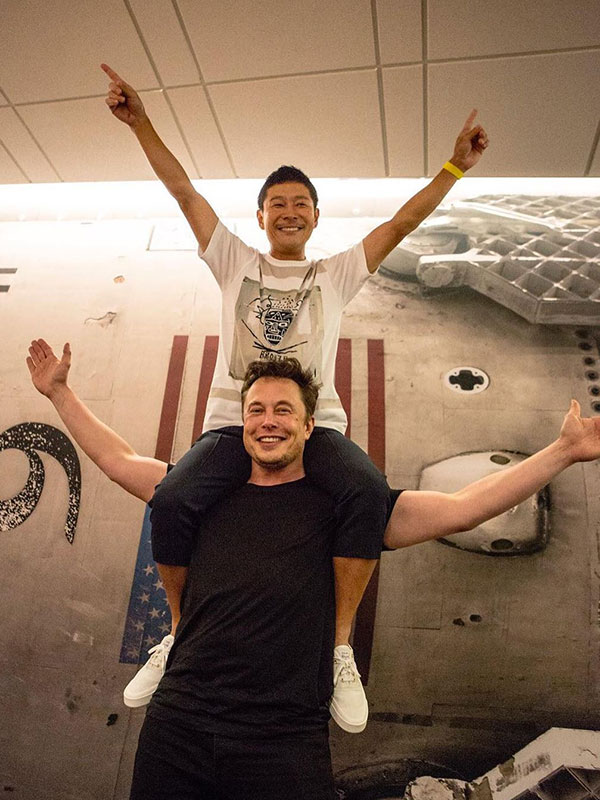 Earlier in February, Elon Musk launched a Tesla Roadster into space via the SpaceX Falcon Heavy rocket. 'What's next' was almost immediately the question after its success. The answer, but of course, had already been given by the company then – sending people to the moon aboard the Big Falcon Rocket (B.F.R for short) – and now we know who's the first private customer to have that honour: Yusaku Maezawa.
Introduced by the billionaire visionary on Monday, Yusaku is set to be the first to return to the moon in half a century. He will also be the first passenger to ride in the BFR, the most ambitious rocket by SpaceX yet and is currently still under development.
The journey to the moon and back will take approximately four to five days and is projected for take off in 2023. While the amount paid for the trip has not been disclosed, Elon revealed that "he's paying a very significant amount of money".
Who exactly is this gentleman we'll be hearing more of in outer space news? Here are 7 things you should know about the 42-year-old Japanese entrepreneur.
His net worth is $2.9 billion
According to Forbes, Yusaku's estimated net worth is $2.9 billion, which would make him the 14th richest man in Japan. He started selling imported albums and records in 1995 before establishing his first company, Start Today, three years later. The business began operating the online shopping website Zozotown (more on this next) in 2004 and became listed as a public trading company in 2010. He currently owns 38% of the company's share.
He started his own band in high school
View this post on Instagram
Before founding his company, Yusaku had started the Japanese band, Switch Style, while he was still in high school. They released their first EP in 1993 and signed with the label BMG Japan in 1998. However, he announced a hiatus from his music career in 2001.
He made a name in fashion
Zozotown was Yusaku's first foray into the fashion industry, albeit indirectly, by providing a platform for tenants to sell their products – much like an online fashion mall. More recently, he founded his own custom-fit apparel brand ZOZO featuring the revolutionary body-measuring ZOZOSUIT.
He's an art collector…
View this post on Instagram
View this post on Instagram
Yusaku's true passion is most notably the arts, judging from the bulk of art-related posts on his Instagram feed. He has bought pieces from Bruce Nauman, Jeff Koon, Alexander Calder, Richard Prince, Pablo Picasso and Jean Michel Basquiat through the years – once spending a total of $98 million over two days.
…who paid $110 million for a Basquiat
He even fetched one particular piece by Basquiat for an astounding $110.5 million in a 2017 auction. The untitled artwork has since travelled across the globe for public viewing in museums.
He founded the Tokyo-based Contemporary Art Foundation
Not surprisingly, his appreciation for contemporary art led him to set up the Contemporary Art Foundation in 2012, with the aim to support young artists. The foundation is based in Tokyo and hosts collection shows twice a year. He has also revealed plans to build a museum in Chiba, east of Tokyo, to house his personal collection.
He curated the #dearMoon project
View this post on Instagram
Now with space to look forward to in 2023 (if everything goes according to timeline for SpaceX), Yusaku is proud to be the host curator for the #dearMoon project. His goal for the project is to bring six to eight artists of various backgrounds such as a film director, painter, dancer, novelist, musician, fashion designer, sculptor, photographer and/or architect along on his journey around the moon and back.
View this post on Instagram
Godspeed, Yusaku!
Follow @yusaku2020 and @dearmoonproject on Instagram for more updates on this milestone.