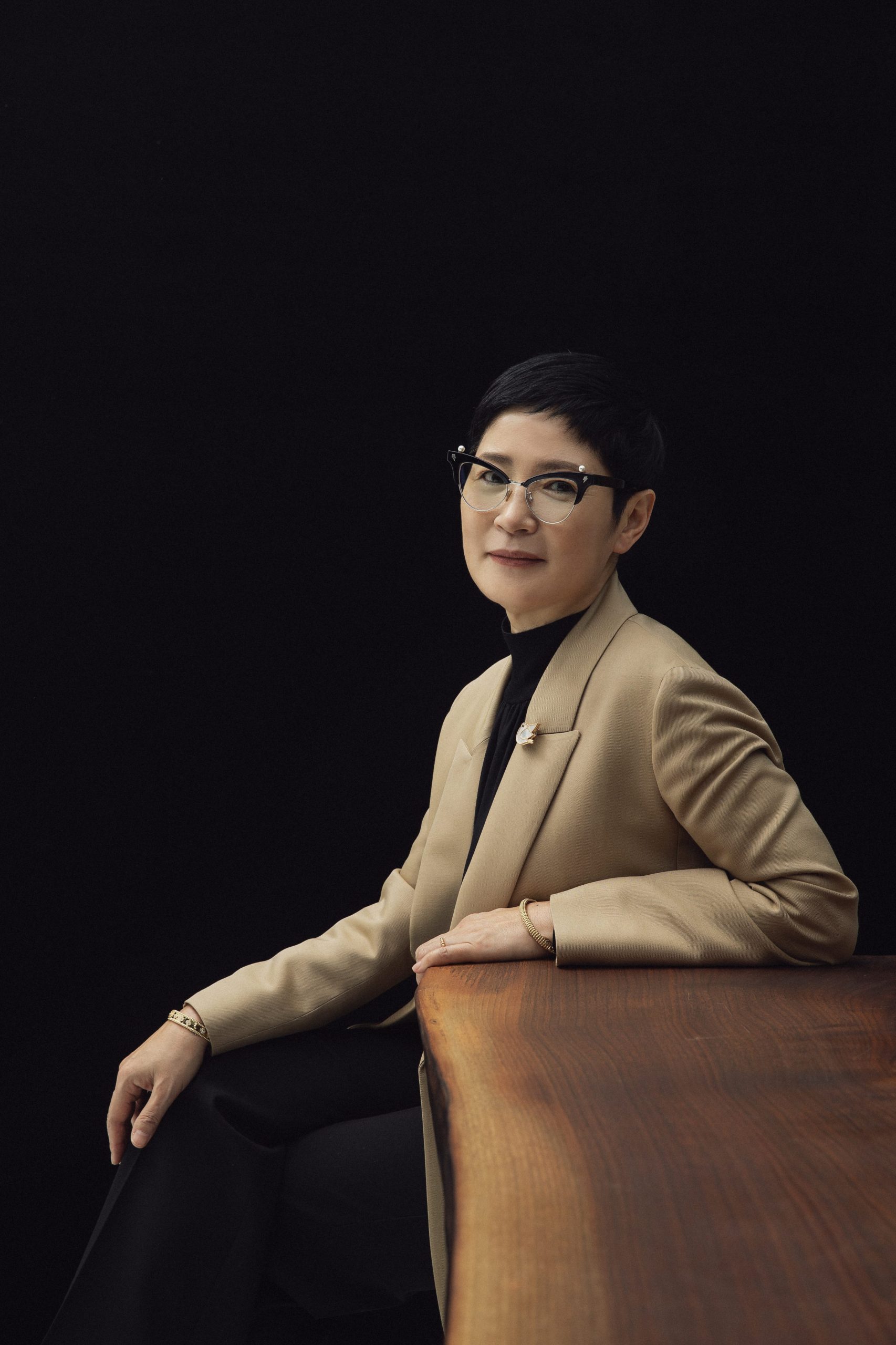 Nature has long been a great inspiration in creating some of the world's most beautiful things – from jewellery and watches, to paintings and finery. For Van Cleef & Arpels, it is the graceful butterfly and its enchanting, ephemeral beauty who takes the spotlight in its collaboration with Korean artistic director, Younghee Suh.
Younghee Suh is no stranger to the Maison, having partnered with them for pieces such as the L'Arche de Noé racontée par Van Cleef & Arpels High Jewellery Collection. To capture the hypnotising allure of the butterfly, Suh sought out Japanese lacquer artisan Junichi Hakose and his mastery to create Lacquered Butterfly clips. Keep reading to get to know a little more about Suh and her journey creating these delicate clips, and how they are linked to Korean culture.
Can you briefly introduce your background? (how did you start with art & other related experiences which you would like to mention)
After studying fashion design, I worked as a fashion designer for about 3 years. Since then, for 30 years, my career has involved creative directing, along with curating exhibitions such as "100 Years of Korean Fashion" and "Korea Now!" held at the Musée des Arts Décoratifs in Paris. As a creative director, I am working with various artists beyond the boundaries for diverse projects.
Can you share the inspirations and key ideas of your artwork with Van Cleef & Arpels?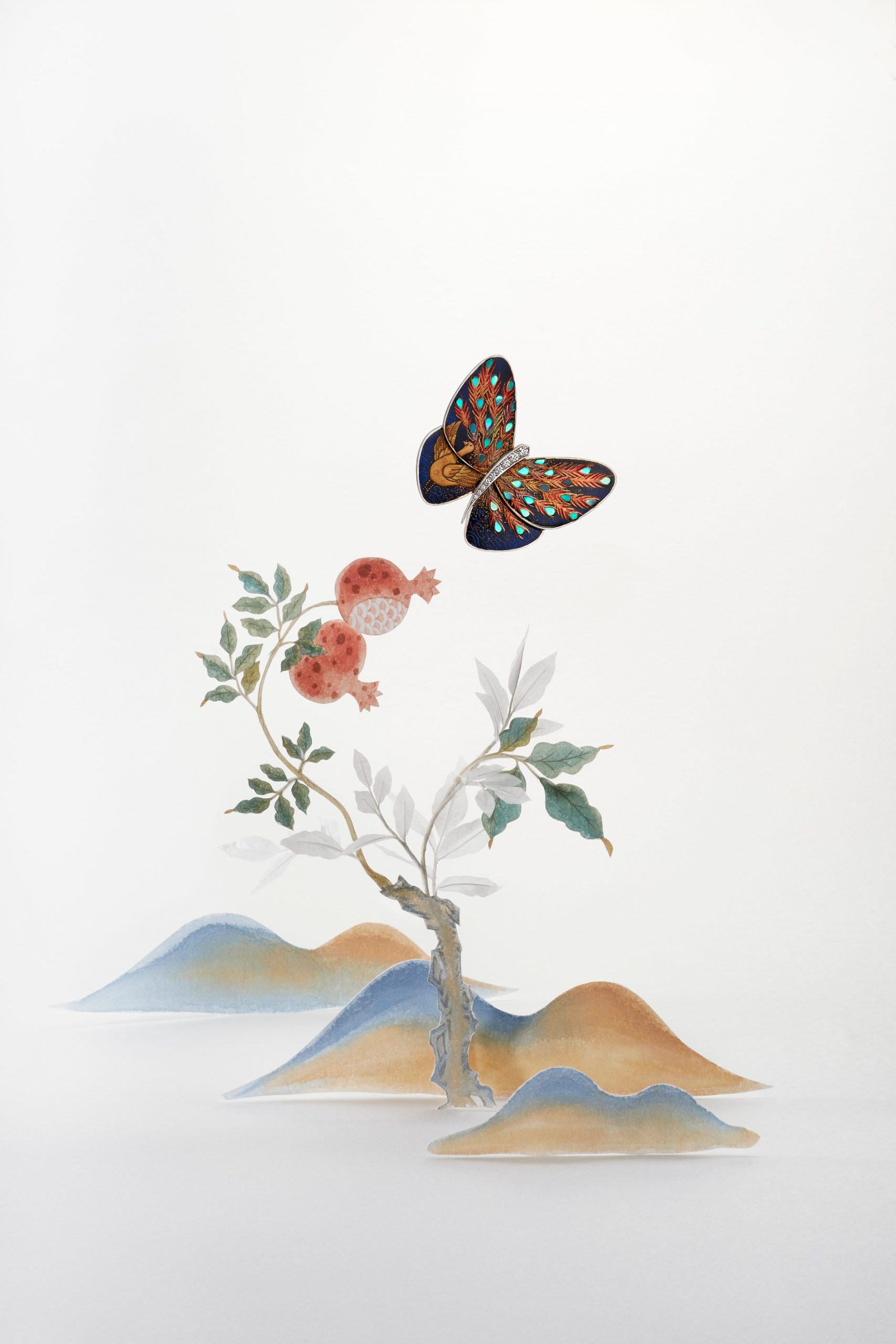 For me, Van Cleef & Arpels' Butterfly clips echo the creations of a famous Korean painter from Chosun dynasty. In her paintings, butterflies were in harmony with enchanting flowers and fruits. I wanted to connect her world with the Maison's graceful creatures.
Your works are poetic, refined and elegant. How do you achieve this? You made use of hand crafted hanji paper, flowers by Korean traditional techniques and drawings in your works. Are these artists your long-term working partners?
Throughout my long career, I have been lucky enough to meet many great artists. They are the ones who brought my ideas into reality. The artist who did the drawing on Hanji majored in 'Minhwa', a traditional Korean folk painting. I saw her paintings in a book by chance and it led me to call up the publisher to arrange a meeting with her.
Her paintings which are thoroughly modern and contemporary while still remaining anchored in Korean tradition, were adorable enough to let us became friends right away. The artist who crafted little flowers on Hanji for the project, we've been working together for over 10 years now, ever since a friend of mine introduced her to me.
What are the biggest challenges while creating the artwork?
Due to the size of the clips, if they are not in kept with the size of decorative flowers or paintings around them, they could look awkward. Keeping this in mind, a great effort was put forth in order to find a perfectly balanced ratio of each element. I could have used a modern computer technique that allows one to take a photo of the background first and then adjust its size later, but I just didn't want to do that—not for Van Cleef & Arpels' project.
The reason for such reluctance still remains a mystery to me, though (laughter). For each visual, ornaments were made in three different proportions. When drawings were involved, a few artists were invited and encouraged to draw in the right ratio directly on the scene. Luckily, the artists themselves very much enjoyed working in this way.
What is the similarity/relations between savoir-faire in Jewelry and your artworks?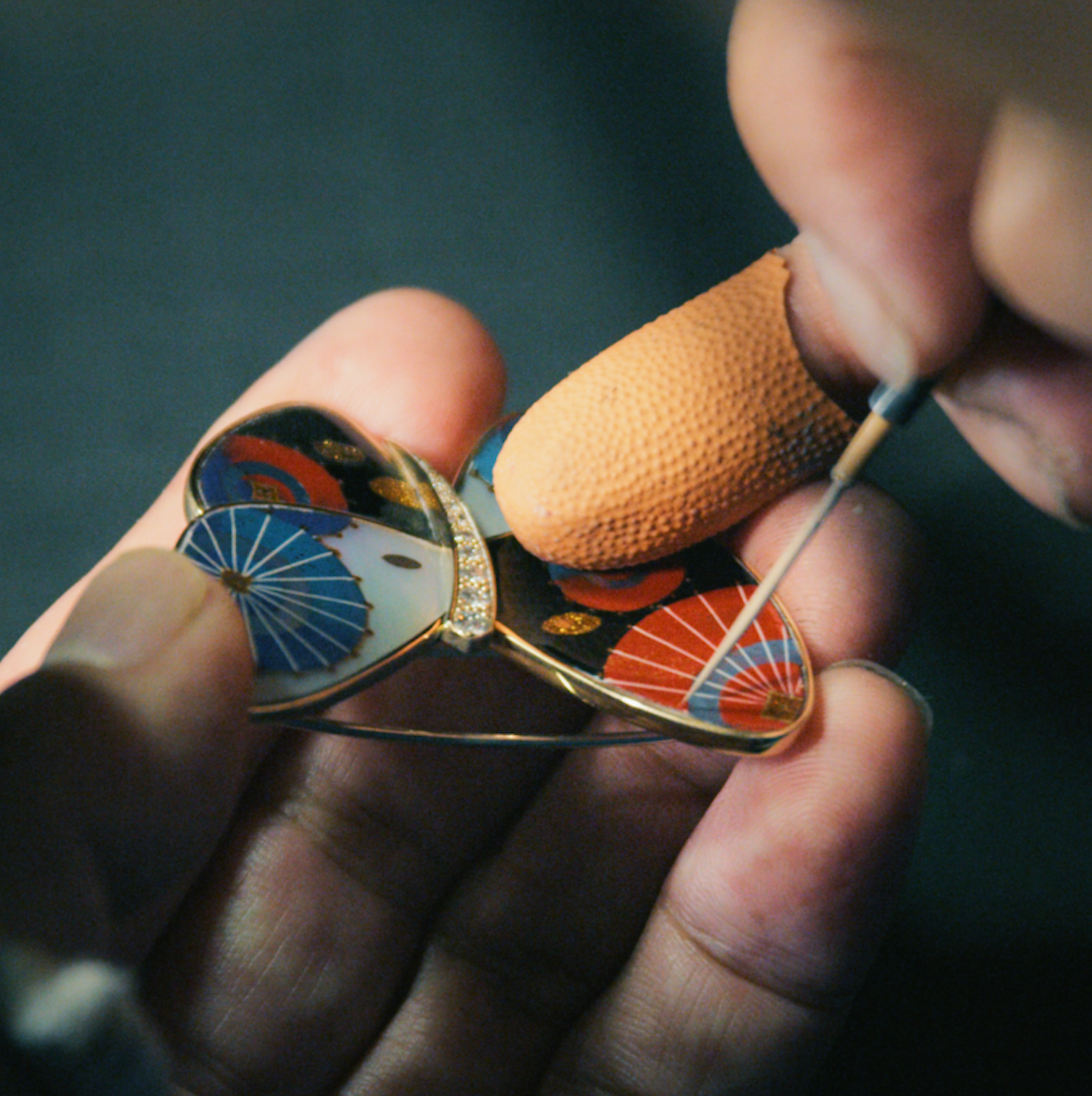 Once, during my visit to Maison's workshop in Paris, I had a chance to watch the process of the Mystery Set, which consists of small gems. At first glance, it looked like a completed brooch, but it didn't take long for me to notice the missing setting of a tiny gem. I was told that they were just waiting for the gem that would go there. I thought for a moment why did they not just pick one of the plentiful gems all around them, but such professionalism puts toward the perfect creation turned into something I admired.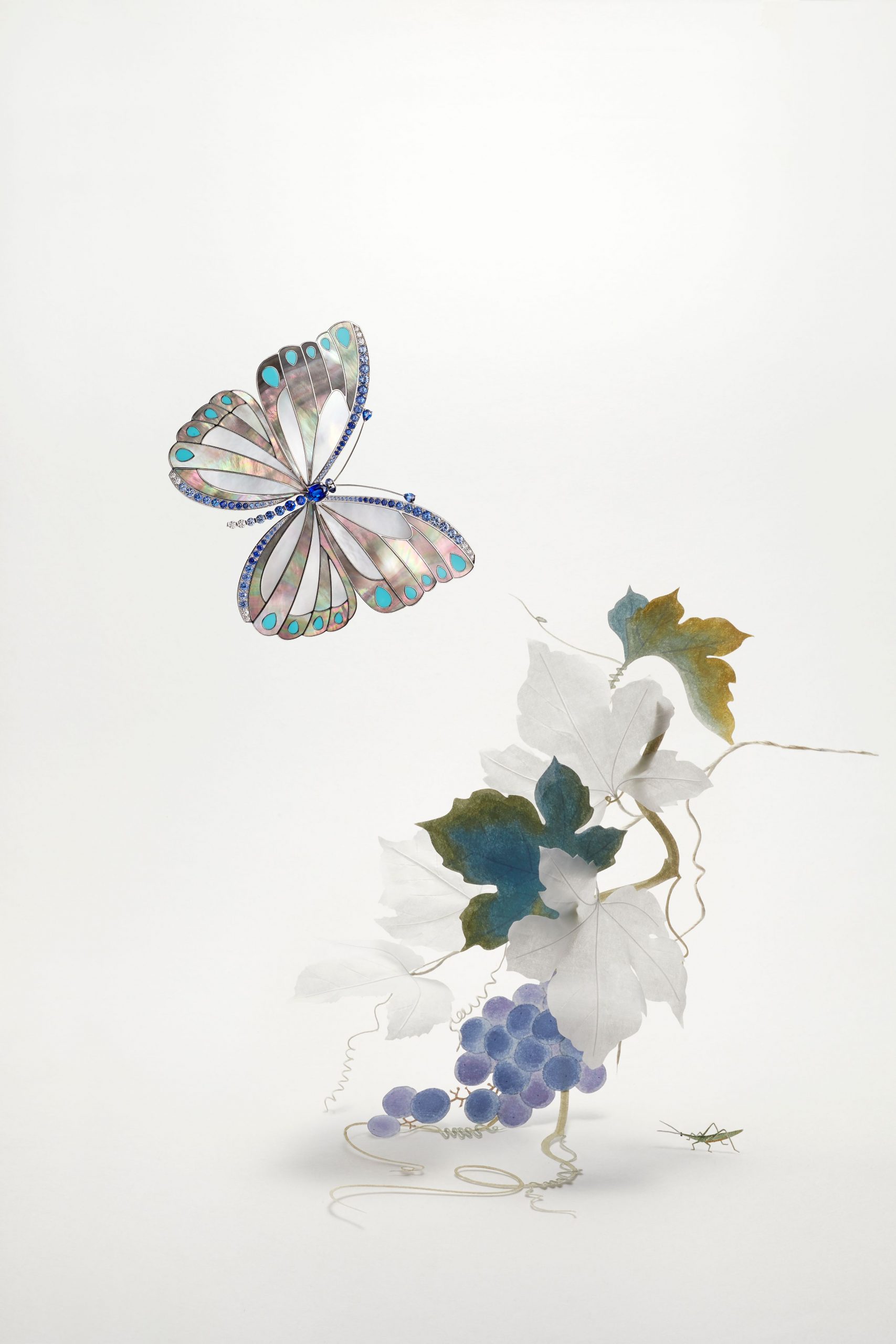 It impressed me so deeply, in fact, I couldn't help but nod in agreement. This is in parallel with the idea of seeking perfection that I always have in mind while working. Aiming to aesthetic perfection, in qualitative rather than quantitative terms, and following my own intuition driven by passion and love for the work—this is the value that I share with Van Cleef & Arpels.
What kinds of emotions do you want to express to public through these artworks? What is your expectation?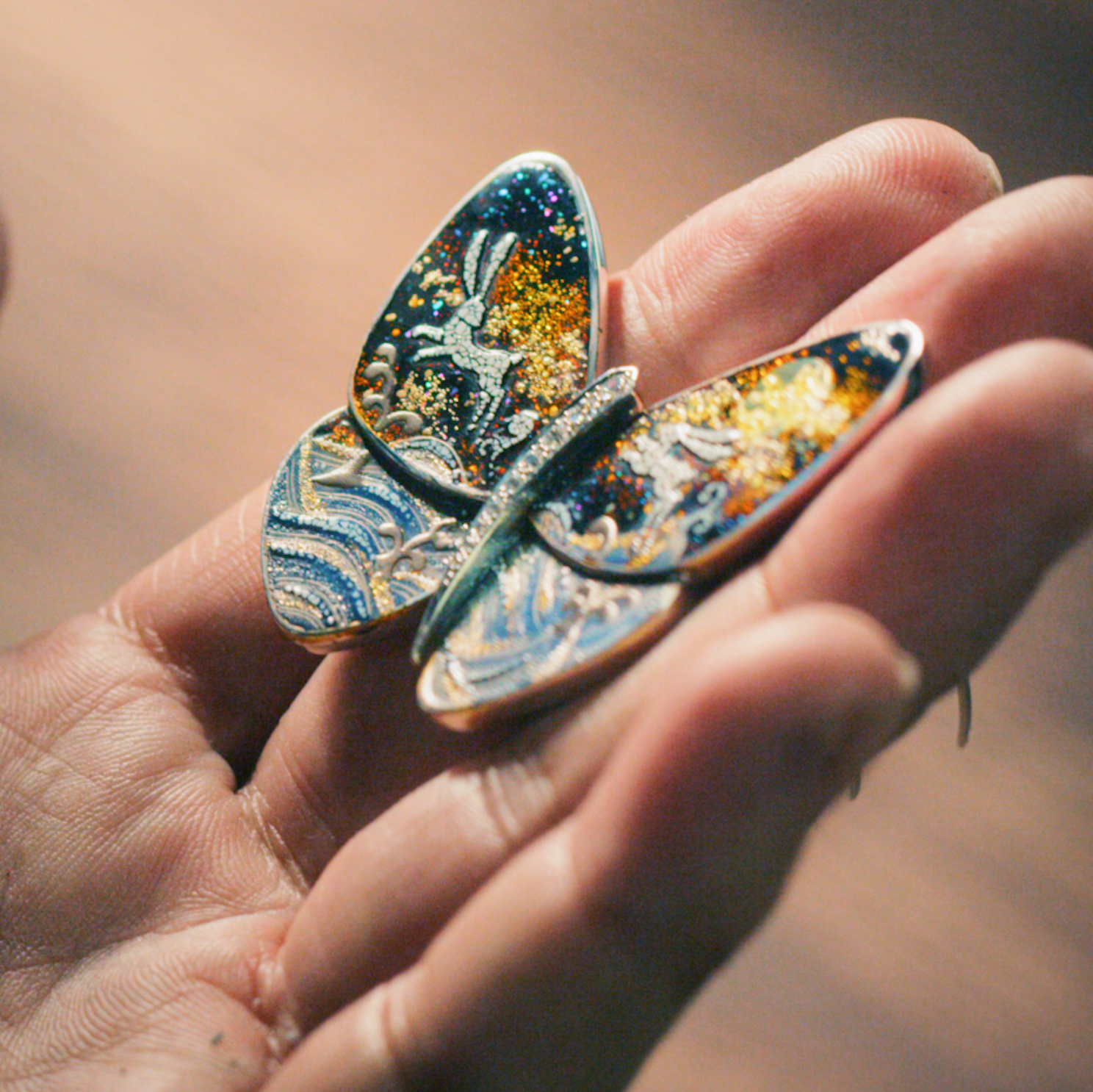 My grandmother is someone who went through all the hard times in Korea. Always in a hanbok—a traditional Korean dress—she used to carry a fortune pouch with her, inside of which there was a little golden pig. I would pester her to show it to me, but not for its economic value, which didn't mean much for a little girl; rather, the reason it interested me was the funny shape of its pudgy snout. Looking back now, I think that small object had many meanings of its own. One day, I happened to find a four-leaf clover while out on a stroll with my grandmother, and she put it on my head with an ever-so-sweet smile, telling me it would bring me plenty of good luck. I feel that the spirit my grandmother had at that time was the foundation of this project. In that regard, I hope this project will bring good luck, joy and plenty of love to those who look at it.
What are the main sources of inspirations, how do you get new ideas and create inspirational art directions day by day?
This is a difficult one to answer. I believe that each of us has our own criteria for what we find beautiful. As far as I'm concerned, it's all about the things around me and my love for cultural aesthetics, which I myself belong to. These are all of my sources of inspiration. For example, in my childhood, there was a long evening light passed through the beautifully crafted Hanji door, creating warm and cozy atmosphere. As the sun went down, I used to enjoy observing the regular patterns grew longer and the shadows became like ink-and-wash paintings. Hanji is something that engraved in my memory and this explains why I present it in a good number of my works.
Photos: Van Cleef & Arpels.