We all need a daily dose of motivation, perspective and sharp humour when we go about our day. Luckily, there is no shortage of female storytellers to keep us entertained and keep our spirits up.
For this year's #InternationalWomen'sDay, check out some of our favourite podcasts helmed by women exploring a variety of topics, from deconstructing complex romantic relationships to exploring classic television plots.
1. Head Over Heels with Maggy & Vanessa
Head over Heels, hosted by TV and radio personalities Maggy Wang and Vanessa Tevi—2015 Miss Universe Malaysia-explores the meaning of what it means to be a modern Asian woman. A safe space for women (and men) to have open and honest conversations about life experiences, relationships, self-development, and social issues.
Listen to Head Over Heels here.
2. Anything Goes with Emma Chamberlain
From the comfort of her bed, Emma Chamberlain talks about failed relationships, everyday girl problems, and the struggles of being a cat mom. This podcast, which airs a new episode every Thursday, really goes on around whatever Emma feels like talking about on that day. This podcast is great for those who are feeling a bit lonely and would like some virtual company to keep them sane. 
Listen to Anything Goes here.
3. The Digital Sisterhood
Ranked #2 on Apple Podcast & Spotify, The Digital Sisterhood is a storytelling podcast that features heartfelt and intriguing anecdotes centred around the lives of Muslims. Join the Muslim sisters as they candidly discuss universal truths about the community, social standards, and what it means to be a woman in this day and age. 
Listen to The Digital Sisterhood here.
4. The Sis2Sis Podcast with Charis, Juanita & Siu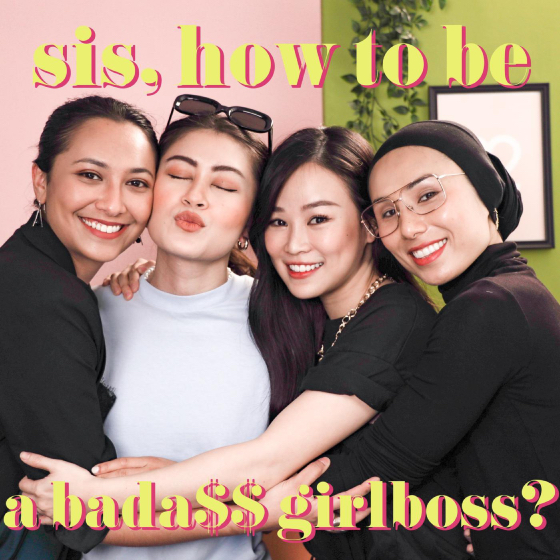 Hosted by singer and social media influencer Charis Ow, producer and presenter Juanita D. Ramayah, and pilates instructor Siu Lim—who come from different walks of life—offer you issues ranging from career, life, relationships, mental well-being, and motherhood. More importantly, these three work towards a common goal: to advocate for equality regardless of religion, race, or background.
Listen to The Sis2Sis here. 
5. The Michelle Obama Podcast
In the follow-up to her best-selling memoir, the former First Lady speaks with loved ones and experts. Obama streams her own views on the world and, utilising her personal experiences, projects her opinions and principles onto universal subjects that interest her, such as the experience of black women in positions of power, challenges as a mother, and how her profession has moulded her perspective of modern society.
Listen to The Michelle Obama Podcast here.
6
.
I Weigh with Jameela Jamil
Jameela Jamil embodies brilliance. Her podcasts provide a gateway for those who are afraid to speak up when it comes to sharing their struggles, as well as a space for open and non-judgmental conversation. Using a user-friendly approach, I Weigh aims to connect, inspire, and elevate diverse viewpoints.
Listen to I Weigh here.
Featured image via Unsplash.