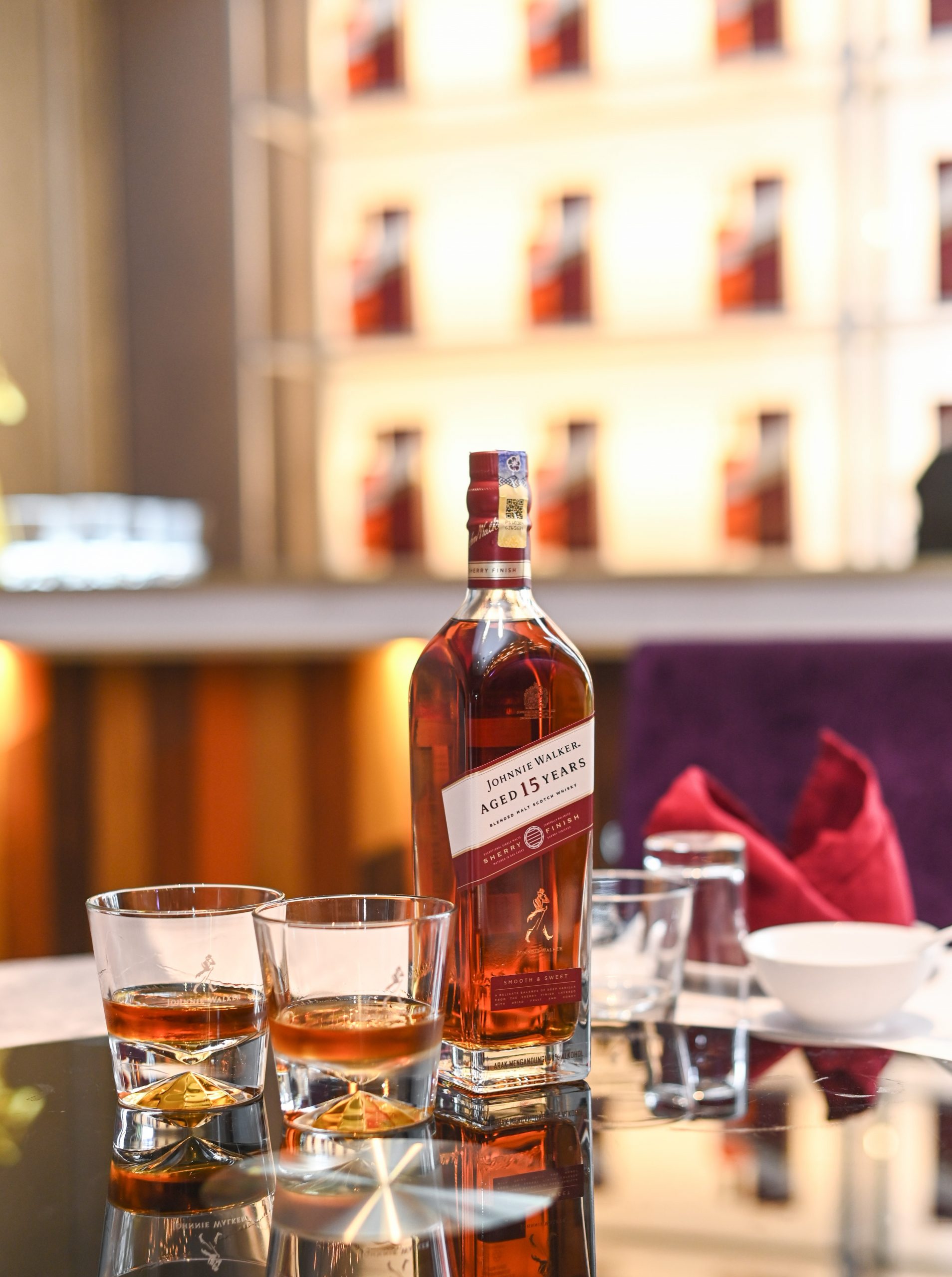 Johnnie Walker pays tribute to the strong and punchy flavours of Asian cuisine with the debut of a scotch whisky to make the perfect pairing with its intense depth of flavour: the Johnnie Walker Aged 15 Years Sherry Finish.
Jim Beveridge, the Master Blender of Johnnie Walker, created this expression by selecting whiskies that have been matured for at least 15 years, before finishing them in ex-Sherry oak barrels from Jerez. The resulting dram takes its deep amber colour from the casks, while boasting an intense sweetness, spice, and complexity that is exclusively obtained from that region in Spain.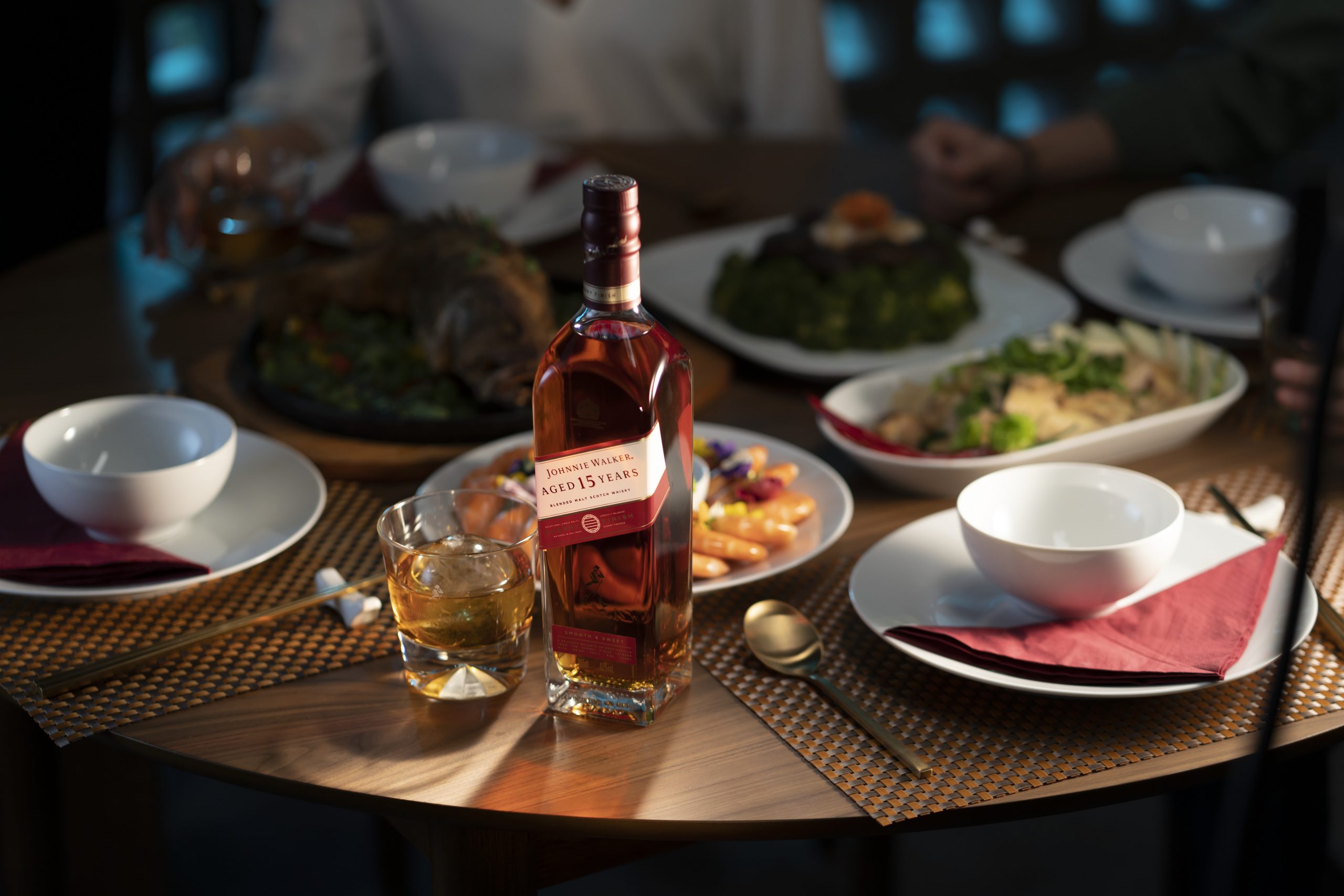 Earlier this October, Johnnie Walker Aged 15 Years Sherry Finish was launched in Malaysia at One Seafood Restaurant, Kuala Lumpur. The whisky is an ideal accompaniment to the local Chinese cuisine, and we were guided on a tasting led by Chong Wai Keng, Diageo Malaysia Brand Ambassador.
"The Johnnie Walker Aged 15 Years Sherry Finish is a fine addition to the Walker family — one that showcases the brand's tireless efforts to push the boundaries of flavour to constantly deliver incomparable experiences. As sherry cask whisky gains popularity among consumers, this new expression will certainly be a favourite among whisky lovers," said Rajesh Joshi, Marketing Director of Diageo Malaysia.
We first explore the three main single malts that are featured in the scotch whisky blend – Cardhu, Glen Elgin, and Clynelish.
Cardhu – Just like its hue, this single malt is light and honeyed on the nose. It boasts a smooth and candied sweetness, with crisp spice flavours and a lingering fruitiness. A few drops of water brings out an intense vanilla and white sugar character.
Glen Elgin – Probably the most fragrant single malt of the trio, the Glen Elgin has a green, herbaceous, almost grassy aroma. A longer whiff introduces hints of orange blossom and citrus. Even a tiny sip instantly coats the palate with an intense fruitiness such such as citrus rind. Some water reveals more syrup-like notes, with endnotes juicy peaches and stone fruits lingering in the long finish.
Clynelish – Dried fruit brings both earthiness and sweetness on the nose, enhanced with threads of chocolate and even a touch of brine. Like the Glen Elgin, the Clynelish has a hint of mint on the nose. After sipping, the Clynelish has a pleasant chewiness, while light dilution surprises the palate with cool, green fruits such as apple.
The Johnnie Walker Aged 15 Years Sherry Finish
On the nose, the whisky exudes a deep, almost buttery fragrance that's laced with sweeter, floral notes reminiscent of the Clynelish. It then opens up to aromas reflecting the Autumn season, such as honey, baked goods, and a touch of vanilla.
The palate welcomes a burst of sweetness and bold spices courtesy of the use of sherry casks. Notes of candied fruits, nuts, and dark chocolate mingle with fresh spices such as nutmeg, cinnamon, star anise, and cardamom.
A touch of water intensifies the floral notes and syrupy character while introducing an underlying smoothness. It also lengthens the rich fruitiness and complexity, with a sweet and aromatic finish.
The Johnnie Walker Aged 15 Years Sherry Finish is available for purchase on Boozeat, Stay Thirsty, Whisky.my, and at major supermarkets. For more information, visit the official Johnnie Walker website or Johnnie Walker Malaysia on Facebook.
Photos: Johnnie Walker