It is smeared with white truffle cream cheese, topped with Riesling wine jelly and sprinkled with gold flakes.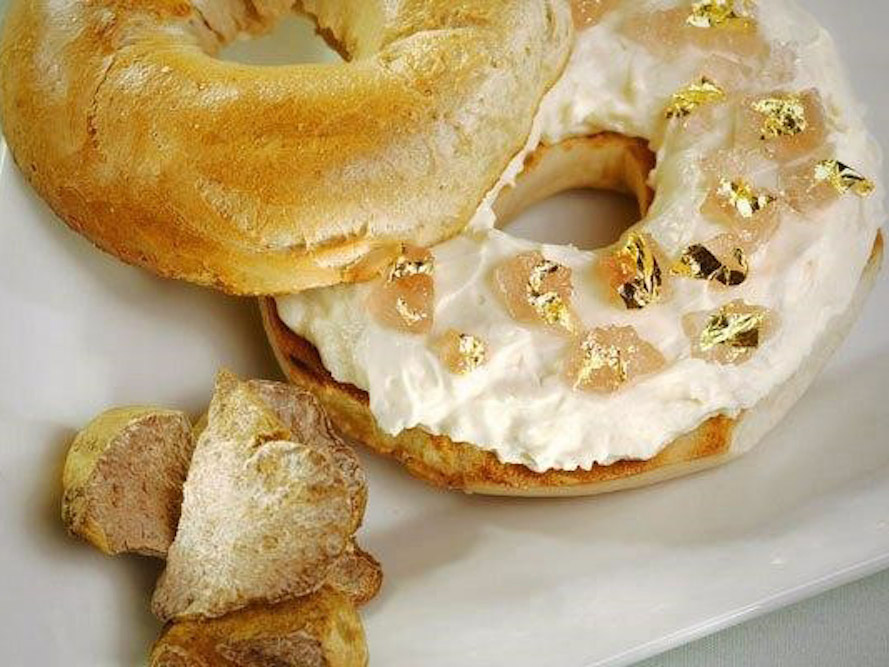 New York City. The city that never sleeps; concrete jungle where dreams are made of; the mecca of the humble breakfast food, the bagel.
It is hence only natural for The Westin New York to put on its menu the epitome of bagels – a $1,000 (approx MYR4,233) version that will go on sale beginning November 1.
What warrants such a pricetag? White truffle cream cheese, gold flakes and Riesling wine jelly, that's what.
Available for a limited time only, the bagel will be available via room service and the hotel's restaurant during breakfast hours. Take note however – you'll have to place your orders 24 hours in advance.
Breaking down the ingredients used in the bagel, we think the price might just be justified.
White truffles grow almost exclusively in Alba, Italy, and command up to $2,000 per pound as only very specialised and trained dogs or pigs are used to sniff them out. Each bite will hence taste "slightly garlicky with a deep musky aroma," says executive chef Craig Reid of The Westin New York.
The accompanying Riesling wine jelly is goji berry-infused to lend a blended fruit aroma of cranberries, sour plums, cherries, apples and pear. All that flavour is made Insta-worthy with a generous sprinkling of gold flakes.
If you need more reason to indulge, the hotel has confirmed that 100% of sales proceeds will go to Holy Apostles Soup Kitchen, the largest emergency food programme in America.
This isn't the first time this blinged up bagel is making an appearance on the menu. It first surfaced in 2007 and is back by popular demand after requests come in for it "yearly without fail", according to the hotel.
(Photo: The Westin New York)