Sustainability is no longer compromisable in an age where climate change, pollution and a plethora of environmental issues continue to plague our news feeds daily. One major industry that begs scrutiny for having direct impact on our planet is agriculture, especially where soil pollution, deforestation and waste are concerned.
As consumers become increasingly aware of food traceability and the production processes behind our crops, the call for environmentally conscious farming is all the more crucial to meet demands for more sustainable produce.
Enter Vegetory, an indoor vertical farm founded by local husband-and-wife duo Roy Liew and Celleste Kok. Ahead of World Earth Day 2021, we speak to the engineers turned entrepreneurs on how their "plant factory" delivers quality fresh produce while promoting a greener approach to farming for urban consumers.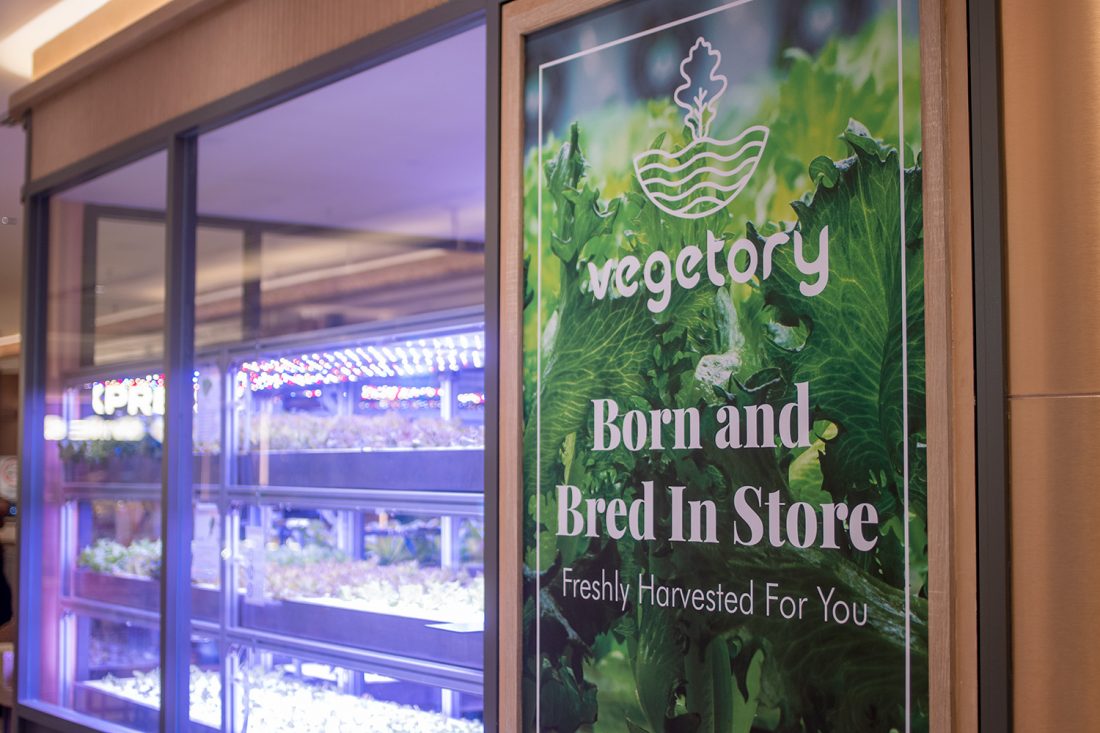 Factory to fork
Those who do their grocery shopping at The Food Purveyor (formerly Jason's Food Hall) in Bangsar Shopping Centre would have noticed a certain clinical-looking "plant station" near the vegetable section. That's Vegetory's in-store farm for you.
Celleste greets us with a warm smile at the entrance during our visit, before welcoming us in to satiate our curiosity. We can't help but let out a gasp as we enter the LED-lit laboratory of sorts, pleasantly surprised by the herbaceous perfume that permeates the air within.
"We grow five types of lettuce here, including mizuna, crisphead, red oak and romaine," Celleste explains, "we also have two types of kale – green and red – and rockets."
"Would you like to try some?" she offers. We graciously accept, helping ourselves to the cutting of kale and rocket that she hands out. Both present remarkably fragrant, green aromas, with the kale having a pleasant crunchiness and the rocket giving off a peppery hint that's stronger than any of their kind that we've ever tasted before. (Granted, it was our maiden experience eating them seconds from harvest.)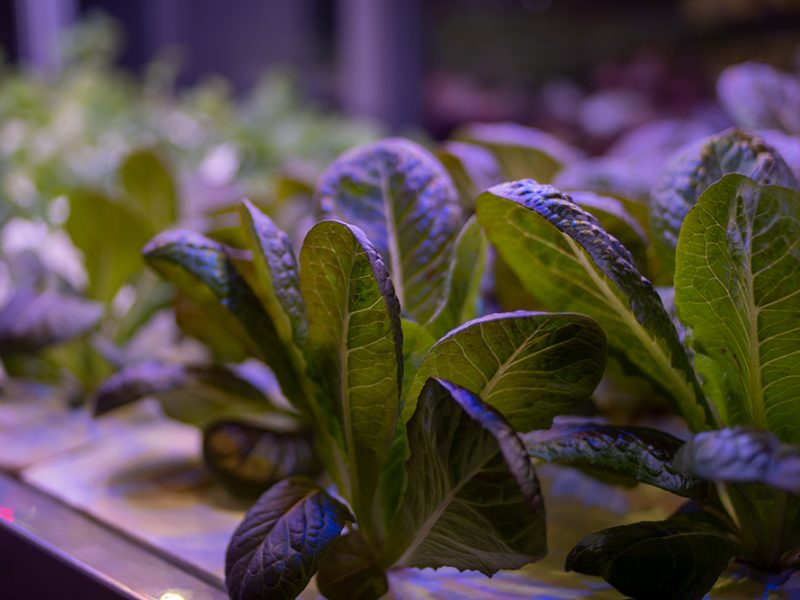 We are joined by Roy minutes later, who enthusiastically opens up on the farm concept: "We call it a factory is because we work like a factory, where everything is produced using technology. We control the lighting, nutrients and other parameters like temperature so that our plants can grow fast and healthy."
"In Europe, it's called indoor vertical farming. In Japan and Taiwan, it's called a plant factory. They're basically the same thing," he shares.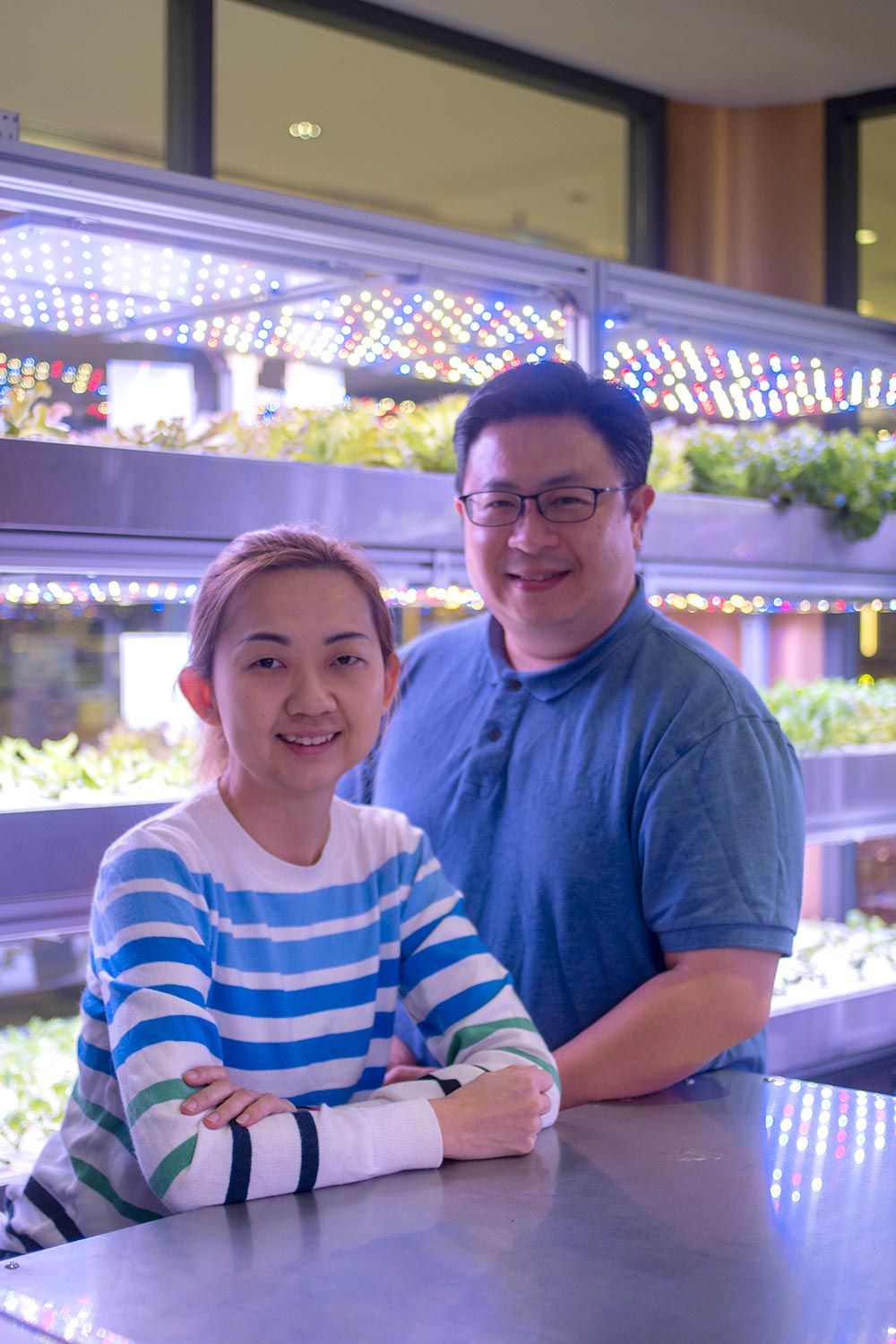 The idea came from a business trip to Taiwan, where they chanced upon a restaurant that was attached to a plant factory. Despite confessing to not being fans of vegetables at first, they were converted after trying the salads there ("it tasted like snacks," Celleste laughs).
In late 2016, they brought the technology to our shores and started their own research and development in a humble shoplot in Puchong.
"It was not easy because our aim is quality produce and quality output, so we wanted to achieve that before we expand. We weren't doing sales for the whole of 2017. Whatever we grew, we just donated and shared with others to get feedback. At the same time, we were trying to fine-tune our grow recipe. We joined exhibitions and from there, we got a few people interested," Roy divulges.
Initially, they focused on a B2B model, working with hospitality brands like Renaissance and Sheraton, as well as La Juiceria Superfoods and The Owls Café. However, when COVID-19 came unannounced last year, they were forced to reconsider their strategy.
Riding on the e-commerce trend, they took their business online and worked on promoting the brand through social media. When the opportunity to set up their first in-store farm/plant factory came along, they switched to a B2C model and realised that there is a market for the concept.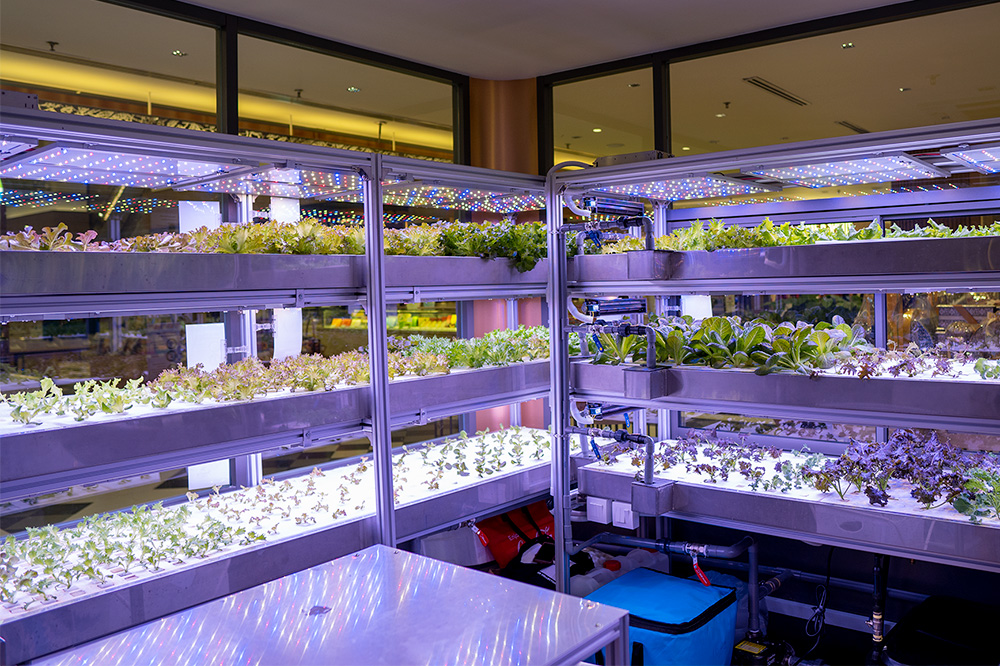 Making greens, green
On their goal with Vegetory, Roy says, "We want to change consumer eating habits towards a healthier diet that is convenient and easy to prepare."
Customers have the choice of handpicking their preferred greens from the farm, or selecting from four pre-packed SKUs at the grocer. All produce are harvested and packed fresh daily, and can be readily consumed as they are grown hydroponically 100% free of pesticides. This cuts the middleman and ensures that the vegetables retain their nutritional value and taste for longer.
"The shelf life of our vegetables is a week, but our customers will usually buy and consume them on the same day. Many of them just add dressing and enjoy our pre-packed mix straight out of the box," Celleste reveals.
Aside from offering consumers tastier and healthier vegetables, the in-store farm is much kinder to the environment than traditional farming. One obvious advantage is its vertical structure, which saves space and solves issues such as soil degradation and pollution that often leads to wastelands.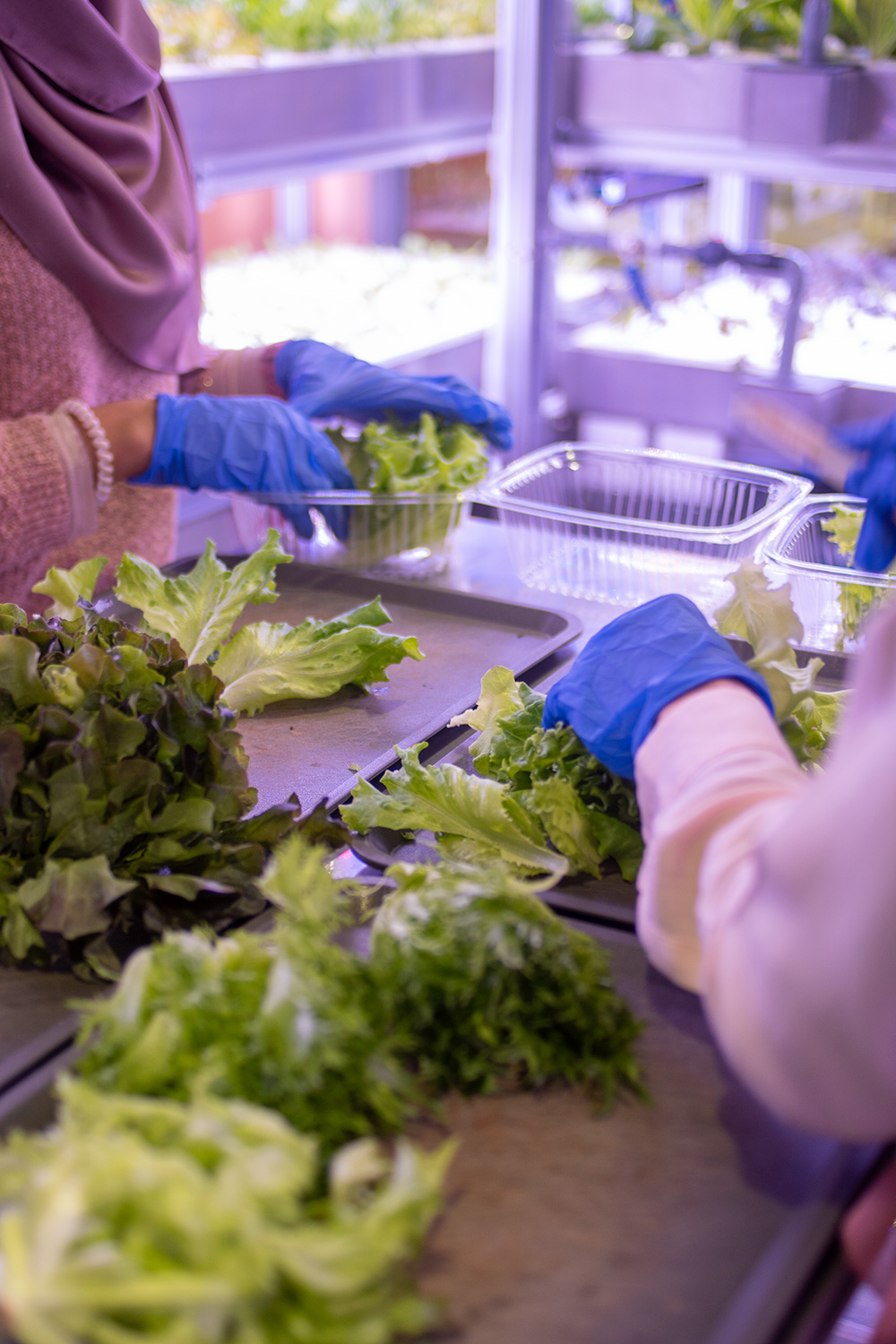 "With indoor farming, we don't need to worry about external factors such as the weather. Our crops don't have to penetrate through many layers in the soil to get water and nutrients, so they only need to focus on growing. We can meet customer requirements to grow plants of different shapes, different colours, different thickness, and different tastes using technology," Roy explains.
"Here, because we're located inside a grocery, we call it an entire food production system – we produce, we harvest and we can consume the produce straight away."
The entire indoor vertical farming process takes about six weeks from seed to harvest. First, they source only non-GMO seeds and sow them into a medium to let them germinate. This usually takes about five days, until it grows into a microgreen.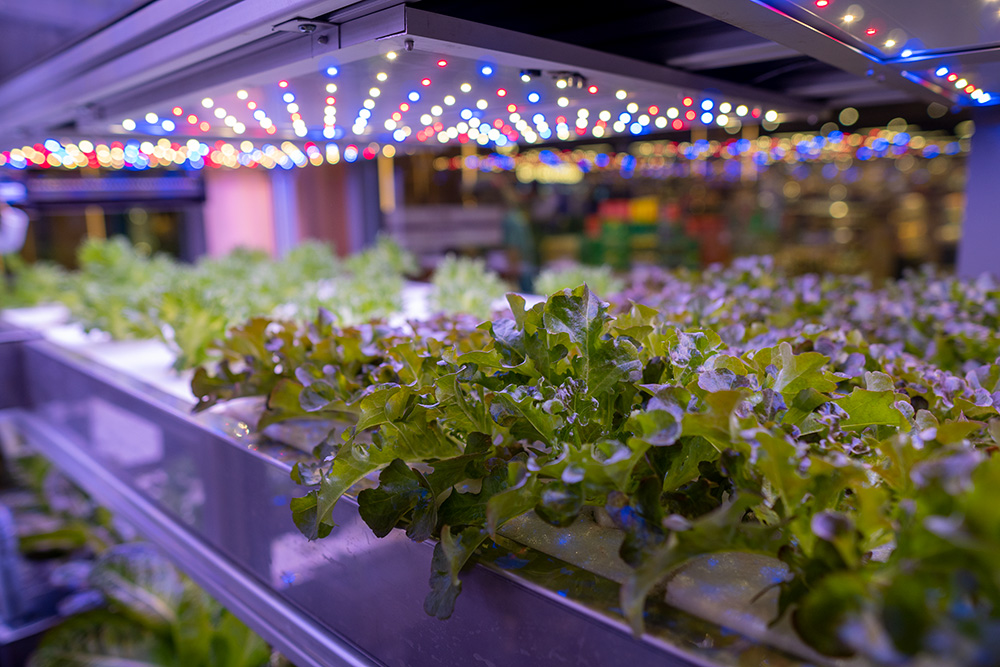 Then, they select only the healthy crops and provide the optimal lighting and nutrients for them to undergo photosynthesis. Finally, the crops are moved to a bigger space to allow them to grow to a desired size. Strict quality control is performed at every step of the process to deliver only the best yield.
"With traditional farming, there's a lot of loss of water as the water goes into the ground. We use only 1-2% of water compared to traditional farming for the same amount of yield. Besides that, because the farm is right in the city, we save a lot on transportation, which reduces the amount of CO2 [carbon dioxide] released into our atmosphere," Roy expounds.
He believes that more indoor vertical farms will open around the city in future, catching up with countries like Taiwan and Japan, the "father of the plant factory."
As for what's ahead from the Vegetory team, expect a new café inspired by the very one in Taiwan that sparked their journey. Named Mori Kohi – Mori means "forest" and Kohi means "coffee" in the Japanese language – the café will serve Western-style Japanese dishes highlighting fresh greens from the attached plant factory.
It's set to open mid-2021, and when it does, it'll be a full circle moment for Vegetory.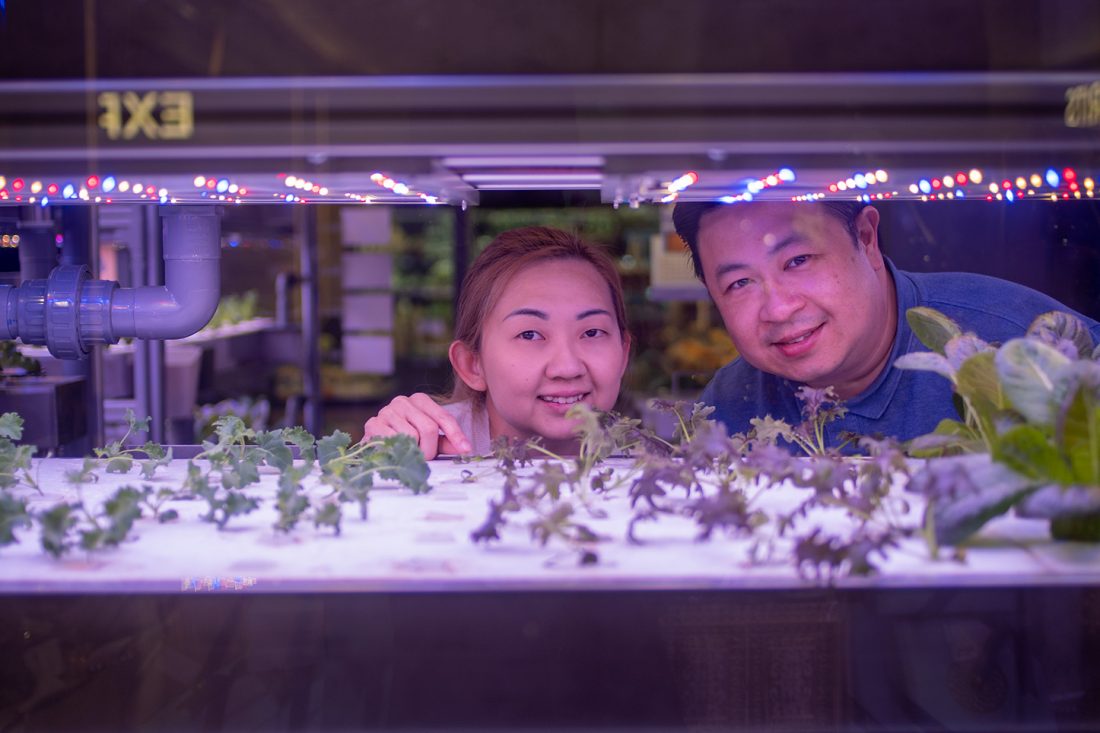 For more information on Vegetory, log on to the official website here.
Photography: Anson Siau