Its name is Martin. Aston Martin. Famous for being a certain British spy's go-to vehicle for decades, Aston Martin's new V12 Vantage 2022 model, is here and making waves before it's even released to the public. For fifteen years the V12 Vantage has triumphantly represented Aston Martin's passion for performance and has finally shown off the stunning conclusion of the V12 series. Successive iterations of these powerful automobiles have developed an iconic bloodline that is both fast and vicious in equal measure. 
But what exactly makes the new V12 Vantage so special?
This final edition of the V12 Vantage marks the fitting conclusion to an era of Aston Martin cars, with manufacturing strictly limited to 333 vehicles worldwide. Aston Martin has enjoyed great public fervour since the V12 Vantage was announced in December last year, with all vehicles sold ahead of delivery and overflowing registration of interest from would-be buyers eagerly waiting in the wings.
Every Aston Martin has a heart, but none more powerful than this, the quickest and most dynamic Vantage ever made. The quad-cam 60-degree 5.2-litre V12 combines a blend of outstanding low and mid-range muscularity with blistering top-end power, producing 700PS at 6500 rpm and 753Nm of torque from barely 1800rpm to 6000rpm. This is also the last time a 5.2 litre Twin Turbo V12 will be fitted to the Vantage, making this something of a farewell tour.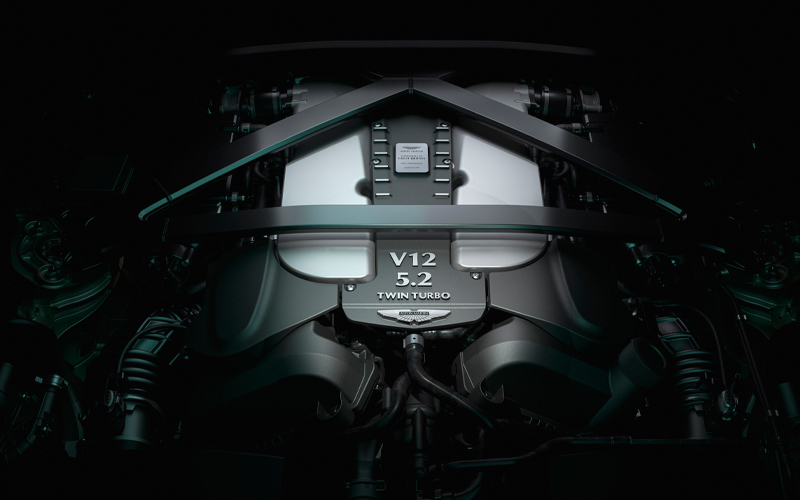 If you're interested in getting where you need to go in the shortest amount of time possible, this car has you covered. With a top speed of 200 miles per hour, the V12 Vantage accelerates from 0 to 60 in just 3.4 seconds. The V12 Vantage features a power-to-weight ratio of 390PS-per-ton, a 20 percent increase over the V8 Vantage too. Talk about upgrades!
Offers ultimate stability and aerodynamic balance
A redesigned rear bumper with an integrated diffuser maintains front-to-back aerodynamic balance. The lightweight center-mounted twin tailpipe exhaust system is the centerpiece of this innovative design. The dynamic rear wing, which contributes to a maximum downforce of 204kg at top speed and further accentuates the V12 Vantage's unmistakable visual impact, completes the nose-to-tail metamorphosis. The option to remove the rear wing for a more modest look and a sleeker shape is available. However, considerable work to the underbody in any design assures aerodynamic balance, offering high-speed stability and ultimate performance. In other words: it handles like a dream.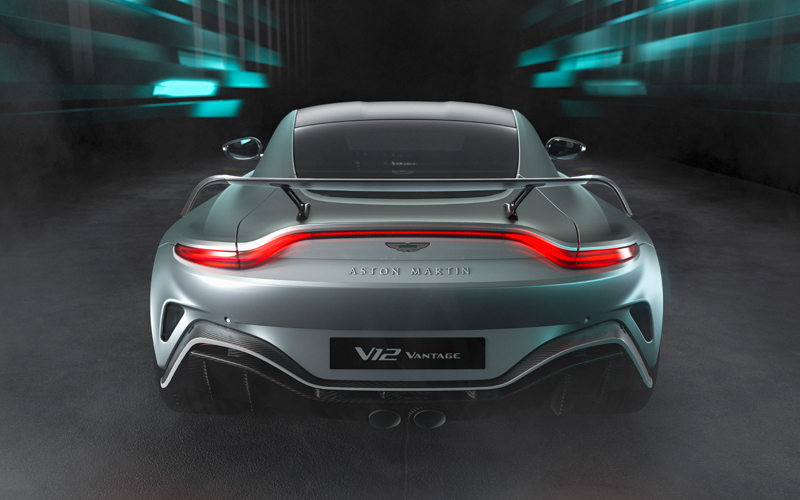 An innovative widebody design
Such an uncompromising pursuit of performance and driving pleasure demands an equally uncompromising aesthetic. To that aim, the V12 Vantage features bodywork that has been enlarged by 40mm to suit a wide-track chassis optimized for cornering performance and stability. This innovative widebody design incorporates an aerodynamic package as well as substantial use of carbon fiber. A full-width front splitter perfectly complements the new front bumper design, generating more downforce and aerodynamic balance while also improving the ground-skimming posture. 
 Provides a comfortable riding experience
As with most methods of transportation, comfort is a must. The new V12 Vantage is focused on delivering a dynamic driving experience that compliments its unmistakable engine performance and character. To achieve this, the car is equipped with a new adaptive damping suspension system with new anti-roll bars, bushes, and spring and damper assemblies. To maintain comfort for the driver, a secondary tender spring has been introduced to the rear. The tender spring provides a lower spring rate than the main spring, giving the driver enhanced ride comfort without affecting dynamic performance. Changes also include a new steering calibration, which improves steering feel and delivers a sharper response. All that gives you an enhanced driver experience, which will come in handy the next time you're stuck in a car chase trying to save Britain. 
 Increased braking performance
What really grabs my attention here, is that the V12 Vantage comes standard with a Carbon Ceramic Braking (CCB) system that provides more than adequate stopping power for its performance. These CCB discs provide increased braking performance and a significant reduction in unsprung mass while maintaining consistent braking performance at high temperatures and resisting brake fade at temperatures up to 800 degrees, allowing you to take this thing on blazing-fast joyrides and still enjoy full control every step of the way.
Unique customisation and personalisation services
Further enhancing the dramatic styling both outside and inside, every V12 Vantage can be individually tailored through the marque's bespoke personalisation service, Q by Aston Martin. Offering a variety of unique options, customers can create a true one-of-a-kind specification. The Q by Aston Martin: Commission service also offers a range of tinted lacquers to accentuate the craftsmanship behind the hand-laid carbon fibre panels. There are also coloured brake callipers and painted wheel finishes available as well as Striking exterior graphics and liveries which can be selected from a range of colourways. No machine guns under the hood or spikes popping out of the tyres, but it'll do the job.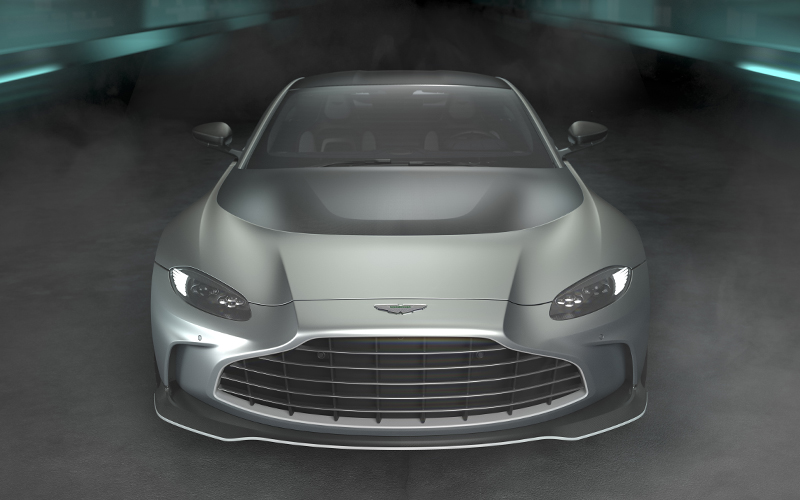 Production of the V12 Vantage – the order book for which is already closed due to unprecedented demand – is due to commence in Q1 of 2022, with first deliveries scheduled to begin during Q2 2022. If you managed to get one, congratulations! If you didn't, join the club. We have martinis.