M
ercedes-Benz Malaysia (MBM) spared no expense when the firm took centre stage last month and unveiled a trio of electrifying new offerings locally. Leading this was, of course, the flagship of the three-point star's EQ electric range, the EQS-Class.
Locally, Merc's flagship luxury EV fastback-styled saloon is offered exclusively in EQS450+ AMG Line form, which is the model's highest available trimline globally. Of course, the bonus here too is the AMG Line's stylish and sporty exterior in this EV saloon is fashioned in.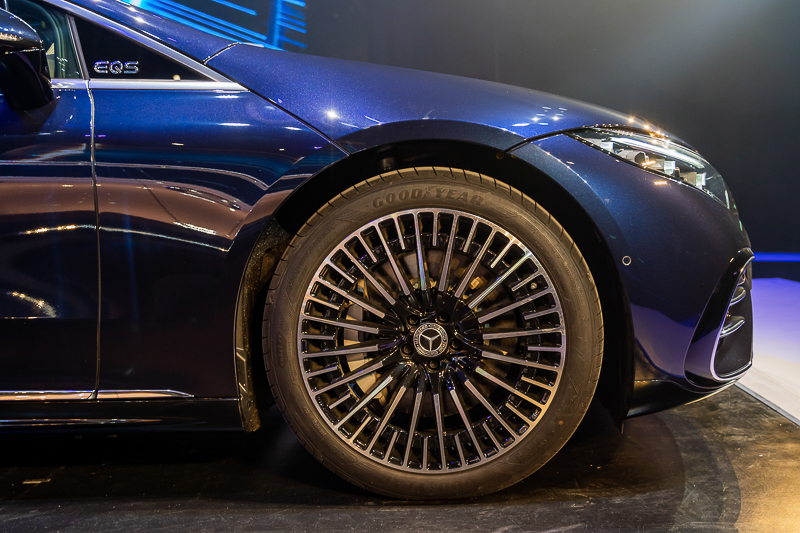 Among the highlights of the EQS450+'s AMG Line styling is its aggressive front bumper that houses an 'A-wing' profile and prominent corner inlets. At the rear, the AMG treatment continues with a more distinct rear bumper brimmed with a subtle diffuser-like element, as well as vertical corner outlets and slats below the rear reflectors.
Couple all that with the 21-inch, multi-spoke AMG alloy wheels it rolls on and, aptly, it's easy to see that the EQS450+ is a unique style statement on four wheels. Of course, there's more to it beyond its pretty skin.
Matching its electrifying looks, the EQS450+ sees itself equipped with a massive 107.8kWh lithium-ion battery pack. This powers a single liquid-cooled motor that drives the rear wheels, delivering no less than 329HP (or 245KW, if you prefer wattage figures) and 565Nm of twist, thus allowing this saloon a respectably rapid 0-100KMH time of 6.2 seconds.
Even more impressive though is the EQS450+'s immense travel range. Globally, Mercedes-Benz quotes 782KM – by WLTP standards – on a single charge. However, MBM undertook the effort by road-testing the EQS450+ locally prior to its launch, and the firm keenly demonstrated that at least 650KM of real-world driving is possible.
This alone puts the EQS450+ on a different and significantly higher level as opposed to most of the other Battery Electric Vehicles (BEVs) present in the market. Crucially, said performance and long-distance abilities are packaged with the famed three-point star marque's unrivalled levels of luxury, which is where its true appeal lies.
At this point, it's easy to see that the EQS-Class isn't merely an S-Class that's been refashioned into an EV. Though it does mirror said traditional and internal combustion-powered flagship in this sense, it also does a few other things better.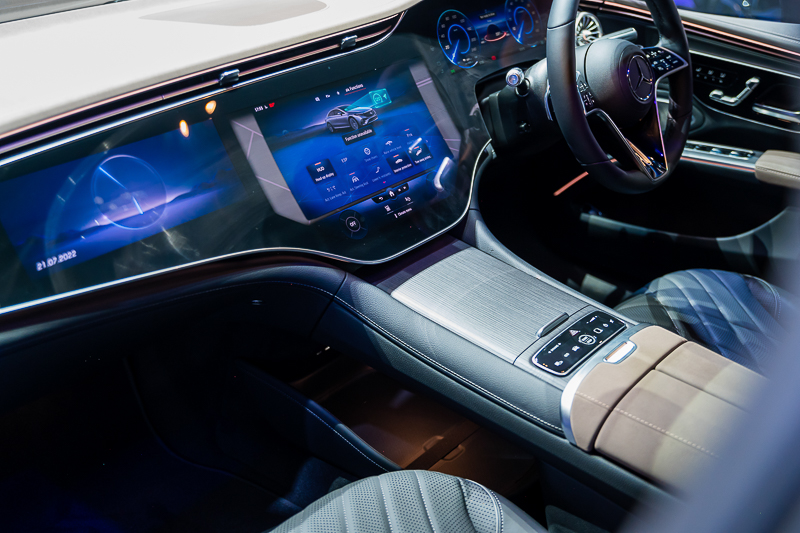 Key amongst the cabin's high-tech kit is the novel new 'MBUX Hyperscreen'. Effectively, this brims the dash with three sizeable screens; one for the driver, another for the passenger, and a massive central infotainment unit. The latter two are highly interactive touchscreens too, offering a host of connected functionalities including "Hey, Mercedes…" voice commands.
Of course, being a Mercedes means you'll get to bask in all of this in a lap of luxury, evident through the EQS450+'s offer of dual-tone black and brown Nappa leather upholstery, black fabric headliner, velour mats, as well as anthracite line-structure lime wood trims and anthracite open-pored line structure lime wood centre console trim.
By the way, comfortable front seats with heating, ventilation and memory functions are part of the kit list too. Those being driven in the rear however benefit more with the Rear Seat Package Plus present that adds electrically adjustable seats and head restraints, seat climate control, comfort armrest, plus a wireless charger and the MBUX rear tablet.
The icing on the cake here then is the Electric Art package treatment that brims the cabin with a comprehensive 64-colour ambient lighting system. In short, the EQS450+'s innards remain as luxurious as a comparable S-Class flagship, albeit with a higher dose of tech and added electrified refinement.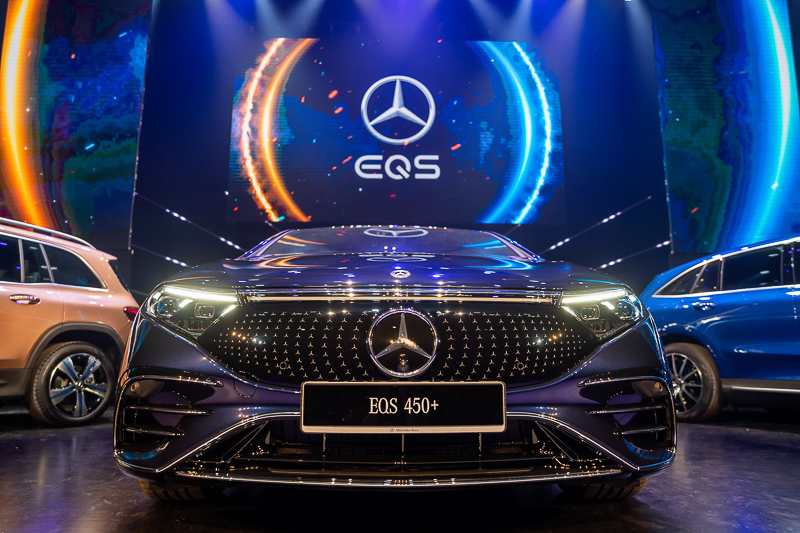 Surely, it's easy to see the appeal of this electrified flagship saloon from Mercedes-Benz. For everything it delivers, perhaps these justify the RM698,888 price tag that the Malaysian-specced EQS450+ AMG Line as featured commands. Said price also includes an additional 10-year or 250,000KM EV battery warranty on top of a four-year, unlimited mileage base vehicle warranty, which should offer greater peace of mind.
Above all else, the EQS-Class has set new standards as far as guilt-free, zero-emissions luxury mobility goes, and we're confident this new and highly-charged state of luxury has won plenty of hearts and minds already – ours included.