W
hich petrolhead doesn't love a properly balanced hot hatchback, right?
Although, choosing one in today's market might be a fair bit tricky. You have everything from the ultra-popular front-wheel drive VW Golf GTI, to the Renault Megane RS or even the Honda Civic Type R.
But you know what? Kicking up that budget a few notches will get you an all-wheel drive model, too… And if you want the most powerful one of them all right now, then it'll have to be the new Mercedes-AMG A45 S 4Matic+ FL!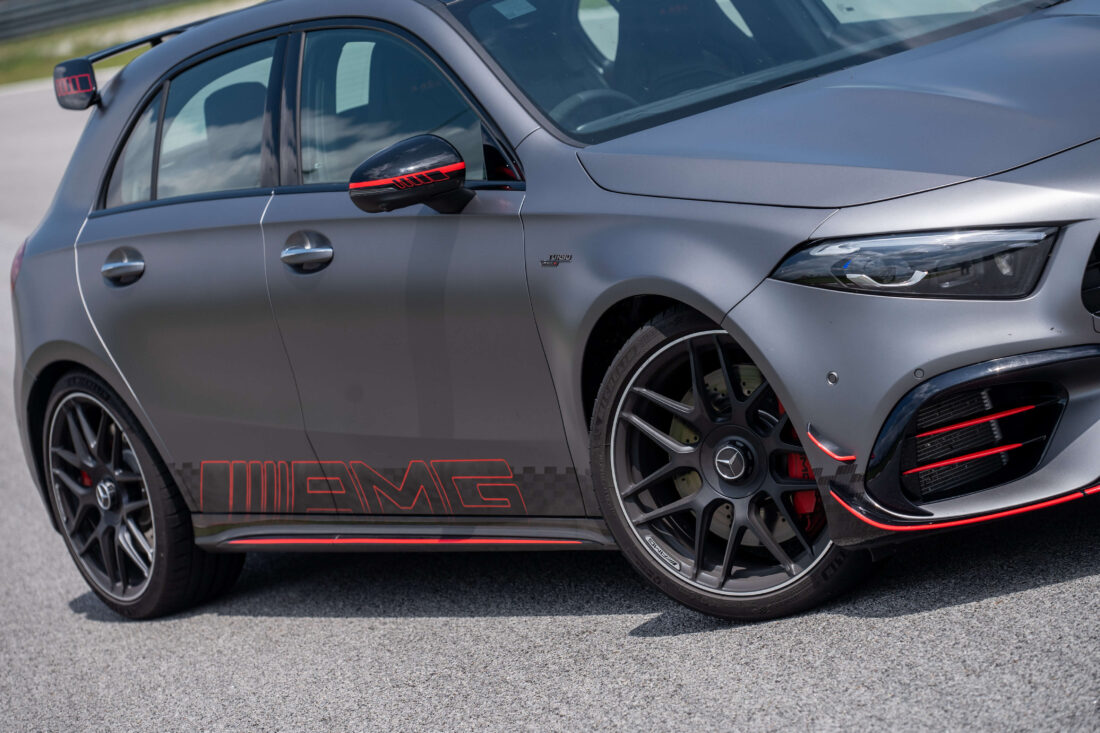 This little bombshell has just joined the facelifted Mercedes-Benz A-Class range in Malaysia recently, during a very, very quick drive event at the Sepang Speedway. And priced from RM509,888 in standard trim, or up to RM539,888 as the Street Style Edition, one might initially wonder if it is worth spending that much on what is, in essence, a hatchback.
But a peek at the key statistics of the top-performance A-Class variant may just give you a hint of its capabilities. Power comes from the M139 engine: A 1,991 cc turbocharged inline-four-cylinder petrol engine rated to output 421PS at 6,750 rpm and 500Nm of torque from 5,000 rpm to 5,250 rpm. An eight-speed AMG Speedshift 8G dual-clutch transmission sends power to all four wheels via the 4Matic+ all-wheel-drive system, and will propel the 1,680 kg hatchback from 0-100 km/h in just 3.9 seconds, and onwards to a 270 km/h top whack!
Matching the grunt is the car's speedway-ready looks, with the distinctive front apron, the AMG-specific radiator trim and the bonnet that's complete with the striking power domes. All this clearly distinguishes the A 45 S 4MATIC+ from any other A-Class, for sure! Eye-catching features continue from front to end, culminating with twin tailpipe trims measuring 90 mm in diameter. And let's not forget the distinctive diffuser look with four vertical fins, too!
All this is nicely rounded off by the new Street Style Edition 19-inch cross-spoked forged alloy wheels…
Step inside, and all attention goes to a revamped multi-function steering wheel, new Artico synthetic leather and microfiber upholstery, and the AMG Performance Seat Package Advanced. There's also aluminium AMG design trim and AMG floor mats, AMG illuminated door sills and 64-colour ambient lighting.
By the way, the '+' tacked onto the car's 4Matic nomenclature stands for a new rear axle differential boasting one multidisc clutch for each rear wheel. This means that not only is torque automatically shunted up to 50% fore and 100% aft, but also up to 100% from side to side astern. This cunning installation equips the A45 with one more driving mode than lesser models – the ability to, well, drift…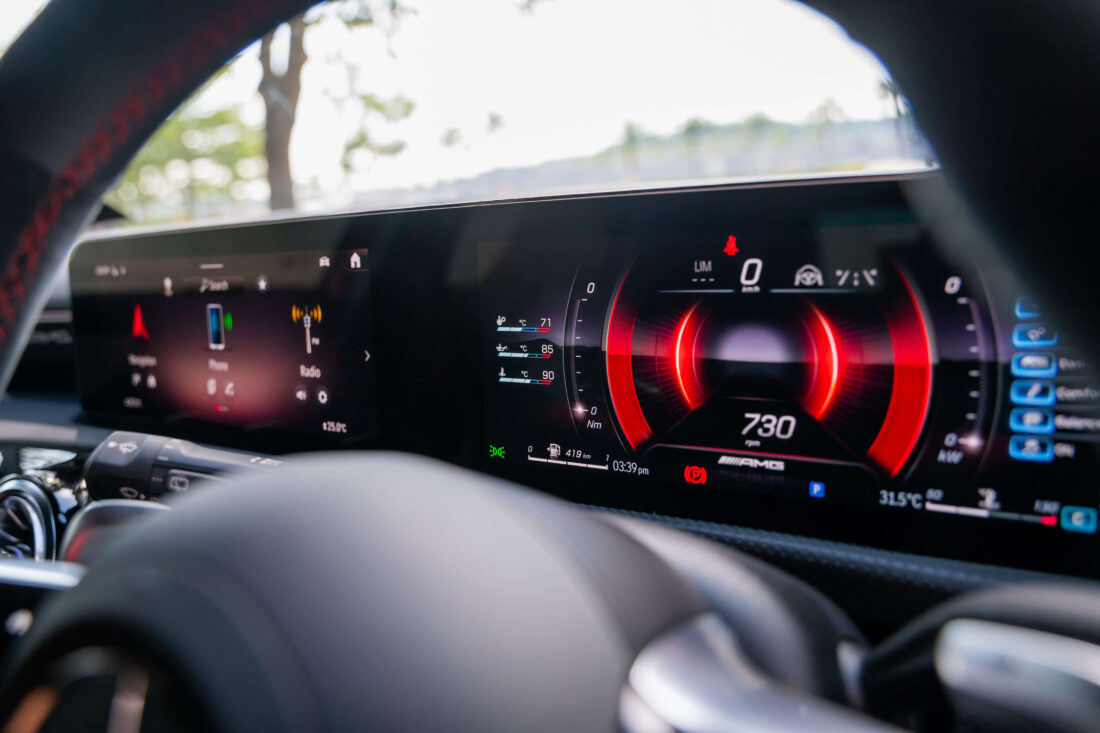 But even without such dramatics, the car drives marvellously well. You only really need two of the seven driving modes on offer; 'Comfort', for bumbling about, and 'Sport +' for showing off a bit every now and then! In the former, every parameter from the frequency-selective shock absorbers to the throttle, gearbox and steering are slackened off to just a whisker short of bagginess, which is ideal for mulching about in typical urban surroundings.
But dial in the latter and everything mechanical sits up straight, tenses up and pays absolute attention like a boxer who's just entering the ring for a fight! The eight-speed dual clutch transmission also remains appropriately precise under paddle control, as one closes on the rev limit in each gear…
The aggressively geared eight-speed DCT combines racing-derived dual-clutch design with AMG Speedshift technology. So, one's able to change gears faster than anyone can shift a traditional manual gearbox, with its shift paddles and rev-matched downshifts providing instant response.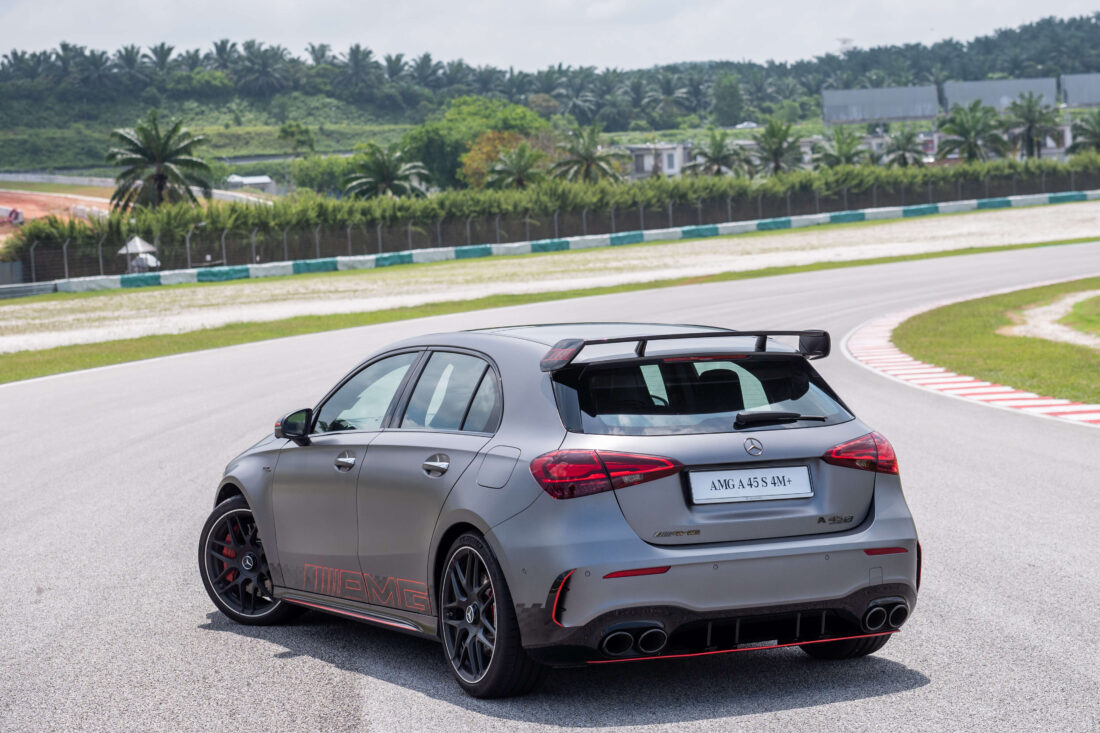 Smooth speedway tarmac, however, makes a poor jury when it comes to judging the car's ride quality, so all that can be reported at this stage is that the ride is acceptably pliant, toughening with every rung of the drive mode ladder climbed. Behaviour on Malaysia's sometimes hopeless public roads still remains to be seen…
But with its huge, effective brakes and a super-sharp eight-speed transmission that cheerfully takes its orders from either its own well-tuned electronic brain or the paddle shifts, you really are going to be having a great time even when just commuting to the neighbourhood 7-Eleven. The positivity of the steering, reacting to your inputs at just the right rate, caps the whole thing off quite nicely, indeed!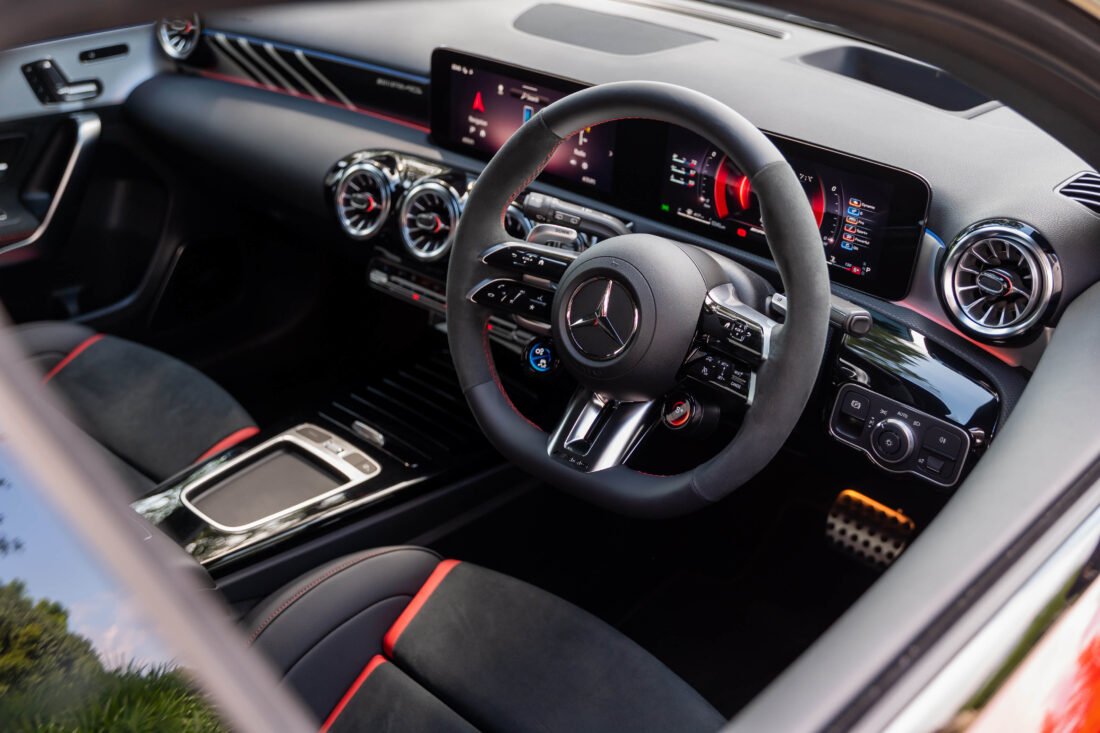 This is definitely a car that's set up to offer tremendous fun! Just like how a true hot hatch should…