Ferrari, the fabled Italian prancing horse marque recently expanded its line-up locally following the arrival of its latest addition: the Ferrari 296 GTS.
Launched at the famed Sepang International Circuit last month, the model also marked its regional debut then, and it joins alongside its coupe twin the 296 GTB.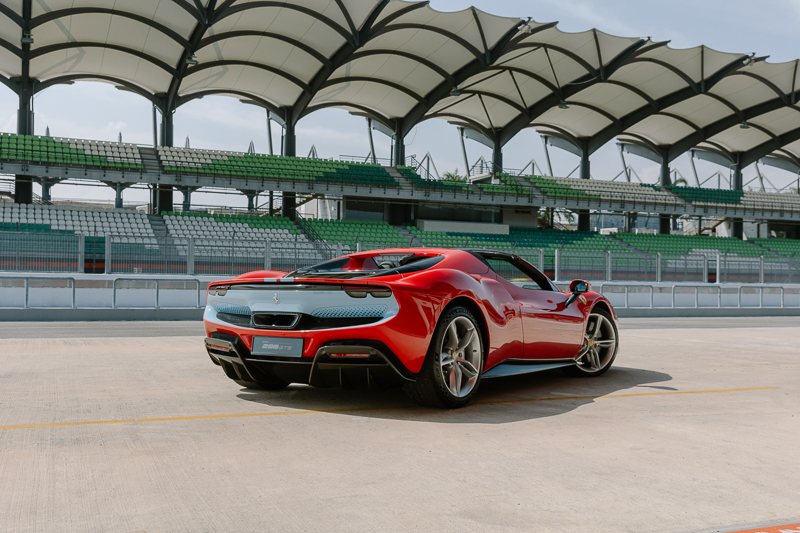 Much of what's seen in the 296 GTB coupe are mirrored here in this Spider (hence the 'S' in GTS) twin, key amongst which being Maranello's new and much-lauded plug-in hybrid petrol-electric (PHEV) powertrain.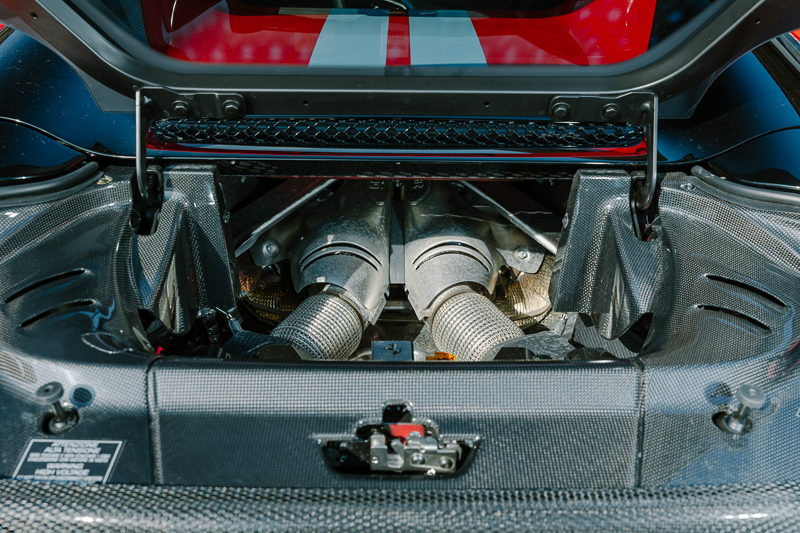 Mounted just behind the cabin, the package consists of a 2.9-litre V6 twin-turbo mill that's mated with a Formula 1-derived MGU-K electric motor system and 7.45kWh lithium-ion battery pack. Like the 296 GTS, it boasts a combined output of 818HP (830PS) and 740NM.
Drive goes to the rear wheels through an 8-speed dual-clutch transmission, allowing this topless beauty to dispatch 0-100KM/H in just 2.9 seconds whilst enroute towards a top speed that stands well over 330KM/H.
These figures are indeed similar to that of the 296 GTB's, and that's despite the fact that this topless iteration of Ferrari's 'baby' mid-engine plug-in sportscar weighs 70KGs more – even when equipped with the optional 'lightweight' Assetto Fiorano pack as pictured.
Additionally, unlike its larger sibling the SF90 Spider, the electric drive in the 296 GTS does not feature a forward motor and front-wheel drive setup, making this a pure rear-wheel drive sportscar – a treat for any driving purist. At full charge, the 296 GTS offers a maximum all-electric driving range and top speed of 25KM and 135KM/H respectively.
Of course, the key to the 296 GTS is its delivery of sporty performance with the addition of wind-in-hair thrills, the latter thanks to the retractable hard-top mechanism that's brimmed. As seen in Ferrari's other Spider models, it takes 14 seconds to retract or deploy, even on the move at speeds of up to 45KM/H.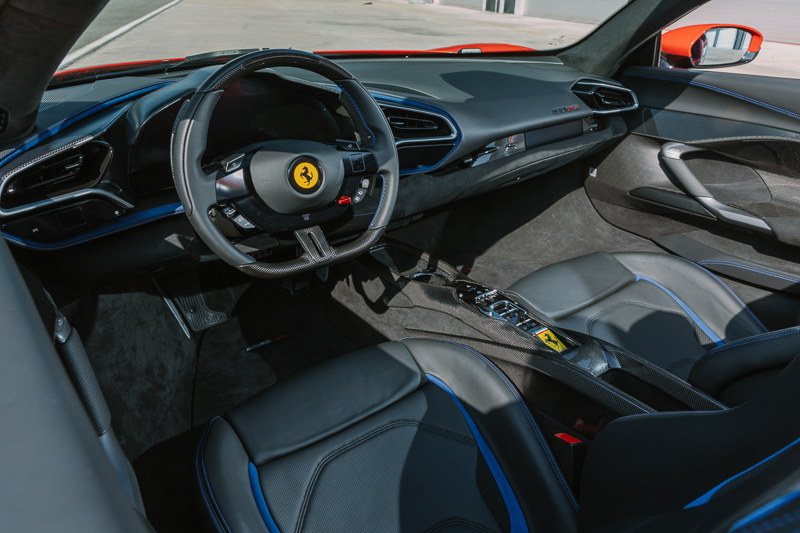 Additionally, Ferrari have also laced the cabin with aerodynamic flaps in the rear trim structure to reduce buffeting when the roof is down. In other words, this feature should let you enjoy the 296 GTS's topless thrills in relative comfort.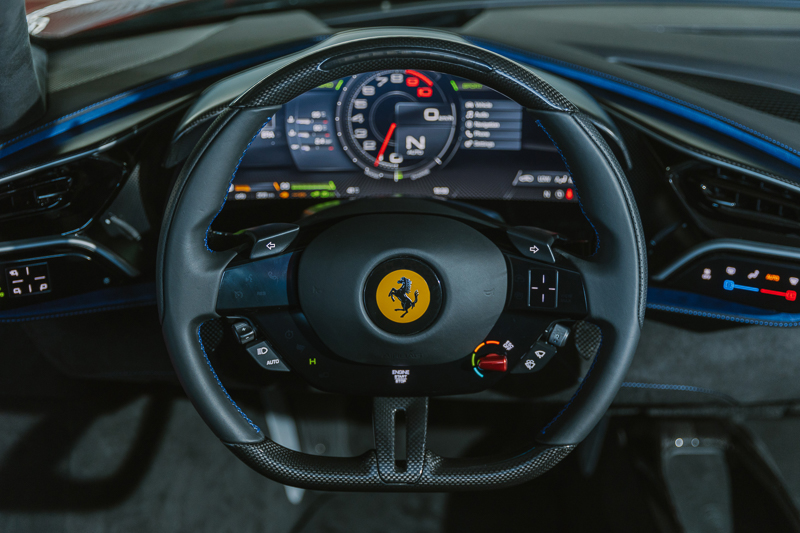 Beyond this comes a host of notable intelligent electronic driver assists that should sate the needs of any performance driving fans. Highlights of which includes eSSC (electronic Side Slip Control), electric traction control (ETC) and electronic differential (eDiff), as well as a six-way Chassis Dynamic Sensor (6w-CDS) suite. In short, this topless Ferrari sportscar has all it needs to feel at home in both the circuit and on the streets.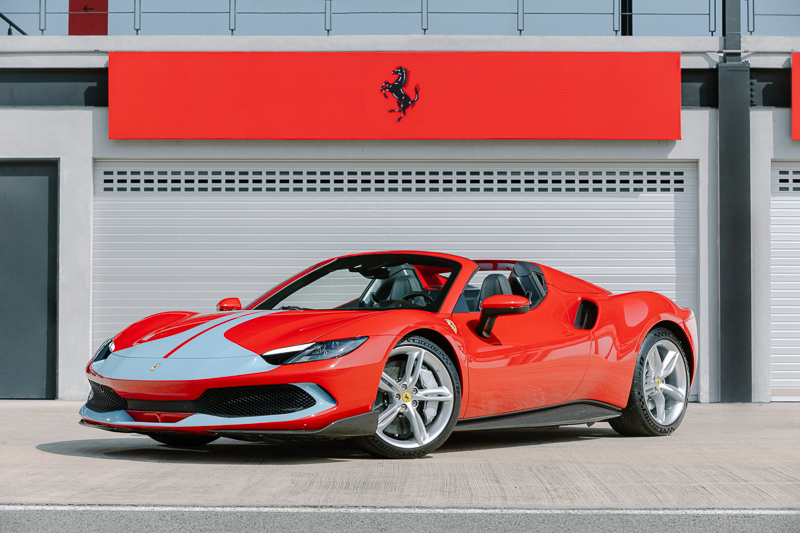 Of course, like any Ferrari, the 296 GTS rightfully commands a princely asking price, which reads at RM1,448,000 excluding duties, taxes, and on-road costs – or RM220,000 more than its hard-top 296 GTB twin.
Yes, that's an undoubtedly pricey figure, but the fact that it includes Ferrari's 7-year warranty and service coverage should offer some ease. 
So, to those lucky enough to consider one, we only ask this: Ready for an unmistakably Italian and electrifying twist to wind-in-hair thrills? We are.