The trailer for Sir Ridley Scott's upcoming film House of Gucci, just dropped – and it's everything one could expect from a fashion biopic: love, murder, power, conspiracy, style, and a lot of drama.
Detailing the assassination of Maurizio Gucci as well as its aftermath, the film is scheduled to release in November 24 this year. It's based on Sara Gay Forden's novel, 'The House of Gucci: A Sensational Story of Murder, Madness, Glamour, and Greed'. Lady Gaga and Adam Driver star in this fashionable biopic, alongside a powerful, star-studded cast including Al Pacino, Jeremy Iron, and Jared Leto.
So who are they in the House of Gucci – and for the uninitiated, who is House of Gucci? Keep on reading to find out who plays who in this story about the downfall of fashion dynasty.
Patrizia Reggiani – Lady Gaga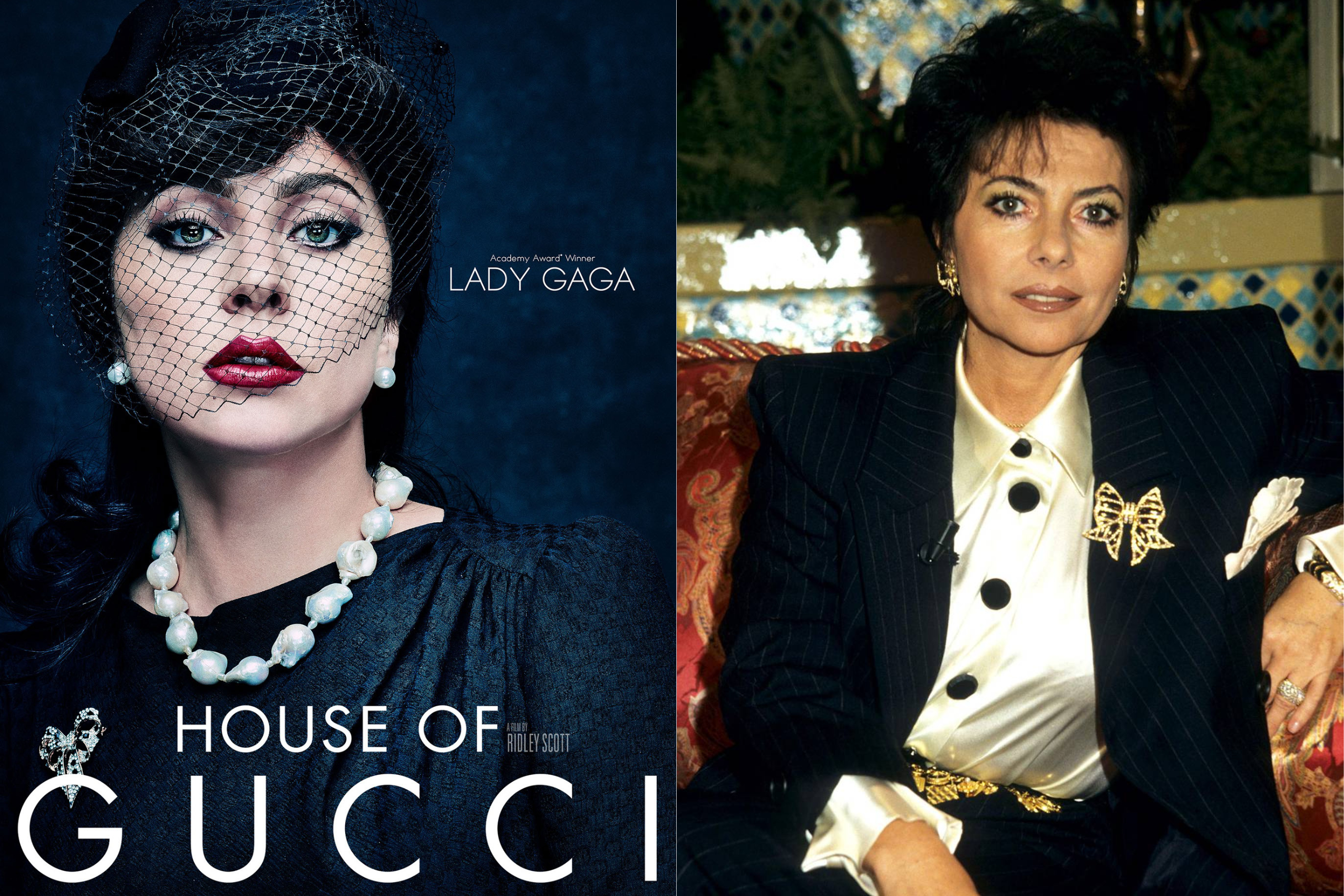 Lady Gaga returns to the silver screen three years following her Academy Award-nominated starring role in A Star is Born. The singer now stars as Patrizia Reggiani, the former wife of Maurizio Gucci.
Though Patrizia was not born into high society, she still got to revel in its opulence from a young age – her father having spoiled her with luxury goods such as mink coats and sports cars. This propelled her up the social ladder to mingle with Milan's most noteworthy, and eventually, meeting Maurizio. The couple married in 1972, became one of Italy's most celebrated couples, and had two daughters together – Allegra and Alessandra.
Their romance came to a halt in 1985 when Maurizio left Patrizia for a younger woman, after telling her that he was going away on a short business trip – but never returned home. The two officially divorced in 1991, and the following year, Patrizia suffered a brain tumour which she had removed. Then in 1993, Maurizio made a move to sell her share in Gucci to Bahrain-based investment fund Investcorp for US$170 million – which irritated Patrizia, who was heavily involved with the brand throughout their marriage.
Two years later, she hired a hitman through an intermediary to kill her ex-husband, which led to her arrest in January 1997 and earner her the nickname "The Black Widow". In 1998, she was sentenced to 29 years in prison for arranging the murder, but was released in October 2016 after serving 18 years.
When badgered by a reporter on why she didn't shoot Maurizio herself, she famously said "My eyesight is not so good. I didn't want to miss."
Maurizio Gucci – Adam Driver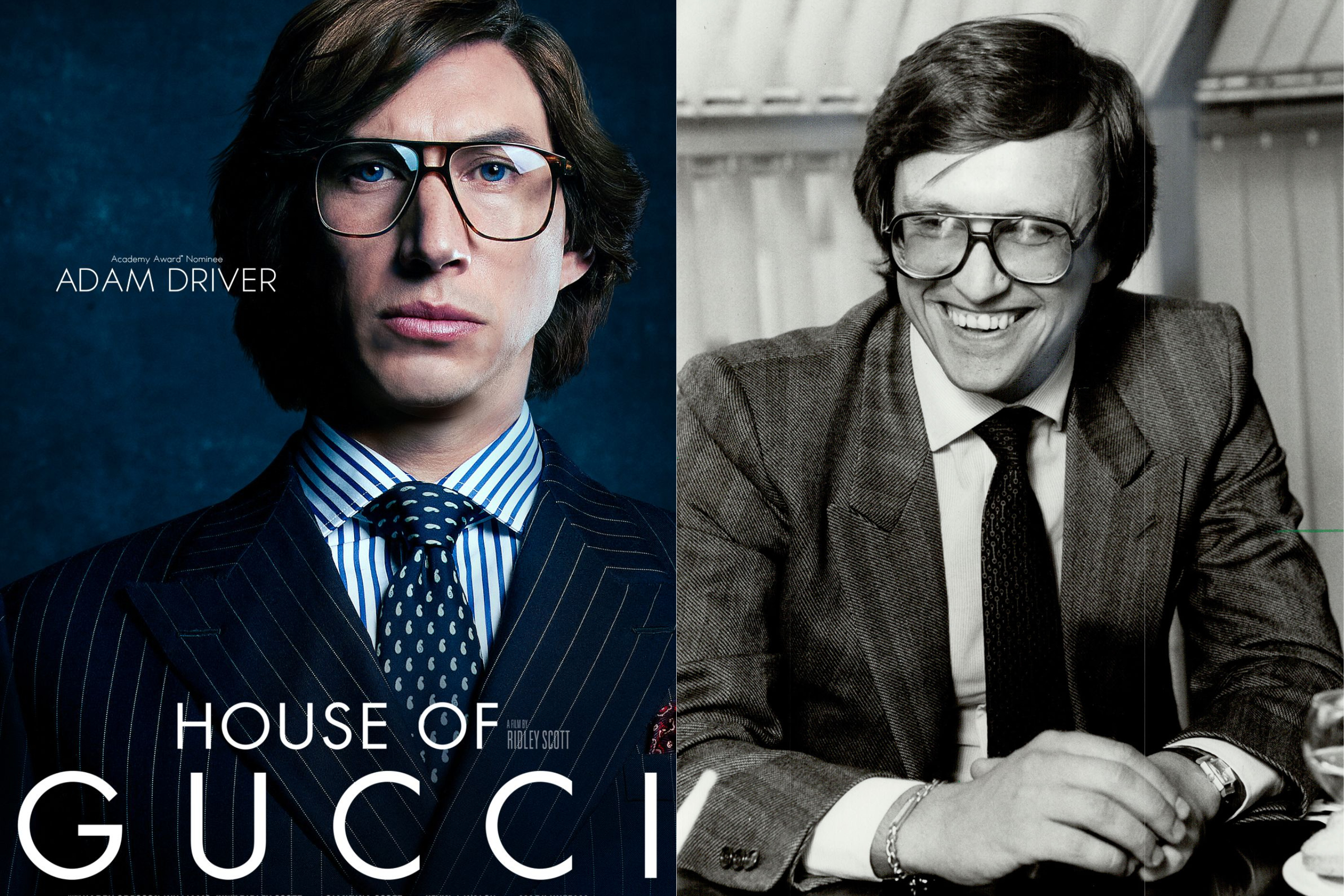 Known for his roles as Star Wars' Kylo Ren, Detective Philip "Flip" Zimmerman in Spike Lee's BlacKkKlansman, and Charlie Barber in Marriage Story, Adam Driver was confirmed in October 2019 to play Maurizio Gucci, the ex-husband of Patrizia Reggiani and one-time head of Gucci.
The son of Rodolfo Gucci and the grandson of Guccio Gucci, Maurizio always had an affinity for the family business. He started out working as the brand's package boy, which showed him the many intricacies of mixing family with business.
In the 1960s, he met Patrizia – who would later be known as "Lady Gucci" – at a party where they shared a mutual interest in the finer things in life. His decadent relationship with Patrizia was first met with disapproval – mostly from his father, who believed that Patrizia was only interested in the wealth and status of the Gucci name. However, the couple went ahead to marry in 1972, leading to Rodolfo trying to remove his son from the family firm. It wasn't until the birth of Maurizio and Patrizia's first daughter, Alessandra, in 1977 that the father and son finally improved their relationship and reconciled.
After the death of Rodolfo in 1983, Maurizio inherited his father's majority stake in the company, but later sold almost 47.8% of Gucci in 1988 to Investcorp, while retaining a 50% shareholding. Despite becoming chairman of the Gucci group in 1989, Maurizio didn't have a background in business, and led the company into dire economic and creative straits, coupled with civil disputes with his uncle Aldo. It was during these times that his marriage began to break down, resulting in Maurizio's affair with Paola Franchi. In 1993, he resigned from the group and sold his remaining interest to Investcorp. Two years later, he was gunned down by hitman Benedetto Ceraulo while on his way to his Milan office. He was shot thrice in the back, and once in the head. It was then revealed that his murder was arranged by his ex-wife, Patrizia.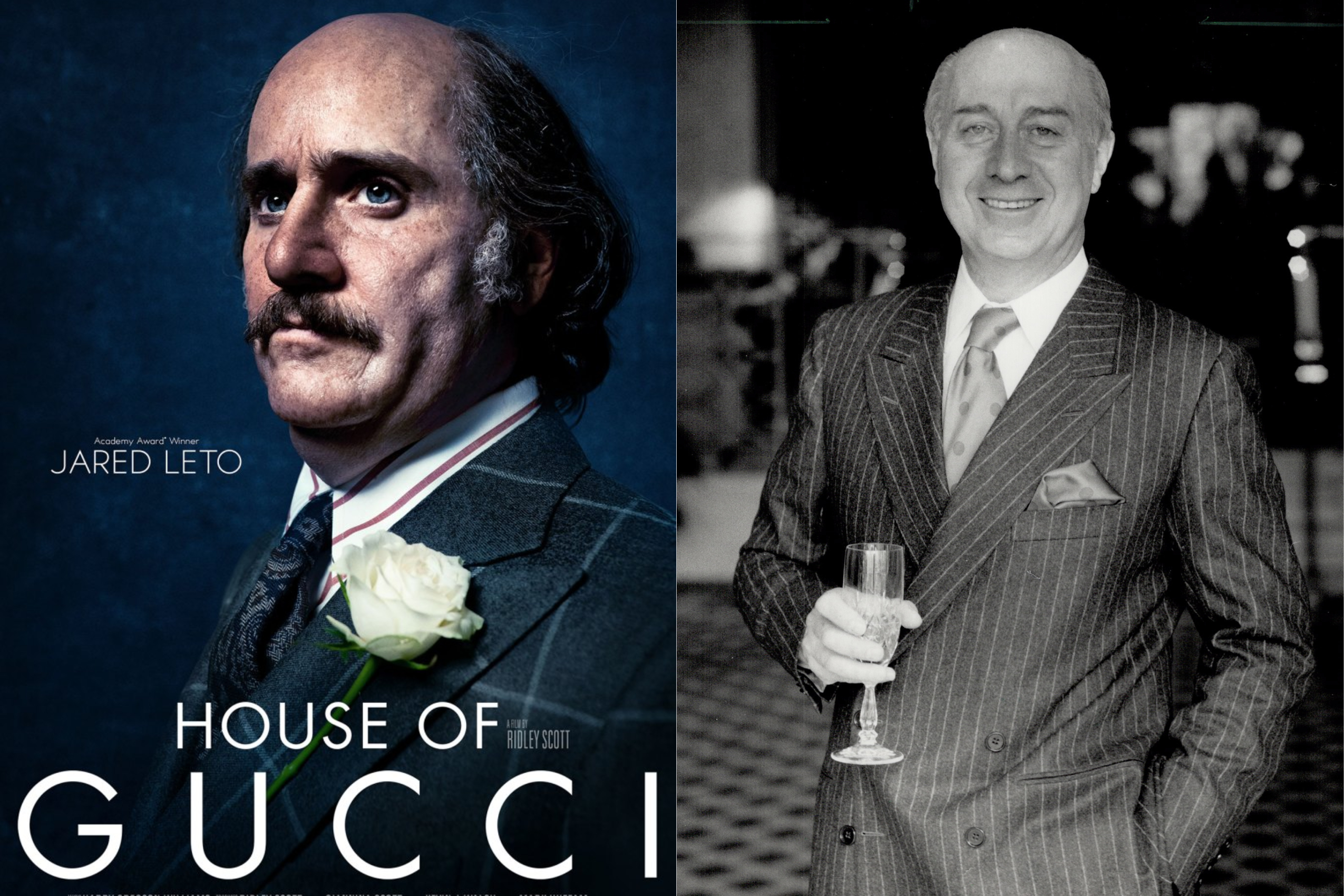 Jared Leto is completely unrecognisable as Paolo Gucci in House of Gucci, the former Vice President and Managing Director of the brand. The musician-actor was covered in prosthetics in order to transform into the fashion executive – hinting at Leto's penchant for taking up roles that completely change his appearance, such as 118-year-old Nemo Nobody in Mr. Nobody and a transgender woman in Dallas Buyers Club.
While his uncle Rodolfo wanted to keep the Gucci business exclusive and old-fashioned, Paolo had attempted to expand and modernise the fashion empire by marketing the Gucci name with a licensing operation. His father Aldo even brought him to the United States in 1953 and made him Vice President and Managing Director of Gucci Shops Inc. and Gucci Parfums of America. However, in 1954 he was ousted from the company by Rodolfo, who claimed that he had failed to fulfil his duties while in charge of a Florentine factory.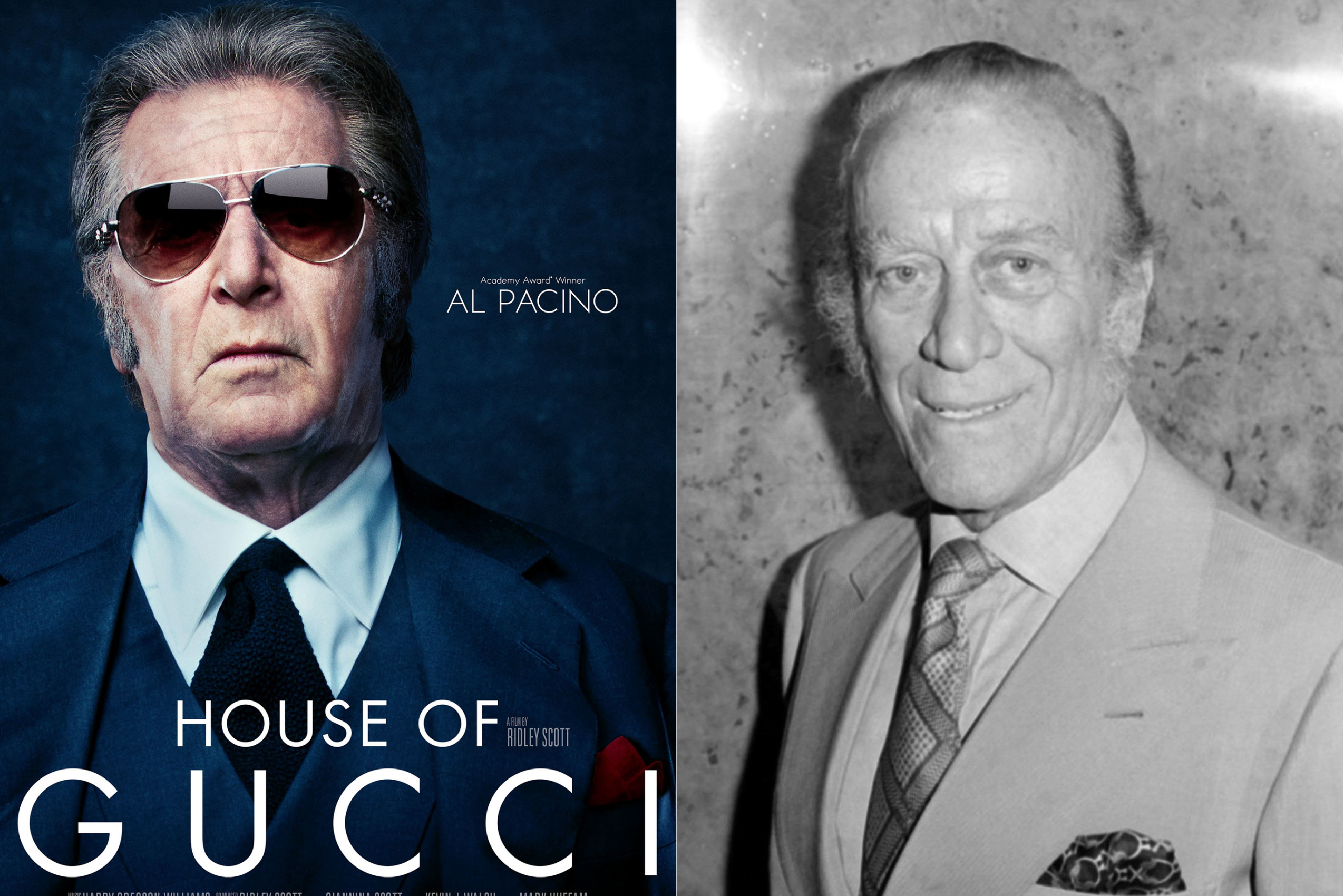 Portrayed by Academy Award-winning actor Al Pacino, Aldo Gucci was the eldest son of Guccio Gucci, the chairman of Gucci Shops Inc. from 1953 to 1986, the brother of Rodolfo Gucci, and uncle to Maurizio Gucci.
He first started working full-time at Gucci at the age of 20, opening the first shop in Rome in 1938. Together with his brothers Rodolfo and Vasco, they played an integral role in the expansion and development of Gucci – including the opening of the first store outside of Italy in New York City in 1952. Described as the "Michelangelo of Merchandising", he was heralded by President John F. Kennedy as the first Italian Ambassador to fashion, and was even awarded an honorary degree by the City University of New York in recognition of his philanthropic activity. Aldo was also responsible for the expansion of Gucci in Tokyo, Hong Kong, and other cities around the world.
And out of all his achievements for the brand – one stands out the most: the iconic Gucci logo. To address years of lack of official branding, Aldo replaced the family's coat of arms with a play on his father Guccio Gucci's name. This eventually became the iconic interlocking double G's that's now known as one of the most recognisable logos in the world.
Rodolfo Gucci – Jeremy Irons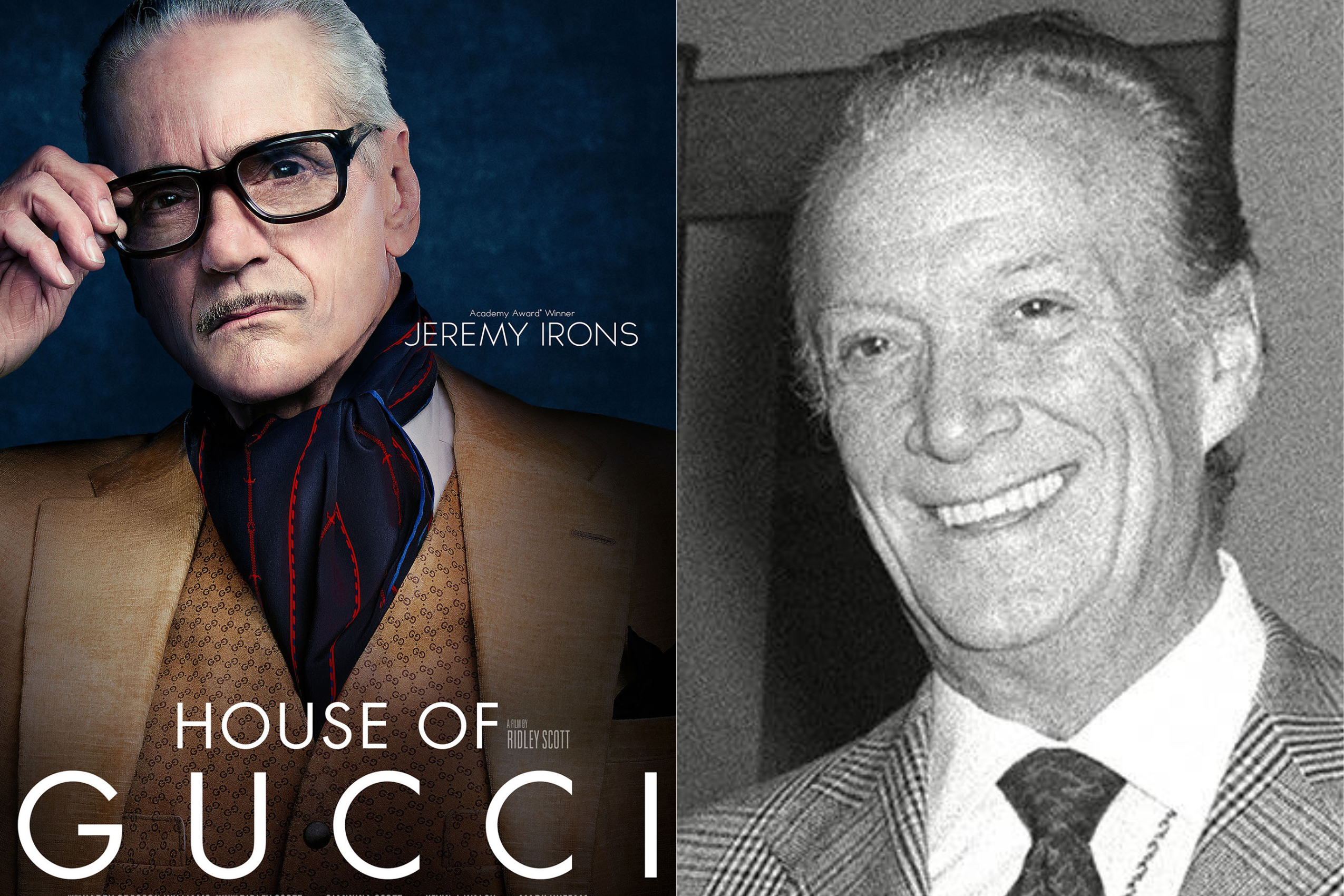 Also known as Maurizio D'Ancora, Rodolfo Gucci was the youngest of Guccio Gucci's five sons. He first started out as an actor, making his film debut in 1929. Rodolfo continued appearing in films until 1946, before leaving acting for good in 1953 to take up the family business following the death of his father.
The ideation of the iconic Gucci Flora motif is famously credited to Rodolfo Gucci. In the '60s, he wished to present a gift to Grace Kelly, the then Princess of Monaco after she selected one of Gucci's signature bamboo-handled bags. Princess Grace wanted a scarf, and in order to gift her one befitting her renown, Rodolfo commissioned Italian illustrator Vittorio Accornero to design a floral silk scarf that was as elegant as Princess Kelly. The result – a beautiful print consisting of 43 varieties of flowers, plants, and insects brought to life in 37 different colours. The motif then became one of Gucci's greatest signatures, from being incorporated into a line of ceramics in the '70s to the Gucci Garden in Florence.