For a novice, a weekend of wellness at The Andaman Langkawi was the perfect introductory pack to the whole journey go taking care of one's mind, body and soul.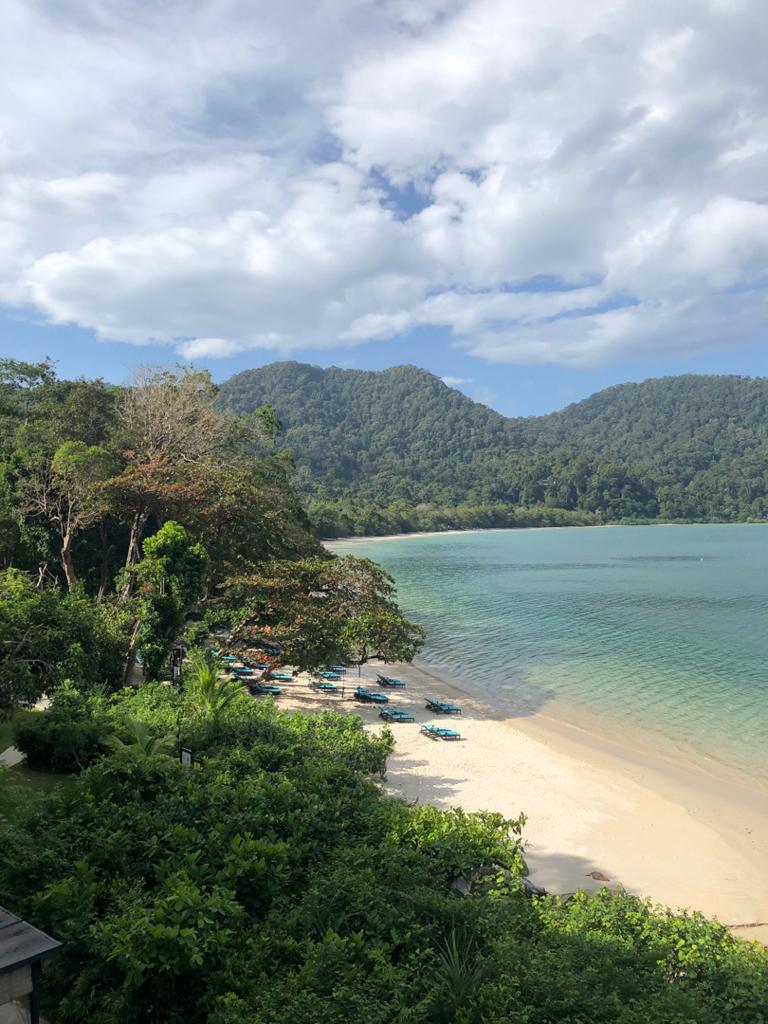 Wellness, along with self-care, is perhaps one of the few most overused, if not  wrongly used, words in recent years. Too often the user confuses it for self pampering and treating oneself, which, while not wrong, does not really encompass the essence of the word.
A massage is pampering. A salad for lunch is taking care of what you put in your body – itself a branch of wellness but not its entirety.
Wellness is a more all-encompassing process of being mindful of one's thoughts and state of mind along with what you feed your body and how treat it, right down to your breath. It certainly isn't a one-time thing that you do at your convenience (or when you're on vacation). It is an actively pursued, ongoing process
For this novice to wellness here, a weekend of wellness at The Andaman Langkawi was the perfect introductory starter pack to the whole journey.
Wellness is a habit
From our first morning, we were acquainted with the concept of wellness being a continuous journey through guest yoga sessions by celebrated guru Kathy Gabriel. Journeys are made through habits, which was the first thing we got to forming during the weekend at The Andaman.
Every morning and evening, we woke up and wound down with sunrise and sunset yoga on a beautiful beachfront platform surrounded by The Andaman's 600 million-year-old rainforest.
Kathy took us through 4 types of yoga over the weekend – beginning with Vinyasa as a mild introduction, followed by Ashtanga Yoga as we warmed up to our own bodies and then Iyengar Yoga as we got deeper into our postures.
On our last evening, we were also given a taste of Yoga Nidra, otherwise also known as yogic sleep that put us into one of the most deep restful states where our consciousness was transported into a space between sleep and wakefulness.
Altogether, it was an exercise not just for the body and muscles, but also the mind and energies within our body. It was our first step to wellness – setting tempos and training our minds and body to release itself of negative energies at the start and end of each day.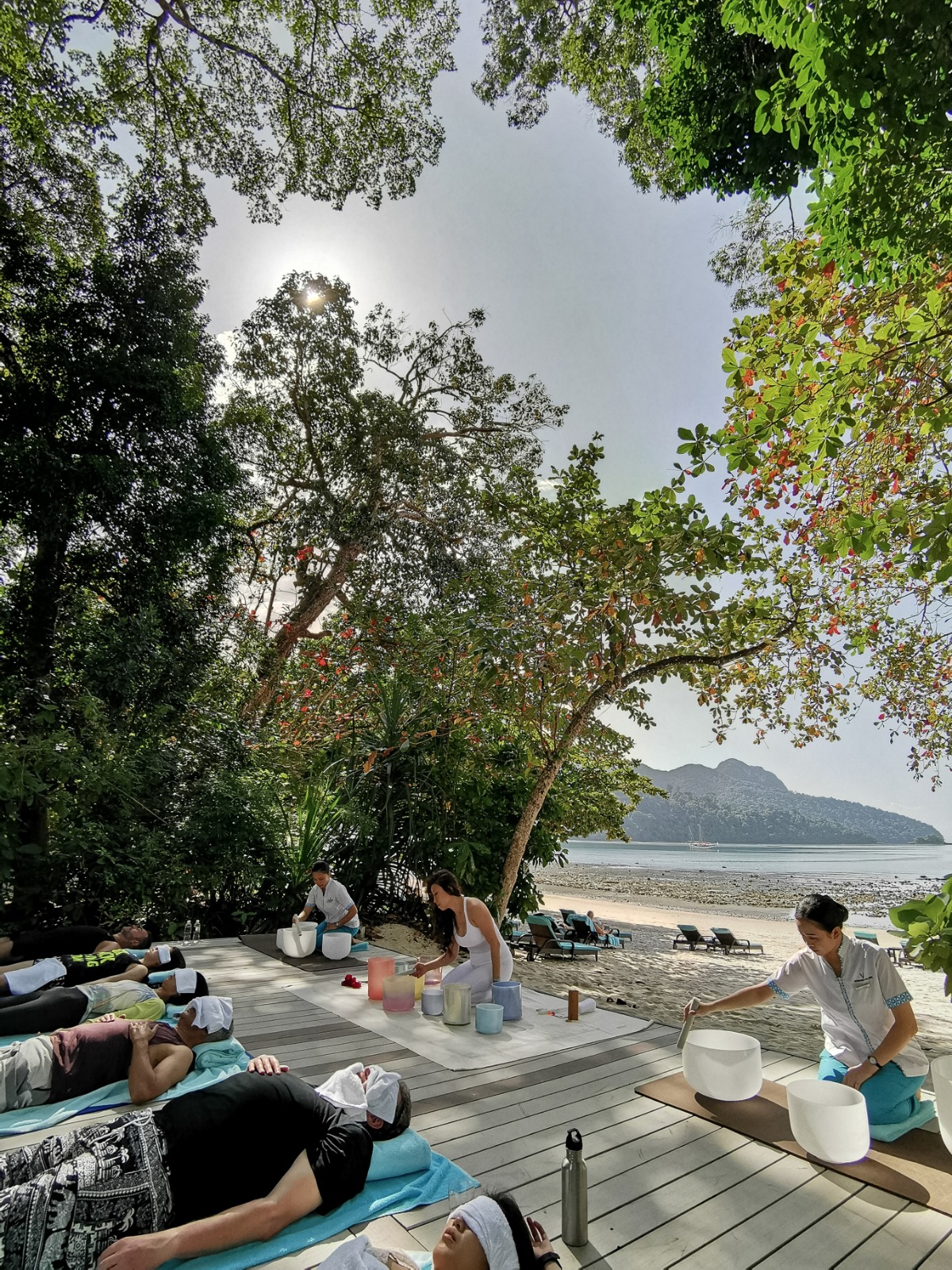 Wellness begins at a cellular level
When one says one feels great after pursuing wellness on a holistic level, it's not just in their heads. On a cellular level, changes are happening within one's body too. To accelerate the process, we got a crystal sound bath session with tantric and wellness guru Christina Nikolovski.
More than just a napping session to the hum of a series of sounds, a crystal sound bath harnesses the reverberating sounds and vibrations of crystal bowls of different shapes and sizes to lull the mind into a peaceful and mindful state of being.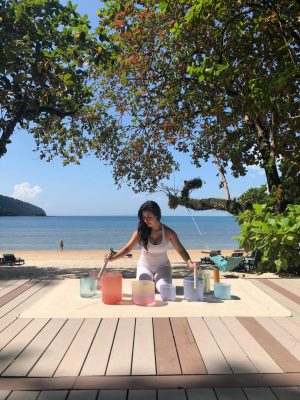 According to Christina, our brainwaves are working at beta phase when we're awake and rational. Our thinking mind and our intellect are regulated by these waves, resulting in an inability to relax due to constant overthinking resulting in high vibrations of this beta waves. In a crystal sound bath, the vibrations break up these waves and scramble the frequencies, causing the mind to be unable to process the stress and thus, dispersing it. It then surrenders and enters alpha phase, which is when relaxation kicks in.
The waves also works on a physical level, entering the pores of the skin and working on the skin and muscle cells to disperse tense beta waves for relaxation.
Once all cells on the physical and mental levels are in tune with the alpha frequency, it then enters the theta phase, which is when deep meditation occurs. A trained practitioner may be able to tap into their subconscious during this instance and find solutions and answers thay may have escaped them. For others, it will bring around deep restful sleep, from which they will wake up in the most rejuvenated state they've ever been in.
Wellness is not always comfortable
It is undebatable that The Andaman's spa, run by V Integrated Wellness, is one of the most breathtaking in the country. Built on a cliff facing the Andaman Sea, treatments are executed across five open air villas fed with uninterrupted views of the Andaman Sea so you get your muscles kneaded to heavenly bliss with the sound of rolling waves as the background music.
A long list of pampering massages and wellness treatments are on offer but its signature Chi Nei Tsang massage showed us the true difference between wellness and pampering. While not mutually exclusive, it helped us identify the distinction between self-pampering and self-care.
The Chi Tsei Nang massage was intense, to the point which some might describe as painful. It involved pressure techniques at selected points of the abdomen to help aid digestion and expel the body of gas and toxins. Beyond relaxing strokes and relaxing aromatherapy, the masseuse pressds down on the centre of the belly and worked deep pressures from different points outside in while instructing you to breathe deeply at intervals for best effect.
It was uncomfortable but it was necessary to set a series of internal bowel movements in order for true wellness that goes beyond the surface.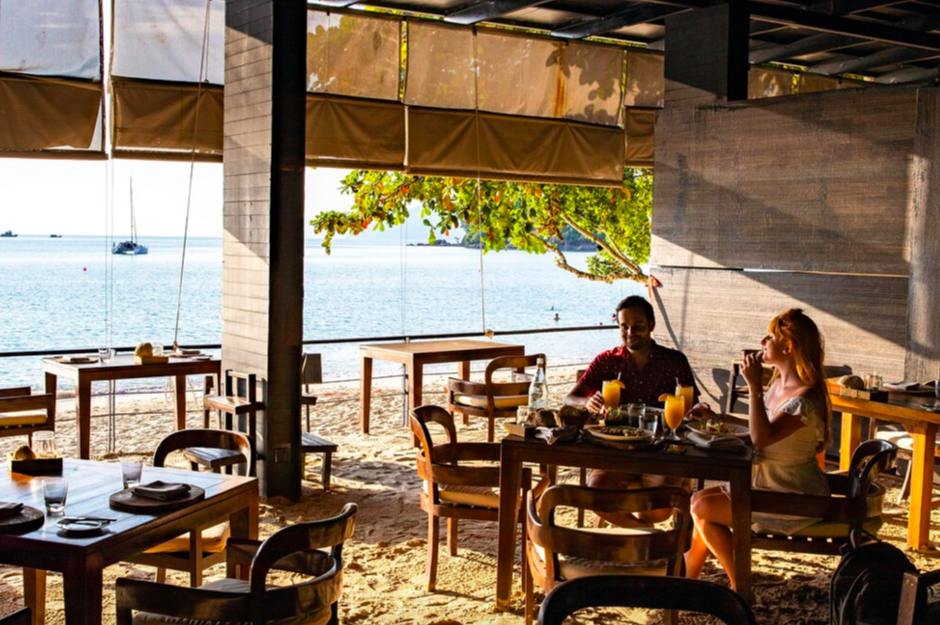 Wellness is what you feed yourself
The Andaman's wellness efforts were reflected even in their food menu across all its four distinctive dining establishments. All the meals from breakfast to dinner came with a focus on wellness and a side of sustainability.
Its all-day dining restaurant The Restaurant, served up a continental buffet breakfast every morning as well as a more local focused ala carte menu for lunch and dinner highlighting ingredients that are locally sourced from around Langkawi Island.
Jala presented an extravagant, fresh seafood display each evening, all locally sourced from the waters of Langkawi as well, prepared in styles marrying Malay and Western seafood recipes to create an exciting à la carte menu. The restaurant itself evoked beachside dining with sandy grounds so you can feel the sand between your toes as you dine.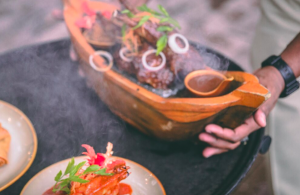 Tepian Laut invited us to enjoy the best of the island's food and breeze by dining on an open-air deck while enjoying the view of the Andaman Sea. There was also the option of a private dining setting as we had on our last night of our retreat, where dinner was served right on the beach, illuminated warmly by light of paper lanterns bobbing in the breeze.
Wellness is a more all-encompassing process of being mindful of one's thoughts and state of mind along with what you feed your body and how treat it. Our weekend of wellness at The Andaman showed us exactly how to do it for mind, body and soul.
For more information on the resort and its packages, log on to the official website here.
(Photos: The Andaman)