Following the announcement of this year's Singapore Grand Prix performances, Formula One has just unveiled an extended roadmap for the upcoming weekend, complete with additional events and spectacular fireworks to make the weekend race even more unforgettable. 
Even if you're not familiar with the city, worry not, as public transportation timings have been shared to ensure you catch the race live. 
Get ready for an epic weekend of racing and entertainment with our comprehensive guide to the Singapore Grand Prix 2023.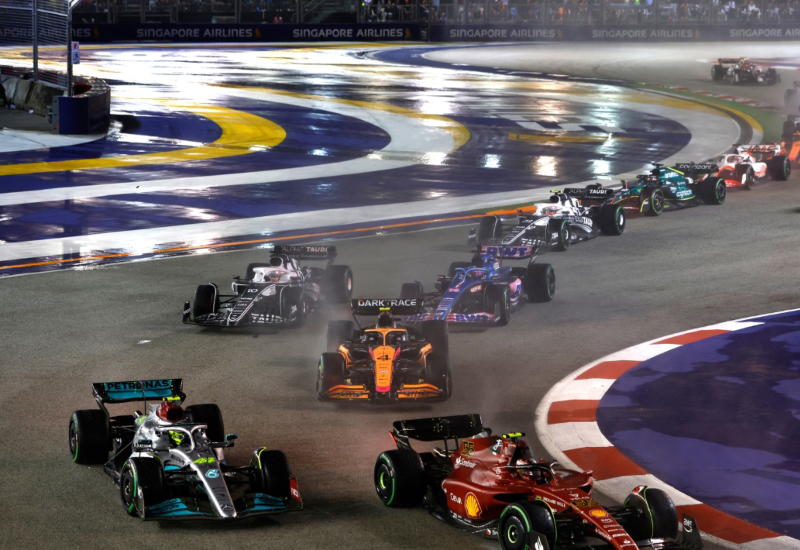 F1 Singapore 2023 race schedule 
The initial two days of F1 are dedicated to practice sessions and qualifying races, which are meticulously planned from 2pm till evening. The grand finale, the official big race, will take place on the third and final day, from 8pm to 10pm.
Here are the complete schedule:
September 15, Friday
Practice 1: 5.30pm to 6.30pm
Practice 2: 9pm to 10pm
September 16, Saturday
Practice 3: 5.30pm to 6.30pm
Qualifying: 9pm to 10pm
September 17, Sunday
Official race: 8pm to 10pm
How to get to the F1 Singapore Grand Prix?
The race will take place around the Marina Bay and Civic precinct, with all main roads leading to the official location being closed. But don't worry, official ticket holders and attendees can confidently enter the grounds through various entrances around the perimeter of the track. 
Check out the complete roadmaps of the grounds below.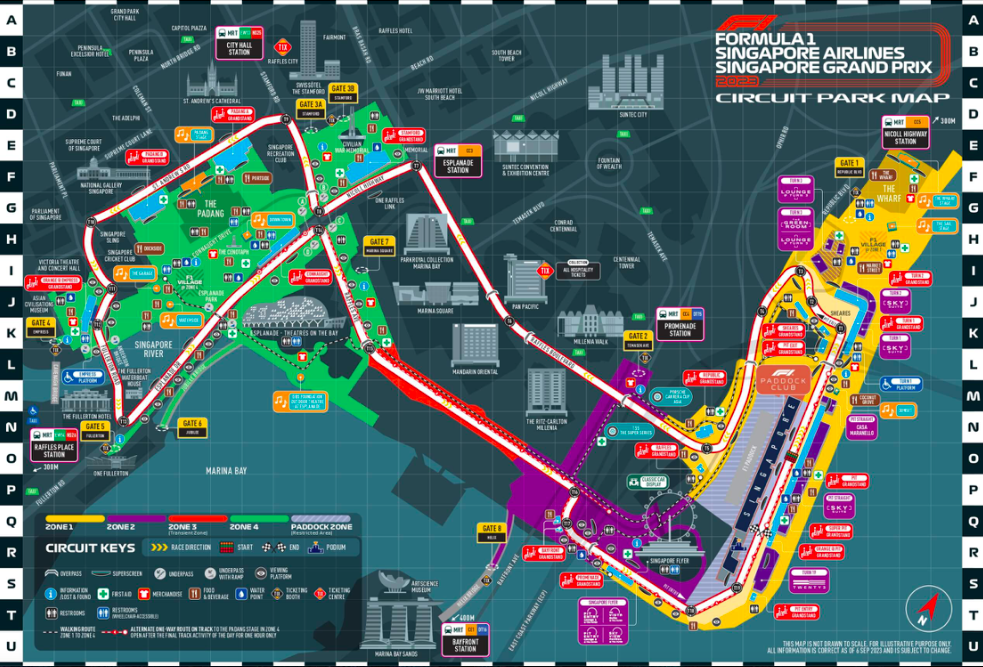 Click here for high-res map.
We highly recommend organizing a well-planned carpool with your friends or family members if you're attending the event together, as traffic is expected to be congested. Alternatively, we suggest taking the MRT and alighting at: 
Nicoll Highway Station (which leads to Gate 1)
Promenade Station (for Gate 2)
City Hall Station (for Gate 3)
Raffles Place Station (for Gates 4, 5, and 6)
Esplanade Station (for Gate 7) 
Bayfront Station (for Gate 8)
Road closures during the weekend
Singapore officials have announced the closure of several roads in town from 12.01am on September 13 to 5.30am on September 19, in order to alleviate congested traffic. Rest assured, some of these routes will be reopened during peak hours from 5.30am to 10am, ensuring a smooth morning commute to work. 
Check out the complete road guide right here. 
Although certain bus services will skip certain stops from September 12 to 18 due to the road closures, there will be no complete halt in services. Check out the bus affected schedule here.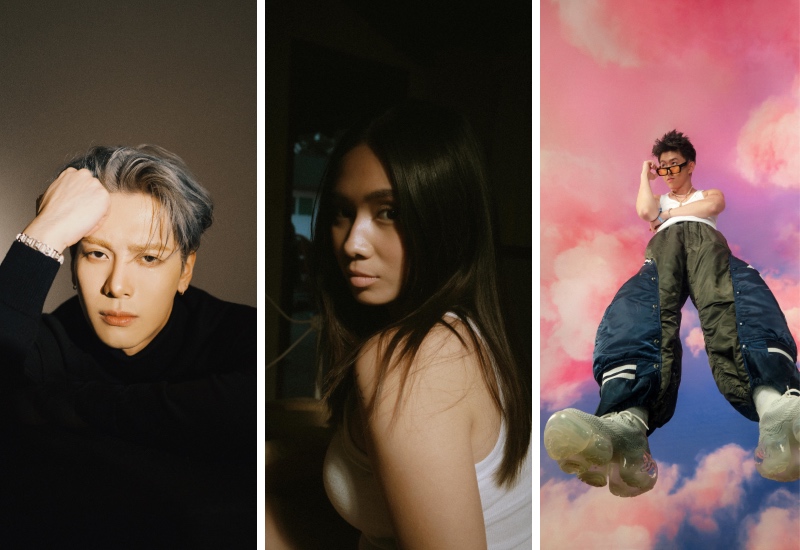 Who will be performing at the F1 Singapore Grand Prix? 
Formula 1 Singapore Airlines Singapore Grand Prix 2023 has confidently announced a thrilling three-day entertainment extravaganza from September 15 to 17, 2023. This year's program boasts an impressive lineup including Post Malone, 88rising, Robbie Williams, Kings of Leon, Culture Club, and many more. With a dynamic blend of local and international acts from across the globe, this year's entertainment is not to be missed. 
Check out the full schedule and timings here and here. 
Additionally, the night race excitement continues late into the night with two epic afterparties at MARQUEE Singapore on 15 and 16 September. MARQUEE is bringing back two of electronic music industry's most popular artists – Hardwell and Alan Walker – to present two back-to- back nights of electrifying performances, bringing even more firepower to the roster of festivities at the IR.
How to catch the fireworks? 
If you want to catch the fireworks, head over to Marina Bay area once the F1 races come to a close. With the main race ending at approximately 10pm on September 17, it's recommended to arrive beforehand to secure your spot. Go ahead and experience the exhilarating night race from 56-stories atop Marina Bay Sands' iconic SkyPark Observation Deck. With a bird's eye view of the Marina Bay street circuit, you can relish the thrill and celebrate the exciting action in the skies.
There are plenty of prime locations to witness the pyrotechnics, such as the Helix Bridge and Marina Bay Sands area, as long as you're in the vicinity of the F1 Marina Bay Street Circuit.