These days, Sheena Liam is shedding her title as Asia's Next Top Model and increasingly relating to a whole different agenda: art.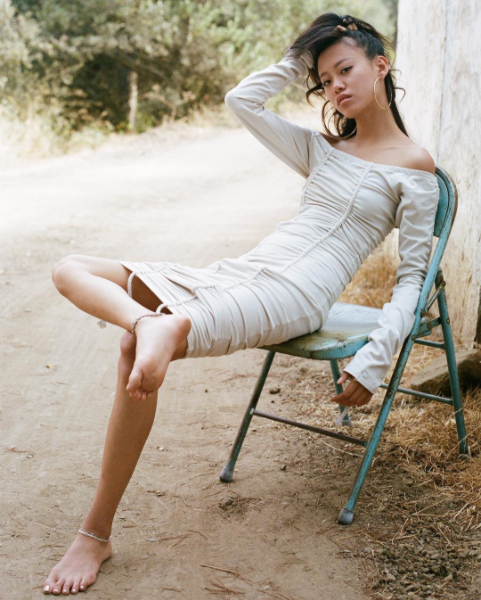 Sheena Liam may be spending weekends in Christmas Island when she's not doing shoots for Bulgari in Germany, but she's maintained a big part of herself from before the big win in the second season of Asia's Next Top Model. She's also broken away from that title – these days, her name is increasingly relating to a whole different agenda: art.
I first met Sheena more than 10 years ago – long before the platinum blond hair, eons before the 56.3k followers on Instagram, lifetimes before the high-flying yet incredibly down-to-earth love story she shares with artist Ernest Zacharevic. Back then I was a communications student trying my hand at photography and she agreed to help out with a passion project by modelling for all of a dinner of KFC.
Not much has changed since – she is still the same easy-to-laugh yet slightly shy soul who wants nothing more than to model. She agrees to this interview despite having to fly off to LA in less than 5 days over the promise of little more than coffee and catch-up, "for old times' sake". She even comes fresh from a shoot prior, bare-faced and iPad Pro in hand, apologising for having rescheduled twice since the morning. The only thing more genuine than her apologies are her smiles and delight at seeing me.
She still maintains the same hobbies – random arts and crafts she picked up in her early modelling days to pass time backstage – that today have her creating breathtaking works of embroidery art drawing in buying offers from all over the world. One that's 5 feet by 5 feet tall today adorns the front window of the Chi Chi Von Tang store in Singapore, where it will call home on commission until September.
"I've always been doing it since I was young – I've just never taken it so seriously," she tells. "I've always liked art – it's not something new to me. I drew. Then I started embroidering."
More than just cross-stitch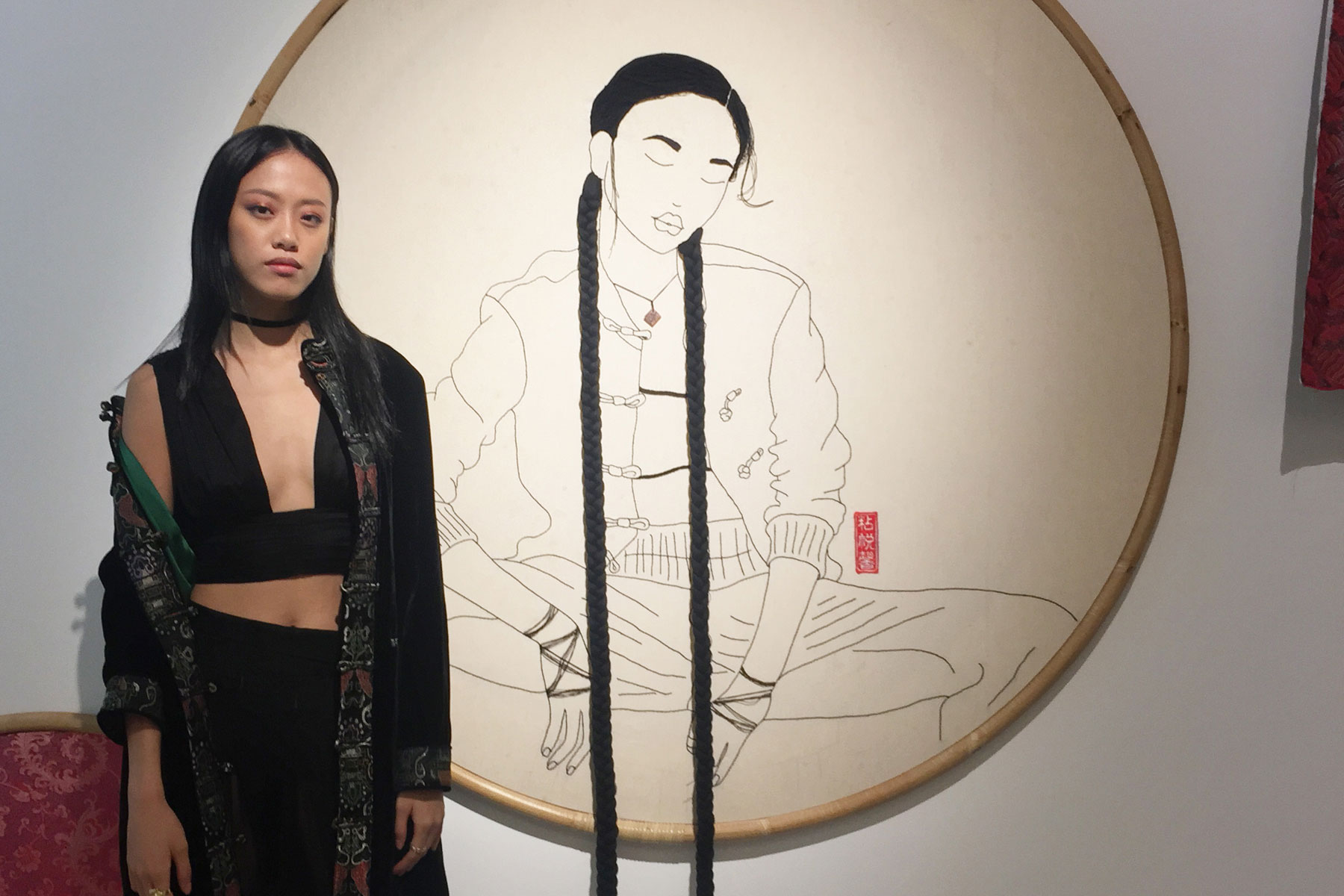 Both creative souls, it was only a matter of time before the bread and butter of Ernest, her boyfriend of 3 years, would rub off on her as more than just a hobby.
"It started with him – he was doing this wall mural in Norway, where he painted a cross-stitch of a house on fire. He wanted to also release a collection of prints for an exhibition, so he paid me to do said cross stitch. It's a design of 12 houses and everyday I was just sitting there stitching. It took me two months – I was so angry at the end of it," she reveals candidly. "While I was stitching, I was also thinking about what else I could be doing. I was learning all these new techniques. When that was done and shipped off, I started working on my own stuff."
So was sown the seed of her minimalist brand of embroidery art. With a little black thread and yarn, she stitches on clean silhouettes of feminine figures and caricatures that nonetheless pop to life by means of her signature effortless edginess. Pouty lips, slender limbs and long luscious locks make frequent appearances in the pieces, reminiscent of her own profile.
It makes sense because like another female artist who was most comfortable with her own silhouette – Frida Kahlo – every sketch and resultant embroidered piece is 100% from herself.
"I actually try not to look at embroidery works. When you look at other's works, you get influenced or your second doubt yourself," she reveals. "I stay away from other embroidery artists not because I don't respect them, but because I respect them too much and I don't want to end up accidentally stealing their ideas. I want every idea to be wholly mine." 
Inches to feet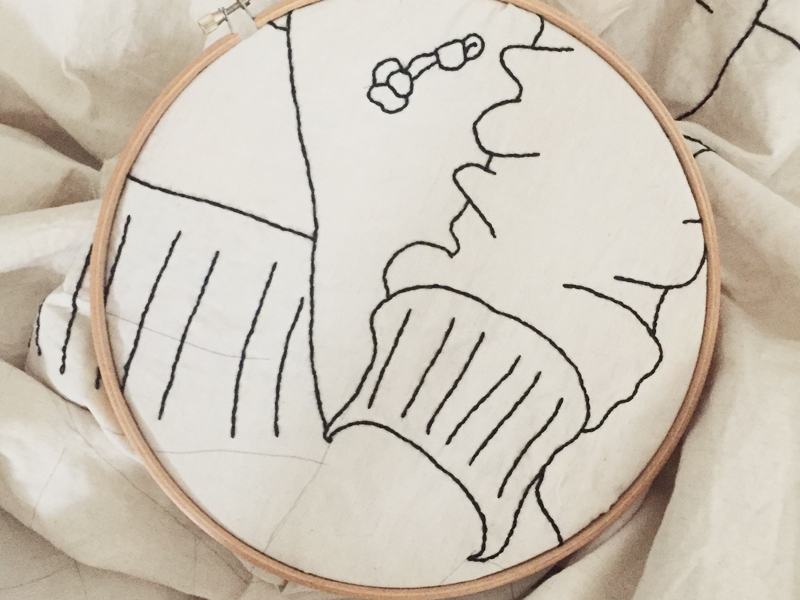 (swipe left for more)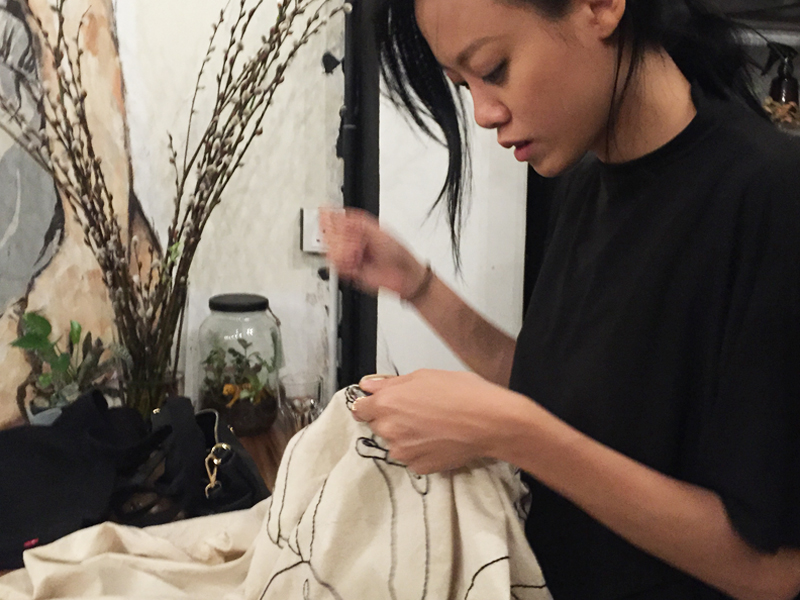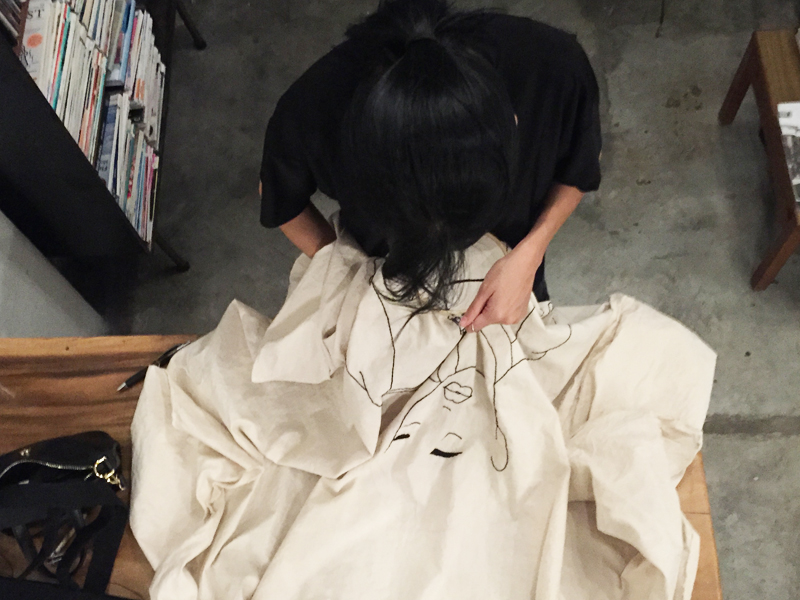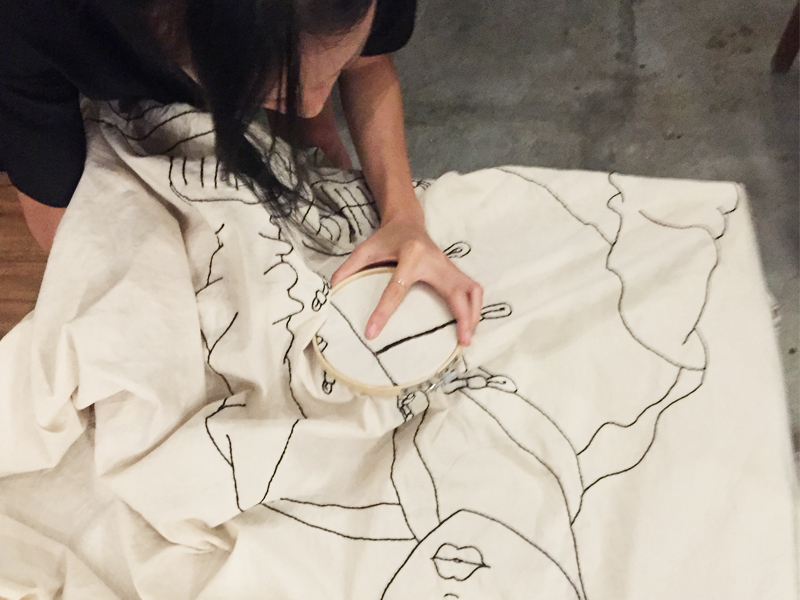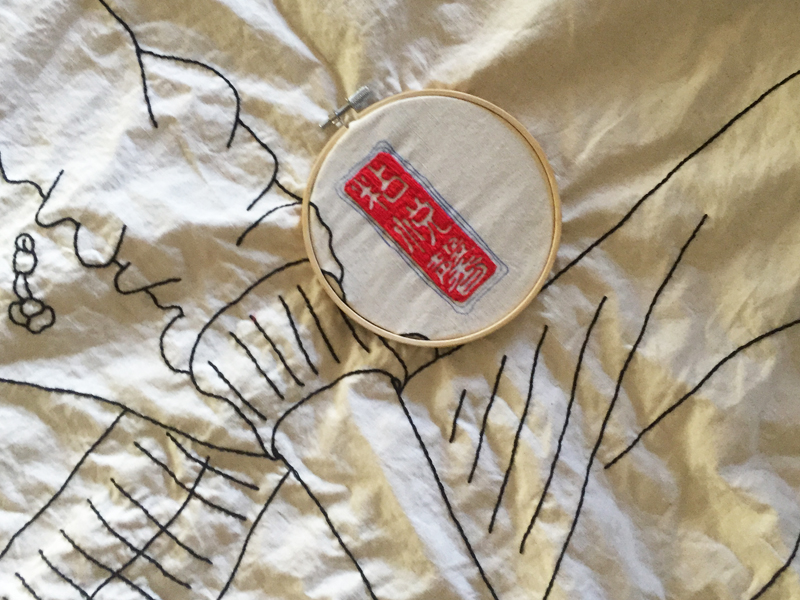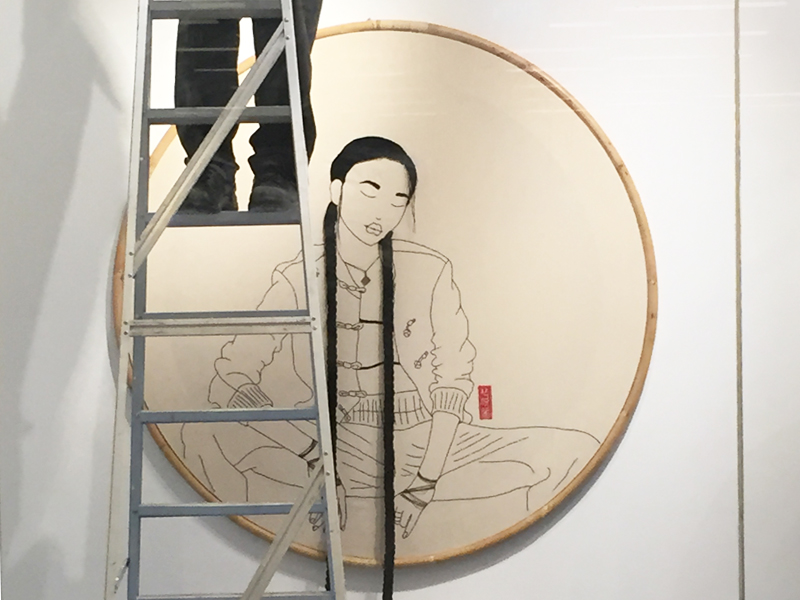 Starting off on small 5 x 5 inches canvases, the artworks grew in size along with demand.
A friend who does branding and marketing for Chi Chi Von Tang, a homegrown Singaporean fashion label, spotted the pieces on Sheena's Instagram account and requested for something to put up in the store.
"I had to be really creative," Sheena unafraidly admits. "It's not about the sewing but about super-sizing everything from the canvas to the frame."
First off she had to find someone who can make her a hoop that's 5 x 5 feet. "I needed it to be made from wood because I wanted it to look like the embroidery frames. I always had it in my mind that if I ever made a big one, I want the artwork to stay in the hoop. They're not meant to go on T-shirts or anything."
She found a furniture maker to make it from rattan, much like the old school hula hoops, only bigger. Finding a canvas large enough proved to be another obstacle.
"I finally found one big enough but the fabric was the last piece that size. It was so dirty so I was scrubbing it on the bathroom floor because I really wanted it."
Finally there was the stitching which amount of work took the cake.
"I do it segment by segment and then I stand back to see the overall picture so it's very dangerous if you don't follow the traced lines closely," she reveals. "You don't know how it looks until you're 10 feet away."
Three weeks of sourcing for the necessary materials and figuring out the sketch followed by two weeks of continuous stitching resulted in the masterpiece you see now stopping crowds at the Chi Chi Von Tang store in Scotts Square, Singapore.
"There are so many artists out there who don't know they're artists"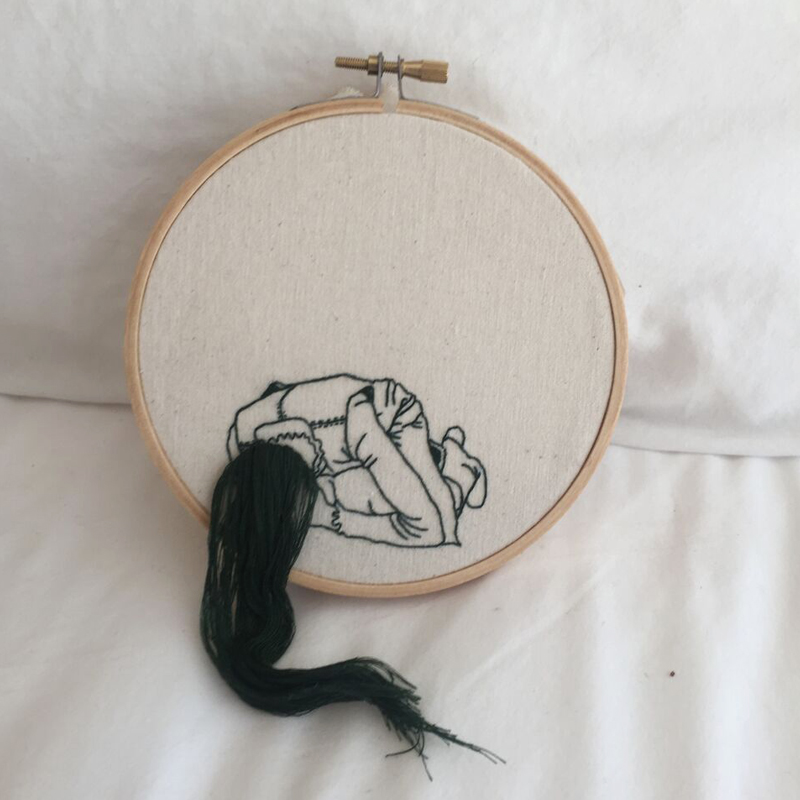 (swipe left for more)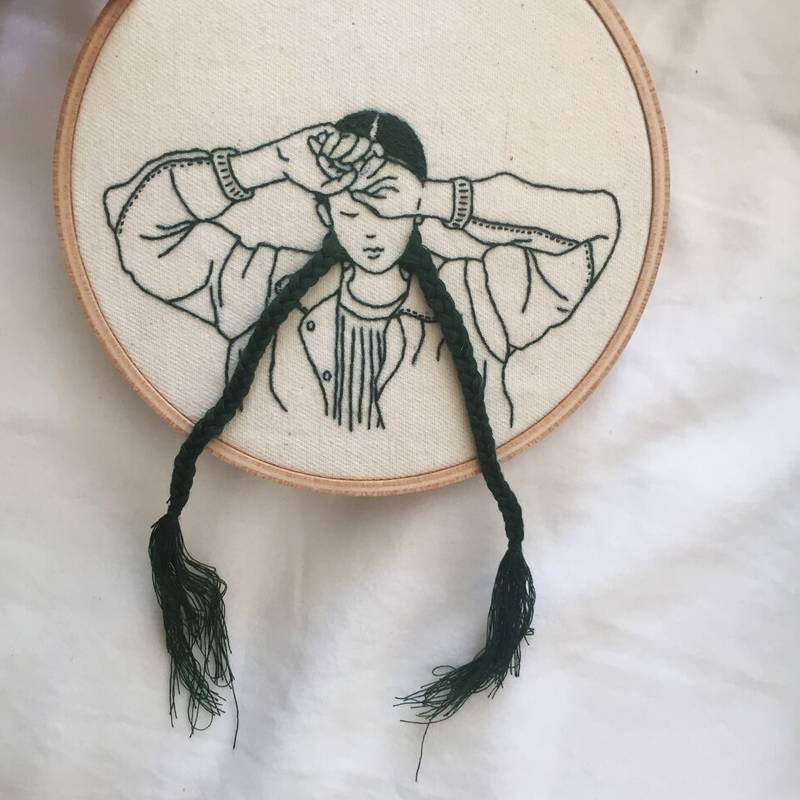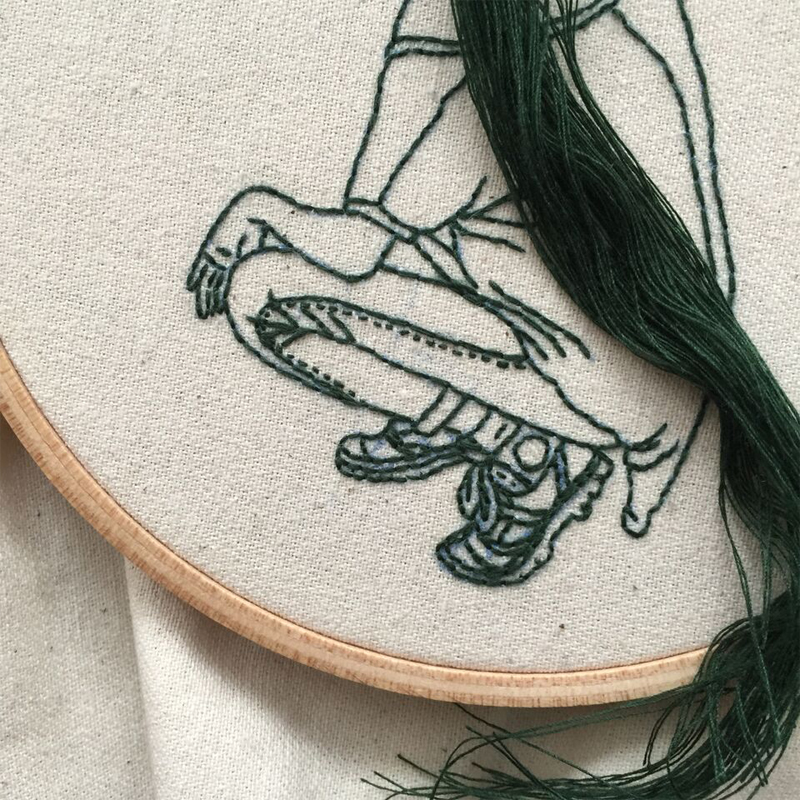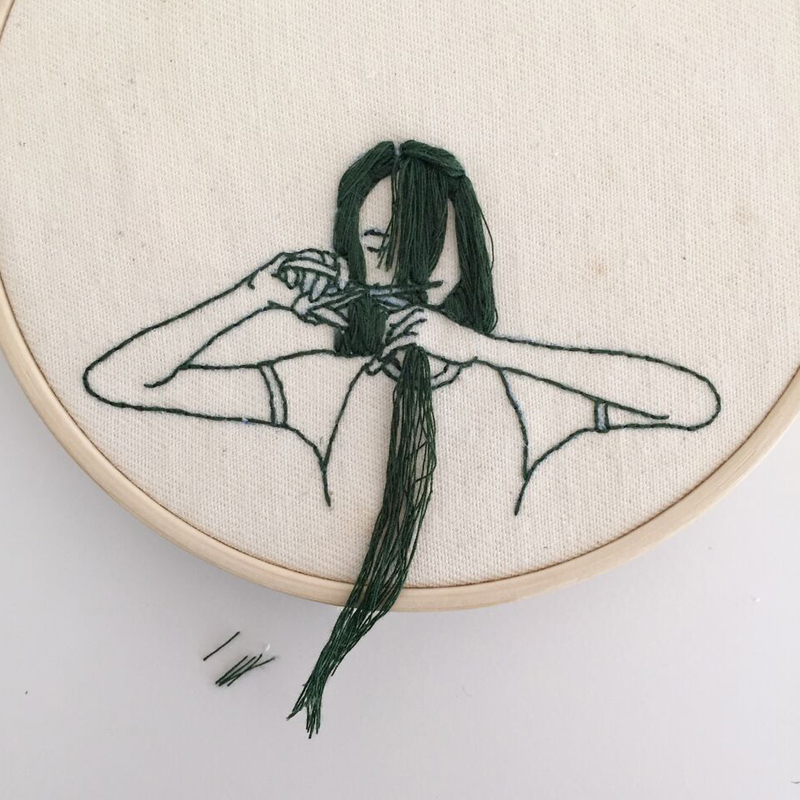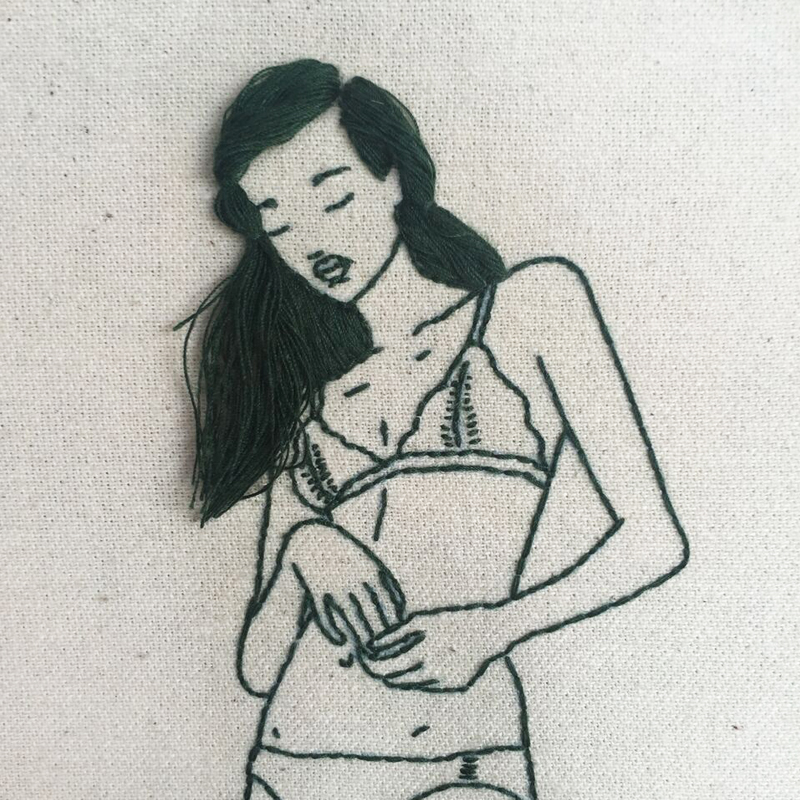 As much traction as her art has gained, Sheena says they're not for sale – not yet. The one in Chi Chi Von Tang is only on consignment, which means she gets it back in September.
"Firstly, it's because I'm saving them for a show and I don't want to miss out on a piece because I've sold it," she shares. "I've had a lot of requests to sell, but I'm not ready. I want them all, at least just for a show; once I've had that closure, maybe I'll sell."
Another reason is she believes there is still room for improvement. "I know I have it easy because I'm not building up from scratch," she divulges, "I'm very blessed that I already have some following from my modelling days, but I do get afraid if this is all happening too fast. I haven't really found my footing. I don't want to do things for other people while I'm still finding out what my style truly is."
That, at the end of the day, is of utmost importance to her – to continually grow in as many areas of life and learn to what extent she can push her art and her skills. She isn't one who believes in pigeon-holing oneself and living up to only others' expectations of you. She's a model, but she's also an artist of her own life, a painter of her own canvas, a writer of her own story, a lover, a globetrotter and now, embroiderer.
"There are so many artists out there who don't know they're artists, or don't appreciate themselves as artists," she muses. "It's important for anyone to have an extra interest in something – anything – they like because it's just not healthy otherwise. Even if you have a day job, you should still work on your passions. You shouldn't go like 'oh I have a job so I can't do it'. Too many people have that mindset. "
"People write themselves off before anyone else. Don't do that to yourself. Anyone can say no to you, but as long as you don't say no to yourself, that's what's important."
Follow along on Sheena's journey on her Instagram page here.