The retreat would not have existed if the Taiping-born, Vancouver-raised Malaysian had not packed her bags and got on a plane back to her motherland over a decade ago.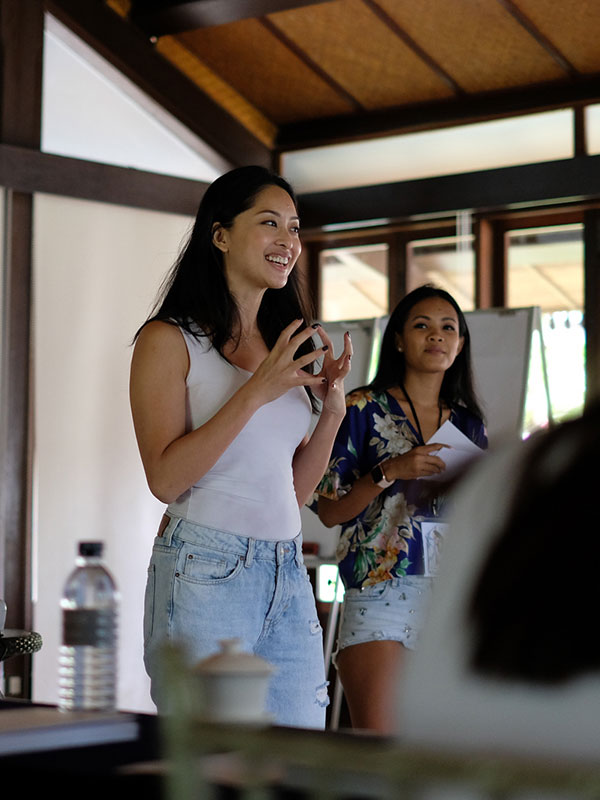 It has been three days since I returned from Supparetreat and I'm still a ball of emotions – the good kind. I am proud, relieved, empowered, grateful and much more at peace with myself thanks to the company of women, many of whom I met for the first time, at the women-only retreat.
For this, I am eternally thankful to Sarah Lian, co-founder of this brainchild.
"There are three things that we want to do with Supparetreat. One of it is to make sure that you don't have to worry about anything when you come," she tells me in an interview days before the getaway. "The moment you pack your bags and get on the bus or plane or whatever it is, you'd be able to just forget your worries."
It's both fascinating and ironic to entertain the thought because the entire retreat would not have existed if the Taiping-born, Vancouver-raised Malaysian had not packed her bags and got on a plane back to her motherland with 101 questions of uncertainty over a decade ago.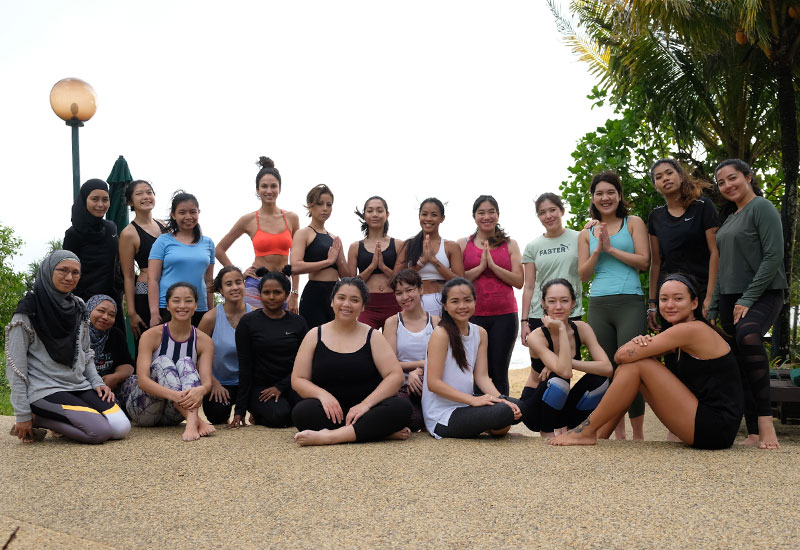 A humble beginning
The year was 2008. Sarah had 500 dollars in her bank account, a student loan debt amounting to $15,000 and almost zero connections in the local entertainment industry where she would cut her teeth.
But with her degree in Design in Fashion Communications and her experience in performance arts growing up, she left Canada – the country she's lived the longest in – to follow her gut feeling to explore opportunities in Malaysia.
"My agent told me I was crazy for going to Asia because I was going to have more competition and I said, 'no, but I feel like I've got a leg up' – whatever that meant," she says with a hearty laugh.
Her plan was to gain two years of experience here before returning to Canada with "a crazy resume". Two years turned to three, and since then, she has had several stints in film and television in Hong Kong, Singapore and naturally, Canada.
"My greatest passion in life right now is to be the person you needed when you were younger."
In that time, she also started her own blog, emceed and hosted events, took up classes like pottery and calligraphy on the side, as well as designed wedding invitations and cards for her friends (after all, she is a designer by trade). Like her Instagram bio suggests, she's not your average one trick pony.
"My motto in life is that the harder I work, the luckier I get," she says, referencing a quote by Samuel Golwyn, "So that means yes, you've got to put yourself out there but at the same time, that's also when people start coming to you."
By the time she was back in Canada, it seemed like she had a good thing going. She even started a boutique talent management company, Suppagood with her business partner Peter Chin to help mould and manage other talents like herself.
Then struck what she calls a quarter life crisis.
A rude awakening
"When I hit 30, I started to question myself about what I really wanted to do and where's home," she confesses. "It's scary because when you're growing up, you set ridiculous expectations of yourself like 'by 30, I am this' and then you get disappointed or disheartened and you feel like 'I'm unworthy to carry on' when you realise you haven't achieved those things.
"But when you look back at everything you've ever done, you'll find it's not so bad after all. To me, it's really about finding value in who you are," she adds on a positive note.
With that revelation, she moved back to Malaysia for good to pursue her true aspirations. Whether that meant developing Suppagood (and its PR counterpart years later) to where it is now or working with local charities or expanding her network in ASEAN showbiz, she finally found the answer to the home she was looking for.
"Even though Canada was amazing, it was a place I felt like didn't need me. It already had a wonderful industry that was thriving; but there was a spark in Malaysia that could never be replicated," she reminisces with a sparkle in her eye.
After all that's been narrated, it's no wonder that the recently trending #10yearchallenge on social media resounded so strongly with her story.
"Vulnerability is the greatest lesson I've learnt throughout my entire life and it (the challenge) is so incredible because you get to see how far you've come," she ponders. "There are some things that you are not proud of, but I think being vulnerable and understanding that you had to go through that to get to where you are now – that is incredibly humbling."
That's also precisely why she says "my greatest passion in life right now is to be the person you needed when you were younger" and she means to achieve that through Supparetreat.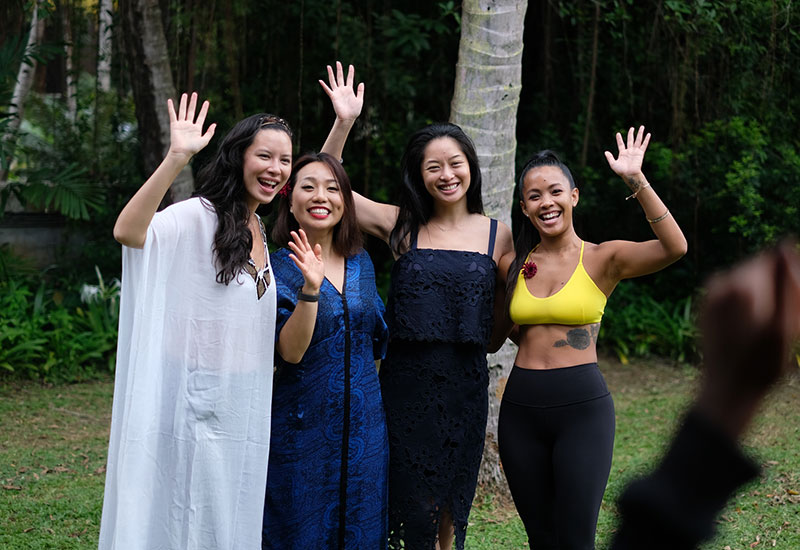 A safe space
The idea behind Supparetreat stemmed from an internal retreat and workshop for the women in Suppagood Talent and PR. After receiving positive feedback ("we gave each other really good critique and we were able to workshop our workshops"), the second retreat was held by-invitation-only with women from varying industries.
"We knew there were a lot of team-building companies, so what we wanted to offer was an experience, not just a 'team-building thing'," she clarifies.
Coming full circle to what defines Supparetreat, the second aspect of it is a scenic location that feels like a getaway from KL; and the third being an environment for you to take time for yourself.
"What I want Supparetreat to be – at least for this (first open-to-public) retreat – is to make it a safe space. Whatever you're dealing with is going to stay here and you'll have space to think about it, understand it, come to terms with it and let it go," she elaborates.
After my personal experience those three days in Tanjong Jara Resort where it was held, I can definitely attest to all three facets of it culminating in an unforgettable healing experience for the mind, body and soul – I'm sure my fellow participants will agree.
See the gallery below for a photo diary of our experience.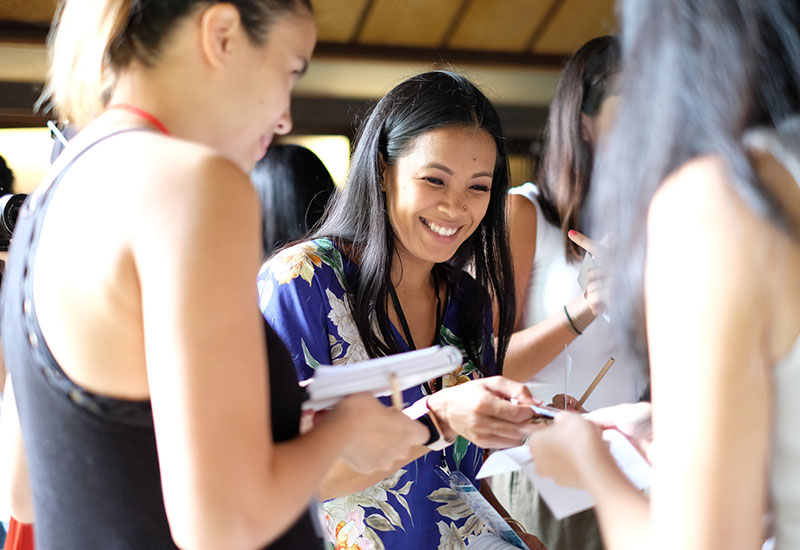 Day 1
Day 1
Upon our arrival and lunch, we broke the ice by learning a fun fact about each other.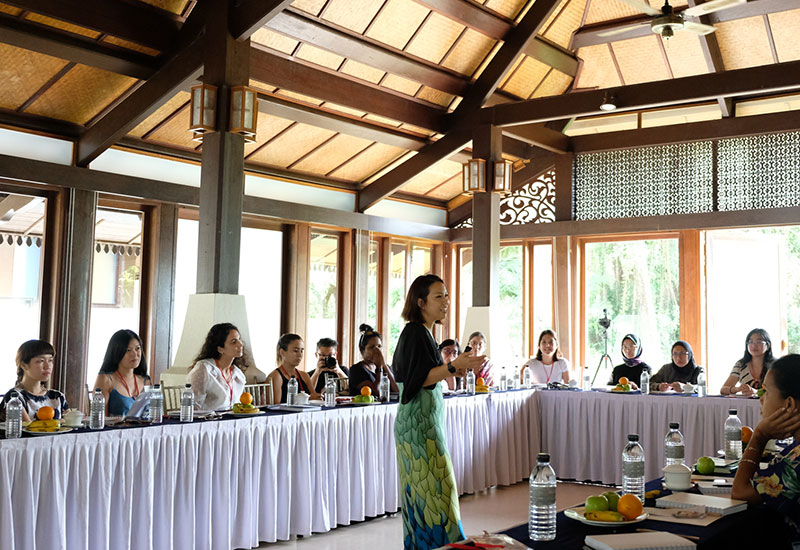 Racheal Kwacz, founder of Rachealkate by Racheal Kwacz, then shared on how to be 'Brave' and sit at the table unapologetically.
Sarah took us through the second session of the day, "Be Ready Yesterday" with tips on how to recognise your own strength and skills.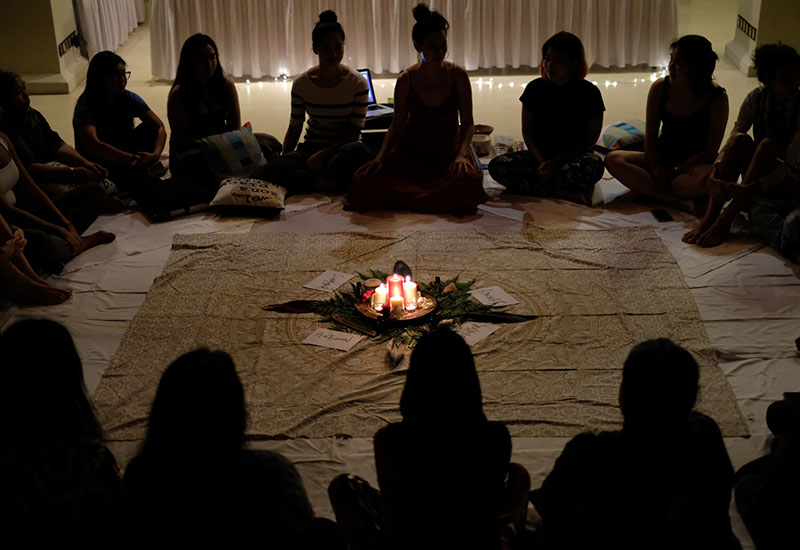 After dinner, Hannah Lo shed light on "Women's Circle: The Revolution Within" which helped us heal and release our blocks to love and living purposefully.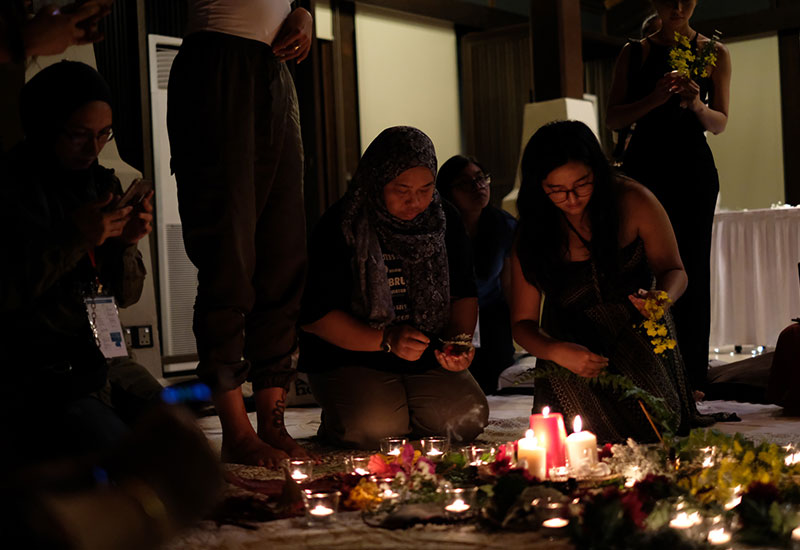 It also involved decorating an 'altar' with candles and flowers representing the seasons...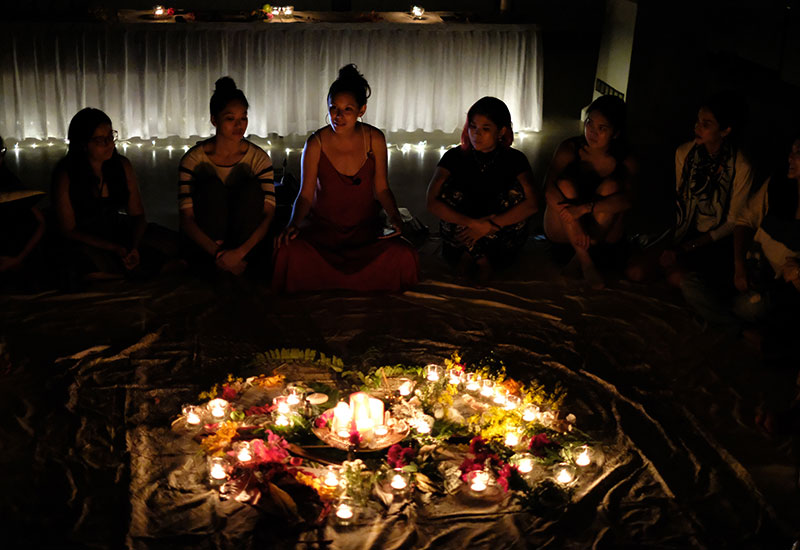 ...and turns out we're a pretty artistic bunch.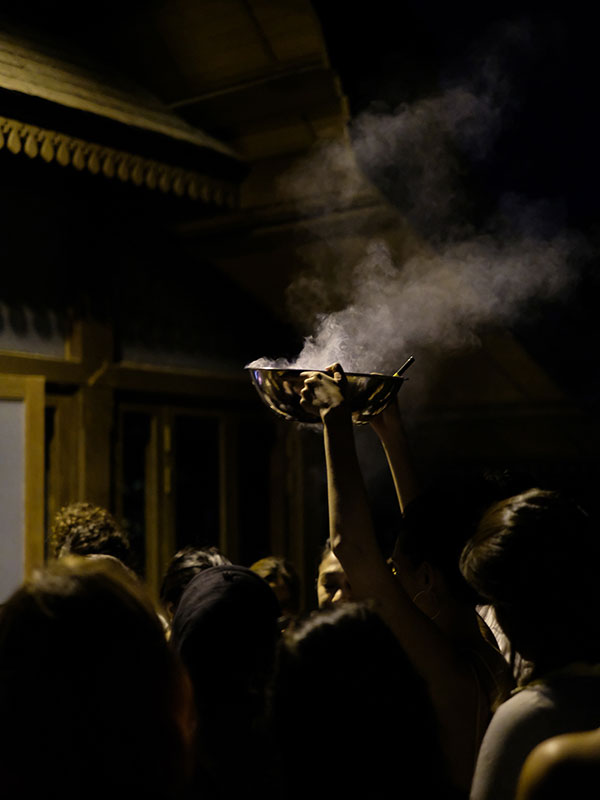 Years of emotional and mental baggage were written on paper and burnt in the fire...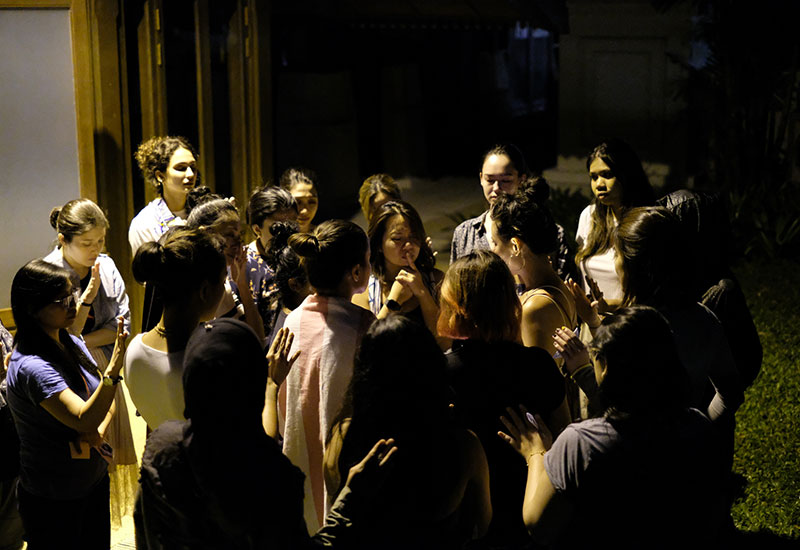 ...all while the women we now get to call our sisters held space for each one of us to let go of whatever we needed to let go.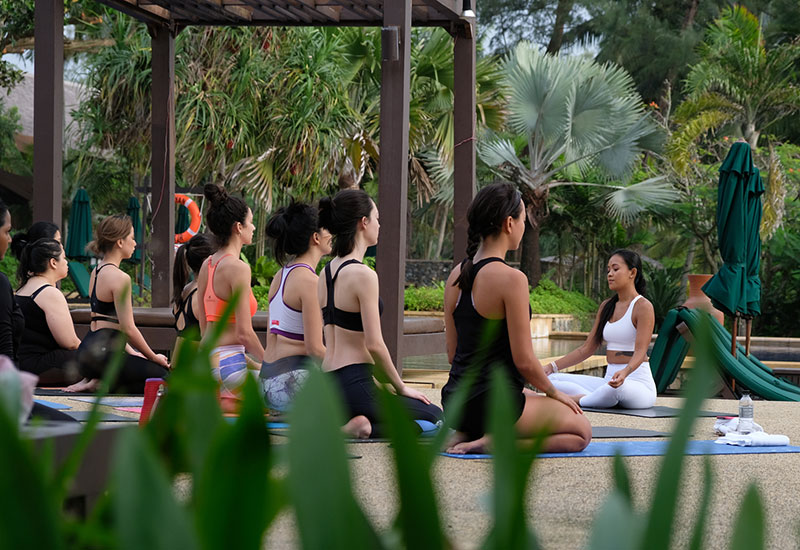 Day 2
Day 2
The next day, we woke up early for 'Morning Yoga with Nor Soraya' by the pool (and near the beach!).
We think we held our poses pretty well.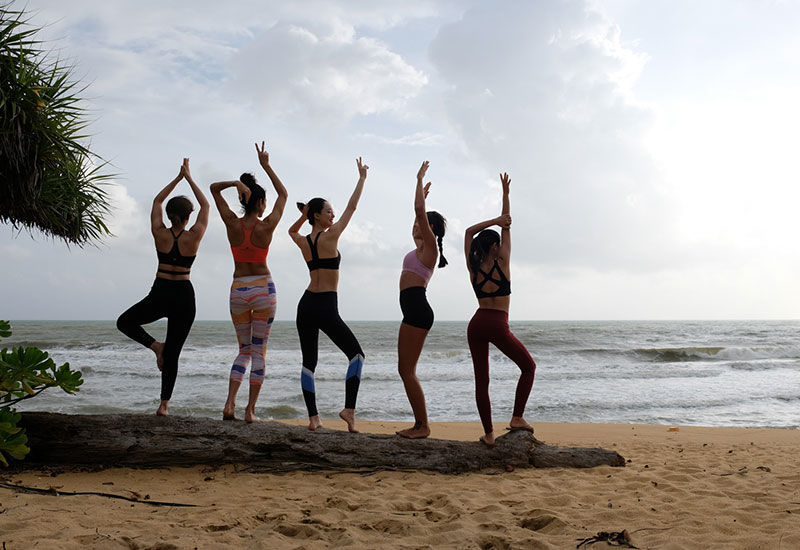 Other poses included.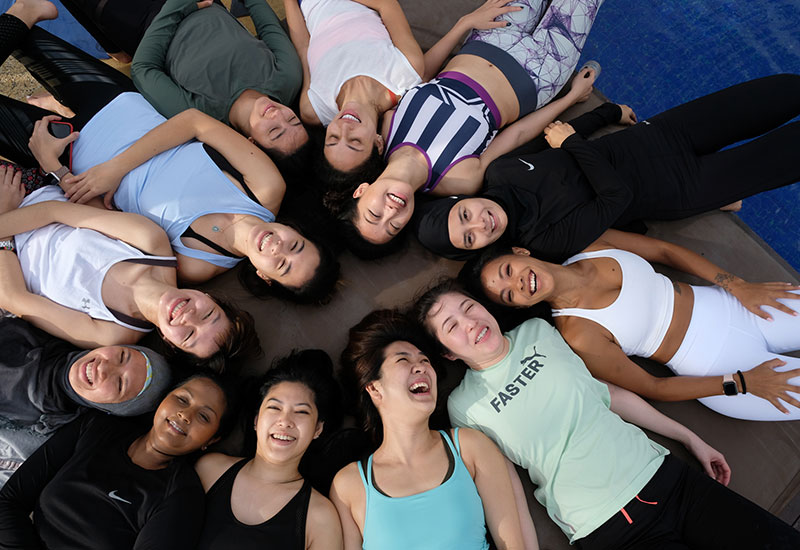 We just couldn't miss the opportunity to snap more photos!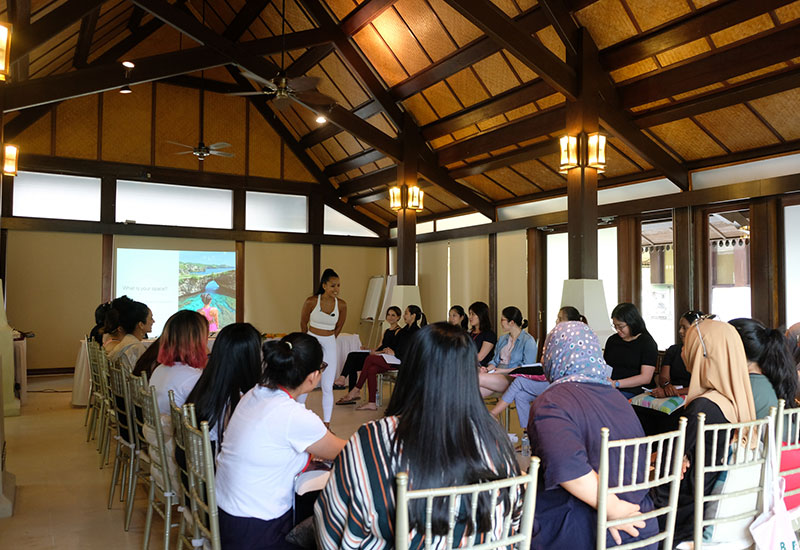 After breakfast, Nor Soraya coached us through how to 'Show Up for Yourself' by protecting your space and filling it with the right energy, activity and love.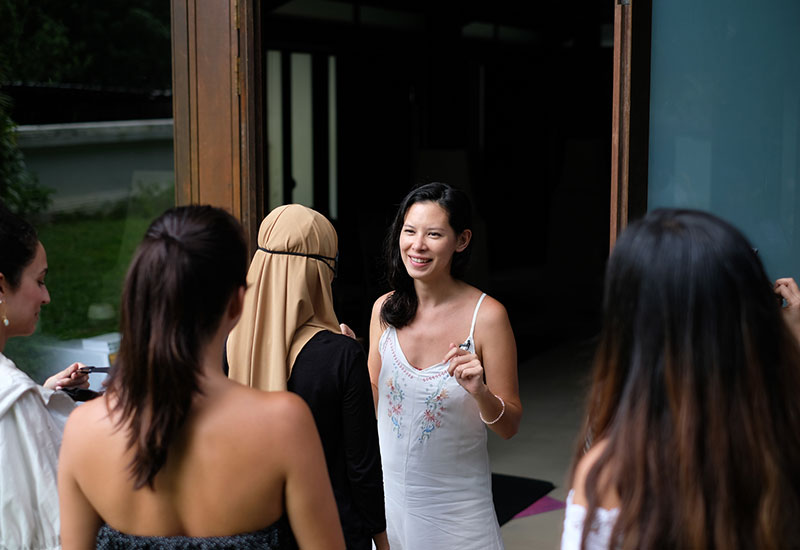 Following lunch was Hannah's 'Guide to Love and Relationships'...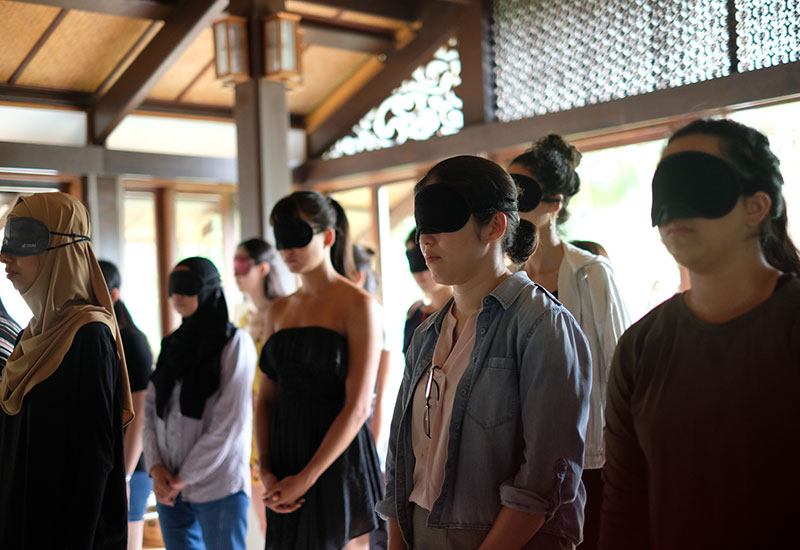 ...which involved a little blindfolded activity...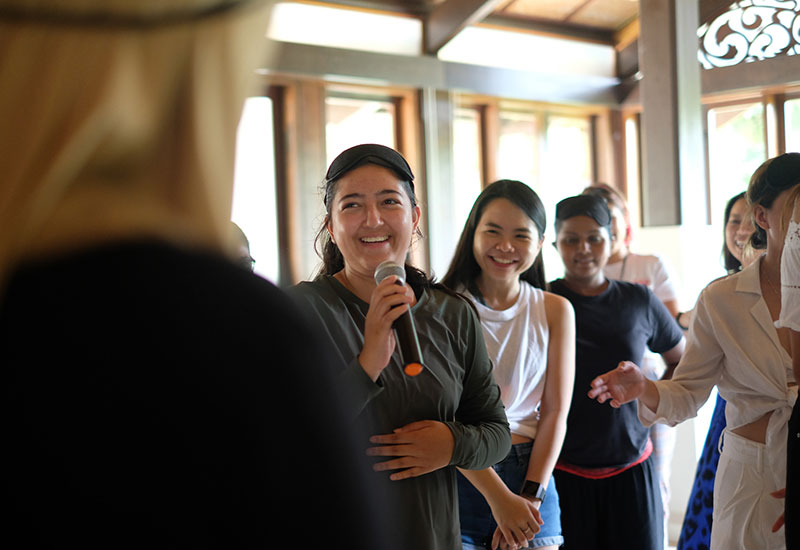 ...resulting in interesting and touching testimonies about the whole experience!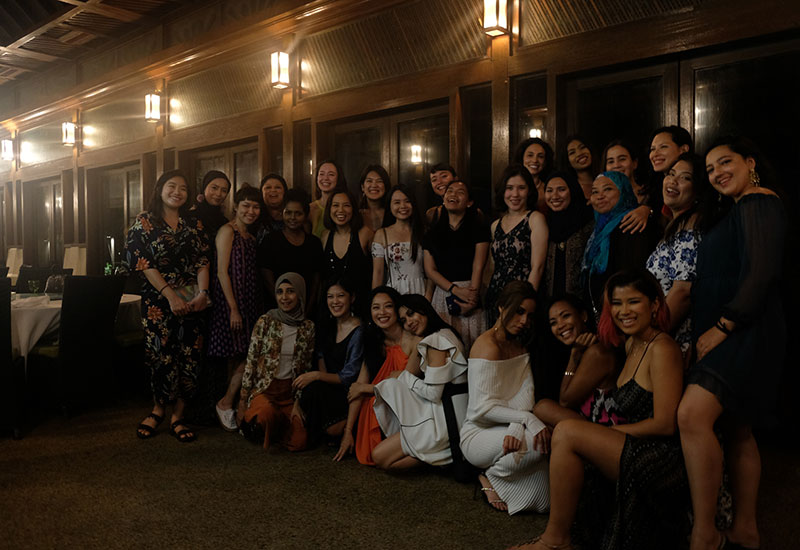 We ended Day 2 with a lovely dinner at the resort's Nelayan restaurant.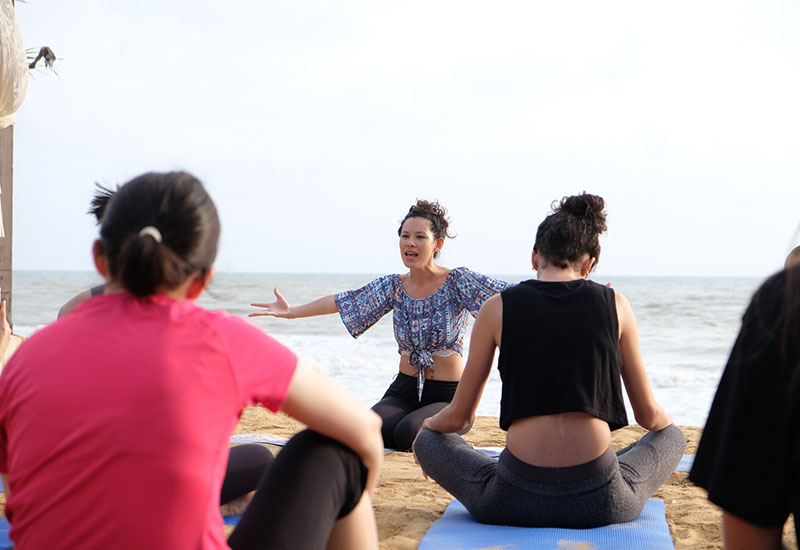 Day 3
Day 3
Once again, we started the day with some stretches; this time with 'Intuitive Flow' movements led by Hannah - right on the beach.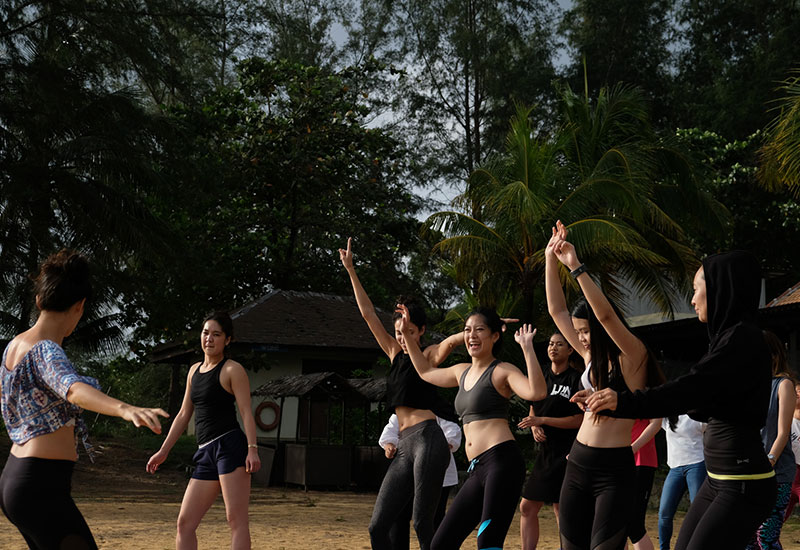 From basic stretches guided by intuition, we also broke out into a dance.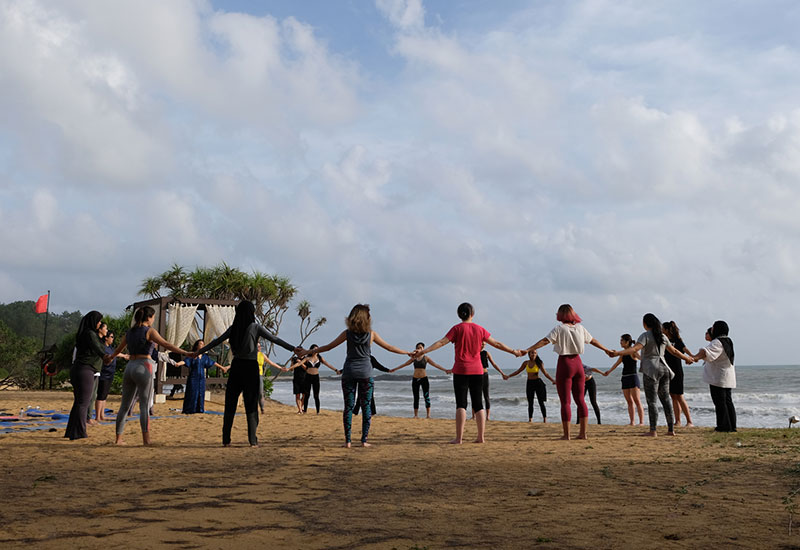 After connecting with our body, we connected with each other, forming an unbreakable 'women's circle'...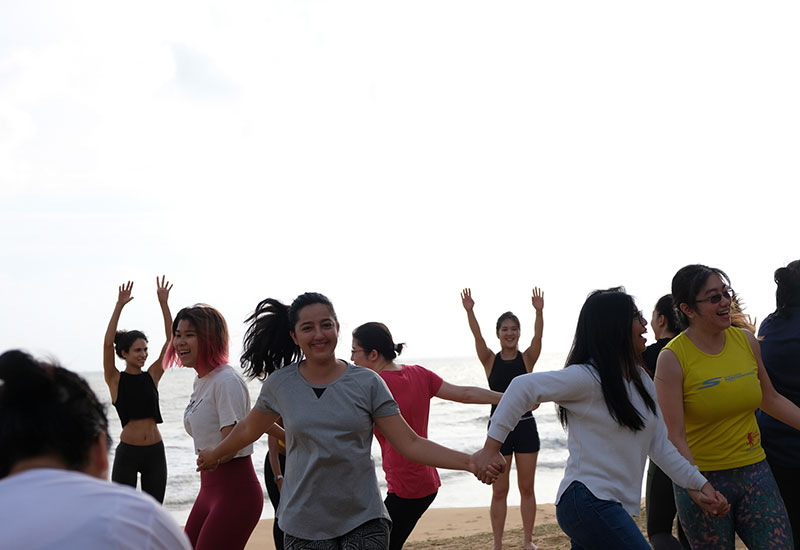 ...and showering each other with love!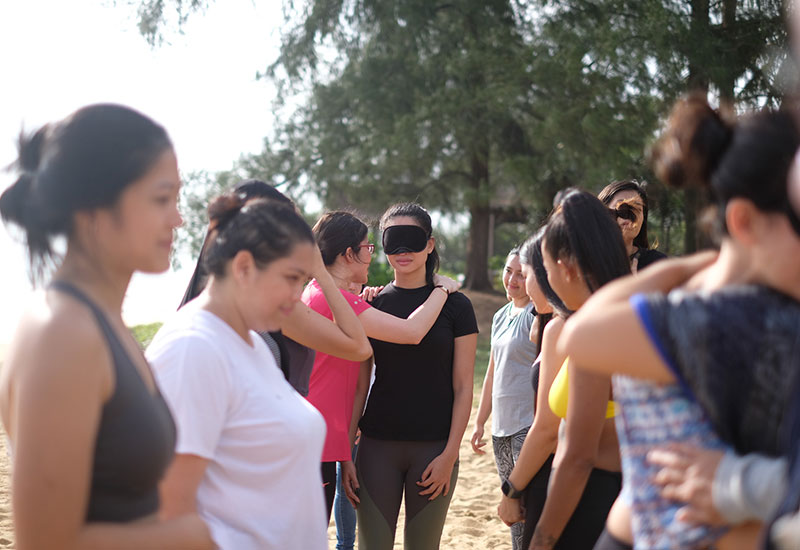 One of our favourite moments of the retreat was the 'Angel's Walk', where we took turns whispering words of affirmation and encouragement as a sister walks pass us, blindfolded.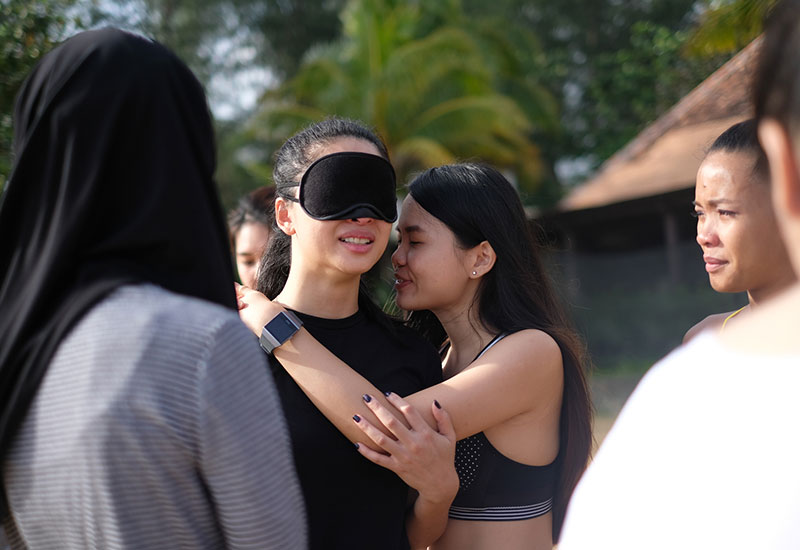 Naturally came the waterworks (of joy)...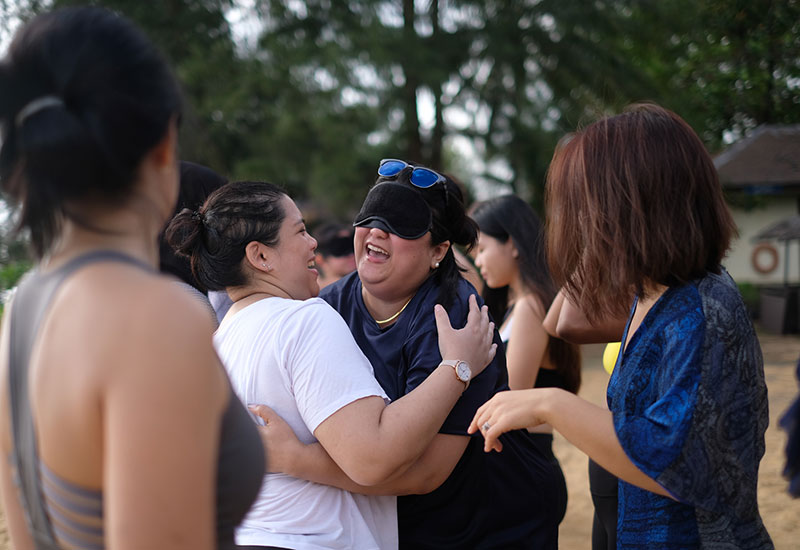 ...and hugs of laughter.
Finally, Racheal concluded the retreat with an inspiring message to 'Ignite' our 2019.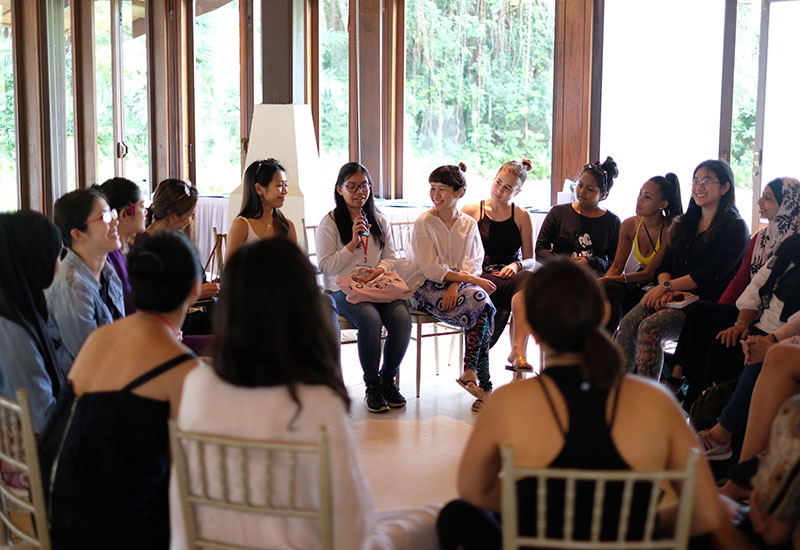 Finally, we each shared our thoughts, gratitude and personal reflections.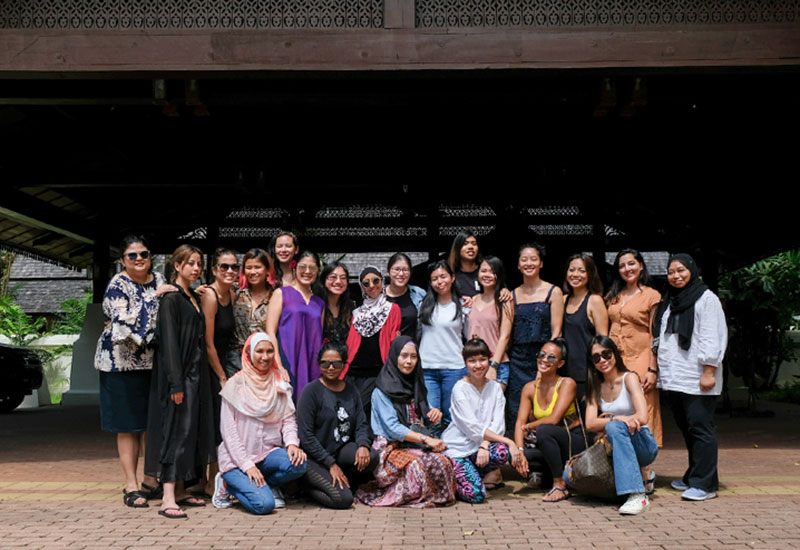 And that's a wrap!
 (swipe left for more photos)
ICYMI, Sarah plans to hold three more Supparetreats throughout the year – one for each quarter. Though not set in stone, they will likely be held in April, July and November.
"Every Supparetreat is going to be different because we want to help women in every aspect of their life. In between each retreat, more or less each month, we're also going to have smaller Suppaweekends which may be a two-day-one-night getaway, an afternoon workshop or an excursion just to get out there and connect with like-minded women," she divulges.
"At the end of the day, we just want to equip, educate and empower women," she puts it in a nutshell.
The next Supparetreat will be held in Pangkor Laut Resort from 26th to 28th April 2019. For more information or to sign up, log on to the official website here. Follow Supparetreat (@supparetreat) and Sarah (@imsarahlian) on Instagram for more updates.
Images: Courtesy of Leonard Lee/Supparetreat