The South Korean tech behemoth also unveiled a family of Galaxy S10 phones which are no less impressive in their category.
After months (years really, if you've been following tech news religiously) of anticipation, Samsung has finally announced the launch of its first foldable smartphone in the market, the Samsung Galaxy Fold.
Revealed at the Samsung Unpacked event on Wednesday in San Francisco, the phone will start at $1,980 when it arrives in US stores on April 26. It will hit Europe later on May 3 at a starting price of €2,000.
Sounds like a hefty price for a smartphone, however revolutionary, so is it worth it? Here's everything you need to know for your consideration.
Define foldable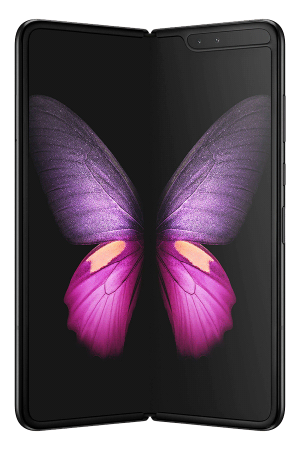 The Galaxy Fold features two OLED displays: a 4.6-inch, 1920 x 840 resolution panel that functions like a traditional smartphone display; and a second foldable 7.3-inch, 2152 x 1536 resolution panel that performs more like a tablet. Both have a pixel density of 420 dpi, which is fairly impressive, especially for the latter.
Samsung claims the larger polyimide-based display has been tested to withstand 200,000 folds, which is equivalent to about 100 folds a day for five years. In other words, it's built for what it claims to do – fold. It achieves this through "multiple interlocking gears" that's visible on one side of the phone, but is mostly seamless where the large display is concerned.
Though it doesn't fold completely in half, like an earlier foldable smartphone model, the Royole FlexPai, the Galaxy Fold boasts a relatively slim profile. When folded, it measures 17mm in thickness but when extended, that number goes down to only 6.9mm – even slicker than the new Galaxy S10 models you'll read about further below.
Aside from providing a better gaming or Netflix experience on your phone, the extended display appeals to multi-taskers by running up to three applications simultaneously.
Other key features
Those who prioritise phone cameras can rest assure that the Galaxy Fold does not compromise in that respect. In fact, there's a total of six cameras to meet your every photo-capturing need. There's a 10MP front camera and three rear cameras – a 16MP ultra-wide camera, a 12MP wide-angle camera, and a 12MP telephoto camera – on the back of the "cover" when folded; and another 10MP selfie camera and 8MP RGB depth camera in the notch above the larger display.
Plus, it runs on a 7nm processor with 12GB of RAM and 512GB of storage, all of which allows it to read data faster than most phones in the market today. Top that off with a bigger battery capacity, wireless charging, dual-AKG speakers and Android 9 Pie capabilities and you have a phone more than worthy of its "luxury" title.
The Galaxy Fold will be available in silver, green, blue or black at launch. No dates have been announced for Malaysia yet.
---
In separate news, the South Korean tech behemoth also unveiled a family of Samsung Galaxy S10 phones which are no less impressive in their category. The four new models that were launched in conjunction with the brand's 10th anniversary include the Galaxy S10, S10 Plus, S10 E and S10 5G – the brand's first 5G smartphone and naturally, the most premium of the lot.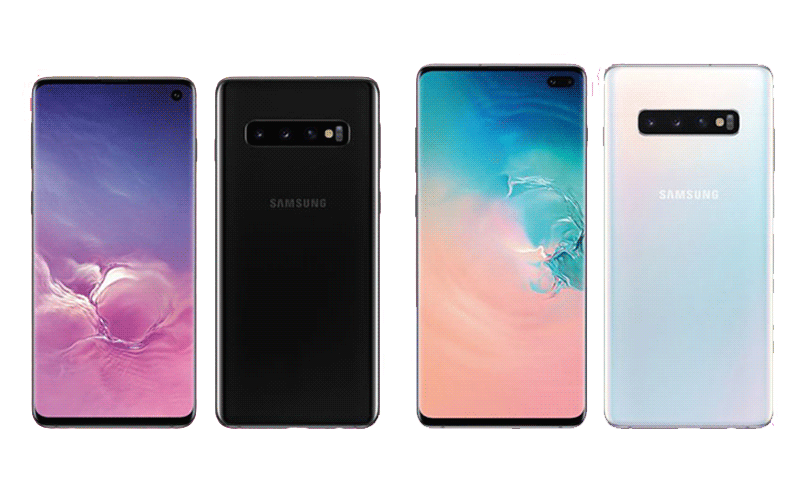 Among the most noteworthy updates from its predecessor, the Galaxy S9, is the in-screen ultrasonic fingerprint reader – the first of its kind. Unlike that of the OnePlus 6T, this "3D Sonic Sensor" technology bounces sound waves off the skin, capturing all of the peaks and troughs through water, lotion or grease. Qualcomm, who is behind the technology, claims it will render the phone more secure than previous optical fingerprint sensors.
The above feature also allows for another cool update, what Samsung calls 'Cinematic Infinity Display'. Also contributing to this is the 'punch-hole' design – the brand's preference over the 'notch' by rivals like iPhone and Huawei – featuring a 10MP front camera with dual aperture for all models and an additional 8MP depth lens on the S10 Plus and S10 5G.
There are three cameras on the rear for all models except the S10 E (which loses the telephoto lens for a price cut), including a 16MP ultrawide sensor with fixed focus, a main 12MP dual aperture wide-angle lens and a 12MP telephoto lens with 2x optical zoom. The S10 5G also features a fourth 3D depth-sensing lens.
The Galaxy S10, S10 Plus and S10E will come in Flamingo Pink, Canary Yellow, Prism Green and Prism Blue, as well as Prism Black and Prism White (available colours may wary according to country/region).
For more information and updates, log on to the brand's official website here.