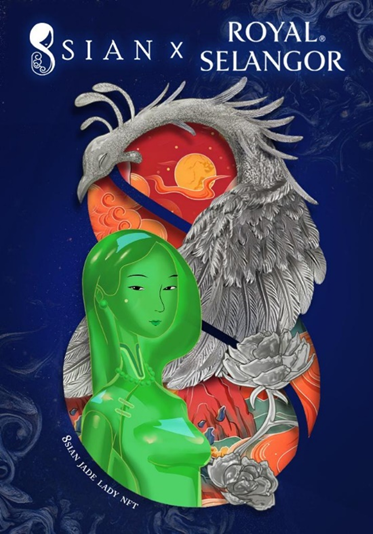 Homegrown pewter giant Royal Selangor is the latest to hop on board the metaverse with an upcoming pewter and jade collaboration with 8sian, to release the 8sian Jady Lady that will be premiered at Metaverse Fashion Week hosted by Decentraland and Boson Protocol.
From 24-27 March 2022, Metaverse Fashion Week invites all NFT entushiasts to virtually attend fashion shows and live music performance as well as join after-parties and indulge in some shopping. It is brought to you by 8sian with the intention to create a signature NFT collection that represents and connects the Asian community, beginning with Royal Selangor, one of the country's foremost homes and décor luxury brand with a history that dates back more than 130 years.
Royal Selangor's 8sian Jade Lady
The 8sian Jade Lady carries with it plenty of Asian-centric cultural references. It features an Asian woman in a qipao,  presented in a clear green tint, representing jade.
Jade is a significant gemstone within the Asian cultural sphere, linked with wealth and nobility. A mighty phoenix rises in the background, bringing with it good fortune and prosperity.
In Asia, jade and pewter are precious and highly-valued commodities, often used in functional and heirloom pieces. As such, they were part of Royal Selangor's founder, Yong Koon's, first touchmark: Yu He Zu Xi, or Jade Peace Pure Tin.
The 8sian Jade Lady is limited to only 100 pewter units, that will be released for sale during Metaverse Fashion Week. Priced at 2.5 ETH, purchasers will receive a a virtual piece for their avatars to wear, along with a physical pewter figurine that will be delivered to them for keeps.
The first 8sian Jade Lady 001/100 has already been reserved by Matt Higgins, renowned American businessman and the co-founder and CEO of RSE Ventures, a private firm that incubates and invests in companies across sports and entertainment, food and lifestyle, media and marketing, and technology. Matt is known for his appearance as the guest investor on the long-running successful American business reality TV series, SHARK TANK. More recently, Matt has also been an active investor in metaverse space, backing projects such as Nifty league, and is in partnership with Gary Vaynerchuk on a metaverse fund called VaynerFund.
Joining the fashion week are 3 other established Malaysian brands; Stoned & Co., Rafflesia, and Khoon Hooi. To attend the Fashion Week, visit decentraland.org or follow twitter.com/8sianNFT for more updates and information.