Since its inception as a tribute to Queen Elizabeth's ascension to the throne in 1953, Scotch whisky brand Royal Salute has been committed to quality and tradition, continually living up to the splendour and grace that the monarchy represents. 
Amidst the hustle and bustle of Bukit Bintang's busy streets and its ever changing slew of retail shops and fashionable dining spots, The Ritz-Carlton, Kuala Lumpur has stood at its heart for more than two decades, poised in its dignified luxury. 
It is with these shared standards of distinguished excellence, rooted in heritage, that Royal Salute and The Ritz-Carlton, Kuala Lumpur have joined together to offer a regal, whisky-filled staycation and dining package for two that's fit for royalty.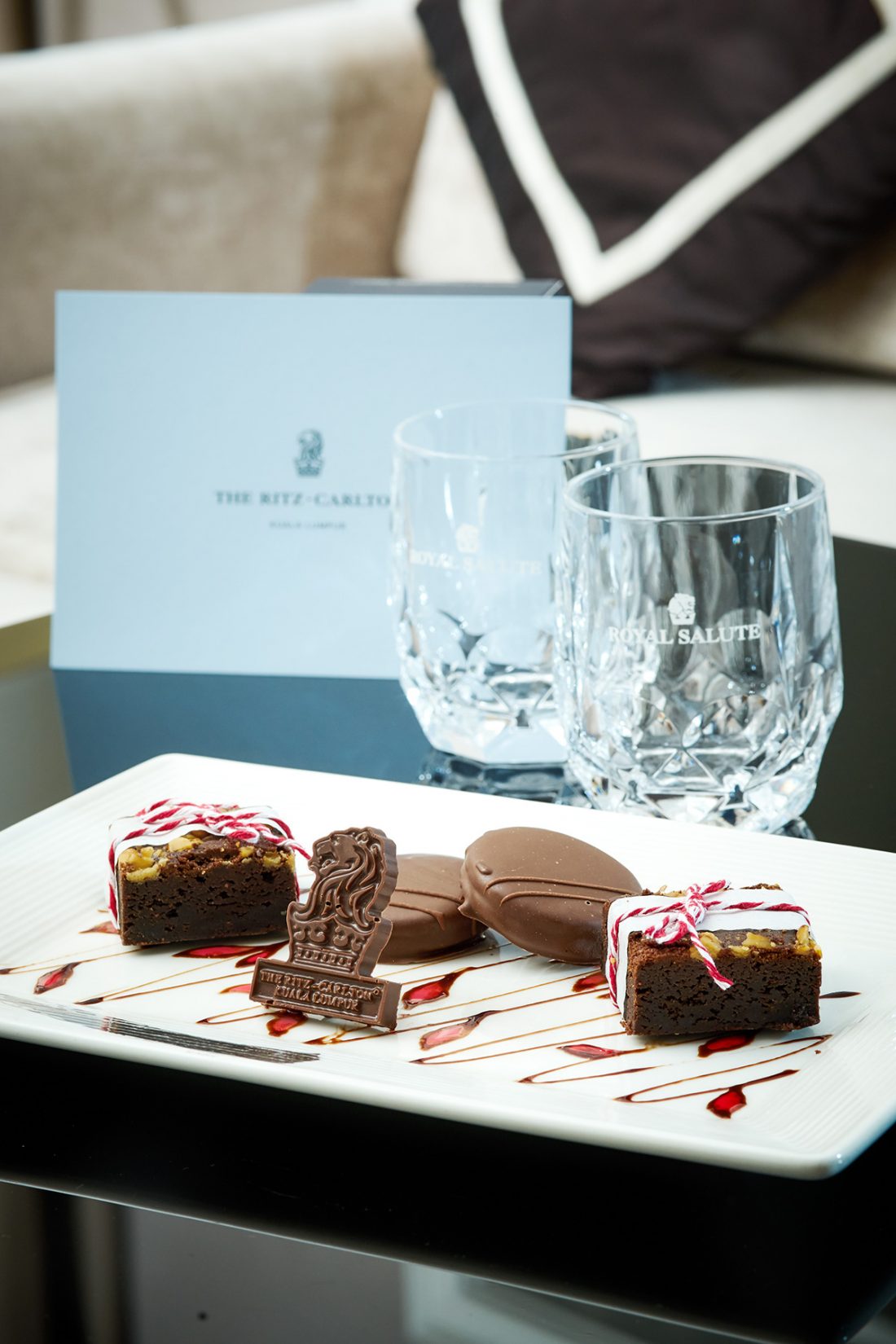 The royal treatment begins as soon as guests open the doors to their not-so-humble abode. Those staying in a Junior Suite will quite literally be living large, with 700 square feet of space that encompasses separate living room and bedroom, two flat-panel HD TVs and a walk-in closet.
Guests opting for the Deluxe Room will luxuriate in a stylishly furnished room with a full marble bathroom, and an abundance of natural sunlight bringing the room to life thanks to its large, expansive windows.
To round out the royal welcome, a personal note and gift lies on the table, announcing the start of a staycation experience unlike any other. The eye is immediately drawn to the elegantly arranged chocolate-covered treats and then to a gift package that reveals two gleaming whisky glasses bearing the Royal Salute name. Together with the decadent sweets, the welcome surprise invites guests to indulge themselves to the fullest extent in the journey ahead.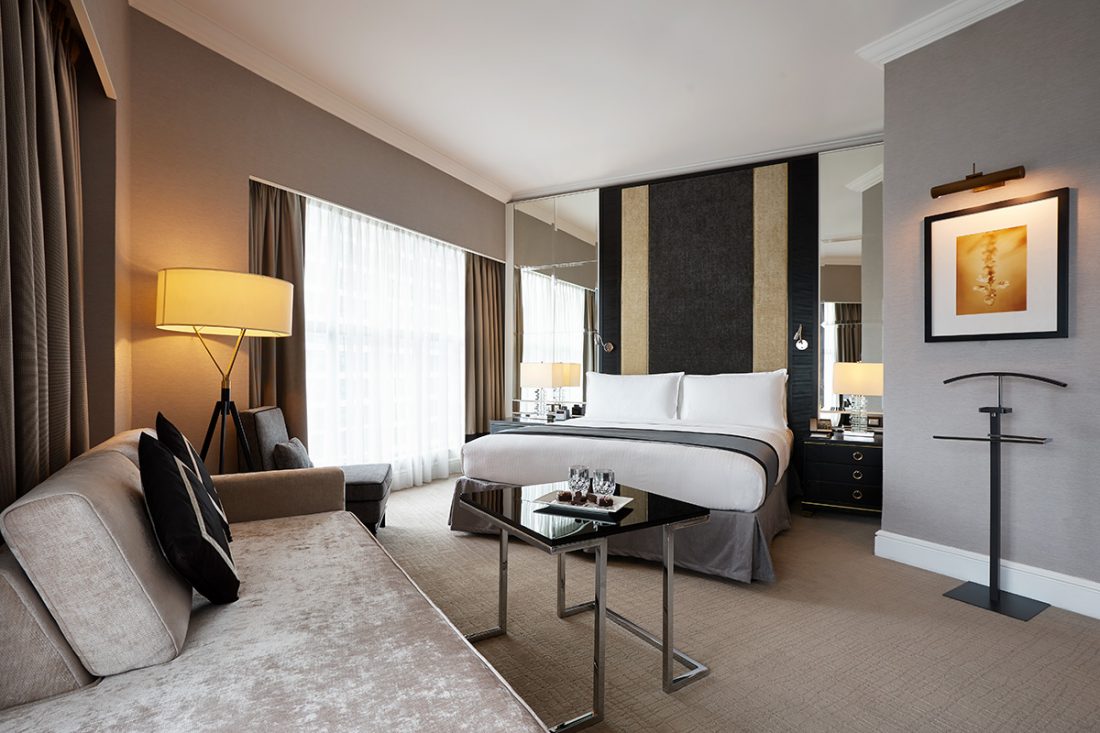 Deluxe Room at Ritz-Carlton, Kuala Lumpur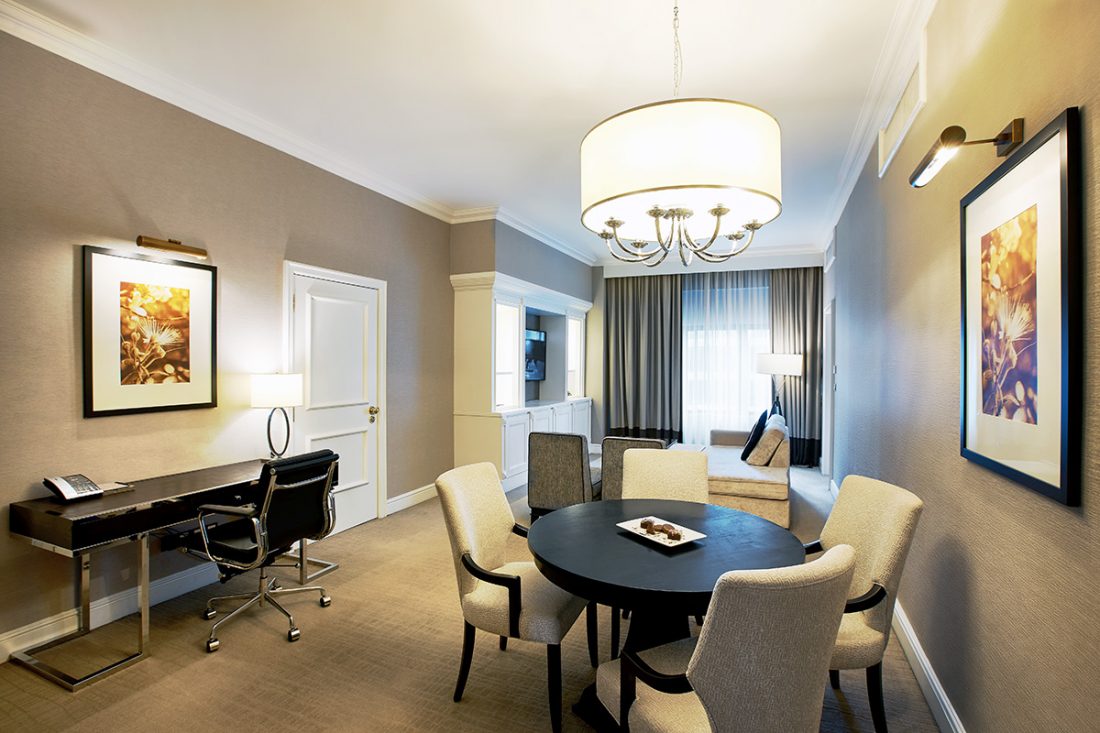 Junior Suite at Ritz-Carlton, Kuala Lumpur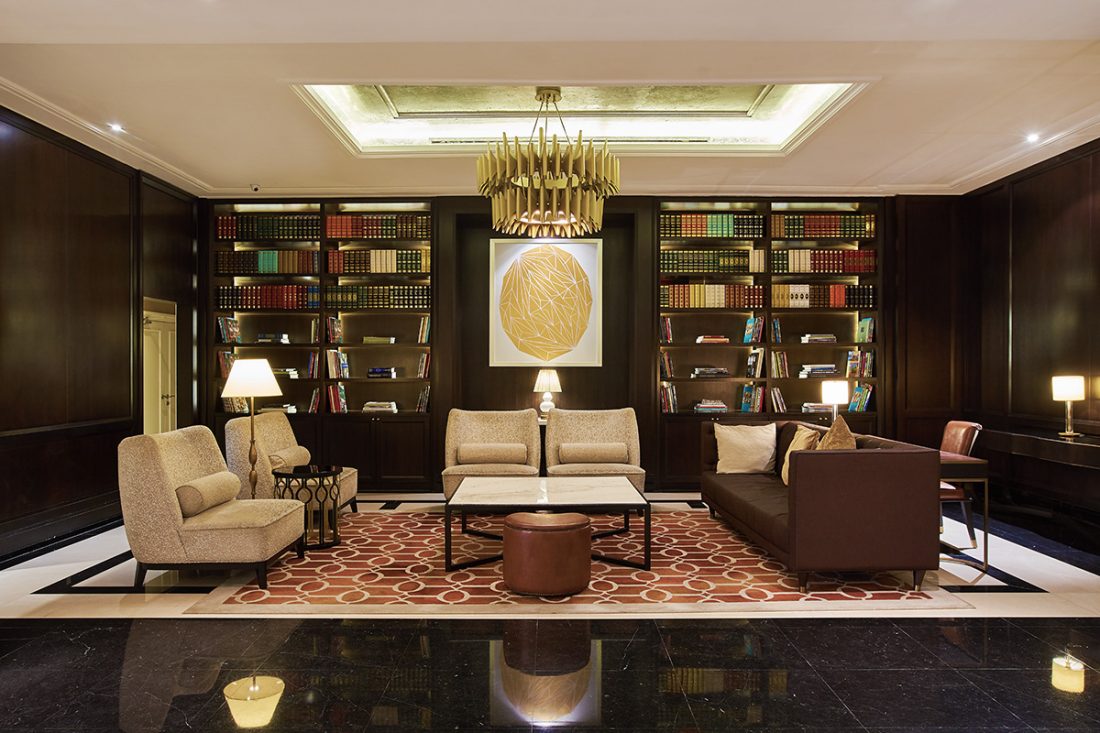 Lobby at Ritz-Carlton, Kuala Lumpur
(Swipe left for more)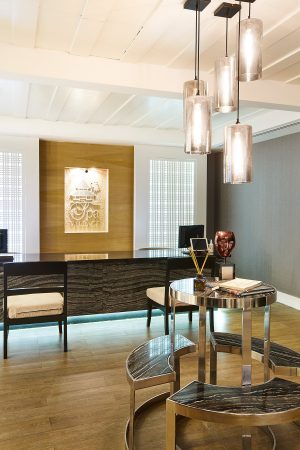 After marvelling at their sleek accommodations, guests can make their way through the serene path past the swimming pool towards the Spa Village KL to take advantage of the Royal Salute Experience package's 20% discount off spa treatments.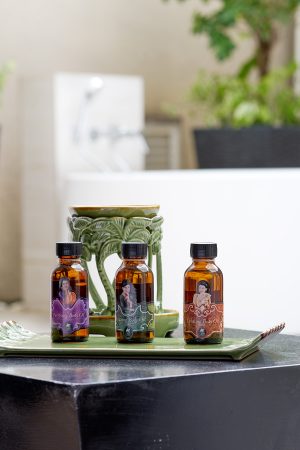 An artfully curated selection of pampering therapy sessions tempt guests, offering modern, sophisticated spa experiences that also draw from the local region's rich cultural heritage. Guests can immerse themselves in a blissful bubble of relaxation in the Sensory Sound Bath, or keep with the royal theme and choose the Traditional Royal Malay Treatment which includes a massage, herbal bath, and scented body steaming.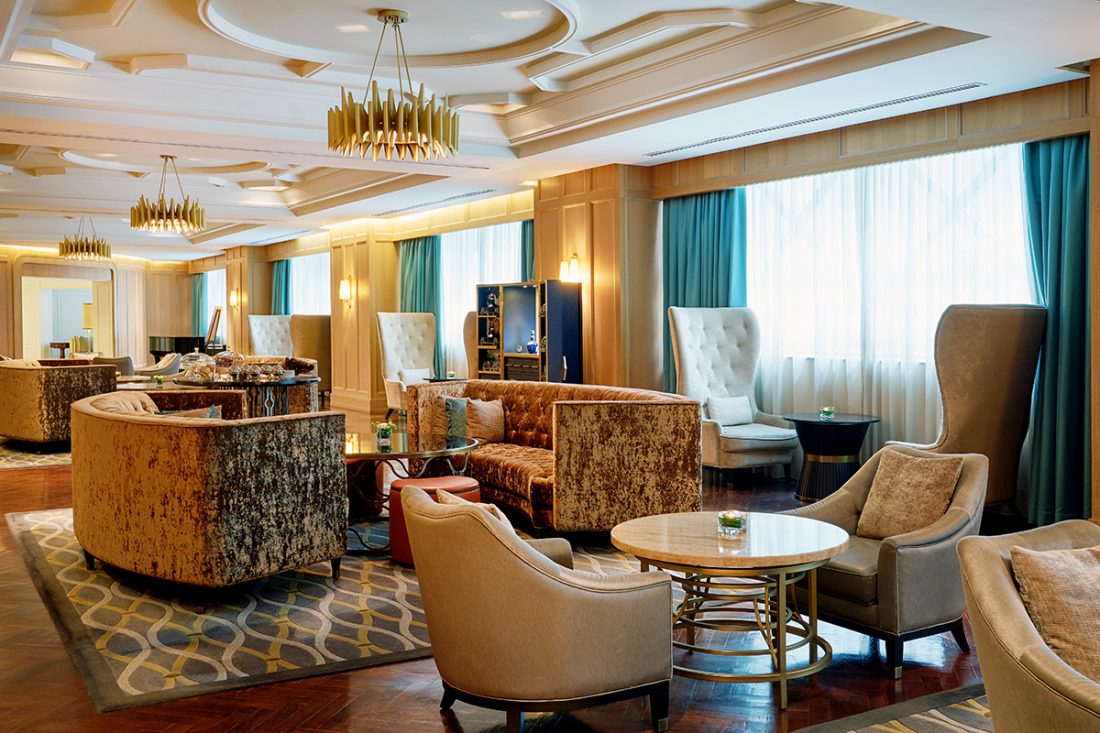 The Library Lounge at Ritz-Carlton, Kuala Lumpur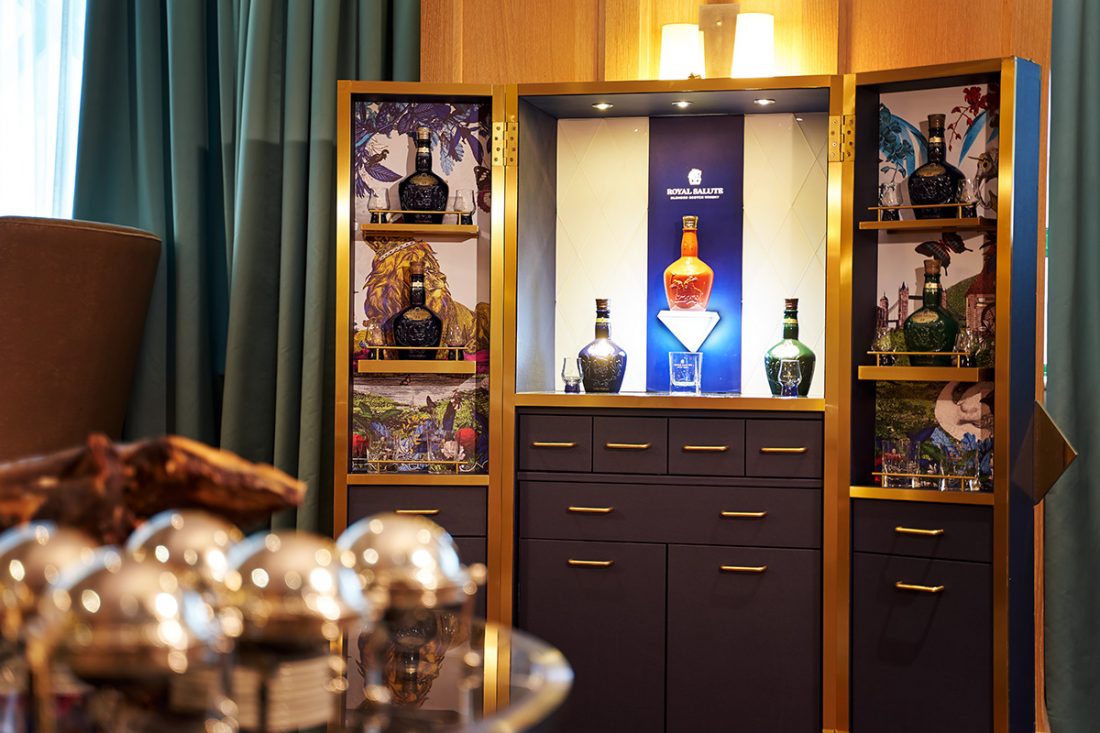 Royal Salute Trunk at The Library Lounge
(Swipe left for more)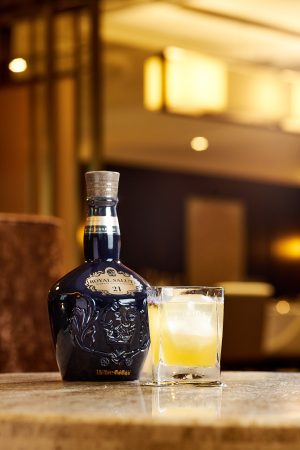 Following a rejuvenating session at the Spa Village, guests are refreshed and ready for pre-dinner drinks at The Library Lounge. It won't take long upon entering the room to notice its centrepiece, a display trunk dedicated to Royal Salute's range of exquisite whisky, proudly showcasing its best creations in stunning flagons. Once seated, a knowledgeable staff member guides guests through the evening's first taste of the Royal Salute 21 Year Old whisky.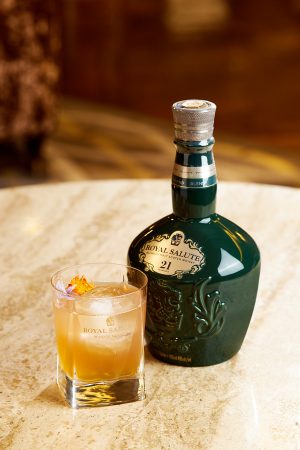 The first cocktail is introduced as The Kensington, a rich yet refreshing Whisky Collins made with rosewater-infused honey and lemon juice. The smoky fullness of the Royal Salute 21 Year Old, The Signature Blend, is perfectly paired with its warm notes of marmalade and pears, giving way to piquant bursts of spices and hazelnut.
The Royal Bliss cocktail couples the Royal Salute 21 Year Old, The Malts Blend with citrus fruit juices, acacia and green tea syrup to evoke the feeling of balmy summer days in every sip, while the whisky's notes of vanilla and creamy banana playfully contrasts with hints of spicy clove candies.
Now that guests' taste buds are well acquainted with the distinctive layers of Royal Salute's whisky, a specially crafted four course menu at the Library awaits. After being seated, a grand cart flaunting various Royal Salute whiskies is wheeled over to the table, carrying with it a set of three nosing glasses filled with the warm amber liquid. 
The three whisky glasses are thoughtfully paired to correspond to the courses on the menu, masterfully created by Executive Chef Wai. From here, guests are taken on a gastronomic tour across continents, with ingredients and influences from Japan, Scotland and Tunisia.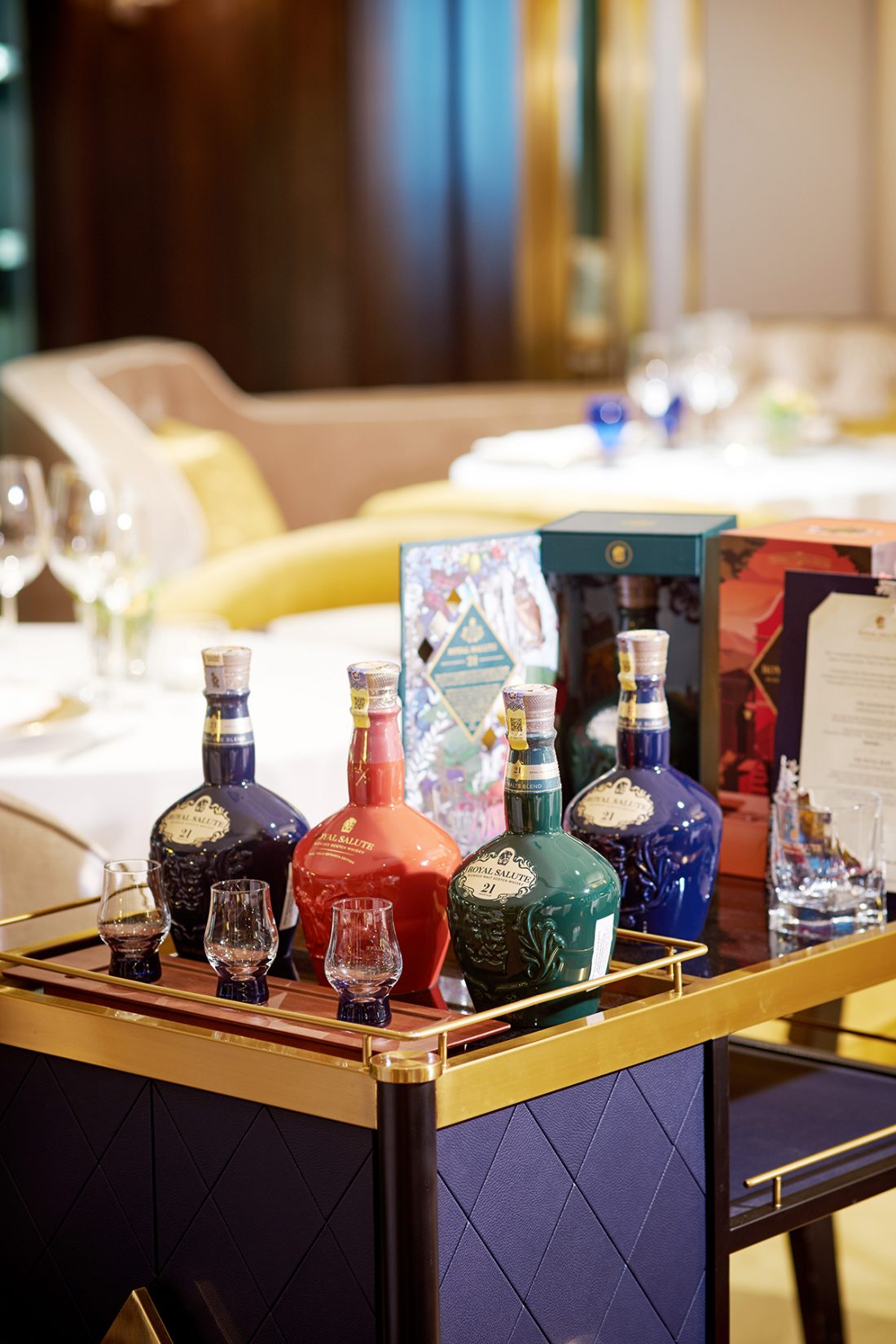 Kicking off with a set of exquisite seafood appetisers is the buttery Applewood smoked Hokkaido Scallop and hibachi grilled Amberjack with harissa, both air flown from Japan. When paired with the two starters, The Royal Salute 21 Year Old, The Signature Blend lets the fresh ocean flavours sing without overshadowing the subtle hints of sweetness. 
For the main course, diners have the option of an MB5 Wagyu Sirloin with pan-seared goose liver, or the Duck Ravioli with Burgundy Truffle and roasted chicken breast, accompanied by the Royal Salute 21 Year Old, Polo Estancia Edition. Here, the rich meaty dishes meet their match with the whisky's notes of plum fruit and spicy cinnamon, concluding with a dry crescendo.
During dessert, guests once again encounter the Royal Salute 21 Year Old, The Malts Blend, its harmonious combination of 21 single malts perfectly complimenting the Manjari Chocolate-Caramel Tart. Made with Madagascan dark chocolate and salted caramel, and served with kumquat and orange preserve, this decadent tart smoothly blends with the whisky's distinctive fruity and creamy character.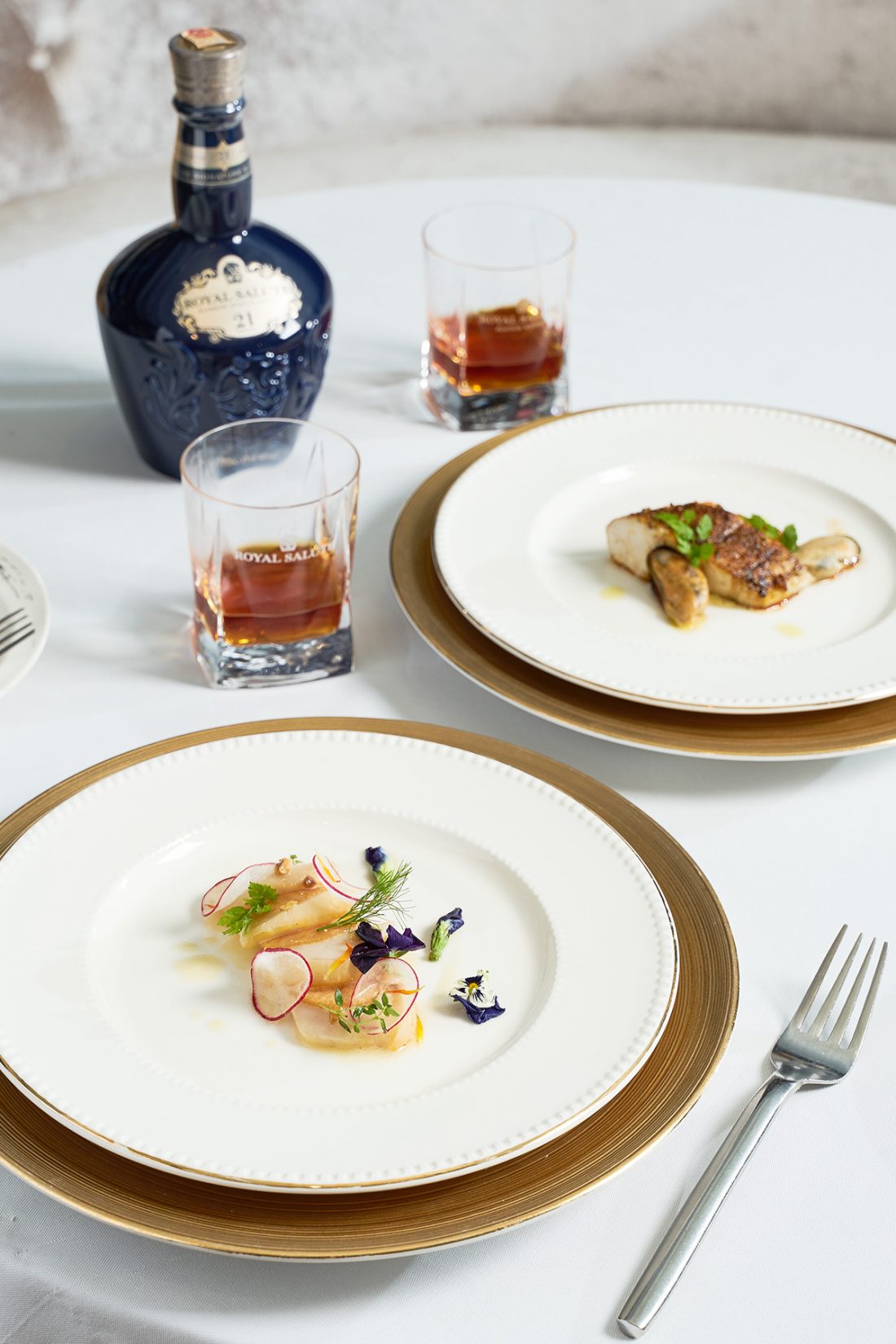 Hokkaido Scallop and Amberjack, paired with Royal Salute 21 Year Old, The Signature Blend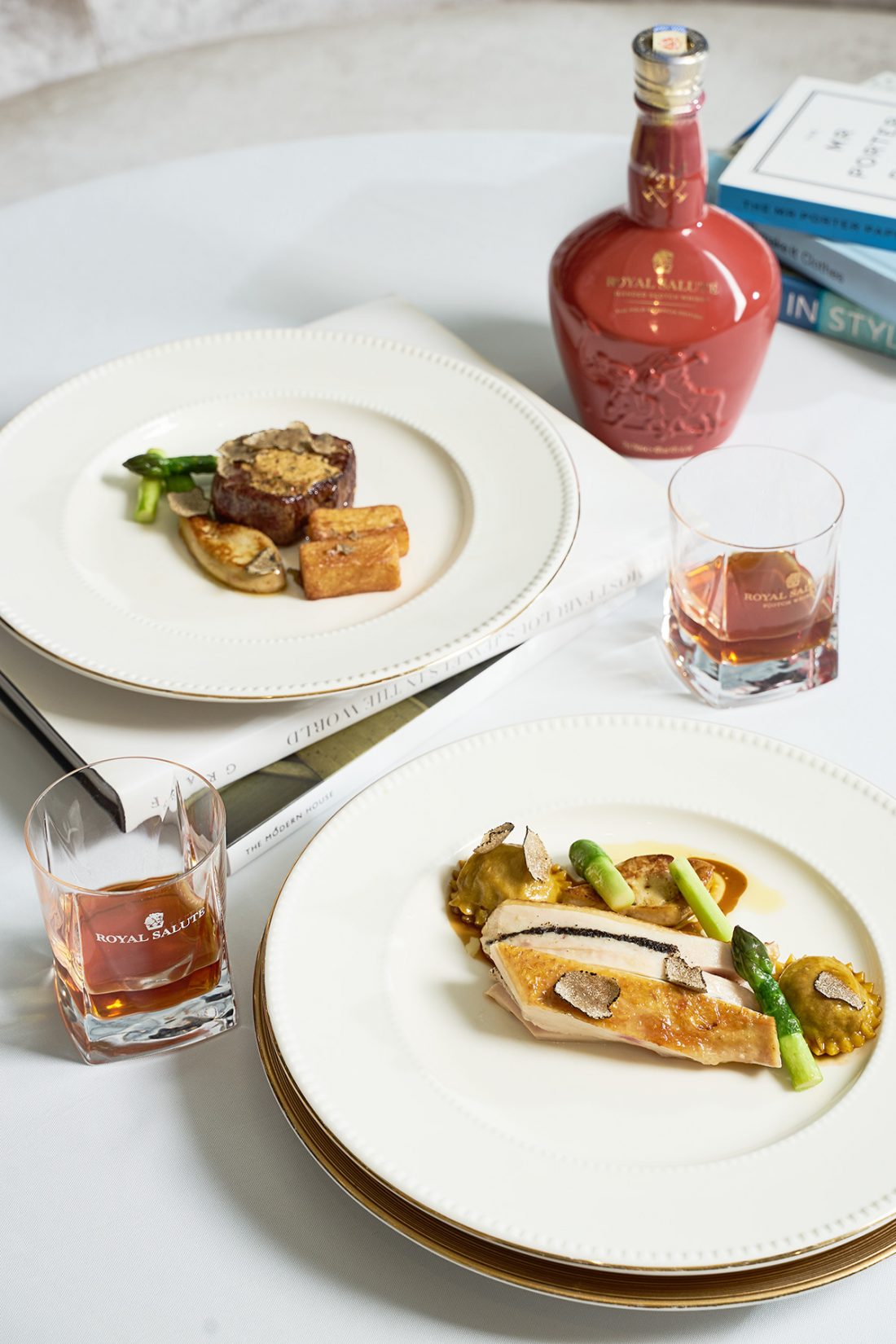 Wagyu Sirloin and Duck Ravioli with Burgundy Truffle, paired with Royal Salute 21 Year Old, The Polo Estancia Edition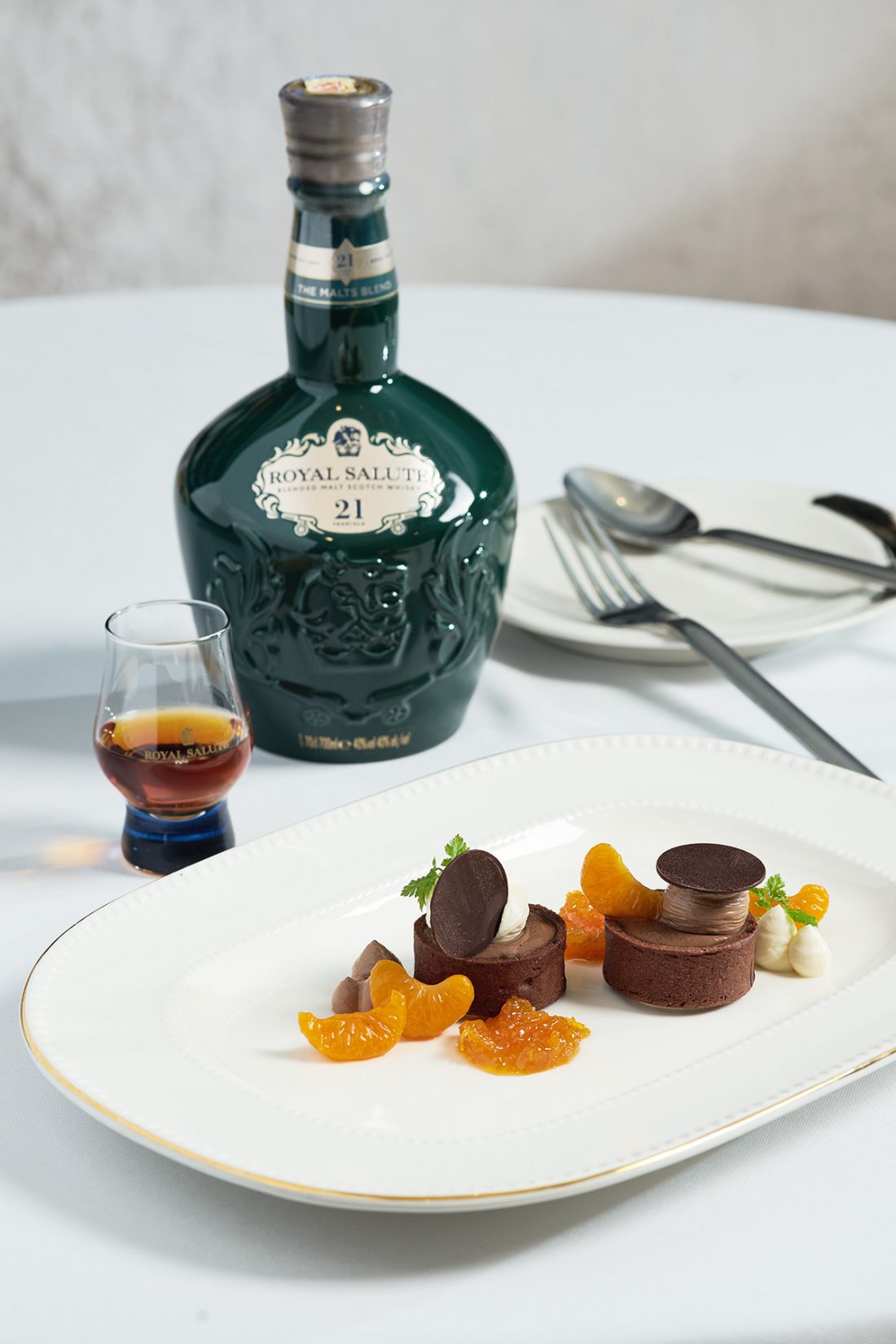 Manjari Chocolate-Caramel Tart, paired with Royal Salute 21 Year Old, The Malts Blend
(Swipe left for more)
At the end of an eventful day journeying through a selection of sublime Royal Salute experiences at The Ritz-Carlton, Kuala Lumpur, guests can still look forward to spending the night relishing in the comforts of their opulent rooms.
The next morning, an extravagant breakfast buffet is laid out at the Cobalt Room, calling guests to partake in one last indulgent feast. Fry-up favourites like eggs and sausages and local fare like nasi lemak and fried bee-hoon line the buffet tables, ready to be devoured. 
While check-out time regrettably looms ahead, guests can find solace in carrying home their new whisky tumblers as a memento of a majestically luxurious staycation. True to Royal Salute's informal motto 'We begin where others end', guests depart with a symbol of many more lavish, whisky-filled pursuits to come.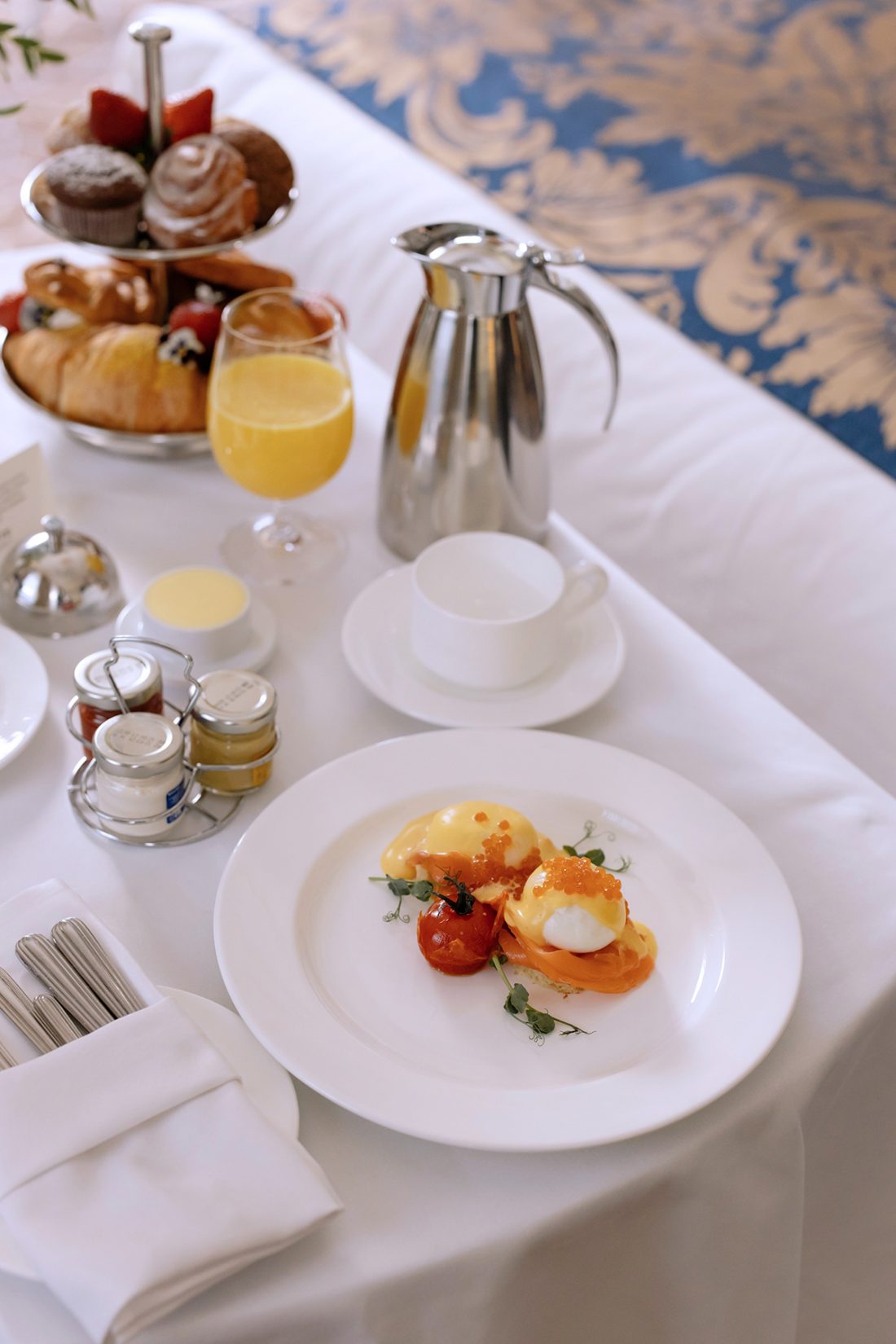 The Royal Salute Experience staycation package is priced at RM1555++ for a Deluxe Room and RM1955++ for a Junior Suite. Reservations are open for stays until 20 December 2021.
Make a reservation by email at ritzkl@ritzcarlton.com.my
For reservations or enquiries, visit The Ritz-Carlton, Kuala Lumpur website.
(Photos: Robin from OneThreeFour Studio)