With Hari Raya only a couple of weeks away, many are no doubt already deep in preparations for the festivities and countless gatherings that lay ahead. Now that the nation is entering an endemic phase, we can count on Eid celebrations this year to be bigger and livelier than they've been for the past two years. 
So you've got your gift list alphabetized, your Raya wardrobe coordinated, your dining reservations confirmed, and your home Raya-ready, but you're looking to bring a little more pizazz to mark the festive occasion this year. Look no further than your faithful dining table.  
If you're opening your home to guests or having loved ones over for a feast, you'll want your dining table setting to make an impression. Here to divulge some top tips and ideas to elevate your tablescapes is interior design extraordinaire Tyler Wisler, who is the Chief Designer and Creative Lead at Point 21. 
Whether you're looking to refresh your table decor with some fun new touches, or wow your guests with striking pieces and colour combinations, keep scrolling for some sage styling advice from the international designer.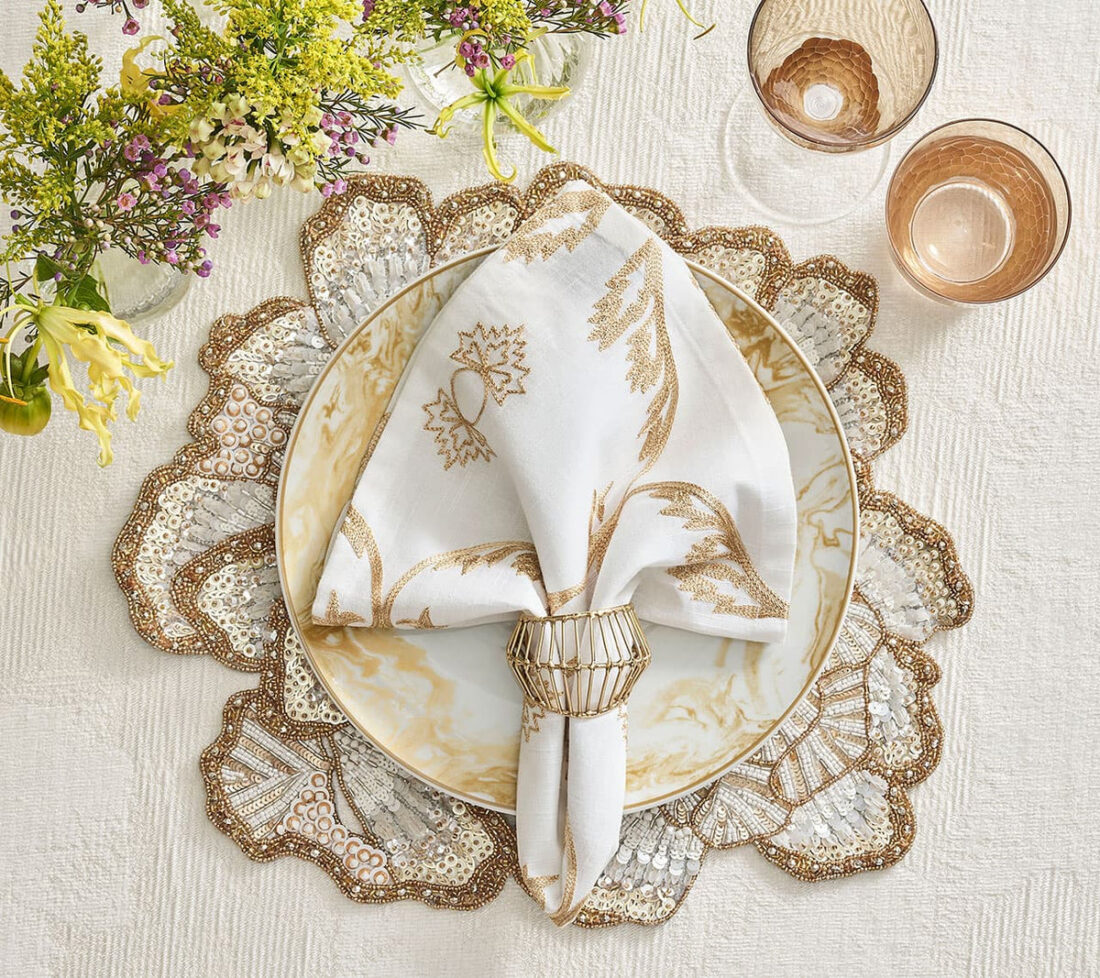 Nothing says glam festive celebration like a good dose of glittery embellishments in your home decor. What better way to channel the joy and enchantment of Eid this season than by sprinkling some sparkle into your tablescape design? However, even the most shimmer-obsessed among us might struggle to imagine how it might fit into a dining table setting. 
Tyler suggests incorporating a bit of razzle dazzle in places where you wouldn't conventionally think to find it. "I love the idea of a napkin that gives an unexpected bit of shimmer!" he shared. 
Eye-catching, fun, yet tasteful and elegant, a napkin with shiny metallic accents make the perfect festive addition, especially when they're paired with luxurious shades of gold.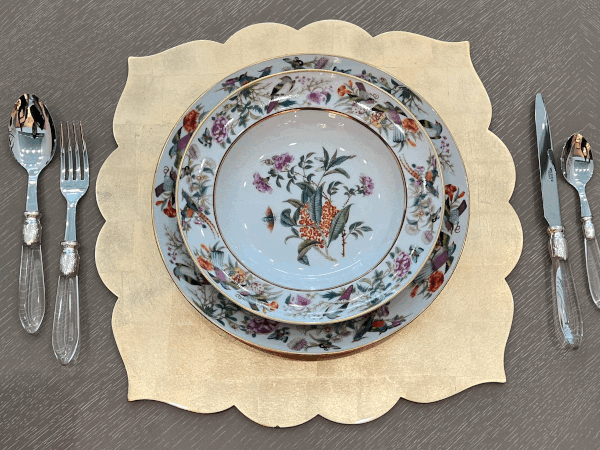 Showing us an example of how to immediately brighten and transform a table, Tyler adds: "This Sequin Spray Napkin from Kim Seybert is that little bit of wow factor every guest would be delighted by!"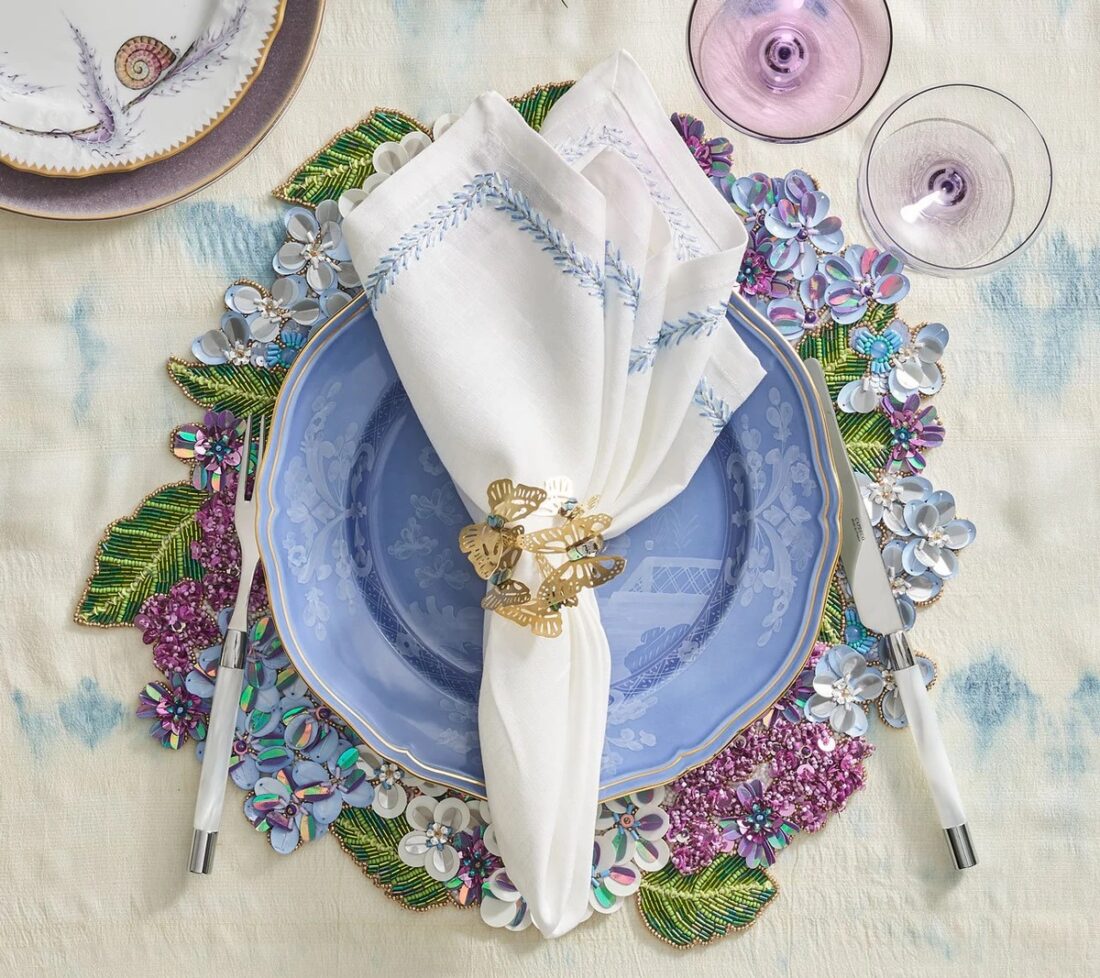 Another top tip: Never underestimate the power of a stylish placemat. Working with a set of simple white ceramic dishware? Tyler points out that there's nothing wrong with that: "It gives the food the chance to be appreciated on its own, but there's not a reason we can't inject a little bit of colour without overwhelming anything."
For those who lean towards a more understated aesthetic, an excellent way to showcase some flair is to play with fun and visually interesting placemats. "It doesn't seem like it would be as impactful, but trust me, people will notice! It's subtle but effective," he tells us while showing how three Kim Seybert pieces create completely different, yet equally stunning looks.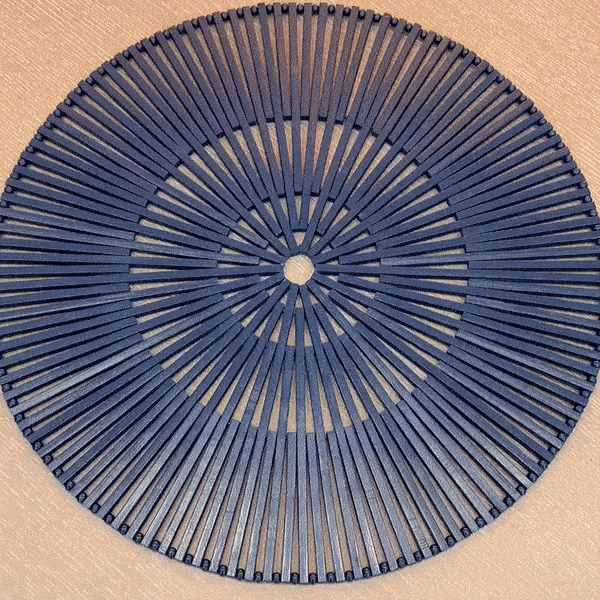 "The Spoke Placemat in Navy is just the right amount of colour with graphic sophistication, while the Banana Palm Placemat is so richly embellished it would be impossible for guests to not run their fingers over it and marvel at its craftsmanship," he tells us, describing the pieces in order.
"Finally, the Fossil Placemat is a true conversation piece that everyone will comment on, starting off the evening with a wonderful dialogue about how creative the host or hostess is for choosing it!"
Don't be afraid to mix things up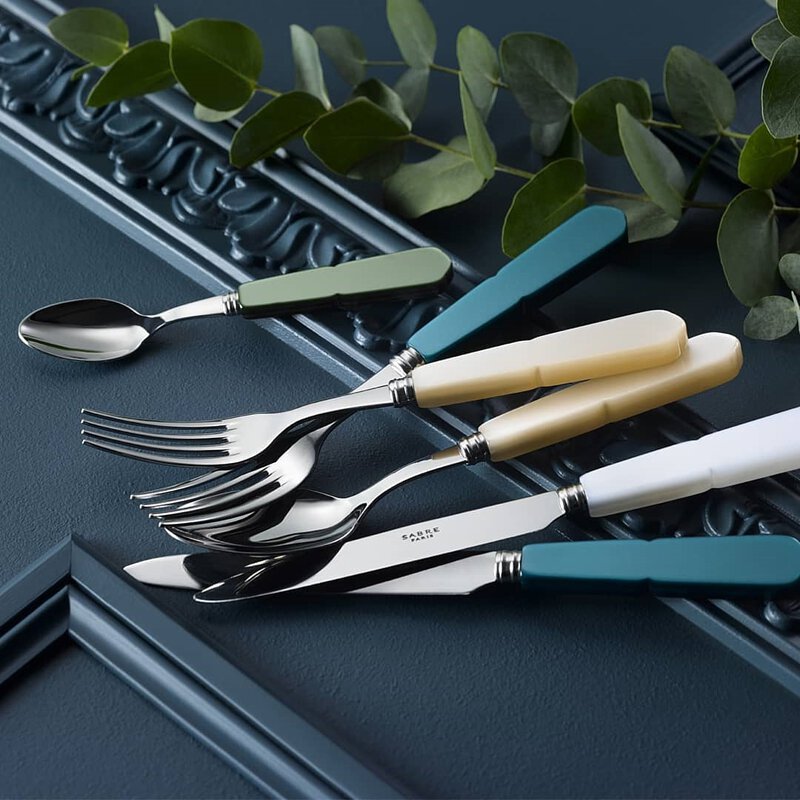 Variety is the spice of life, and the Raya season is the perfect time to experiment with different styles and colour combinations in your tablescapes. Start small by putting together flatware in various shades. Who says your dining utensils have to match?
"I personally love when there are unexpected moments that you can enjoy only upon closer inspection," Tyler shares. Paying attention to the details and adding little surprises such as mixed coloured cutlery is a sure-fire way to put a smile on your guests' faces.
"It lessens the formality of a setting, but doesn't impact the chicness level."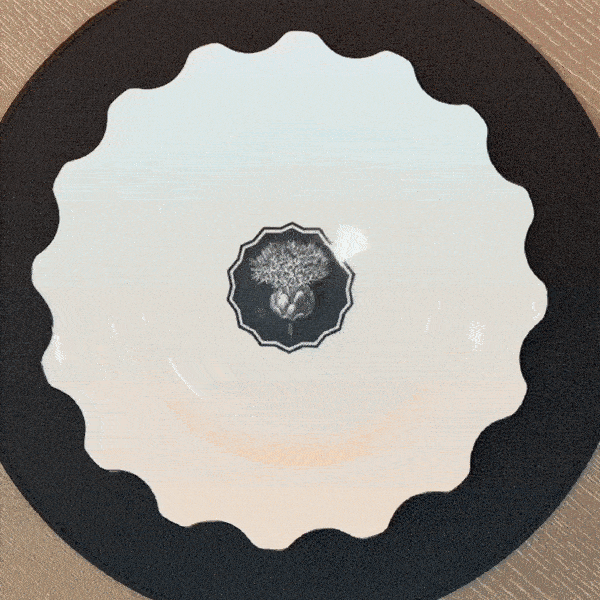 He demonstrates this with Sabre's Icone series of flatware, which comes in a range of lively colours: "We love it because they advocate for playful colour combinations, while sacrificing none of the beauty!"
The pieces shown above from Sabre and Kim Seybert are available at Point 21, a premier distributor of luxury furniture and accessories in Malaysia. 
Keep updated with Point 21 on the official website, Facebook and Instagram, or pay a visit to the store at Glo Damansara Shopping Mall.
Source: Point 21