If you're one of the many who will be spending this year's Hari Raya away from family, you can now reach out with festive yet heartfelt greetings by sending them a letter (or two) using the Pos Malaysia Bhd "Setem Ku" collection.
The special Hari Raya Aidilfitri 2021 Setem Ku collection is made in collaboration with local graphic artist from Kuching, Yasmin Yusoff, featuring the #KitaMestiRaya theme even during these trying times. The folder set includes festive stationery including stamps, an envelope, and post cards to get into the spirit of Hari Raya. Adorning the postcards and stamps are illustrations of activities that lead up to Hari Raya Aidilfitri, such as performing Zakat, shopping for new clothes, baking cookies, receiving duit Raya, and preparing ketupat.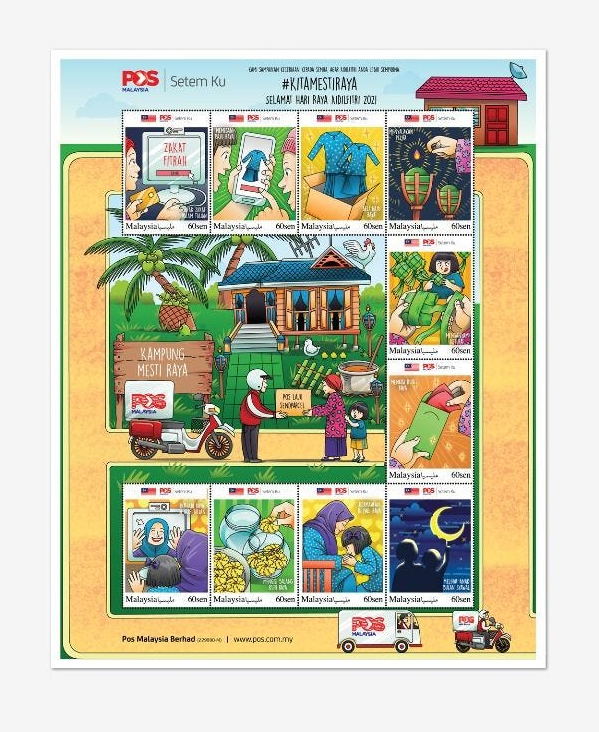 These heartwarming illustrations – told through the eyes of a grandmother and her young grandchild – will make for sweet festive gifts, or even as a cute addition to avid stamp collectors' collections. Limited to 1000 sets, the Hari Raya Aidilfitri 2021 Setem Ku Folder Set retails for RM38 and can be purchased online. The stamp sheets and bundle postcards can also be purchased separately at RM25 and RM5 respectively.
Photos: Pos Malaysia