Unless you're committed to an Amish lifestyle or have been living under a rock, you probably would have heard about the latest internet sensation that cropped up over the weekend – Popcat.
It's safe to say that we have truly peaked in terms of odd but viral online trends, as the combination of lockdown boredom, friendly global competition following the 2020 Tokyo Olympics and of course, the online obsession with cats, have resulted in what netizens have dubbed the 'Catlympics'.
The game features an actual meme called Pop Cat – a real life cat named Oatmeal whose video of it adorably chirping at a bug went viral in 2020. In October of the same year, a Twitter user called "XavierBFB" shared two images of Oatmeal to an unknown Discord server – one of Oatmeal and the other in an edit where the cat was given its iconic O-shaped mouth.
As for the game itself, it was created by three Computer Science students from the University of Sheffield, who created Popcat as a joke.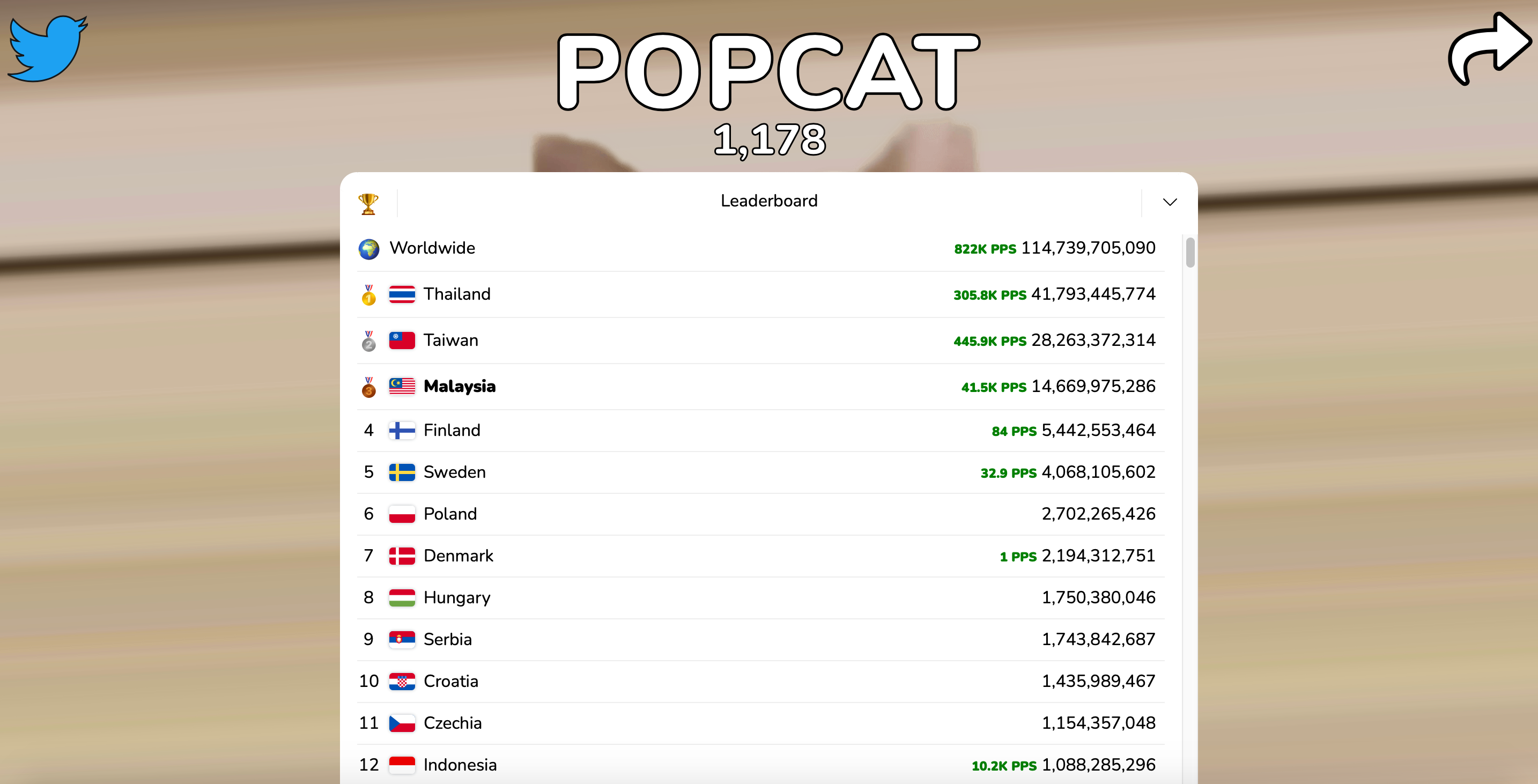 All you need to do is click. It's really that easy. Where the Olympics call for natural talent and skills perfected over years of practice, this competitive clicker web game requires your honed skills with the touchpad-or-mouse tapping to simply click on the Popcat that will register a point, while prompting a "popping" sound with each click.
Simply visit the Popcat website and click away to your heart's content in order to make your own little contribution on the global leaderboard. The game ultimately calculates the number of times you tap or click on the cat, and these clicks will be counted as "points" for your country.
Malaysia currently stands at "third place" on the leaderboard, with Thailand and Taiwan in the lead. And while we won't necessarily get a physical reward for winning the "gold medal", perhaps one could say the winning country is able to obtain bragging rights – while engaging in some friendly competition in the name of boredom, patriotism, and silliness during trying times.
To throw in your clicks, visit the Popcat website here.