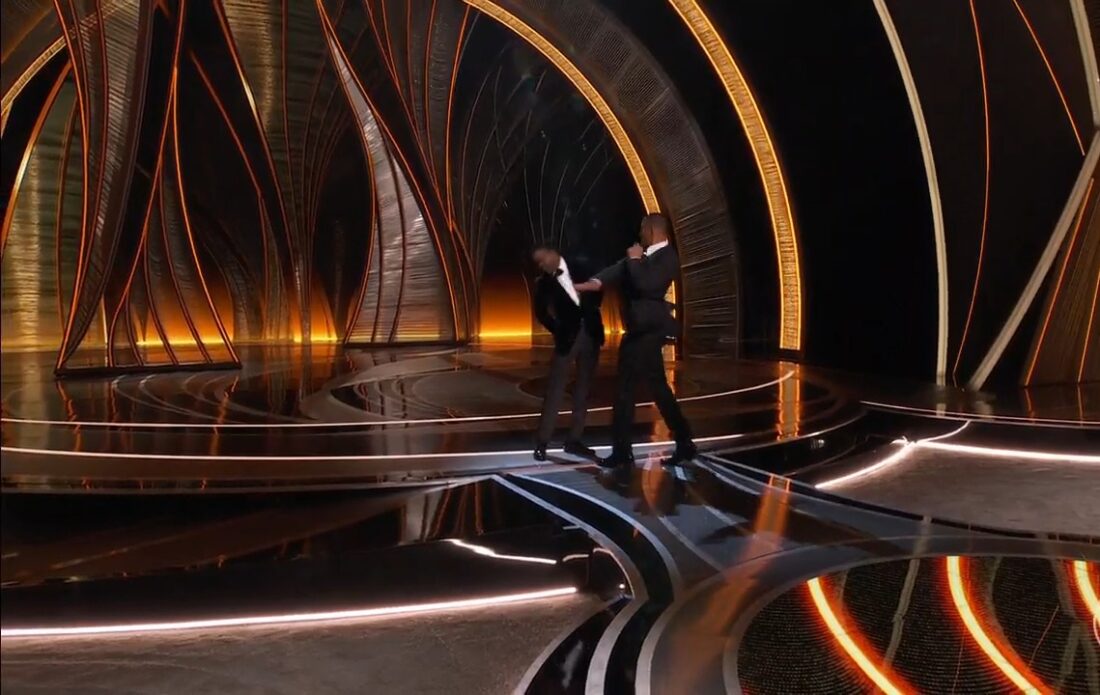 Cinephiles and movie-goers expected the 2022 Oscars to close out awards season with a bang, but most didn't quite anticipate it ending with a slap.
The 94th Academy Awards, organised by The Academy of Motion Picture Arts and Sciences, signalled a return to pre-pandemic Hollywood glamour after a relatively subdued 2021 ceremony. 
Science fiction epic Dune won six awards, the highest number of the night, but it was coming-of-age movie CODA that took home the Best Picture prize. CODA's win marked a number firsts for the Oscars, including the first film by a streaming service (Apple TV+) to win Best Picture, as well as the first deaf man, Troy Kotsur, to win an acting Oscar.
But let's face it, the majority of post-awards headlines be dominated by the moment in which Will Smith walked on stage and got into a physical altercation with Chris Rock. It's time to get into the biggest moments of the evening, starting with Smith's unexpected onstage smack.
Will Smith hits Chris Rock
Despite a 30-year Hollywood career acting in a range of roles, Will Smith had never won an Oscar before last night. 2022 was expected to be the year he finally clinches Best Actor golden statuette, thanks to his portrayal of Serena and Venus Williams' father in King Richard.
However, his eventual win was overshadowed by the now-viral incident that occurred before his category was announced. As comedian Chris Rock was presenting the Best Documentary award, a joke about Smith's wife, Jada Pinkett-Smith and her hair appears to have cut a bit too deep. Smith interrupted Rock by marching up onto the stage and delivering a quick slap before walking back to his seat. A dumbstruck Rock struggled to get his speech back on track as Smith yelled "Keep my wife's name out your f*cking mouth," at him from his seat.
When it came time to accept his Best Actor award, Smith offered an apology to the academy and his fellow nominees, though notably not Chris Rock himself.
View this post on Instagram
Eight awards got cut from broadcast
In an effort to shave off some time from the live ceremony broadcast, which typically runs over three hours, the organisers decided that eight awards, including Editing, Score, Production Design, and Makeup and Hairstyling, would take place outside of the broadcast window. The move was criticised by prominent industry members as taking away recognition from artisans and professionals who, despite being lesser-celebrated and lesser-known, play an equally significant role in movies. Nevertheless, the Academy went on with the trimmed down schedule, though how much runtime it truly saved is still up for debate.
Musical performances by Beyoncé and Megan Thee Stallion
Beyoncé set the bar high at the start of the ceremony by kicking off the show with a performance of the Oscar-nominated original song "Be Alive" from King Richard, set on a lime-green tennis court outdoors.
Later on, Megan Thee Stallion surprised viewers by appearing in a performance of Disney's chart-topping earworm track, "We Don't Talk About Bruno" from the animated film Encanto. The artist joined the movie's cast midway through the song to inject a new rap verse that talked even more about Bruno, and was followed by other guest performers Becky G and Luis Fonsi.
View this post on Instagram
A new category: Fan Favourites
Although much of the Academy Awards' prestige is rooted in the fact that it is decided by a circle of film industry professionals, organisers have chosen to mix things up this year with a 'Fan Favourite' category that's awarded based on public social media votes. The Academy made clear that this was not an 'Oscar award' category, but rather a means of recognising films in genres that do not typically fit the Oscar-winner mould.
Spider-Man: No Way Home, Minamata and the Camila Cabello-starred Cinderella were among the top movies in the running, though it was Zack Snyder who dominated the category, winning both Oscars Fan Favourite as well as Oscars Cheer Moment with Army of the Dead and Justice League: The Snyder Cut respectively.
Even as stars embraced the glitzy celebrations of the evening, the ongoing conflict between Ukraine and Russia continued to loom over the occasion. On the red carpet, celebrities acknowledged the crisis with symbolic elements in their ensembles. Peeking out from Jason Momoa's suit pocket was a scarf in the Ukrainian colours of blue and yellow, while Jamie Lee Curtis and a number of other attendees wore a blue ribbon to show solidarity with refugees.
The ceremony itself had a 30-second silence in support of the people of Ukraine, with title cards on the screen asking audiences and viewers to help the nation in any way they are able. Prolific director Francis Ford Coppola also took a moment to say "Viva Ukraine" at the end of the tribute for The Godfather's 50th anniversary.
View this post on Instagram