It's My Life and I'm making a bottle of rosé wine. No, it's not called Bed of Roses.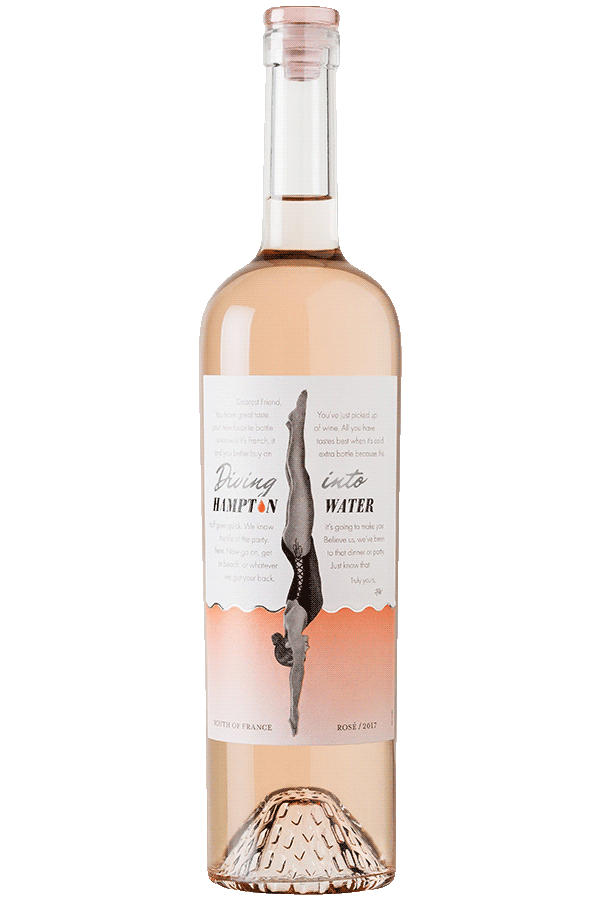 Two years ago, Jon Bon Jovi and his son, Jesse Bongiovi, were out enjoying a bottle in the Hamptons joking about how "Hampton Water" would be a funny name for a rosé. Today, you'll find their label, Diving into Hampton Water on the shelves in New York and New Jersey – that is, if they're not already sold out.
Between then and now, Bongiovi has graduated from the Notre Dame, landed a job in a start-up and designed a bottle label with his roommate, Ali Thomas on the side. The two subsequently pitched the label, featuring a woman diving into a rosé -coloured pool, to Bon Jovi.
"We went back to my dad and said, 'Hey, I know you thought that was a funny name. What do you think of this?' We showed it to him and he lit up," Bongiovi recalls of how the joke transpired into a real business idea.
From there, the father and son partnered with French winemaker Gérard Bertrand to create their own rosé. The result of frequent travels between New York and Bertrand's wineries in the South of France as well as a fine blend of grenache, cinsault, and mourvèdre grapes is a lighter and "easier to pick up and enjoy" compared to traditional labels.
"We really set out to create something that is very drinkable. We like to start drinking rosé at noon out in the Hamptons and go into the wee hours of the day, so we wanted to create a wine that you can do that with," Bongiovi explains.
The rest of the process is mostly run by Bongiovi and Thomas, together with the brand's sales team. Bon Jovi still chips in some ideas here and there, but leaves out any mention of his name – so don't expect any references to his hit singles either.
"We won't be doing Bed of Roses Rosé. Believe me that conversation has happened at some point in the world. I would never do something like that," the singer tells The Daily Beast.
"This isn't my thing," he says in another interview with CNBC. "I'm pleased that people are liking the product, but he (Bongiovi) would not have made a product that he wouldn't have been proud to share."
What else is there to know about this new label? Here's what the website reads: "All you have to know is it's French, it tastes best when it's cold, and you better buy an extra bottle because this stuff goes quick."
Diving Into Hampton Water sells for $25 a bottle and will be available on the East Coast (US) and online starting April 1.
For more information, log on to the official website here. Follow their Instagram page @dihamptonwater for more updates.