Tengku Chanela Jamidah is arming her children against online threats and more through lessons and examples for a good head, guided by a strong moral compass.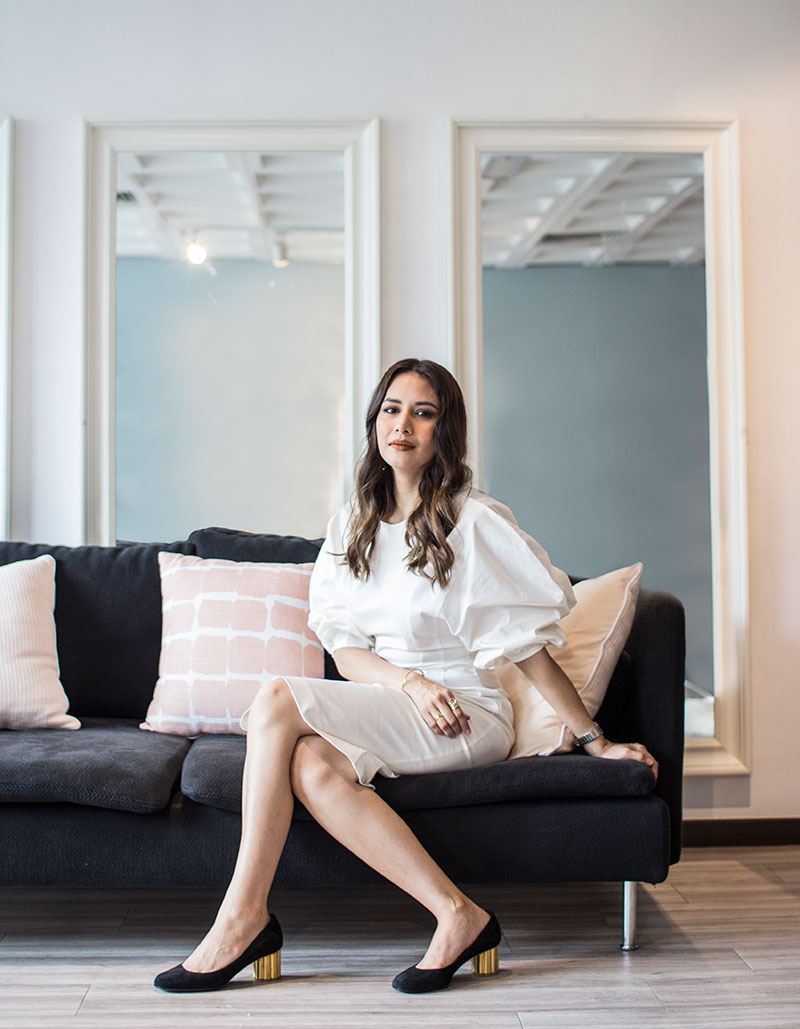 Being a mother is one of the toughest jobs in the world, where long late nights, constant self-doubt, and incessant wringing of your own heart everytime your child hurts are never-ending. As if all of the above isn't tough enough, mothers in today's digital age have to tread through it amidst the the rise of social media and the many new dangers and challenges that come with it.
For every critic telling you you're raising your child wrong back in the day, there are now 100 more. For every stranger you remind your child to never speak to, there are 500 more slipping by your guard and approaching them directly via Facebook or YouTube.
Mother, designer, entrepreneur and social media figure Tengku Chanela Jamidah knows this all too well.
"I've always been exposed to the media and the press," tells the mother of 9-year-old Thalia and 3-year-old Bryan. "I started off at 17 doing TVCs. My mother was the one who encouraged me to go out there and build my network and to expose myself to this industry."
Today, she has amassed a jaw-dropping 111k followers on Instagram as her influence spreads through her fashion brands THAVIA and Ultra, her beauty brand DIDA as well as a furniture supply house The Event Store. Being the first generation of mothers balancing work, private life and that of her children on the social media landscape proves a steep learning curve for Tengku Chanela.
Influence, reach and staying safe
It all started because of work for the fashionista.
"The fashion and beauty industry is very fast-moving so you have to be online," she tells. "For DIDA especially, social media is our main platform to communicate our stories and brand identity. It's a chance for you to engage with your followers, show them what goes on behind the brand."
It wasn't long before the interest spilled over to her personal style as the face of these brands.
"There was a lot of attention on what I wore.," Tengku Chanela recalls. "People were interested to see what kind of looks I can come up with. I thought, in that way, I can also influence people to also have their own style."
Aside from sharing outfit, lifestyle and events photos on her Instagram and Facebook accounts, Tengku Chanela also sees to video production at DIDA, creating unique how-to tutorials and more.
"People are naturally curious to know what you're doing, so you have to constantly update them," she shares. "It's a way for me to promote my brand. It's relevant.
As much as this is key to her branding and business, she keeps in mind where to draw the line.
"I've been quite lucky – I don't really get a lot of people invading my privacy especially in regards to my children," she acknowledges. "I'm very careful when I post images of them. I don't show them showing too much skin. Obviously you have to filter what you put out, so that it won't be taken and used in the wrong way. I have personally experienced it when my images are wrongly used; but you can't prevent these. You just have to deal with it when it comes."
"It's about being a smart mum"
Her eldest daughter Thalia is proving to be just as media-savvy despite being only 9 years old. She runs her own YouTube channel where she reviews toys, under Tengku Chanela's strict monitoring.
"She's very into squishies lately," Tengku Chanela shares with a laugh. "She posts squishy videos and I guide her on what is ok to show, what's not. I caution her against things that reveal too much of the house, the room or anything. Focus on the product, the toy, not the scenes behind you, because I don't want people to identify locations and that's when it gets dangerous."
What gets shared is half the problem. What her daughter gets exposed to is a more troubling possibility.
"It's about being a smart mum," Tengku Chanela tells. "There are things like preferences on YouTube that you can select. I filter by genres and age ranges what she gets to see. I also go through her comments to make sure there aren't anything offensive."
Tengku Chanela doesn't believe in shielding her daughter completely from the Internet because not only would that be unhealthy, it would be unfair.
"She loves technology. I give her the freedom because at this day and age, I do not want to push her towards a specific line or tell her what her interest should be. I want her to find that out herself," she says.
"There are many threats out there, online or not, that cannot be prevented 100% … but with the right values, they'll be able to make better decisions when faced with the predicament."
Digital and social media presence is also a window through which she bonds with her children: "I see these events as a chance to spend time with them – I want them to see what I do so they'll understand why I'm away so much. I hope to also show my daughter that as a woman, you're capable of doing great things. You can be a mother, wife and also a career woman. You can be independent. Go after your passions. Everything is possible if you put in the time and effort."
"There is so much more to life than what you can see around you," she adds.
Moreover, to be there all the time protecting them is unrealistic.
"We're watching '13 Reasons Why' together now," she divulges, referring to the Netflix TV series that follows the suicide of a high school student and why she did it. "I don't want to shield her from real world issues like that. Instead, I make sure to communicate with her on these topics that it shouldn't influence her in a certain way. She should be able to make her own decisions. That's part of your upbringing."
Tengku Chanela aims to arm her daughter against these threats and more by supplying her with lessons for a good head, guided by a strong moral compass.
"It's important to set a good example to your child and you do it by keeping a close relationship with them," she says. "There are so many threats out there, online or not, that cannot be prevented 100%. I can't be there screening things for her 100%. But with the right values, they'll be able to make better decisions when faced with the predicament."
"At the end of the day, she's the one making the decision, you can't be there to make that decision for them for the rest of their lives. I just want to prepare her for when it does happen to her. Hopefully she'll make the right one."
Follow Tengku Chanela Jamidah on Instagram via her handle
@tcjamidah
.