Via an infrared smartpen and notebook resided with dotted paper, the kit will digitise your notes and you can instantly share it on your smartdevices.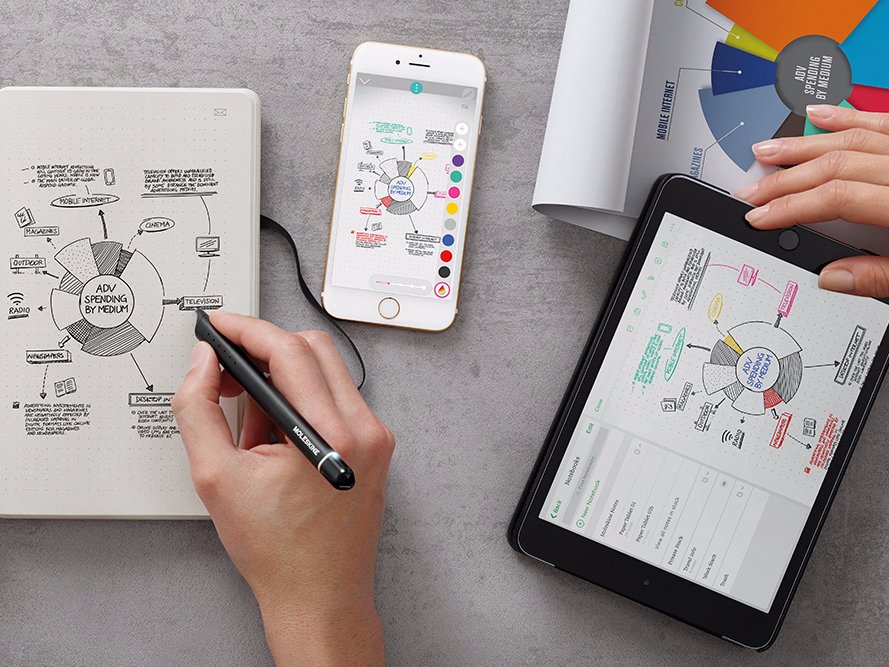 Despite living in the pinnacle of the digital age, there are some things that cannot replace good old ink and paper. There's a reason there's such a divide between paperback readers and Kindle consumers and for some (yours truly included) note-taking is not the same on tablets as they are on your trusty old notebook.
Moleskine is about to change all of that for us with its Smart Writing Set that lets you write something down in the traditional way – by putting pen to paper – but with the added advantage of transferring all your notes direct to digital platforms like your smartphone for instant editing and sharing.
It does so by means of an infrared smartpen and notebook resided with dotted paper that the pen can detect. Write, draw, scribble, jot as you would any notebook and the pen will digitise your notes, from sketches and graphs to doodles and handwriting, to an app on your other devices in real time.
You can also select different penstrokes to highlight, colour, bold or thicken lines post-production, on top of transcribing your own handwriting into typefaces to quickly and conveniently share it across platforms.
That's not all – here's the most impressive part about it from a journalist's point of view: you can also sync your notes with other apps like Google Drive, Evernote, Notability or Apple Notes, where you can then add audio recording and visuals.
The full kit comprises a classic hardcover Moleskine notebook and a smartpen with a USB at the end. The pen itself is chargeable for up to 5 hours of intense use. Left on standby mode, it can last up to 125 days.
To use, iOS users will have to run it on the free M+ Notes app while Android users will be required to launch the Neo Notes app, both required for the smartpen to register your writing. The Moleskine is where the brilliance lies – it is able to differentiate between pages and update everything in real time via Bluetooth.
If your device is out of juice, the pen itself has 90.6MB of storage to store your notes until you sync it later. On paper, the ink in the pen is refillable with standard pen refills so go crazy with jotting down your best ideas.
The kit is available on the official Moleskine site here for US$199 (approx MYR875) and should you run out of pages, the notebook refills retail for US$29.90 (approx MYR131).
Now, unleash your creativity.