The colourful streets of Tokyo. Its delectable cuisine that is as colourful on the eyes as it is flavourful on the palate.
Expect all the best things you've come to learn and love about contemporary Tokyo housed under one roof when you visit mesm Tokyo, Autograph Collection, an urban luxury hotel situated in the Minato-ku.
A unique downtown destination for individualists seeking luxury and authenticity, the hotel's name comes from the word "mesmerise". It seeks to do so with all five senses of every guest who comes their way, enchanting them with sights and sounds, music and art, food and drink. Iconic design and authentic Japanese hospitality combine to make the hotel the ideal choice for travelers.
An Autograph Collection hotel, mesm Tokyo evolves alongside its home city, bringing together tradition and innovation to provide a unique experience with each stay. Playful and captivating, it pulses to life in a rhythm that beats alongside the heartbeat of Tokyo city itself. mesm Tokyo is a new-age hotel designed to mesmerise all five senses with each stay.

SEE: Sleek style of inspiration
The first collaboration between JR East Group and Marriott International, the hotel is made to be a feast of clean lines and sleek colours for the eyes, where clever play of materials and light come together in edgy harmony. Rooms are modern and spacious, restaurants are haute and chic, all balancing design, comfort and innovation for the modern traveller who appreciates modern elegance
This year, the seamless integration of style and function of mesm Tokyo has won it Best Design at the 2021 Haute Grandeur Global Excellence Awards, a prestigious globally trusted awards initiative that recognises outstanding hotel, spa and restaurant experiences. The Awards is regarded as the pinnacle of achievement in global hospitality.

HEAR: The pulse of the city
mesm Tokyo is fuelled by the continual evolution of the city itself. In its lobby, you will feel the ambition of its people; in its elevators, you will rise to the top along with the city's dreams. Inspiration spills from every corner, refined and diverse, just like the essence of the people in the city it is located in.
In mesm Tokyo, every night there is a live performance related to arts and music, expressing artists' and Tokyo's passion. Best part of it is that guests can enjoy this wonderful performance for free.

FEEL: The exceptional service
Exceptional service and stay are presented in four chapters of rooms, ranging from twin and king bedrooms to a standalone suite. You might indulge in the breathtaking views of the Tokyo city skyline through floor-to-ceiling windows so you will fall asleep to the twinkling lights of the city below and awaken to the power of its ambition.
Throughout the hotel, guests will encounter leading Japanese brands, which emphasise the cutting-edge style and trends of its downtown environs. Work out on state-of-the-art equipment in our 24-hour fitness gym before you indulge in a true urban retreat in its modern rooms and suites. Feel the "Tokyo Waves" at mesm Tokyo, a one-of-a-kind lifestyle hotel.

TASTE: European flair with Japanese hospitality
mesm Tokyo feeds the lips and soul with four dining outposts – Chef's Theatre, Whisk, Club mesm and Ginza Miyachiku Takeshiba Branch. Chef's Theatre brings the best of French-European flair, reimagined with the finest Japanese ingredients. Through breakfast, lunch and dinner, the 93-seat restaurant seeks to be a taste of Parisian bistronomy in Tokyo. Whisk is the vibrant social hub where the good times flow with handcraftedinnovative and artistic mixology cocktails and afternoon tea set alongside specialty Japanese Sarutahiko coffee and cool tunes. The bar-lounge is perfect for pre-dinner libations or wind-down drinks after a long day out in the city. Club mesm comes alive after the sun goes down as an exclusive private salon of authentic drinks and stunning night view of Tokyo, while Ginza Miyachiku brings a slice of Japanese traditional dining experience with authentic live teppanyaki cooking shows.

PLAY: WATERS takeshiba
Within the same area, guests can at any time immerse themselves in a sensorial experience at WATERS takeshiba, a waterfront multiplex of rich natural environment located in front of theds Hamarikyu Gardens. Catch a show at the Gekidan Shiki Theatre, shop at atre Takeshiba. Here at WATERS takeshiba, a port is available for visitors to visit Asakusa, Ryogoku, and Odaiba with the significant Tokyo Water Bus. Also, limousine boat service is provided from Haneda Airport to mesm Tokyo for its guests.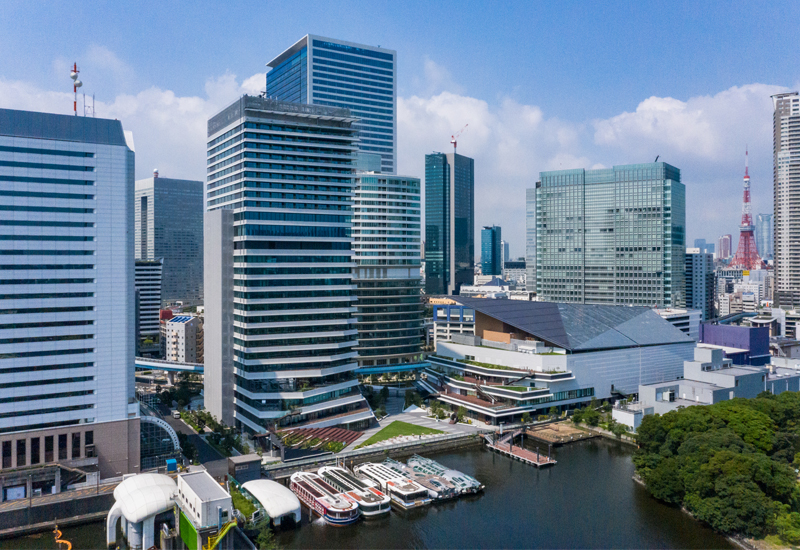 mesm Tokyo is also only a stone's throw away from premium shopping district Ginza, where the world's best luxury brands await for a spot of retail therapy. Shop the day away and then return to mesm Tokyo to rest and rejuvenate before you take on a new day in true Tokyo style.
Indulge all your five senses the next time you're in Tokyo, at mesm Tokyo. For more information, log on to the official website here.
With the lifting of the declaration of COVID-19 state of emergency, mesm Tokyo continues to maintain extensive hygiene and sanitation measures to prevent the spread of COVID-19. Communal areas are sanitised regularly and parties of more than 4 people are required to present a certificate of Vaccination for COVID-19
(Photos: mesm Tokyo)