Despite the ongoing volatile economic climate, there has been rising interest in overseas properties and Switzerland, which has long been favoured as a real estate haven, is still one of the top destinations among investors looking to add a valuable addition to their investment portfolio. Now, with the addition of Yara, a new development nestled in the picturesque Alpine village of Andermatt in the Swiss Alps, Asian investors have something to look forward to. We spoke to Russell Collins, the Head of Sales at Andermatt Swiss Alps on why Swiss property is the destination to keep your eye on right now.
Why are Swiss properties a safe haven amid the current economic climate?
Despite geopolitical tensions and a challenging global economic outlook, the signs for the Swiss market remain positive. The Swiss franc, given its strength, has long been considered a safe currency, sought after by investors to reduce risk and avoid financial losses, especially during times of economic and financial instability. In comparison with other European markets, it continues to appreciate, and the cost of debt remains low, even though interest rates in Switzerland are no longer in the negative zone. The country also has a stable political and financial environment, which provides a sense of security for investors.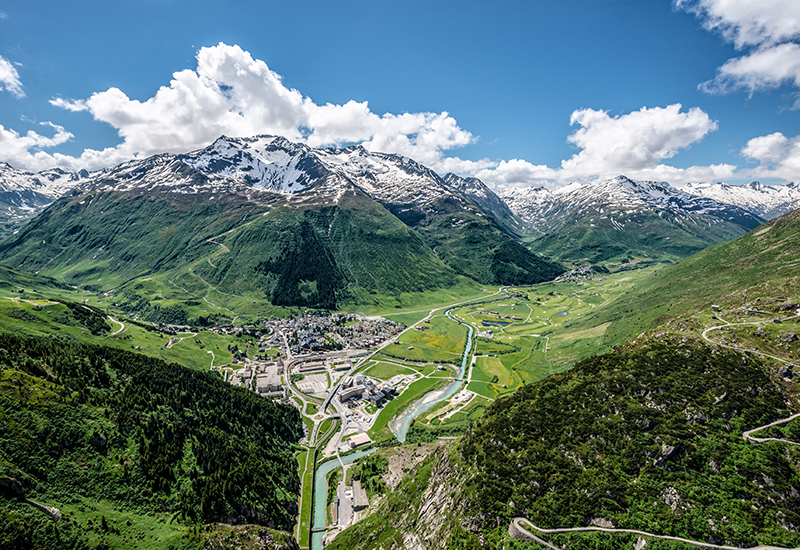 Swiss properties also retain their value well over time. The supply of second homes – especially in the upscale new-build segment – remains low. According to UBS, property prices for vacation homes in Switzerland have risen 10% y-o-y on average in 2021, making them a relatively safe long-term investment. 
What makes properties in Andermatt Swiss Alps unique from other regions?
Nestled in the heart of the Swiss Alps, Andermatt Swiss Alps is a hidden gem offering investors the prospect of living amidst unspoiled nature. Its strategic location at the crossroads of Switzerland's north-south and east-west passes means that Zurich is only an hour and a half away and Milan is two hours away. Andermatt is the only alpine destination in Switzerland that is completely exempt from the Swiss Lex Koller law, allowing foreign investors to purchase properties without restrictions and make this unique and quaint village their home.
Andermatt Swiss Alps is also one of the few projects in Switzerland that can bring new second homes to the market, which means that investors can expect good capital appreciation on our properties. In 2022, property sales in the development increased by 24% to reach an all-time high of over CHF 150 million.
As the masterplan developer and operator of the Alpine village of Andermatt in Switzerland, we ensure that developments in the region not only increase the attractiveness of the destination, and thus the value of the properties, but also consciously preserve the culture of the village. The lush, scenic landscapes surrounding Andermatt offer owners and visitors a vast array of outdoor activities, including an award-winning 18-hole golf course, 180 km of a ski slope – the largest of any ski resort in central Switzerland, and over 500 km of hiking trails in the summer. The up-and-coming year-round destination also has many gastronomical and cultural offerings, such as hotels including the exclusive five-star hotel The Chedi Andermatt, a new world-class 700-seater concert hall, and three Michelin-starred restaurants. 
There has been an increasing focus on sustainable property. Does Andermatt provide that? 
Additionally, for investors who are concerned about sustainability, properties in Andermatt are a great way for them to put their capital to good work while minimising their ecological footprint. All developments in the village are built following Minergie, the Swiss low-energy standard, which ensures that our buildings are well-insulated, lowering energy consumption. Electricity for the buildings and facilities are also generated from renewable sources including hydroelectric power stations and wind turbines from the Gotthard region, while heating at our apartments is supplied by a wood-chip-fired power plant, meaning that the heat we use is 100% carbon neutral. These improve overall building performance while ensuring the longevity of the properties for investors who are looking for long-term returns.
Tell us more about the Lex Koller law, what should a Malaysian expect before acquiring Swiss real estate?
The Lex Koller law is a set of stringent regulations in Switzerland that govern the purchase of real estate by non-Swiss citizens, making it difficult for foreigners to own properties in the country. However, holiday apartments at Andermatt Swiss Alps are exempted from this, offering international buyers an uncomplicated way of buying property in the region. 
The purchase process is easy for international buyers as all of our paperwork are in English. Additionally, no stamp duty is applicable to the purchase of properties in the region, and all properties in Switzerland are freehold. The income tax rate in the Canton of Uri where Andermatt is located is the second lowest in Switzerland and only about half as high as the tax rates in the UK, Germany, France and Italy, which puts the village among destinations where the tax treatment is the most advantageous.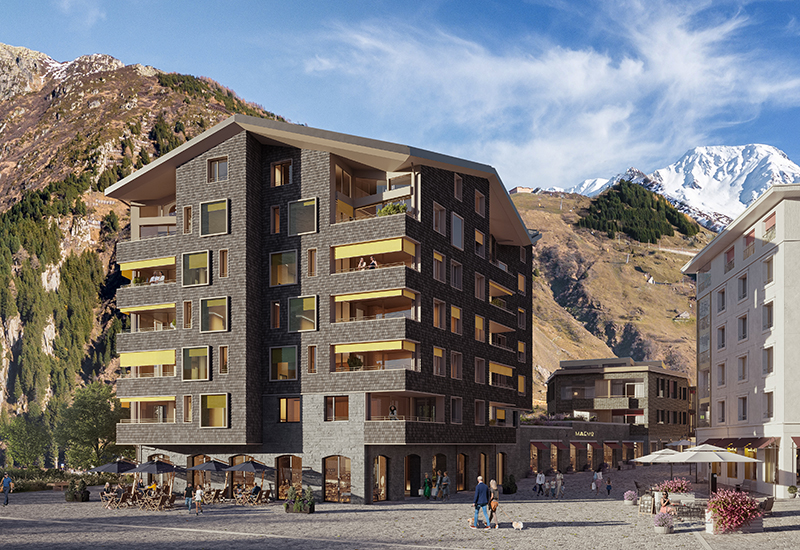 How can Malaysian investors benefit from investing in Swiss real estate?
Investors in Andermatt Swiss Alps' properties, will not only benefit from the general real estate boom but also from the increased attractiveness of the destination, with its year-round outdoor and cultural offerings. The capital growth of our properties has gone up by more than 50% in the last 10 years. Homeowners who join our rental programme can also expect up to 3% in annual returns.
Tell us more about Yara. Who does this new property cater to and what can visitors expect? 
One of the latest to enter the market at Andermatt Swiss Alps is Yara, a beautiful block of apartments designed by award-winning Zurich-based architects Mach Architektur. Inspired by and crafted from the elements that surround it, it offers 24 luxury residences and penthouses in the heart of the Swiss Alps. Located on a new piazza with panoramic views of the mountains and valley, Yara offers the best of year-round living with world-class skiing, breathtaking hiking and Michelin-star dining.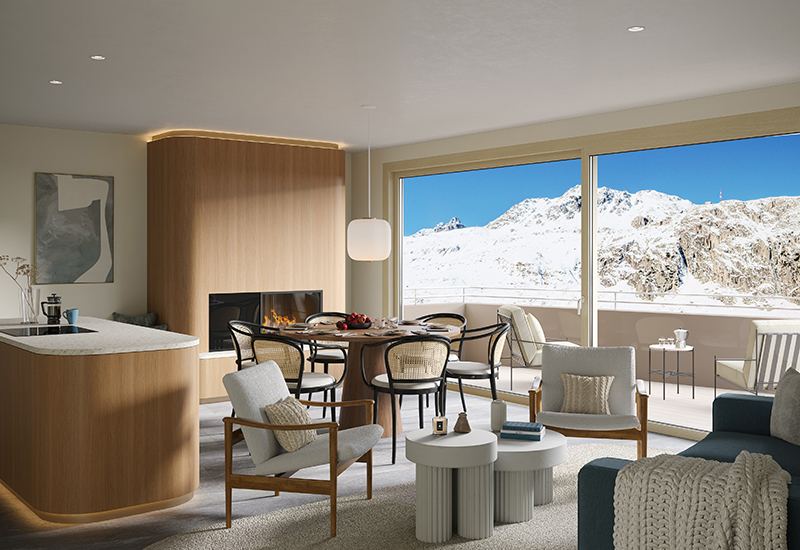 Its bold and rugged Alpine exterior is contrasted with the soft and naturally crafted interiors. It combines traditional architectural elements such as wooden shingles and a structured roof with contemporary design elegance like pentagonal motifs inspired by a blooming rose, as well as round-cornered walls and muted-coloured floors that exude a sense of comfort and cosines. Built according to Swiss Minergie standards, Yara is designed to last and has the ability to withstand seasonal weather changes. It also offers outstanding owner amenities including an exclusive private spa with a Finnish sauna, steam room, relaxation room and sun terrace.
What are some of the biggest perks of investing in a Swiss property in Andermatt? 
Andermatt offers foreign investors a unique opportunity to own a property in Switzerland. Given the current global recessionary pressures, high-net-worth investors are looking for safe places for their assets. The reopening of international borders has also boosted interest in overseas properties as a means of diversification. Thus, yield-sensitive buyers who are looking for long-term appreciation and sustainability are increasingly turning to safe havens such as Andermatt Swiss Alps.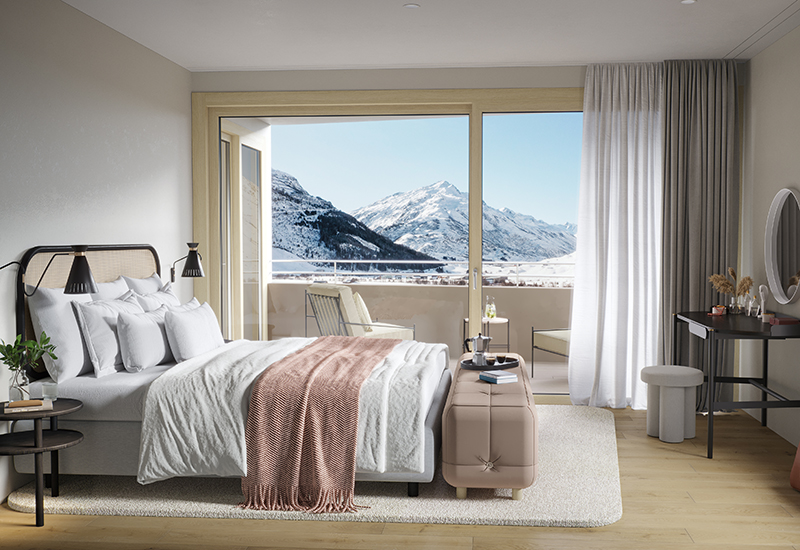 Post-Covid, the priorities of Asian investors have changed. The lifestyle aspects of their investments have become an important part of their consideration. They are seeking a home away from home, where they can enjoy living amid nature in the country while remaining connected, rather than in the city centre. This allows them to work remotely while enjoying the outdoors and the variety of activities at Andermatt all year round. Additionally, Switzerland's tax advantages, high standard of living, good schools, excellent healthcare systems and proximity to European cities make the region an attractive place for Asian investors.
Pictures courtesy of Andermatt Swiss Alps.
For more information, click here.