More likely than not, you've seen this trio of distinguished looking men dressed in ancient Chinese garb. Look a little closer, and you'll notice they're carrying an intriguing array of personal accessories, ranging from an oversized peach to an infant child. 
Meet Fu Lu Shou, or Sanxing, the star deities representing three prized values in Chinese culture – happiness, wealth and longevity. Found in the form of statue figurines in Chinese homes and shops around the world, particularly during Chinese New Year, the three-member tag team is put on display to attract good fortune in various areas of life.
This Lunar New Year, we dive into the legends and stories that make these three wise men such prominent favourites in home decoration this time of year. How did Fu Xing become a champion for unusually short people? What top career tips can we learn from Lu Xing? Why is it a good idea to pack Shou Xing a boozy picnic meal? Keep reading to find out.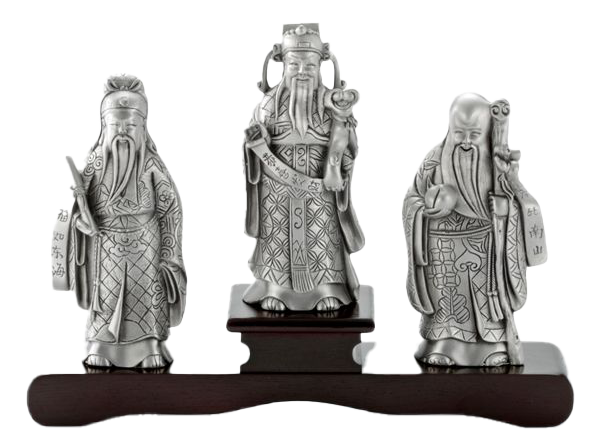 Fu Xing – the star divinity of blessing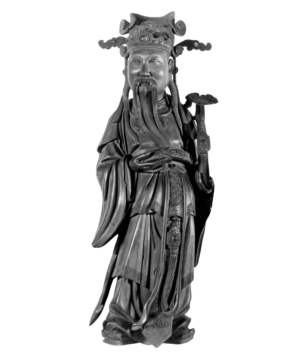 The deity of good fortune and happiness, Fu, can often be distinguished from the group as the one holding a child or surrounded by children. Sometimes, he is seen carrying a scroll and dressed in ancient scholarly attire. The tale surrounding this god of blessing's origin story involves a village of little people and an emperor with a strange obsession with its pint-sized residents.
At the centre of the legend is a regional official named Yang Cheng, who lived in a prefecture that had a large population of little people. When the emperor found out about this community of diminutive humans, he was fascinated beyond words. He decided to have the pint-sized people brought to the palace on a regular basis, so that he could surround himself with them for his amusement. The little people, if you can believe it, did not enjoy being shipped from their homes indefinitely and being the emperor's travel-sized court jesters while their village's population began to dwindle.
Yang Cheng, seeing the little people's suffering at the hands of the emperor, risked his life to petition on their behalf. Relying on his scholarly eloquence, he successfully convinced the emperor to let them go, earning himself the love and veneration of the community. Thanks to his brave deed, the official became immortalised as Fu Xing, the deity said to bring happiness and prosperity to those who need it.
Lu Xing – the star divinity of wealth and rank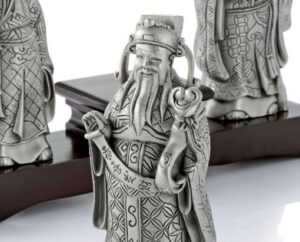 You'll be able to recognise Lu Xing, the god of fortune and influence, by his noble looking dark headwear with flaps extending from both sides. The Lu figure, usually placed in the middle between Fu and Shou, is dressed in the prestigious Mandarin robes of a government officer, and often appears holding a scepter or Ru Yi to signify high stature and authority. 
The term Lu refers to the register of salaried government officials, pointing to the attainment of success and social status. Lu Xing, therefore, is the go-to deity for those seeking prosperous careers, greater promotions and higher salaries. 
It is believed by some that the folk origin of Lu Xing is linked to a scholar by the name of Shi Fen, who lived in the 2nd century BC. Through hard work and dedication, he became something of an emperor's pet, climbing the imperial career ladder to the position of high official at the royal court. Thanks to the Emperor Jing's generosity and his own industriousness, Shi Fen and his family thrived. Some might argue that his eventual ascension to become a deity of wealth would be considered the biggest promotion of all.
Shou Xing – the star divinity of longevity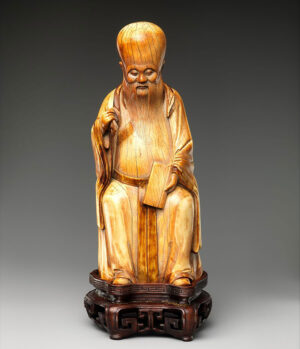 Easily the most distinct-looking out of the three deities, Shou Xing sports a long forehead and a shiny dome of a bald head. However, what he lacks in scalp coverage, he more than makes up for with his lusciously full, well-grown beard. Given that Shou Xing looks much older compared to his two fellow deities, it will surprise no one that he has been bestowed the title of god of longevity.
While a number of folk tales surrounding Shou Xing have been passed down, a significant one revolves around a sickly young boy and two elderly gentlemen playing chess underneath a mulberry tree. A child named Yan Chao, who had been told he'd only live until the age of nineteen, approached the two old men in the middle of their chess to offer them some food and wine. Little did the boy know that the two men happened to be the star god of the north pole and the star god of the south pole, one responsible for recording a person's date of birth and the other the date of death, respectively.  
Clearly pleased with the child's packed lunch offering, the two wise men endeavoured to help change the boy's fate. While the digits of his age of death couldn't be changed, the star god of the south pole, AKA Shou Xing, found a sneaky workaround, switching the number from 19 to 91 and granting him seven more decades of life to live.