These overwater hotels will make for a truly unique and memorable Valentine's – or at the very least help keep the romance afloat
Some couples celebrate Valentine's Day with a sumptuous dinner with a stunning view, while others prefer to shower their loved ones with opulent gifts and gadgets. Then there are the ones who seek to escape the crowd and everyday routines.
Whisking your Valentine away on a luxurious holiday can mean so many different things – from treating them to an all-over spa experience to reigniting your passions with an adrenaline-pumped, adventure-packed getaway. This year, how about a romantic escape that has all the adventure, pampering, and romance you need – with a little twist on the lodging? These floating hotels – or "floatels" – give you and your love a new romantic holiday experience.  
Arctic Bath, Harads, Sweden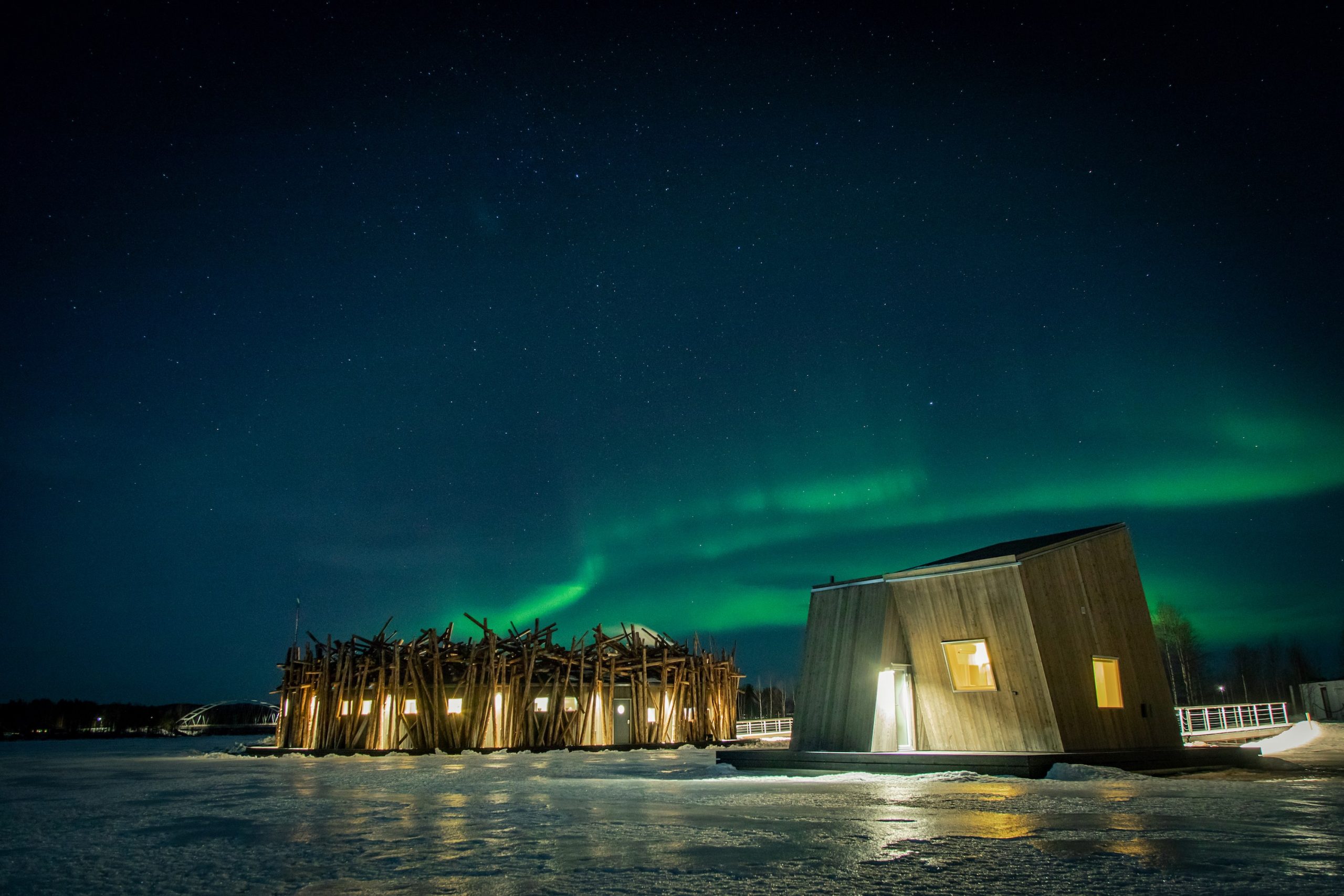 Ever since its tease back in 2018, the Arctic Bath floating hotel has been highly anticipated – and now it is finally available for bookings. Located in wintry isolation on the Lule River in northern Sweden, guests can stay in a floating cabin designed by Bertil Harström and Johan Kauppi that's connected to the shore by a floating walkway. Arctic Bath is designed with the highest level of comfort and luxury, while centering around wellness. It's surrounded by unspoiled nature, providing the perfect getaway for peaceful meditation, sunbathing, or catching the stunning northern lights. W arcticbath.se
Ocean House, Haida Gwaii, Canada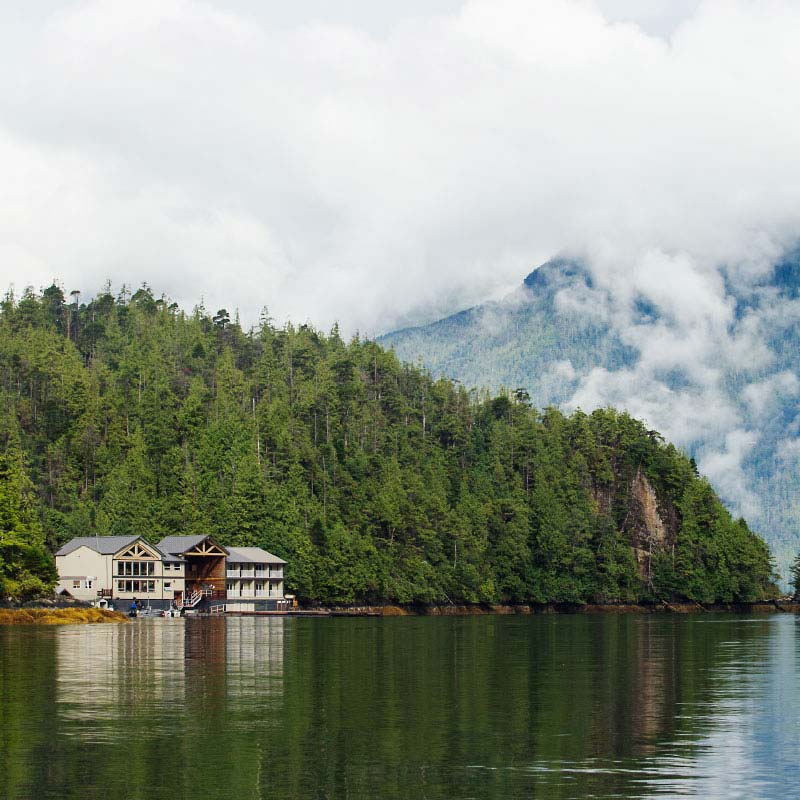 Nicknamed the "Galapagos of the North" in Canada, the Ocean House eco lodge in Haida Gwaii is one of the few places in the world that sits on lands that are truly unspoilt. Located 80km off the coast of British Columbia, the only way to reach this haven away from the modern life is by plane or boat. Guests can experience the wild beauty of one of the most remote part of the island that's teeming with unique flora and fauna that can't be found anywhere else on earth – all in a luxury setting. The Ocean House is also 100% Haida-owned, giving guests an authentic Gwaii experience that's enhanced by regionally-inspired cuisine, spa programs, arts, culture, and heritage programming. W oceanhouse.ca
Coucoo Grands Cépages, Sorgues, France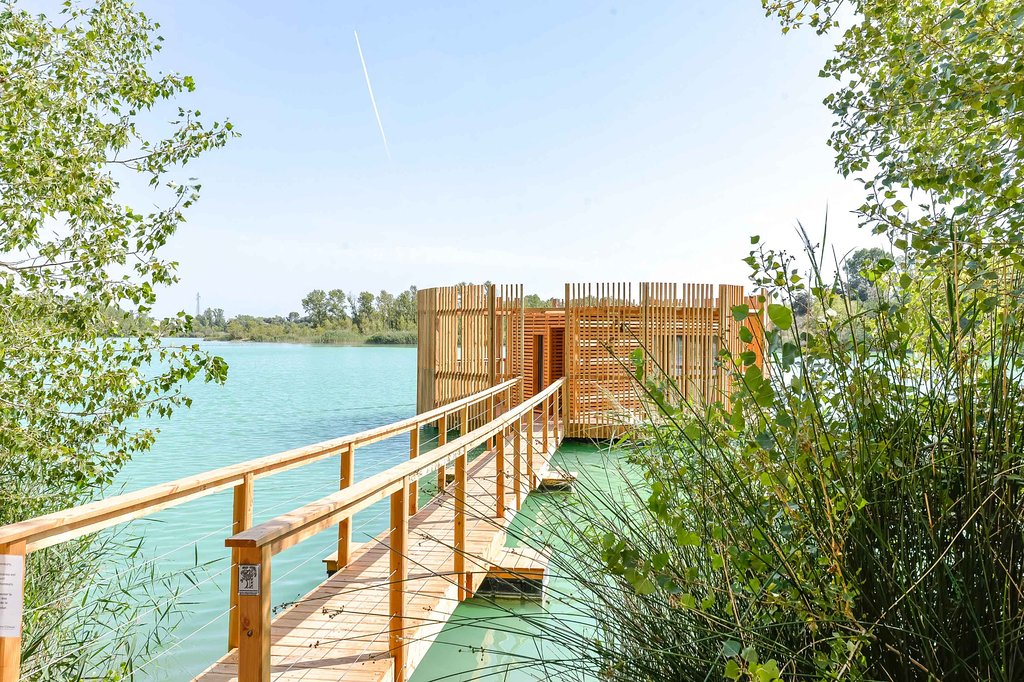 The charming, eco-friendly floating Cabanes des Grands Cépages are located 20 minutes away from the medieval city of Avignon in Provence. The site is home to 15 cabins surrounded by the crystalline, turquoise waters of Lac de la Lionne, and is also located in the heart of Châteauneuf-du-Pape vineyard – making it perfect for oenophiles! The experience of staying at Grands Cépages is about reconnecting and becoming one with the environment, with activities such as fishing, swimming and biking to escape the pressures of city life. W cabanesdesgrandscepages.com
River Kwai Jungle Rafts, Sai Yok, Thailand
If you're more into tropical adventures while getting an off-the-grid experience, the River Kwai Jungle Rafts in Sai Yok, Thailand are perfect for you. Each room is tucked into a floating bamboo lodge that's moored along the River Kwai Noi, with walls weaved from local bamboo and furniture reflecting Mon living style. The rooms are equipped with an en-suite private bathroom, balcony, and hammock that allows you to rest with a view of lush green mountains and the vibrant jungle. Activities such as hiking, mountain biking, and river canoeing can be arranged by the hotel to feed your inner adrenaline junkie. Though the catch of this stay is – the entire floatel does not use electricity, and instead uses traditional kerosene lamps at night to maintain ecological conservation, while making it a true eco hideaway. W riverkwaijunglerafts.com 
Gili Lankanfushi, Male, Maldives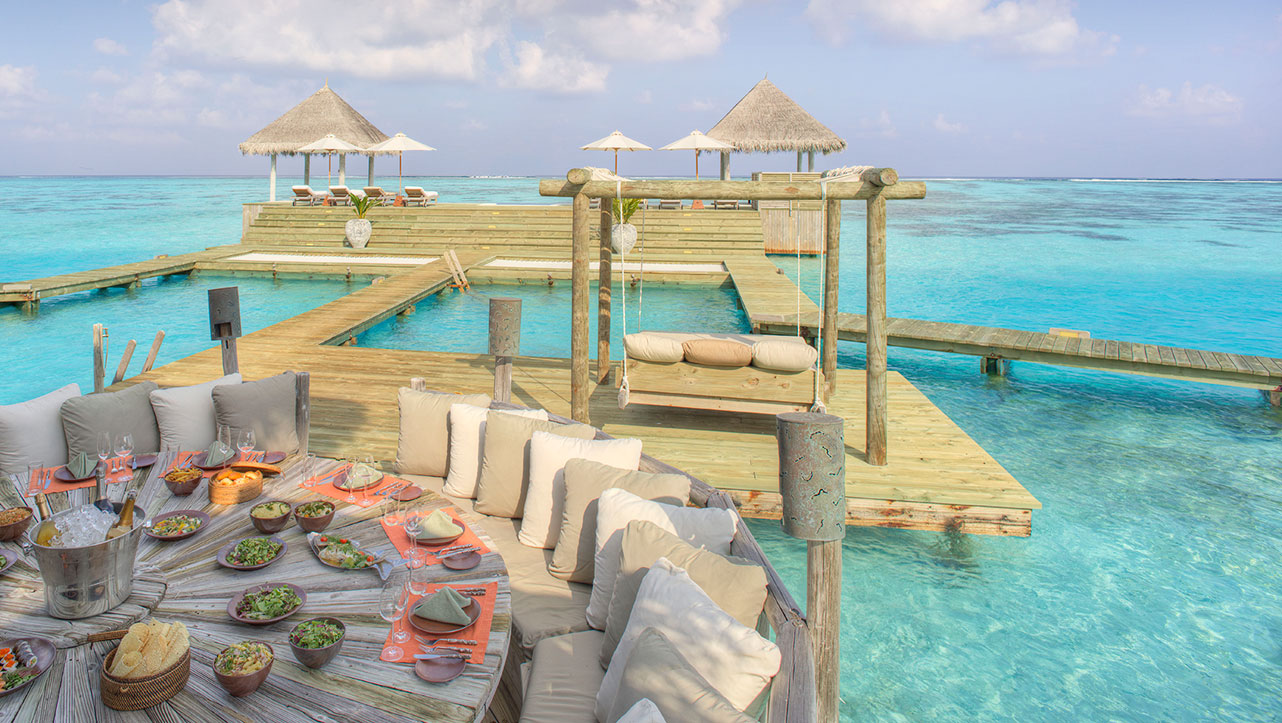 Redefine overwater luxury stays with the floating villas and residences offered by Gili Lankanfushi in Male. This gorgeous eco resort is located on a private island surrounded by sparkling, crystal clear water that'll give you a sense of wonder, relaxation and disbelief. This dreamy locale is a mere 20-minute speedboat ride from the Male airport, and is equipped with top rate facilities like the Meera spa, an overwater bar, and jungle cinema. And if you've exhausted all the typical water activities, you can take a visit to the Underground Chocolate Cave and Wine Cellar. The resort encourages guests to also take on their "Gili Way of Life", with sustainable practices such as zero waste to educate guests as well as help better the state of the world. W gili-lankanfushi.com 
Taj Lake Palace, Udaipur, India
An interesting story lies within the walls of the Taj Lake Palace in Udaipur. The young prince Maharana Jagat Singh had requested his father, Maharana Sangram Singh II if he could reside in a pleasure palace with his concubines. His request was denied, and instead received taunts from his father that if he was so keen to stay in an Island Palace, why doesn't he build one for himself. Thus the Taj Lake palace was born in 1743, before being refurbished and rejuvenated as a luxury hotel in 1963. It's now known as an opulent and elegant hotel where guests can be pampered and treated to the majestic views of the neighbouring City Palace, Aravalli Hills, Machla Magra Hills, and Jag Mandir. Guests can also really live like luxury with the hotel's butler service! Fun fact: it's also the palace renowned as a movie location for the James Bond film "Octopussy". W tajhotels.com
guntû, Seto Inland Sea, Japan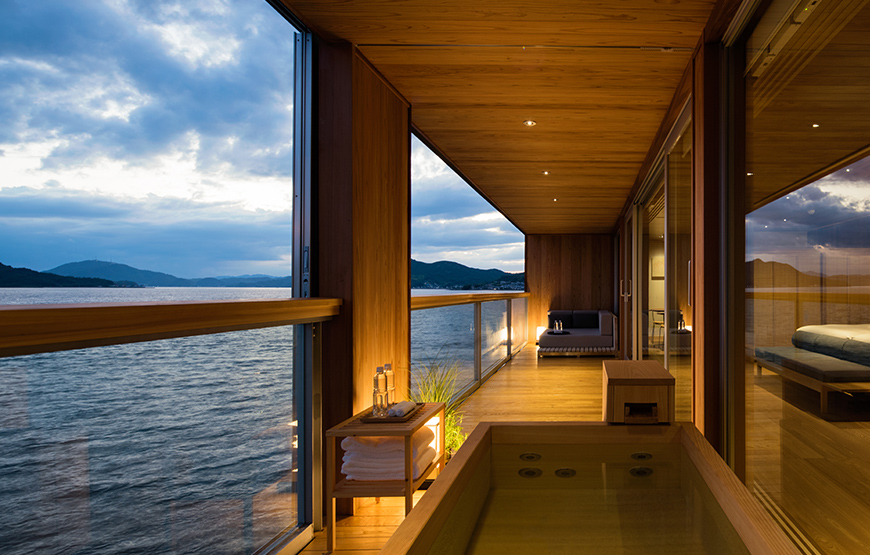 If you're seeking tranquility, minimalism, and good old kaizen, guntû is a floatel worth visiting. Located in the Seto Inland Sea, this nineteen-room hotel encapsulates the Japanese refinery and simplicity at its best. From the cosy, Marie Kondo-approved suites to the communal baths, the hotel is mainly crafted from wood without any extra embellishments to emulate a gentle and warm environment. Guests can simply relax in their cabins or out on the engawa, while enjoying the changing colours of the seas and surrounding mountains. It's truly a haven where you can enjoy the luxury of undisturbed, passing time. W guntu.jp
Manta Resort, Pemba Island, Zanzibar, Tanzania
How about a unique take on floating hotels? Submerge yourself in the Underwater Room at the Manta Resort in Pemba Island to experience a truly breathtaking stay. The watertight rooms – designed by Swedish company Genberg Underwater Hotels – are anchored in an ocean floor anomaly, where you'll be encapsulated within a turquoise blue bubble 13 feet underwater which allows you to experience life underwater, amongst colourful coral heads and a myriad of marine life. W themantaresort.com
Photos by the respective brands.