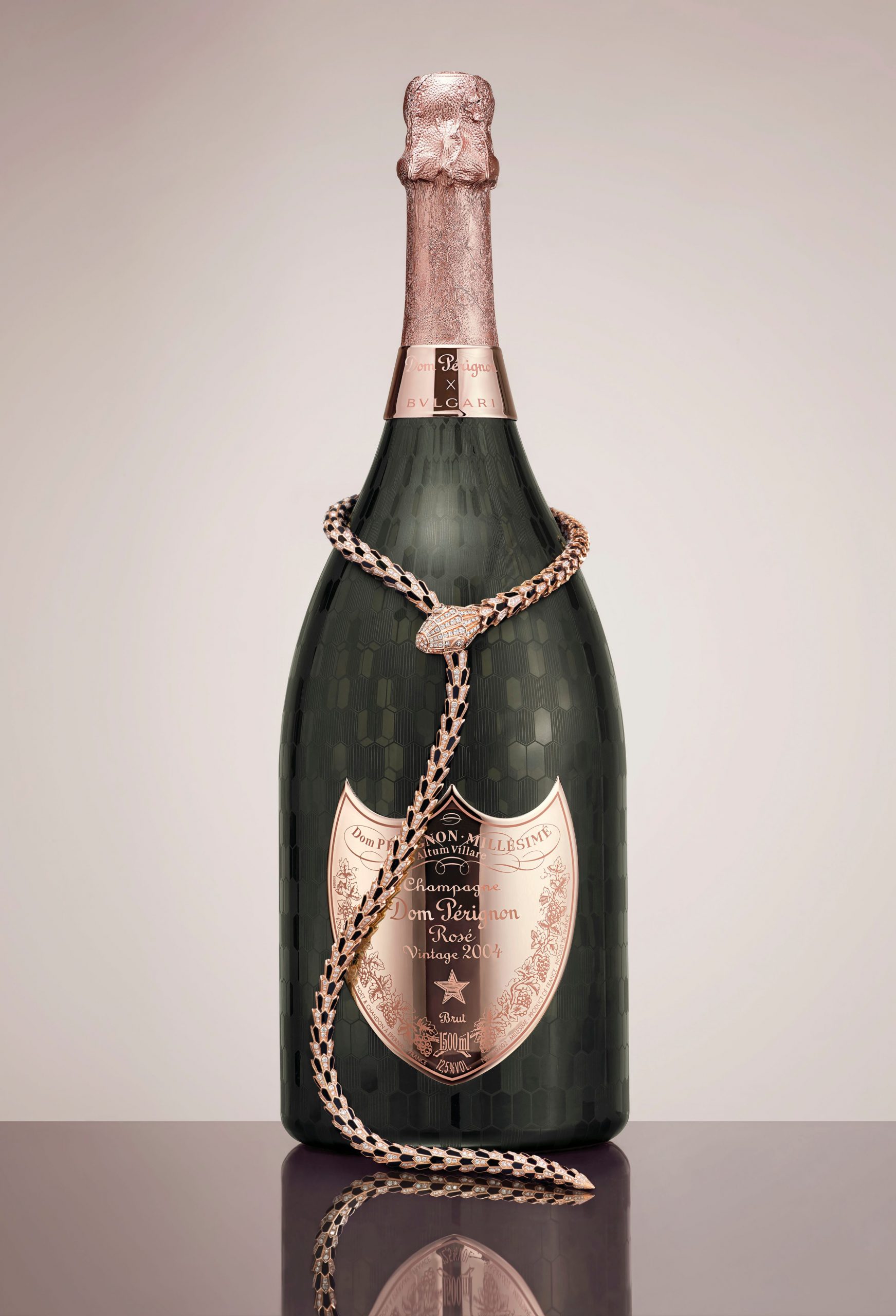 In honour of their shared inspiration and singularity, Maison Bulgari and Dom Pérignon have revealed a luxurious limited edition Rosé to help elevate your special occasions to a new and glamorous level.
Born from an encounter between Creative Director Lucia Silvestri and Dom Pérignon Chef de Cave Vincent Chaperon, the creation of the Bvlgari Serpenti x Dom Pérignon Limited Edition Rosé 2004 comes as no surprise, given their common values and vision. The vines of this vintage have enjoyed a steady and healthy growth, yielding sizeable grape clusters, with the dry heat in its final weeks of growth which made the wine what it is today.
The bottle comes nestled inside a wooden case, which opens to reveal a custom interior lined in Bulgari's signature saffron colour and deep fuchsia. A bespoke rose gold Bulgari Serpenti necklace sits sensuously around a magnum bottle of Dom Pérignon x Bvlgari Limited Edition Vintage Rosé 2004. The bottle itself is dressed in the snake's seductive scaled motif, and finished off with a rose gold label to echo the rosé within.
What can one expect in terms of this unique, full-bodied vintage? Expect fresh and intense red fruits such as red currants and wild strawberries, coupled with the warmth of ripe hay, blood orange, and cocoa. The texture is smooth and embracing, with an unexpected hint of green citrus to enliven the vintage.
And if you'd like to have a taste of just how exclusive this glamorous collaboration is, only four Bvlgari Serpenti x Dom Pérignon Rosé Limited Editions will be created. They will only be available on demand in early 2021, in London, Milan, and Tokyo.
Photos: Bulgari